This is a sponsored post by KidzVuz. All thoughts and opinions are my own.

Family game nights are a popular tradition in our house on weekends. Since I am on the computer for work a lot of the day, it is really important to me to have a dedicated day and time to give 100% of my attention to my kids and husband.
While we all enjoy board games, our age difference sometimes make it hard to find something that keeps everyone's mutual interest. One hobby that we all appreciate is playing family games together on the PS4. Music games are our favorite and often times we take turns singing Karaoke or playing guitar games individually. But we can never participate at the same time.
Rock band Rivals is a super cool and interactive way to involve the entire family and it also incorporates a variety of musical instruments. My son is currently taking drum lessons so the drum pads on this kit are a great way for him to practice his beats.
What is Included In Rock Band Rivals?
The Rockband Rival kit includes Rock Band 4 game software and Rock Band Rivals expansion download code. The game is officially licensed for PlayStation4 and comes with the following:
Officially licensed Wireless Fender Jaguar Guitar Controller

Foldable guitar-a useful feature when traveling to Rock Band gigs

Drum kit with four durable and responsive drum pads/reinforced metal kick pedal
Setting Up Rock Band Rivals
You can get Rock Band rivals set up in a cinch with the auto-calibration. It took my son just a few seconds to get everything set up and ready to go. The drums and the guitar are both very responsive. You'll want to open up Settings , then Bluetooth devices with a regular controller, then press the PS button on the instrument. After you see the blinking light, you hold the WiFi/Sync button on the instrument until the lights begin to blink rapidly. Then you should be able to view it on your TV screen, and activate it by press X on the regular controller. The guitar is easy to set up with just sliding the pieces together, sliding the lock down the back and syncing the same as the drums. The microphone however is not wireless and requires it to be plugged into the USB slot.
How Do You Play Rock Band Rivals?
It's Easy! Just gather your family and put everyone on an instrument. the fun thing about this game is you don't have to know the lyrics because they show them to you on the screen.
In rivals mode you can band together with friends to compete. Or you can play in a show in game mode. The better you play, the harder it gets. You can even challenge yourself you get 5 crimson stars in brutal mode.
It's also super easy to express yourself by creating your own guitar solos in real time. No matter how you play you are sure to have a great time with your family. Here is a video of my family playing.
What Songs Are Included in Rock Band 4?
.38 Special – Caught Up In You
4 Non Blondes – What's Up?
Aerosmith – Toys in the Attic
Arctic Monkeys – Arabella
Avenged Sevenfold – Hail to the King
Benjamin Booker – Violent Shiver
The Black Keys – Fever
Brad Paisley ft. Keith Urban – Start A Band
Brandi Carlile – Mainstream Kid
The Both – Milwaukee
Cake – Short Skirt/Long Jacket
The Cure – Friday I'm In Love
Dark Wheels – V-Bomb
Disturbed – Prayer
Dream Theater – Metropolis – Part 1 – "The Miracle And The Sleeper"
Duck & Cover – Knock 'Em Down
Eddie Japan – Albert
Elvis Presley – Suspicious Minds
Fall Out Boy – Centuries
Fleetwood Mac – You Make Loving Fun
Foo Fighters – The Feast and the Famine
Gary Clark Jr. – Ain't Messin 'Round
Gin Blossoms – Follow You Down
Grouplove – Tongue Tied
HalestormI – Miss The Misery
Heart – Kick It Out
Heaven's Basement – Am Electric
Imagine Dragons – Bet My Life
Jack White – Lazaretto
Jeff Allen – Recession
Johnny Blazes and the Pretty Boys – Cold Clear Light
Judas Priest – Halls Of Valhalla
The Killers – Somebody Told Me
Lightning Bolt – Dream Genie
Little Big Town – Little White Church
Live – All Over You
Lucius – Turn It Around
Lynyrd Skynyrd – That Smell
Mark Ronson ft. Bruno Mars – Uptown Funk
The Mighty Mighty Bosstones – The Impression That I Get
The Outfield – Your Love
Ozzy Osbourne – Miracle Man
Tijuana Sweetheart – Pistol Whipped
Paramore – Still Into You
The Protomen – Light Up The Night
Queens of the Stone Age – My God Is The Sun
Rick Derringer – Rock and Roll, Hoochie Koo
Rush – A Passage To Bangkok
Scandal – The Warrior
Scorpions – No One Like You
Slydigs – Light The Fuse
Soul Remnants – Dead Black (Heart of Ice)
Soundgarden – Superunknown
Spin Doctors – Little Miss Can't Be Wrong
St. Vincent – Birth In Reverse
System of a Down – Spiders
Van Halen – Panama
Van Morrison – Brown Eyed Girl
White Denim – At Night In Dreams
The Who – The Seeker
Click here to search the full tracklist of over 1800 downloadable songs.
Rock Band Rivals Makes The Perfect Holiday Gift
With the holidays just around the corner, Rock Band Rivals is the perfect holiday gift. We surprised our kids yesterday with this kit because for the first time in years we did not celebrate Thanksgiving with immediate family and wanted to keep the kids occupied.
Who says girls can't rock out in pink elf pajamas?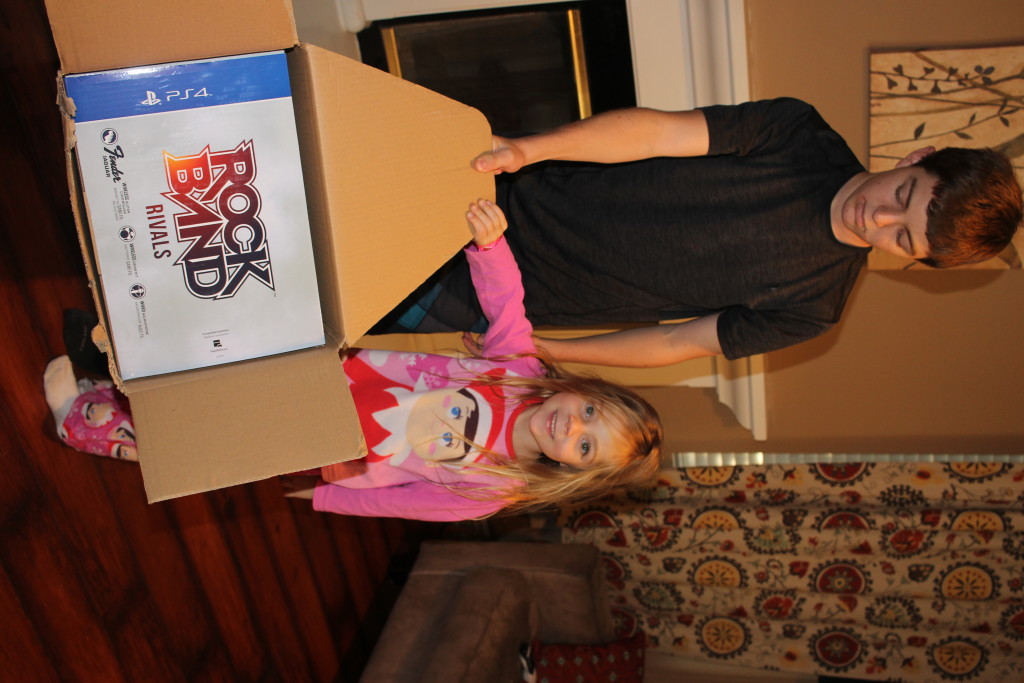 I don't think they had any fun with it. Do you?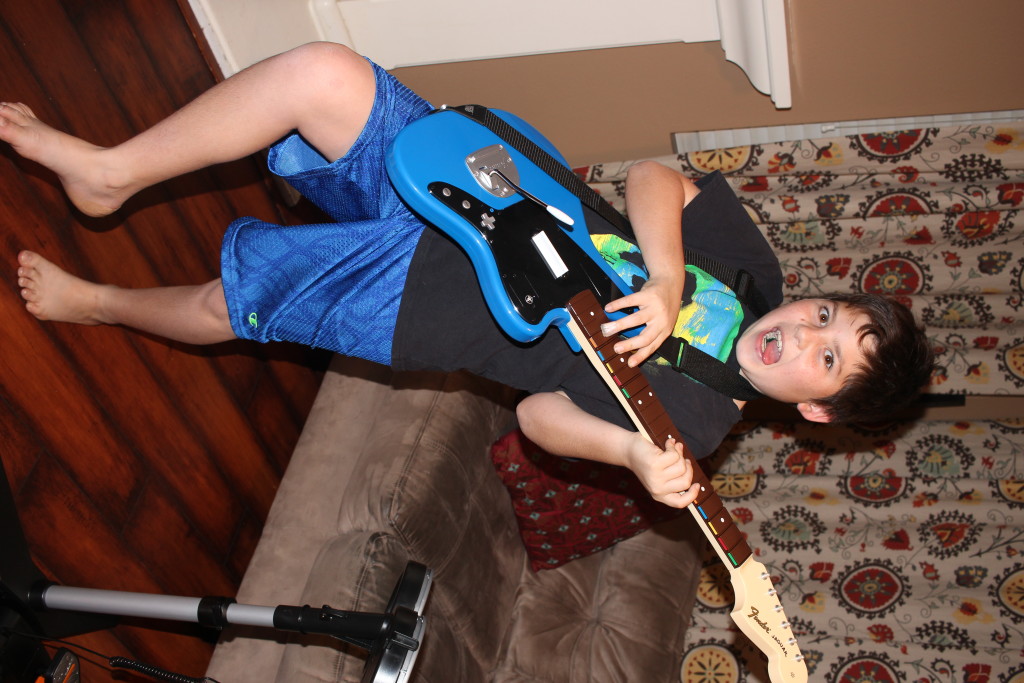 I found this game actually helped my kids all play together peacefully because they were so concentrated on their instruments and it encouraged them to work as a team.
Even husbands can join in on the fun! Mine got a kick out of testing out his vocal skills.
Where Can I buy Rock Band Rivals?
You can Purchase Rock Band Rivals at Amazon.com
Get Social