Rewind Racers Now Open at Adventure City
Stanton just got a whole lot more exciting with the addition of a brand new roller coaster called "Rewind Racers" at Adventure city. This racy ride was designed by the well-known German manufacturer Gerstlauer Amusement Rides GMBH and is the first family shuttle coaster in North America. The coaster travels along the track both forward and backwards and accommodates riders of all ages with a mere 39' height requirement when accompanied by an adult. The unique design offers comfortable seating for both small children and senior passengers and a smooth, gentle ride the whole family can enjoy. Rewind Racers stands at 40 feet and travels at up to 28 miles per hour. The coaster is made up of 7 cars with 2 passengers per car for a total of up to 14 passengers per ride.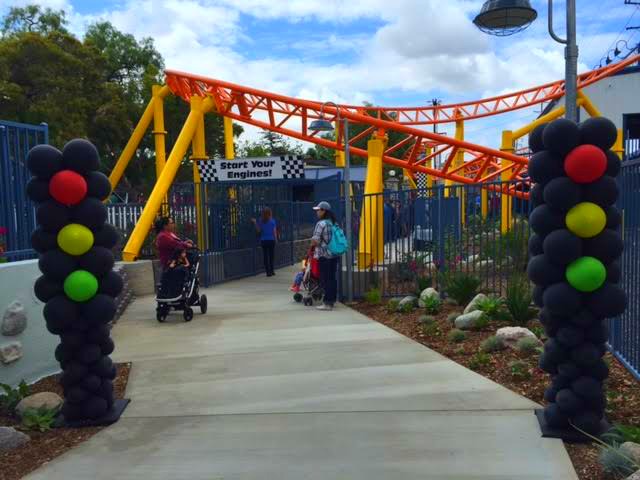 The entrance to the ride has a stroller friendly walkway and is brightly colored with a yellow and orange track.  We had the lovely opportunity to watch the ribbon cutting ceremony and watched family, friends and the city mayor welcome the new ride.
The queue for the ride is swift and easy. Guest walk up the stairs onto a platform before loading in the cars. They even have the railing  fenced off for safety which made me feel really good.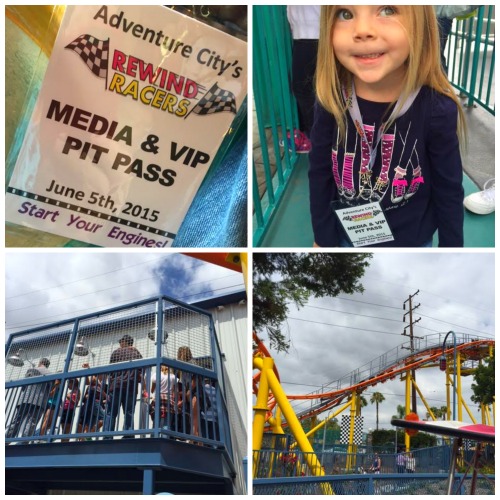 The interior of the ride platform is housed in under a large shaded building and riders and safely secured with individual lap bars making it super safe for little riders. Thanks to Living Mi Vida Loca for some great pictures.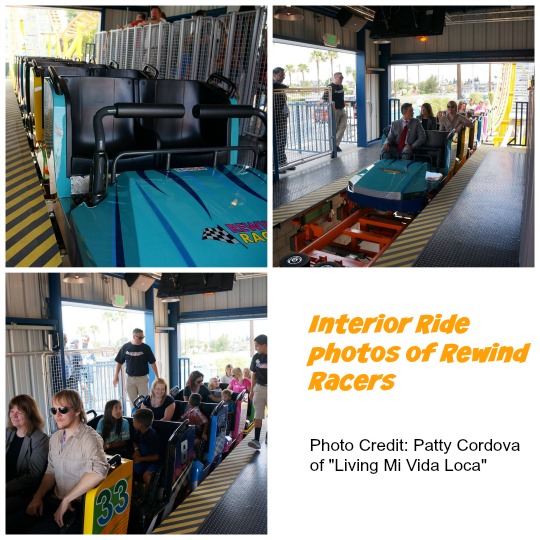 Below are some video of the ride. The first one is of the ride going forward and the second one is of the ride going backwards.
We had a great time seeing all of the fun Mascots and checking out the park. Adventure City is affordable and easy to walk as all of the rides are close together. Parking is free and child and adult admission is $16.95 per person with Seniors 55+ at $11.95 per person. For additional information, please visit www.adventurecity.com and like them on Facebook.