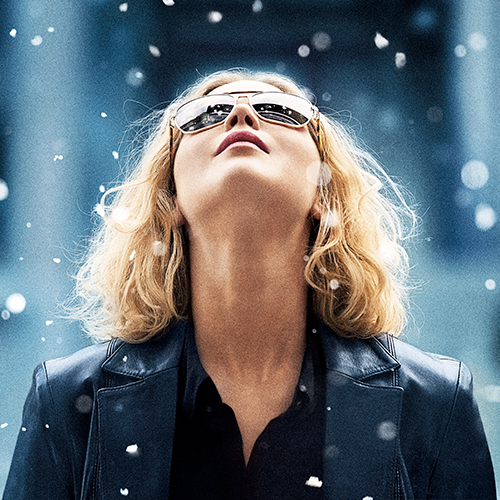 Once again, the team that brought us Sliver Linings Playbook and American Hustle – Jennifer Lawrence, Bradley Cooper, Robert De Niro and Director David O. Russell, team up to bring us their latest project, JOY.   This is the wild tale (based on the true story) of Joy Mangano and her Italian-American family. The story stems across four generations centered on an imaginative girl who becomes a business dynasty by inventing the Miracle Mop and becomes a matriarch in her own right. It is marked with betrayal, the loss of innocence and heartbreak. JOY is an intensely emotional and human comedy about becoming a true boss of a family (isn't that want Mom means) and enterprise facing a world of unforgiving commerce. Just as in life, not everyone is as she'd think.  Adversaries become friends and friends become adversaries, both inside and outside the family. Joy's inner light and amazing imagination carry her through the storms of life that she faces.
Joy Mangano (played by Jennifer Lawrence), is a divorced mother of two who risked her life's savings to produce and market her invention. Joy faces opposition from her dysfunctional family, including her father Rudy (Robert De Niro) as they meddle in her burgeoning business. At times, it is so hard to watch her struggle with her own family and to hear the tongue-lashings she has to deal with.  Then head of the newly founded QVC Network (Bradley Cooper) gives Joy a shot to sell her product on live TV, and make the Miracle Mop a household name. JOY is a story of family, loyalty, and love.
I should start by saying I LOVE biopics and biographies. Joy takes it's audience on a wild ride of emotions as we watch Joy find herself again after being buried deep down for 17 years like a cicada.  You'll have to see the movie for the correlations.  I laughed, cried and winced.  There are some pretty good one-liners in this movie, that I hope to be able to use in my everyday life.  As a mom, I could relate a lot to the hills and valleys that Joy goes through.  Sometimes, feeling like you do everything, you are not appreciated and like you let everyone down.  But, Joy doesn't let it keep her down for long.  Though the movie is entertaining, I did find myself thinking that is was a bit slow at times.  The cast is great and won't let you down, but the screenplay might a little.  But only if you know more about Joy than the movie tells you, because though it is based on her life, they have of course taken liberties with some details.  Yes, I am being nit-picky, but I did said I love biographies. Regardless, I enjoyed the movie a great deal. I'd recommend it for a girls night out, as women will relate more to the movie than men.  This is not a movie for the whole family.
Head out to the theaters this Christmas Day and rock some girl power!
Official Trailer
| | |
| --- | --- |
| Rating: | PG-13 (for brief strong language) |
| Genre: | Drama |
| Directed By: | David O. Russell |
| Written By: | Annie Mumolo, David O. Russell |
| In Theaters: | Dec 25, 2015, Wide |
| Runtime: | |