This is a guest post by Terri Perkins on behalf of Alvin and the Chipmunks.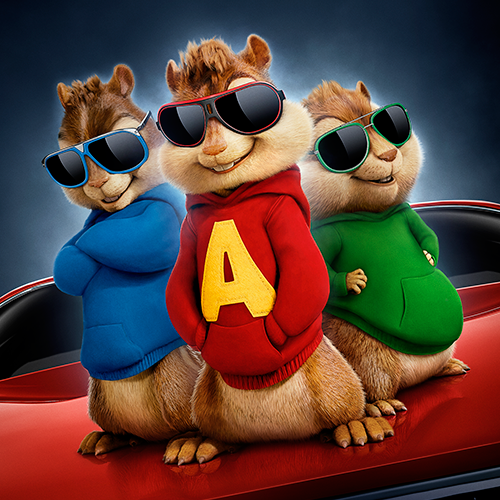 Alvin and the Chipmunks: The Road Chip in theaters this Friday, December 18th.
If you know these chipmunks, you know you are in for a wild and silly ride.  20th Century Fox is releasing the fourth live action/CG Chipmunk movie and in my opinion, it won't let you down.
The movie centers around a series of misunderstandings that take us from Los Angeles to Miami and places in between.  The boys believe Dave (Jason Lee) is going to propose to his new girlfriend (Kimberly Williams-Paisley) while they are in Miami together and dump them.  But of course Alvin says "I have a plan", this is where all the zany madcap adventures begin.  They have three days to stop this proposal, saving themselves not only from losing Dave but from also possibly gaining a horrible stepbrother.
This movie had my 8 year old and I laughing out loud.  We love the Chipmunks cartoons and movies.  She laughed so loud, I had to shush her.  Along side all the laughter was some great music that will have you tapping your toes or even dancing in your seats.  The Road Chip had great renditions of "Uptown Funk" and "South Side".  The story line had us laughing, dancing, and even tearing up in a few places.
The cast is excellent.  Justin Long, Matthew Gray Gubler and Jesse McCarthy reprising their voice roles of the Chipmunks as well as Anna Faris, Christina Applegate and Kaley Cuoco as the Chipettes.  Of course you don't really hear their own voices.  Along with Jason Lee as David Seville; Kimberly Williams-Paisley as Samantha; Josh Green as Myles; Bella Thorne as a new up and coming pop star; Toby Hale as the "bad guy" who is after the chipmunks.
I'd recommend the movie for the whole family, even that stubborn teen.  Don't get me wrong, this isn't an outside the box type of movie.  This latest adventure is still filled with slapstick comedy, potty humor and a slightly predictable story line, but isn't that what we've come to love about these little guys.  If the thought of an hour plus of high pitch voices singing and rapping causes you to cringe, this probably isn't the movie for you.  But if you and the kids are up for another silly adventures with some familiar faces then Alvin and the Chipmunks: The Road Chip  is a wonderful choice for the holiday season.
Sit back, relax and get your seat dancing groove on.   Overall, Alvin and the Chipmunks: The Road Chip contains positive messages about family, love and bonding.  Best suited for the 3-10 age range.
Official Trailer
This film is Rated G (some mild rude humor and language)
Run time 1 hour 26 minutes.
| | |
| --- | --- |
| DIRECTOR | Walt Becker |
| PRODUCERS | Janice Karman, Ross Bagdasarian |
| SCREENPLAY | Adam Sztkiel, based on the characters Alvin and Chipmunks created by Ross Bagdasarian |
| ACTORS | Jason Lee, Tony Hale, Kimberly Williams-Paisley, Josh Green, Justin Long, Matthew Gray Gubler, Jesse McCartney, Kaley Cuoco-Sweeting, Anna Faris, Christina Applegate |