iT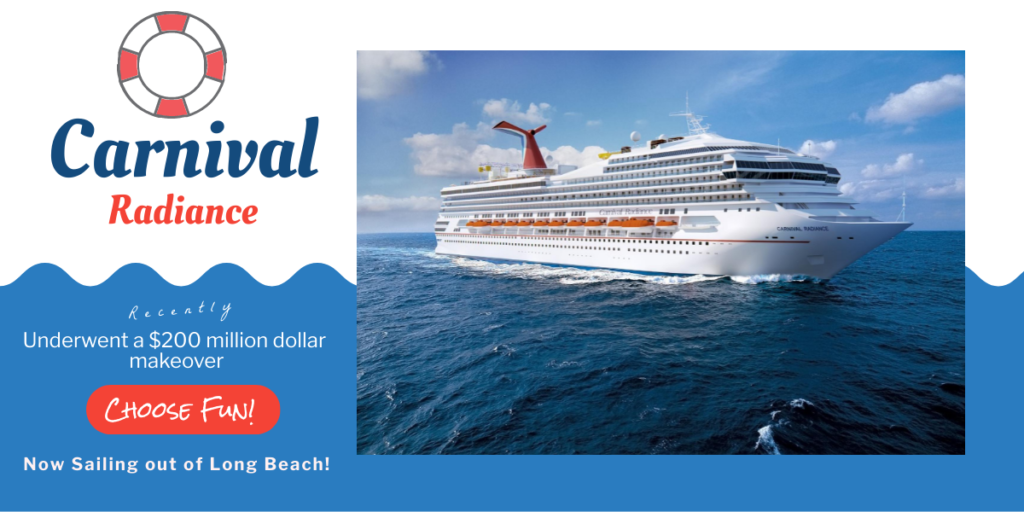 There is nothing like being on a cruise ship in the middle of the ocean and feeling like life's routines and job stress is far behind you. Heck, I'd even go on a cruise ship that never left the port! And that is exactly what I did when I explored the newly made-over Carnival Radiance! Once known as the Carnival Victory, this magnificent vessel has undergone a $200 million dollar bow-to-stern transformation and was christened by none other than its own godmother, Dr. Lucille O'Neal. If her name sounds familiar it's because she is the real mother of basketball legend Shaquille O'Neal.  Lucille is an accomplished speaker who donates her time and talent to a wide range of charitable organizations.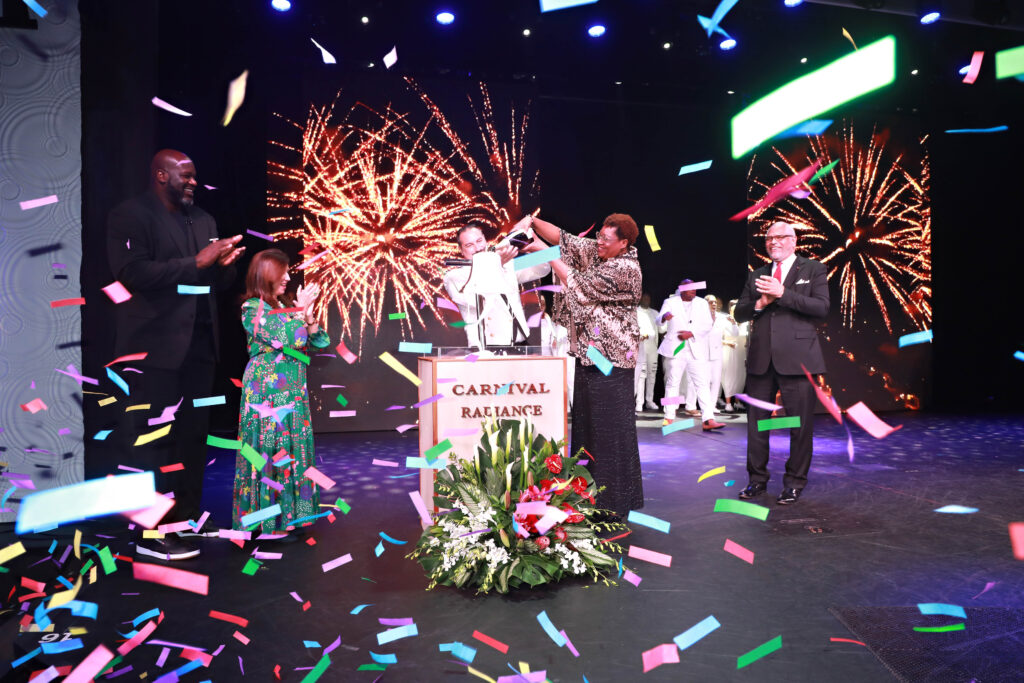 Lobby
Upon arriving, we were greeted with the grandest welcoming! The entire crew was spread out throughout the lobby and there was a beautiful trio playing music for all of the guests. The glass elevators are really elegant and the blue lighting is very relaxing and really reinforces that you are indeed on vacation.
Casino
In order to get to all the fun, one must pass through the casino, and what a beautiful casino it is! Lots of deep, rich reds and golds and a plethora of slot machines! I loved how it was adjacent to the red frog bar and there is always music to be heard. I thoroughly enjoyed the band CIA!
Dining onboard Carnival
There are 12 dining options available on the Carnival Radiance. I had an opportunity to taste Shaq's big chicken restaurant, the Bonsai sushi restaurant, and a pulled pork slider, all before enjoying a 9-course meal in the main dining room. All the food was absolutely delicious, especially Shaq's big chicken. The chicken was really tender and moist and I loved the big wedge fries it came with. The following restaurants are all on the ship:
Shaq's big chicken restaurant
Blue Iguana Cantina
Bonsai Sushi
Cucina Del Capitano
Farenheight 555 steakhouse
Guy's Burger Joint
Guy's Pig & Anchor BBQ
Lido Marketplace Buffet
Pizzeria Del Capitano
Seafood Shack
The Carnival Deli
The Chef's Table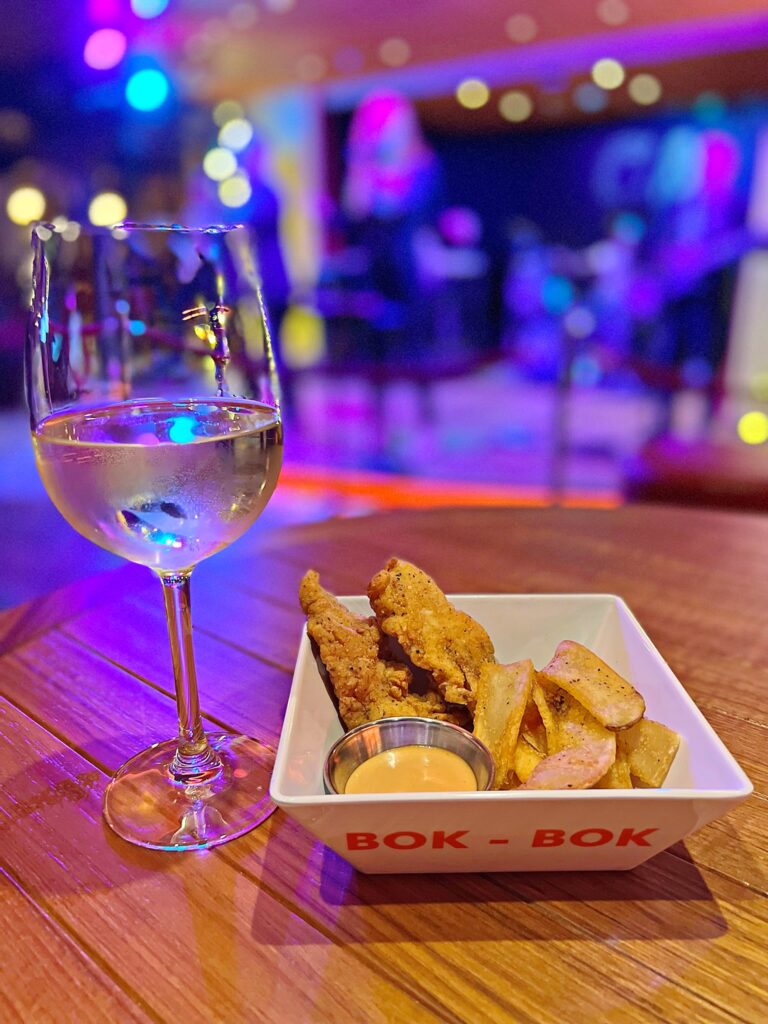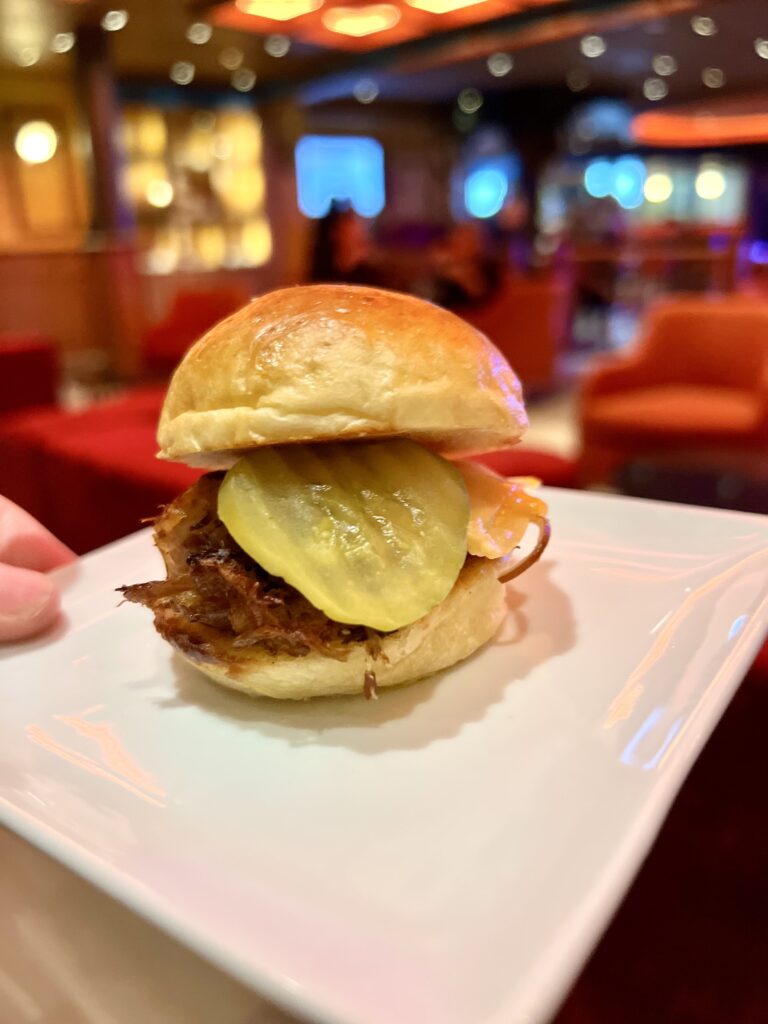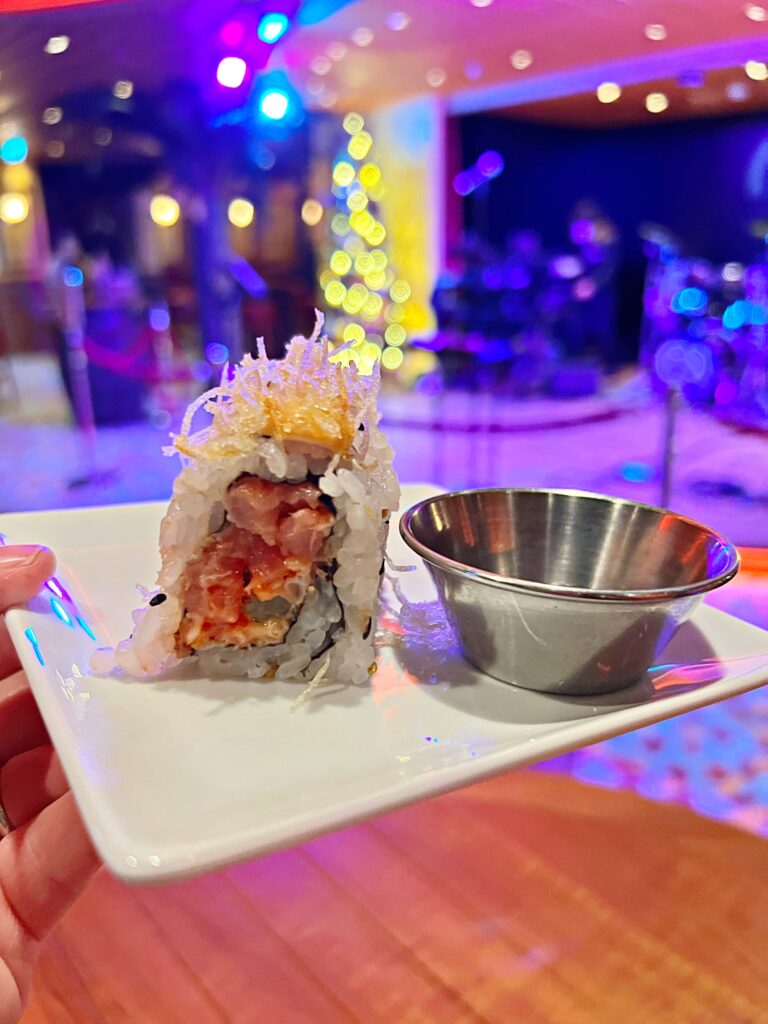 The Christening Ceremony
In a celebration of all things fun and family, Carnival Cruise Line christened its newest ship Carnival Radiance with the ship's Godmother Dr. Lucille O'Neal and her son, Carnival Chief Fun Officer Shaquille O'Neal as featured guests of the event.
The heartfelt naming ceremony began with a "We Are Family" video of Carnival Radiance crew members preparing the ship for guests.
"Carnival Radiance features all of Carnival's fan favorites and more, so we are beyond excited to finally welcome her to the West Coast and to our fleet," said Christine Duffy, president of Carnival Cruise Line. "And having Shaq's mom, Lucille, an accomplished speaker who donates her time and talent to a wide range of charitable organizations as the ship's Godmother has made it even more special."
Duffy presented Lucille with a $25,000 donation to the Odessa Chambliss Quality of Life Fund that honors the lifetime accomplishments of Lucille's mother who worked in the medical field as a nurse. The fund's primary mission is to provide financial contributions to help support students seeking a career in nursing and education.
As part of the ceremony, Lucille and Shaquille helped pour champagne atop a traditional ship's bell, officially naming the ship. The City of Refuge Sanctuary Choir from Gardena, Calif. rocked the house with a gospel rendition of "We Are Family" as event guests waved light sticks during an emotional grand finale.
"What a special evening it was to celebrate the debut of Carnival Radiance with my son by my side in what truly felt like a "We Are Family" event," said Lucille. "It has been such a pleasure to be included in these exciting festivities, so I can only imagine how incredible it will be for guests to sail aboard this spectacular ship – they're going to love it."
Some Playful Banter With Carnival Miracle
Before the Carnival Miracle left port, The Carnival Radiance made sure to send them off with some playful horn honking.
The Main Dining Room
After the naming ceremony, we enjoyed a delicious 9-course meal in the main dining room. The energy from the waiters was so upbeat and I was so happy to chow down on a juicy steak and some lobster bisque. Below is a sample menu.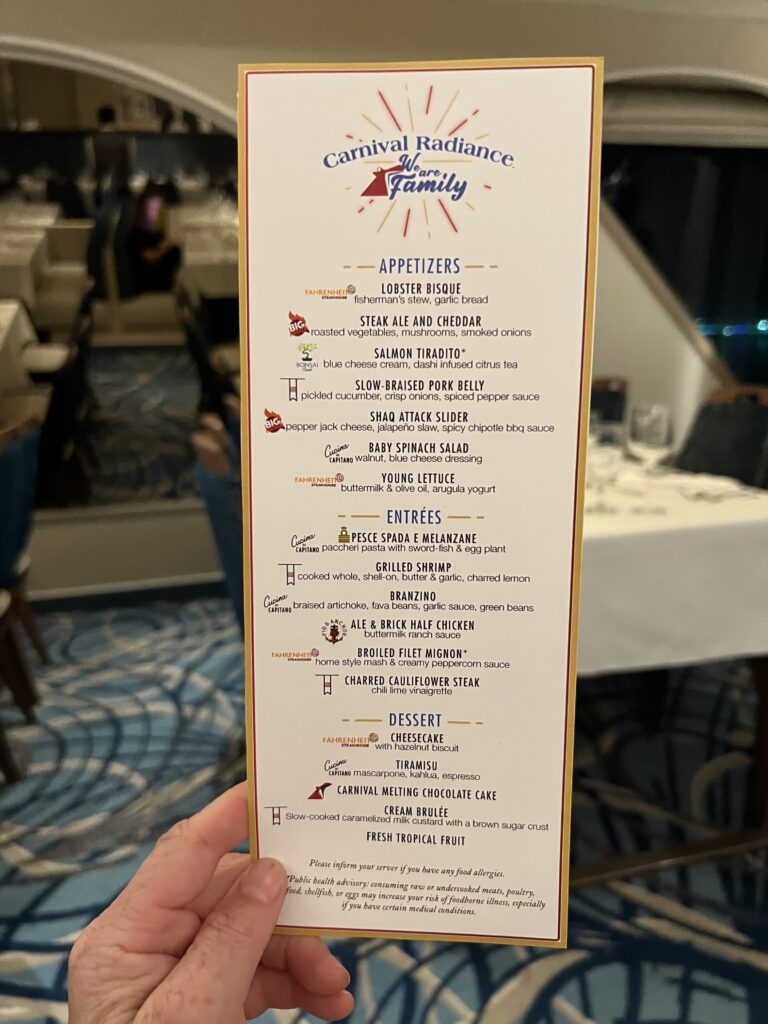 Rock Revolution: Summer of 69
Lido Deck
The Lido deck is where so much of the magic happens! The dance parties, the pools, the drinks, etc! Kids will love the spiraling Twister Waterslide aboard Carnival Radiance. Get ready for hundreds of feet of twists, turns and exhilarating fun. There is also a ropes course, dive-in movies, sportsquare, Zumbini, mini-golf, video arcade, build-a0bear workshop, youth and teen programs, and so much more!
If there was one word to sum up this show it would be WOW! Granted, I am pretty easy to impress, but the use of lasers, smoke and technology is absolutely incredible! Rock revolution is a modernized concert-style show inspired by the legendary Woodstock music festival that pays tribute to the music from the 'Summer of '69'' and fashion styles reminiscent of icons like Jimi Hendrix and Janis Joplin. Brought to life by top Los Angeles production talent, including acclaimed artistic director Jonathan Tessero, and accomplished choreographer Rudy Abreu whose credits include So You Think You Can Dance and World of Dance, the show features a horn trio and a three-person rock band playing illuminated LED-interactive drum sets while "dancing drones" fly throughout the theater to deliver a unique multi-sensory experience. Creative costume designs, classic rock songs, contemporary choreography and high octane vocals transform the stage into a reimagined tribute concert with a modern twist.
New Additions to Carnival Radiance
Here's what was added to this beautiful ship:
Routine hotel maintenance
New red, white and blue hull design and paint scheme
110 new guest suites and staterooms
Liquid Lounge
Java Blue Café
Limelight Lounge
Fahrenheit 555 Steakhouse
RedFrog Pub
Piano Bar 88
Bonsai Sushi
Big Chicken Restaurant
Pizzeria del Capitano
Carnival WaterWorks
Cucina del Capitano
Dedicated Chef's Table
Heroes Tribute Bar
Guy's Pig & Anchor Bar-B-Que Smokehouse
SportSquare (SkyCourse, basketball court, jogging track, ping pong, foosball, pool tables and nine-hole miniature golf course)
Cloud 9 Spa and Cloud 9 Spa Staterooms
Expanded Retail Spaces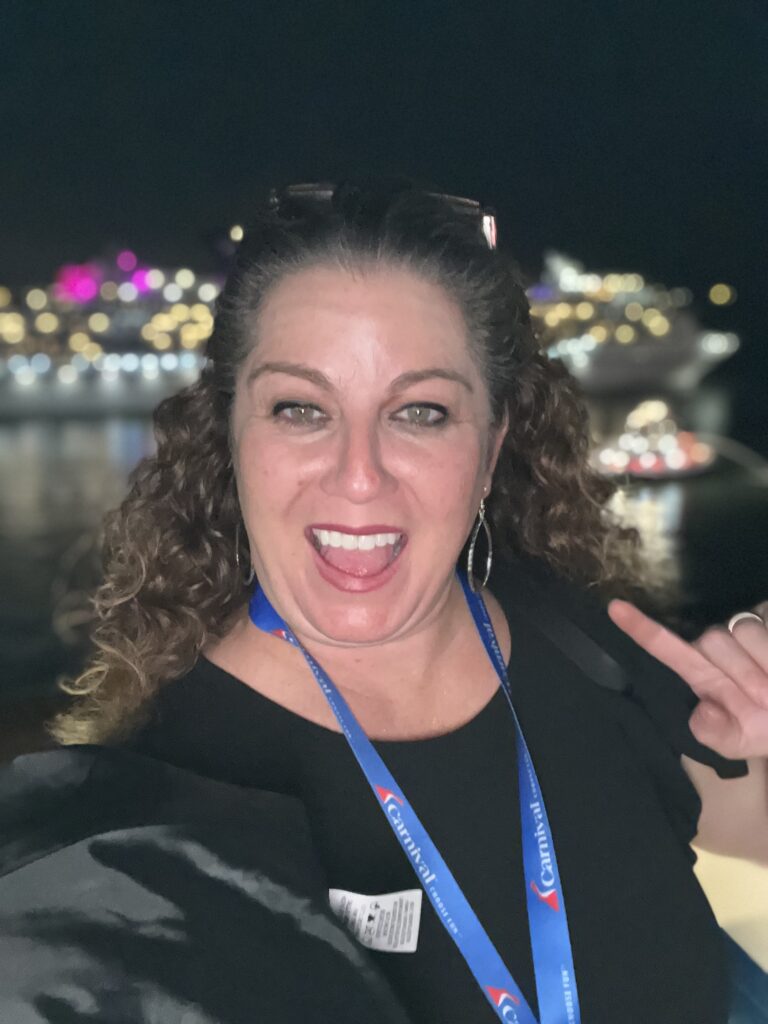 Carnival Radiance's West Coast-based itineraries include three-day voyages to Ensenada and four-day sailings calling at Ensenada and Catalina Island. She joins Carnival Panorama operating week-long Mexican Riviera cruises and Carnival Miracle sailing four- and five-day Mexico voyages. For more information visit Carnival on Facebook and instagram.