"This shop is part of a social shopper marketing insight campaign with Pollinate Media Group™ and Cottonelle but all my opinions are my own. #pmedia #CtnlCareRoutine http://cmp.ly/3/8vNxcO"

Remember when your kids were 3 and everything out of their mouth was  "No"?  "No, I don't want to go to bed", "No I don't want to eat that", "No, I don't want to get in the car". Well, I have a 3 year old little girl who is as strong-willed as they come. And the word "No" is at the top of her vocabulary list. She is a tiny little thing but boy is she fierce. Last month we decided it would be a good time to start potty training her so we set off to the store to buy all the potty training essentials. You know, a princess potty (because every Diva needs to hear a chime when they tinkle) , Dora Panties (because she will help you find the map), stickers (because I love scraping them off my wood floors), soft toilet paper and wet wipes. We prefer to use Cottonelle Toilet Paper because it is so much softer than the other name brands. I find it soothing, yet strong and gentle. It is one of the better bathroom tissues on the market that that doesn't disintegrate in your hand. It also does not clog our toilets like other brands have done in the past. My older boys say using Cottonelle is like having a pillow between your cheeks!
We also always buy the Cottonelle flushable moist wipes because, well, who doesn't like having a clean behind? We use the same type of product on babies so why can't grown-ups and toddlers use them too? They are the perfect tool for potty training. We keep a container on hand in every bathroom in the house.  I even take them with us when we go on vacation. You can never have enough wet wipes.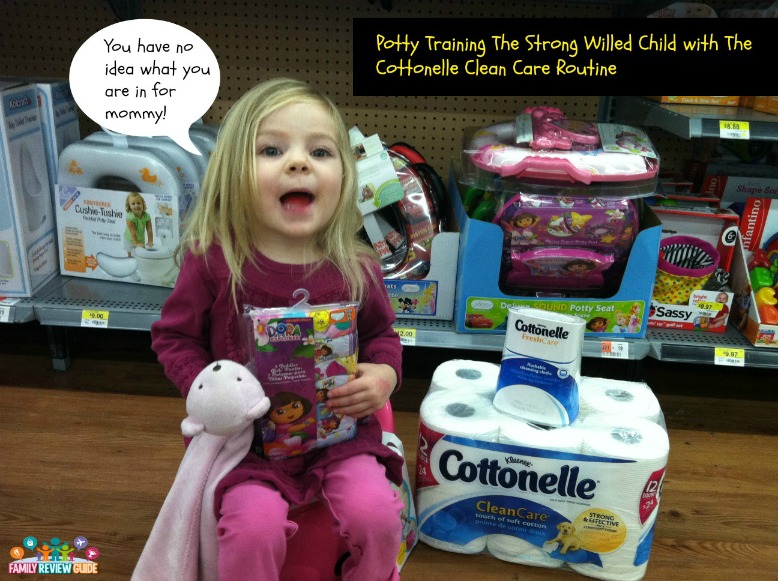 Ready, Set, Go!
After we got everything we needed we checked out and were ready to start Potty Training! I knew it was going to be tough but I was ready to give it everything I had. It was my first time potty training a girl and I wasn't sure if it would be harder or easier than my boys. We had been reading books about using the potty and watching potty movies so I was hoping for an easy transition.

Screeeech!
However, that was not the case. Things got off to a rocky start. My daughter refused to sit on the potty, refused to put on her underwear or even look in the same direction as the bathroom. All I got from her was "No Potty"  on top of screaming and tears.  So, I tried to come up with some creative ways to make her feel more comfortable. I placed her "friends" on the potty to start. However, I don't think they were too amused.

I tried showing her that pull-ups are not necessary as they are just glorified diapers. Even Mrs. Bear decided to take hers off.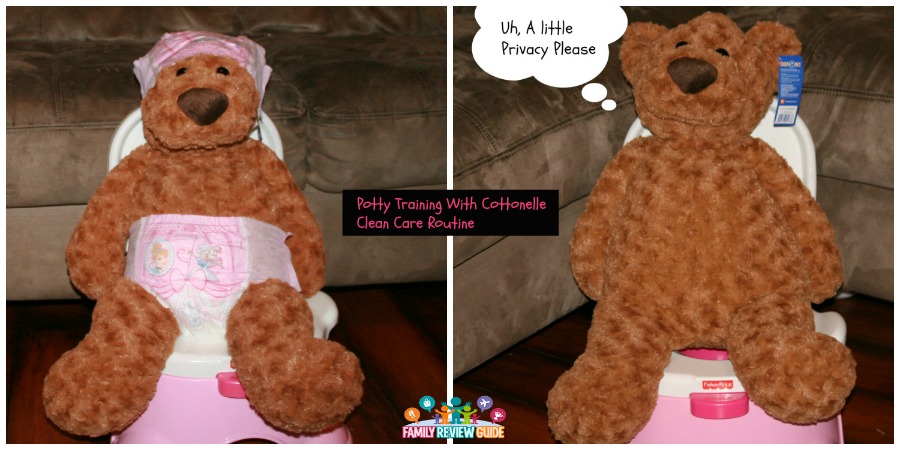 Choices
My daughter is very independent and does much better when given a choice. If I do not give her a choice she will undo whatever it was that I did and re-do it herself.  That is very exhausting. So It wasn't until I started giving her choices during potty training that she became more at ease.  This is where The Cottonelle Clean Care routine came in handy. Since we keep a Cottonelle System in every bathroom I was able to ask my daughter "Would you like to use the potty upstairs or downstairs?"  She liked being able to decide for herself.  I would also put a fun toy in a basket like bubbles in different shaped bottles. I would say  "Do you want to blow the tall bubbles or the short bubbles after you go potty? Giving her the power to choose eliminated any struggles we were dealing with. I also let her pull the wipes out of the dispenser on her own. She learned quickly how to wipe herself. The same went for the toilet paper. I would tell her she can tear 3 squares off for pee pee and 5 off for a poop. It's nice to know that she isn't wasting the roll.


We also let her choose between using the potty that sits on the ground or the potty seat that is attached to the regular toilet.

 Set The Potty Timer
Strong Willed Children are notorious for pushing the limits. That is why it is a good idea to use a timer during potty training. As a parent sometimes we also have to be the enemy. However,  to help avoid fights and lessen the drama try using the timer on your phone. Set it for 25 or 30 minutes to remind your child to use the potty.  Then the timer would be saying "It's time to go potty!" instead of you always having to be the bad guy.  Blaming an inanimate object works really well and my daughter was very receptive to it.

 Consistancy
Last but not least, be consistent. I always require my daughter to use the potty before we get in the car or before we start something new. I also ask her to go to the potty at soon as she wakes up in the morning as well as before she puts her pajamas on at night. She is also reminded after at least an hour of continuous play. I hope to have it so engrained in her brain that I will not have to remind her on a regular basis.
Cottonelle currently has a promotion going on at Wal-Mart. When you purchase BOTH items in store in the month of February you will receive a $5 Vudu offer (there is not a Gift Card option). Vudu is like RedBox and offers HD movies. To receive the offer you need to take a picture of the receipt showing that you purchased both items and then text or email your picture to [email protected]. You will receive a text or email back with a code valid for a $5 movie credit. You can get more information by going to www.DRVSusa.com/cottonellemovies. You can also save $2 using https://www.cottonelle.com/coupons.