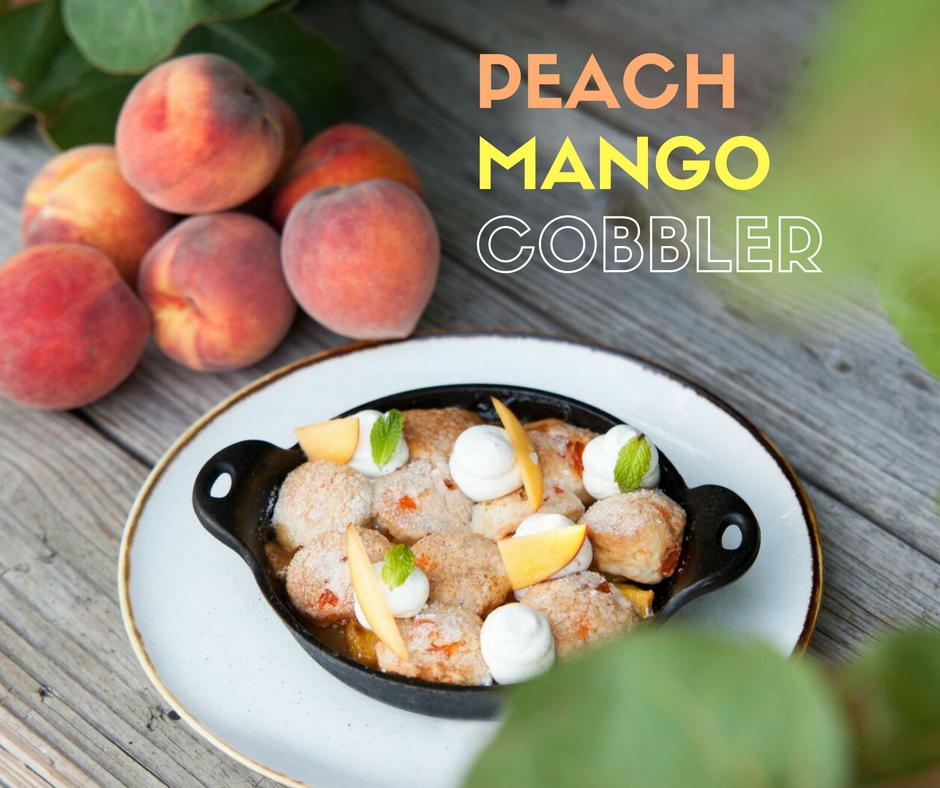 Peach Cobbler is a summer time favorite for many due to the freshness and quality of ripe peaches in season. There are many ways to make a Peach Cobbler, yet finding a great, easy recipe is hard to find. However, we found the perfect recipe. It's from Seaspice's Executive Pastry Chef Jill Montinola. She thinks outside the crust with her reinterpreted version in an easy to follow, and even easier to execute, recipe. Her twist to the classic dish? Add mangoes!
Peach Mango Cobbler Recipe
All purpose flour 2 cups
Sugar 1/3 cups
Baking powder 1 teaspoon
Baking soda ¼ teaspoon
Salt ½ teaspoon
Butter, frozen and cut small 8 tablespoon
Crème fraiche 1/2 cup
Egg 1 each
Mango chips, cut small ½ cup
Directions
Mix together the dry ingredients in a bowl. Then slowly add the butter. In a separate bowl, mix the crème fraiche and egg, then add to the dry ingredients and butter mix. Then add the mango chips. Gather the dough together into a disc, wrap and let it rest in the cooler for at least 30 minutes.
Filling
Peaches, peeled, no pit, sliced 8 each
Sugar ¼ cups
Brown sugar ¼ cups
Lemon juice 1 teaspoon
Cornstarch 2 teaspoon
Lavender, dried 1 pinch
Directions
Mix together.
Bake at 375F for 10 minutes.
Then drop the filling on top of the peaches, glaze with hea
vy cream and sugar.
Bake for 30 minutes