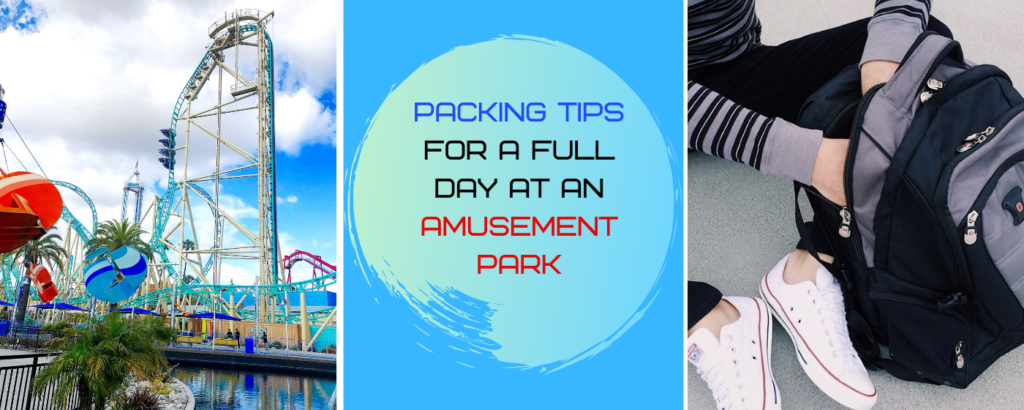 Amusement parks are the ultimate destination for families who love adventure. They are full of thrills, entertainment and endless food options. But spending a full day as a family at a theme park takes energy, money and a lot of planning. You can easily spend 12 – 16 hours in some of the parks and walking is a major part of the day. If you think 10,000 steps on your fitbit is a great goal, go ahead and double that! But make sure you have all the essential items you will need to keep up your energy and be comfortable throughout the day.  A well stocked bag will not only save you money but it will also save your family lots of time allowing you to enjoy more activities with less stress. Here is a printable packing list with some of our most helpful recommendations:
External battery pack
Let's face it…Nothing is more frustrating than a dead battery when you need your phone the most. If you can't take pictures of your family having the time of their lives at your favorite amusement park, did it ever really happen?! Be prepared and bring an external battery. Our favorite recommendation is the Anker PowerCore10000. I literally never go anywhere without it. It is remarkably compact so it fits perfectly in a side bag pocket and it provides almost three-and-a-half iPhone 8 charges or two-and-a-half Galaxy S8 charges. Don't forget the cables!!!!
Inexpensive Poncho
No one wants to walk around in wet jeans or clothes that take forever to dry. Purchase an inexpensive poncho online or perhaps even a bundle for the whole family. Amazon sells a 5-pack in both adult and kid sizes. They are lightweight and easy to stuff in your bag.
Waterproof Phone Pouch/Plastic Sandwich Bags
If you don't want to shell out the money for a fancy plastic waterproof phone pouch, a plastic sandwich bag will also do the trick to keep your phone, cash, tickets and anything paper safe from water rides.
Sun Block/Hat
You don't want to fry to crisp on a sunny summer day or buy $20+ a bottle inside the park. Bring your own so you can reapply as needed throughout the day. Sunscreen face sticks are perfect for theme parks. Hats are also great to wear in the park but they will have to be removed for most rides.  Your skin is your largest organ, protect it!
Cooling Towel/Fan
When it's scorching hot in the parks and you are stuck standing in line, cool off with a cooling towel around your neck or use your own personal misting fan.  Both are great accessories for on-the-go and anywhere you need a little cooling and misting. The cooling towels are like magic because they chills instantly. Just soak it, wring it out,  and snap it. In just a few seconds the chill towel will keep cooling for several hours and reactivate the chilling by repeating the steps. It is soft, lightweight, super absorbent, chemical-free, provides UPF 50 sunscreen protection and can reduces body temperature up to 30 degree
Flip Flops
Wet shoes and socks are a total drag. You will be so grateful you have an extra pair of flip-flops in your bag if your shoes get wet and sloshy from a water ride.  Flip-Flops dry quickly and on a hot day your feet will thank you for being able to breathe!
Collapsable Water Bottle
Hydrate Hydrate Hydrate! If you are looking for a space saver, a collapsable water cup is convenient and quick. No need to roll up. You will Save 50% storage space and they fit into your bag easily. collapsible bottles also prevent the bottle from being damaged from being rolled up.
Lanyard
Lanyards with a plastic pouch will be your best friend in the park. You can use a lanyard and zip pouch to carry your park tickets, fast passes, photo passes, and credit cards.  It's so much more convenient and easier to take on rides.
Snacks
Most theme parks are perfectly fine with you bringing in a small soft cooler so pack that with apples, nuts, chips, crackers, cookies, pickles and other small bites. Because there is nothing like rushing to get to a show early to grab a seat, only to hear one of your children say they are hungry or thirsty when you arrive. Plus it gets expensive
Know Before You Go
Aside from a well packed bag there are a few things you should check for in advance of your visit to a theme park.
Mobile App – Many times parks will have an app that you can download on your phone and there is an option to store your mobile tickets, vouchers and season passes. This is a game changer because if you load them right away and you lose your paper tickets, there is no issue or concern since they are stored on your phone. KNOTTS DRINK
Refillable Souvenir Cups – If you would rather not carry water bottles in your bag check and see if the theme park you are going to has a refillable souvenir cup for day use. Typically there is a 15 minute interval time between refills.
 AAA card – An auto club membership card can often be used for in-park food and merchandise discounts at many of the major theme parks. It's a great buy for most theme park fans, but only if you remember to bring it, and use it.
Tips On purchasing New Luggage or Bags

Speaking of packing tips, are you planning on buying new luggage for your summer vacation this year?  If you are the market, take a moment to consider all of the available options. Here are some tips for buying luggage for summer vacation.
Suggestions On How To Unplug During Vacation
Technology on vacation can be a blessing and a curse. Of course in our opinion it is more helpful than it is harmful and being able to reach my kids by phone at any point allows my husband and me to let our older kids wander and explore. But sometimes it gets disruptive like kids on their phones at a meal or them missing out on cool things because their faces are buried in their phones. Here are some suggestions on how to unplug during vacation – complete with an unplugged family vacation pledge.
For more travel inspiration, be sure to check out Alamo's Scenic Route and visit Alamo on Facebook and on Instagram.