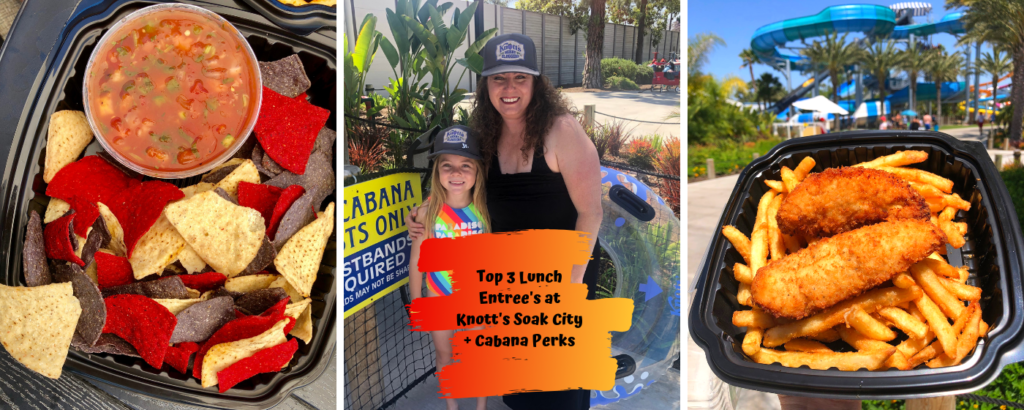 Dining options at amusement parks are becoming more and more diverse. There are so many choices for every preference and diet plan. You can indulge in the finest sweets and comfort food or you can choose healthy options to keep you fit and fueled throughout the busy day. Whatever your culinary needs are Knott's Soak City has something for everyone.
Cabana Culinary Perks
One of the perks of renting a cabana at Knott's Soak City is you get your own personal waiter. That means you never have to leave your spot to go and order food and all of your drinks are constantly refilled throughput the day.  Each cabana reservation comes with up to 8 non-transferrable wristbands and includes extra amenities like a table with umbrella, 4 inner tube rentals, and waiter service.
Another awesome perk is that there is a safe in each cabana! Leaving our valuables in the safe while we were away on the waterslides was priceless.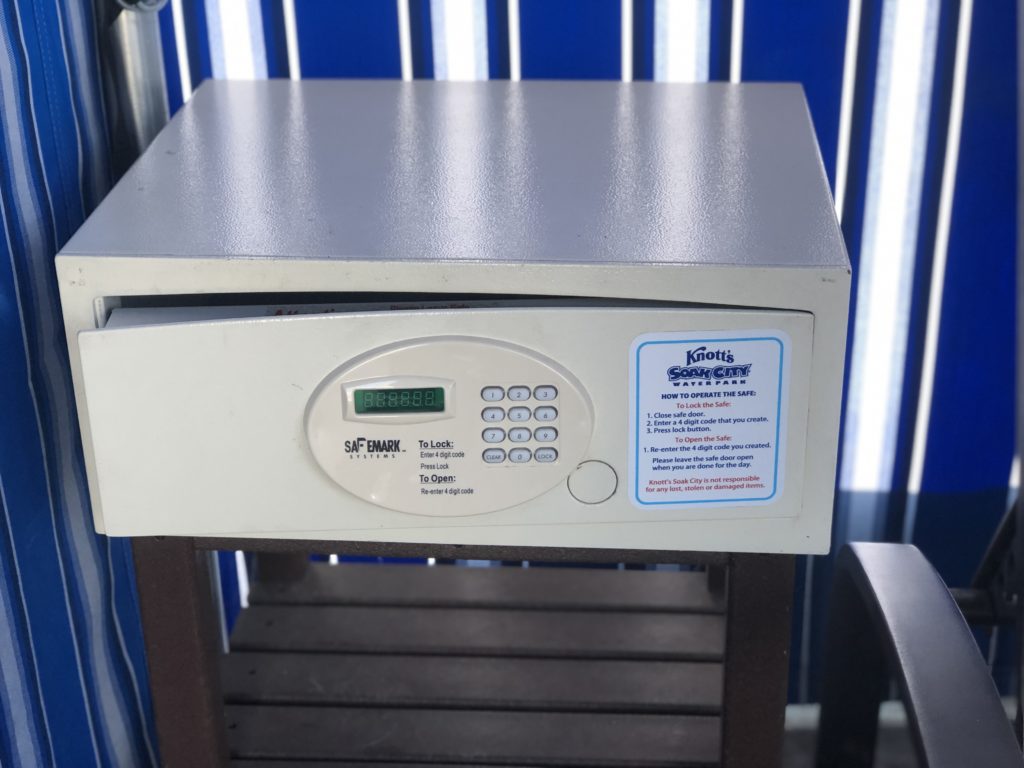 There are three cabanas to choose from: Shore Break Cabanas, Wavepool Cabanas, and Malibu Cabanas. All amenities are the same, just the location of the cabanas is different.
How Much Are  Cabanas
Prices for cabanas vary throughout the week. On Fridays-Sundays they are anywhere from  $245-$255 for Shorebreak and Malibu cabanas and $265 for the wavepool cabanas.  During the week Mo-Th it is anywhere from $195 for Shorebreak and Malibu cabanas and $210-$265 for wave pool cabanas.
What Amenities Come With A Cabana?
| | |
| --- | --- |
| Number of Guests Per Cabana | 8 |
| Patio Table with Umbrella and 4 Chairs | |
| Four Lounge Chairs | |
| 4 Inner Tube Rentals | |
| Waiter Service (standard menu prices apply) | |
| Additional Guests | Up to 2 @ $15 Each |
Dining Choices At Knott's Soak City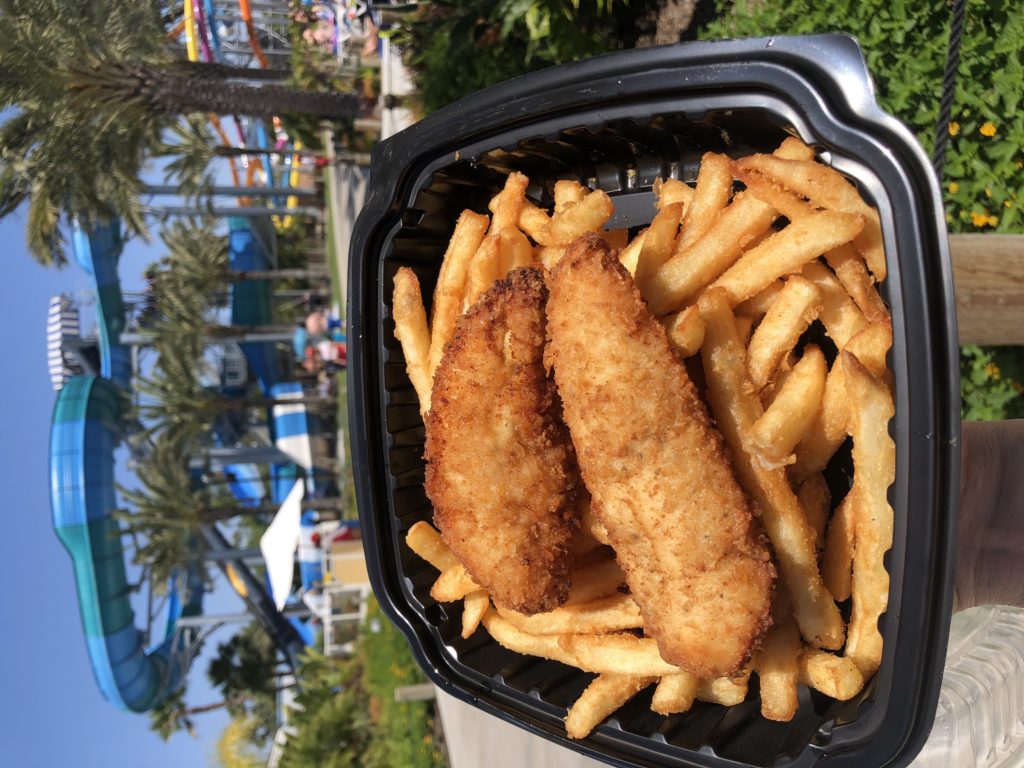 Longboards grill is the main restaurant inside the park. Not too long ago it had a complete remodeling and expansion and now offers a newly redesigned sleek restaurant layout. While Longboard's theme remains the same, the menu includes new and delicious items such as hand breaded chicken tenders, fish & chips and assorted wraps. Plus classic favorites like grilled burgers and hot dogs. A new shaded outdoor seating area has been added by the restaurant's entrance, welcoming diners to fuel up with delicious meals as they take a break from the sun.
Our #1 choice on the menu is the breaded chicken tenders and french fries. They are nicely spiced and really tender chicken. The hand breading really puts them a step above the chicken tenders served throughout the rest of Knott's.The fries have a slight crunchy coating and are really good!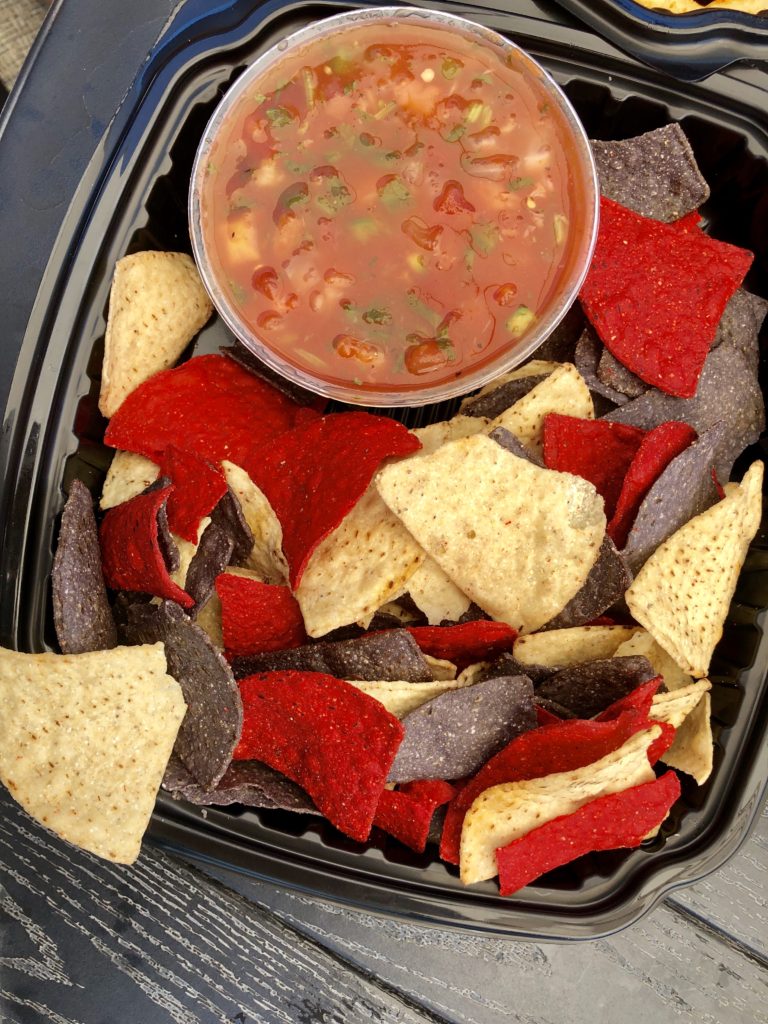 Our second Choice on the menu is the ceviche! When you rent a cabana you get to choose appetizers and shrimp ceviche and chips is on the menu.  The ceviche comes served in a red salsa like sauce and is very hearty with large chunks of shrimp. The flavor is mild and not too spicy and the chips  are a mixture of red white and blue corn tortilla chips. The salty chips taste delicious with a mouthful of cool, flavorful shrimp, onions, and peppers.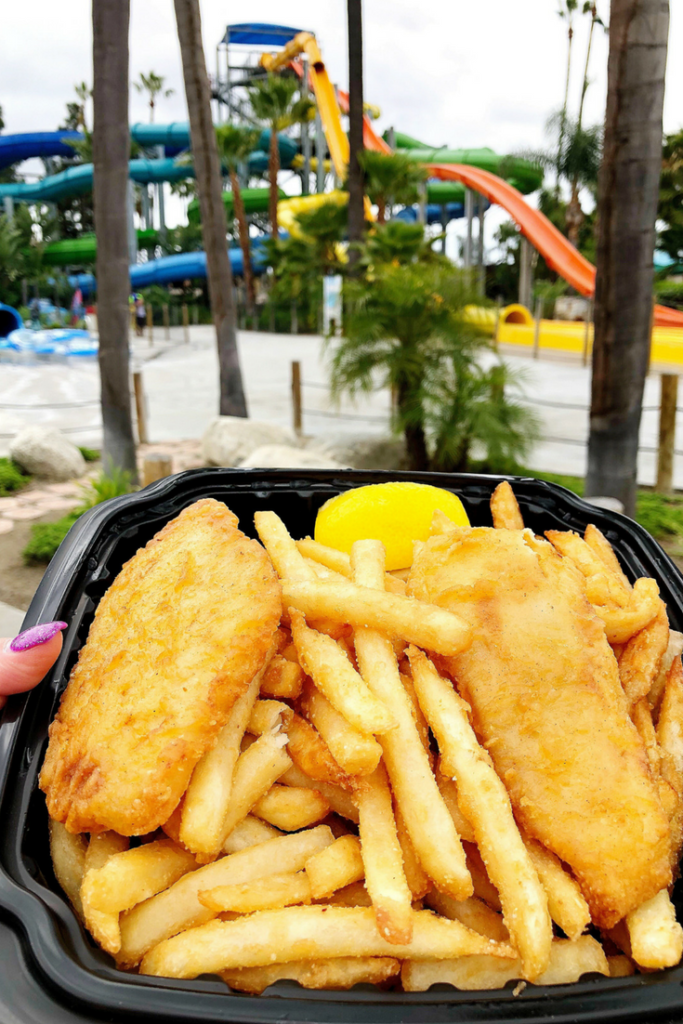 Lastly, we love the fish and chips! Light and crispy fish filets are battered to perfection and served with a side of tangy tartar sauce. The chips are crisp on the outside and fluffy inside resulting in a perfect match made in heaven. Lemons are included so you can squeeze some citrus on your fish. The food is served in a plastic bowl and comes with a lid so you can save anything you might not eat for later. The good thing is with a cabana your food will be in the shade and not in the sun.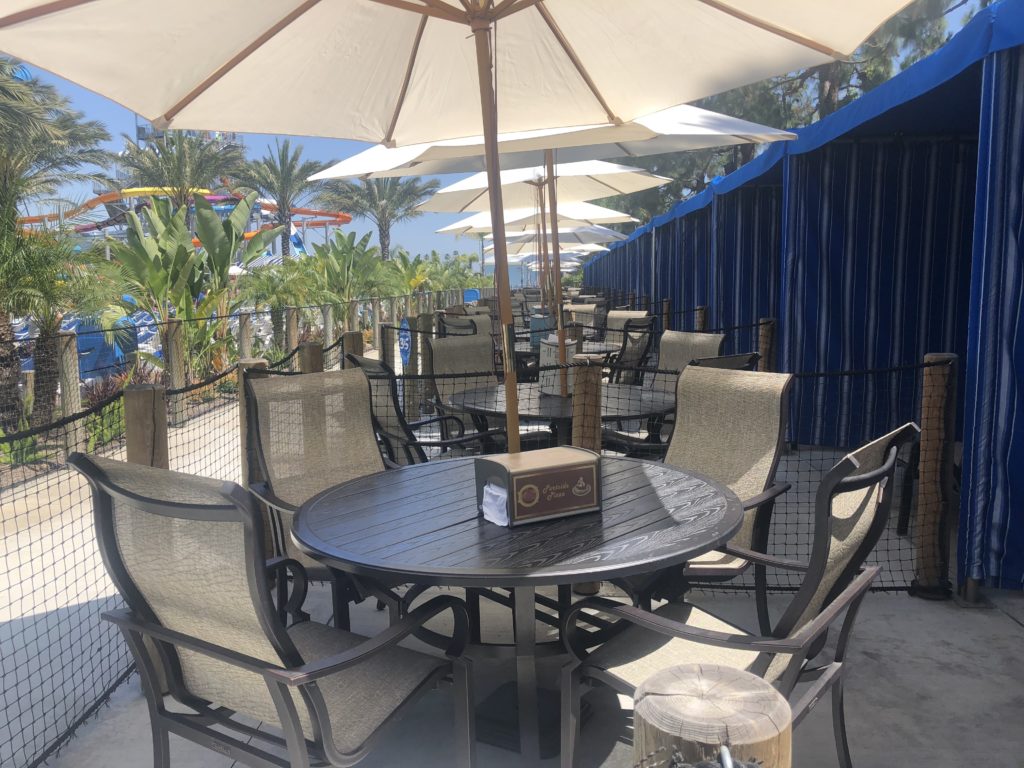 Blogger Tip: When in the lazy river hold onto your inner tube. Lots of people will be asking if they can have it but just politely tell them no. The inner tubes from the cabanas say "rental' on them as opposed to the non-rental ones which are blank.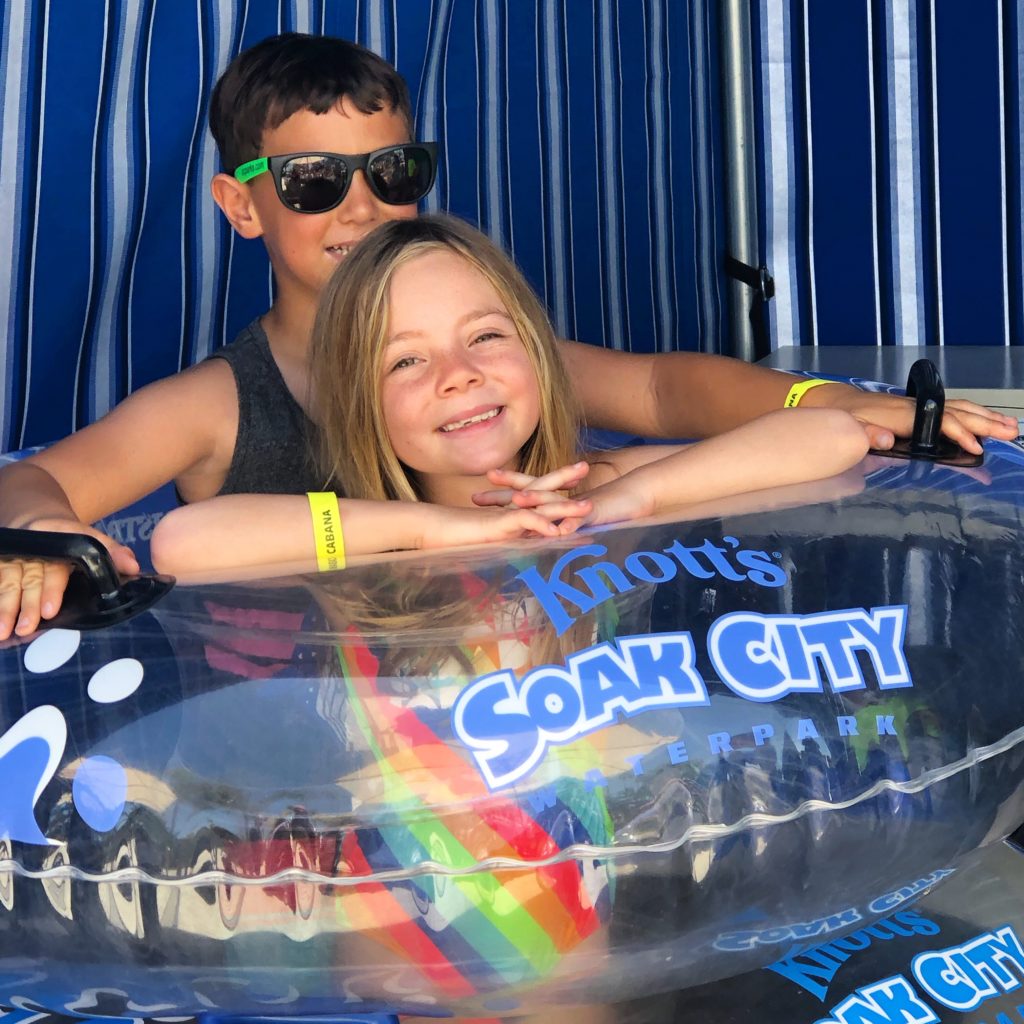 For more information visit Knott's On Facebook and Instagram.