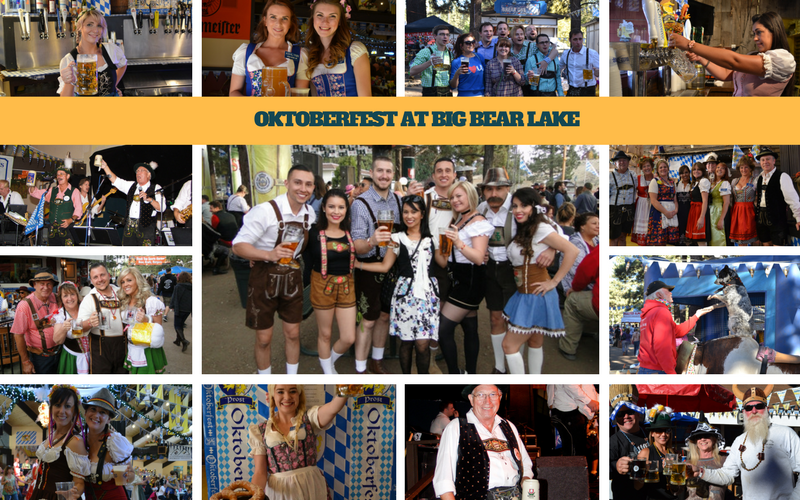 Are you ready for some Big Bavarian pretzels, delicious beer and  lots of dancing? Head on over to Big Bear Lake for their 47th Oktoberfest!
It takes place every weekend from Sept. 9 and Oct. 28th, and you can buy lederhosen there! So put on a pair and get your Oomp-a-loomp on.
What will I see at Oktoberfest?
A variety of Germans beer are on tap in three outside Bier Gartens and two Bier Halls, with authentic German sausages, shweine braten (roast pork), pretzels, strudels and dumplings on offer. Its also quite family friendly with games and activities for kids big and small.
Activities
Log Sawing & Stein Holding Contests – held several times throughout the day both Saturdays and Sundays on both the Main Stage and the Wyatt's Stage.
The Safe Slam Beer Drinking & Beer Pong contests are held every Saturday evening after 8:00 p.m.
Children's contests are held Sundays at approximately 3:00 p.m.
Outside Budenstrasse (Game Booths, Exhibitors, Vendors) will be open Saturdays from 12:00 Noon to 10:00 p.m. and Sundays from 12:00 Noon – 5:00 p.m.
***Please note: On Saturdays after 7:00 p.m. only persons 21 years and older will be admitted. However, families with children who have entered Oktoberfest prior to 7:00 p.m. will not be asked to leave.
Just For Kids
There will be Budenstrasse (Avenue of the Booths) & a Kinder Garten for little ones as well as a German Spooktacular Halloween Contest. On Saturday, Oct. 28th there will be both an adult and children's costume contest. The children's contest begins at 3:00 p.m. and every child wins a participants' prize, as well prizes for the top three best costumes.
Look at the entire schedule to find a weekend that works for you!
How much are tickets?
Here is a list of all prices and packages they offer. For those that want to stay overnight there are several options nearby. There is even a promo code through Big Bear Vacations.
For more information visit Big Bear Oktoberfest on Facebook.