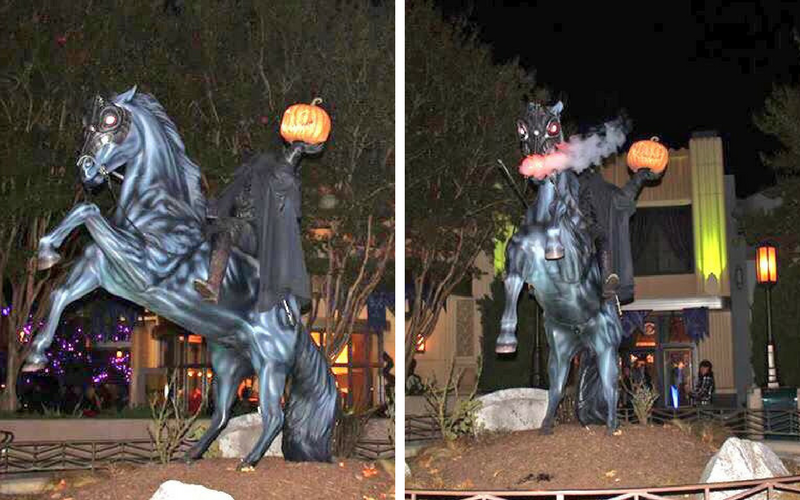 Disney has always been a big part of Halloween in our house between epic movies like "The Nightmare Before Christmas" and music from Danny Elfman. Everyone knows Tim Burton is a visual mastermind. But long before Tim was a director named Clyde Geronimi and a writer named Washington Irving. They developed the movie "The Legend Of Sleepy Hollow". A story which depicted a tale about a schoolteacher named Icabod Crane and his quest to charm the local maiden. One night as Crane is riding home he encounters the Headless Horseman who chases him to a bridge.
5 Facts About Disney's Headless Horseman
The legend of the headless horseman begins in Sleepy Hollow, New York, during the American Revolutionary War. He was decapitated by an American cannonball, and the shattered remains of his head were left on the battlefield while his comrades hastily carried his body away. The Headless Horseman first appeared in Disney's "The Legend of Sleepy Hollow" in 1949.
 The author, Washington Irving, drew inspiration from real-life events that took place in and around Tarrytown, New York.
There was an actual Ichabod Crane who was a military man. He was a Marine and an Army officer who served in the War of 1812. Washington Irving met the real Crane at Fort Pike in Sackett's Harbor, New York in 1814 and was immediately inspired by his name and character.
 The best way to escape the Headless Horseman is to cross the bridge, as the Horseman's dark powers are limited only to the woods.
The flaming pumpkin that the headless horseman carries around is suggested to be his own head.
Fun Disneyland Facts
During The Frightfully Fun Parade, a black stallion will travel through the heart of Disneyland Park with a headless rider at the reins. This is only available to available to guests attending Mickey's Halloween Party (which is sold out for 2017). Tickets go on sale starting in July next year, so buy early!
A new 10-foot-tall statue of the Headless Horseman himself sits on Buena Vista Street in California Adventure. He is holding his Jack-O-Lantern up to the sky and the horse snorts and blows smoke out of his nose while the eyes in the pumpkin flash red.