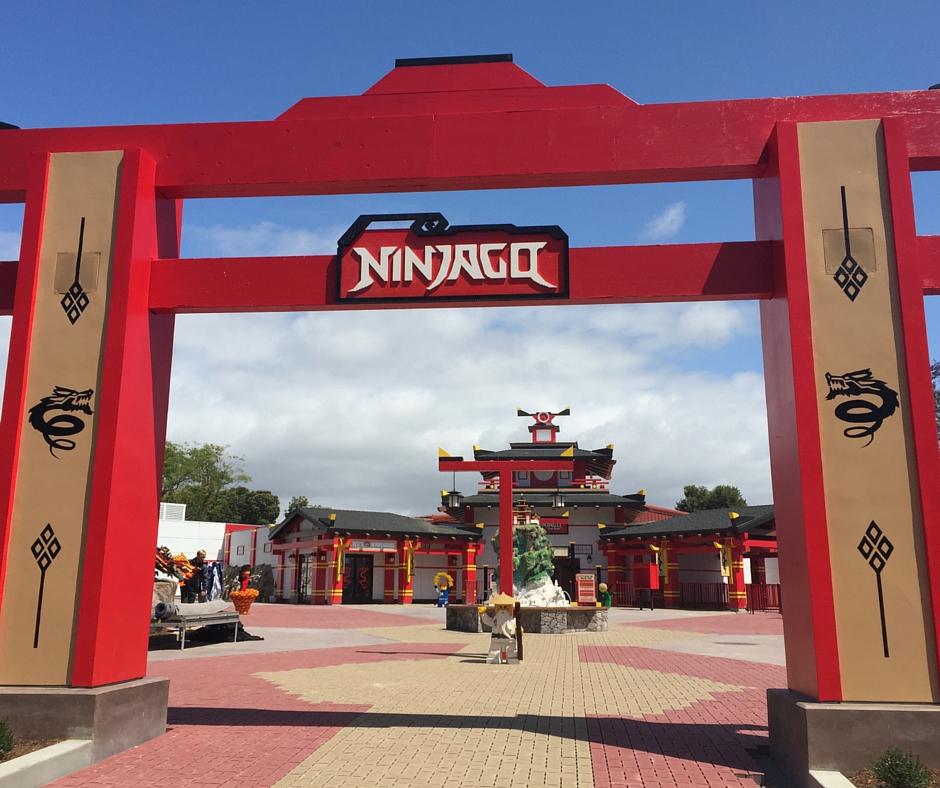 On May 5th, Ninjago World at Legoland California will open to the public! On a recent media preview, we were treated to an electrifying opening ceremony performance from musicians like the Naruwan Taiko Drummers and some incredible ninjas performing stealthy ninja moves in the air. We also got to sample some delicious Asian fare. Check out our video for the exciting event:
Video of Opening Ceremony for Media Day
Ninjago Photo Ops
There is no shortage of photo opportunities in Ninjago world! They have lego figures everywhere and a lot of hand on stuff for kids to climb on.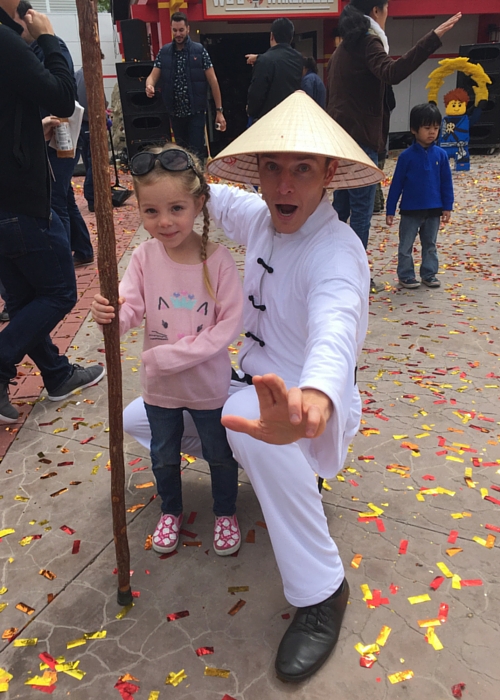 Sensei Wu was at the preview with his walking stick to greet excited guests, and I must say he gave a very impressionable performance. They even had life-sized Ninjas for photo opportunities! This guy will be at the park when it opens in May. The kids all loved posing with him.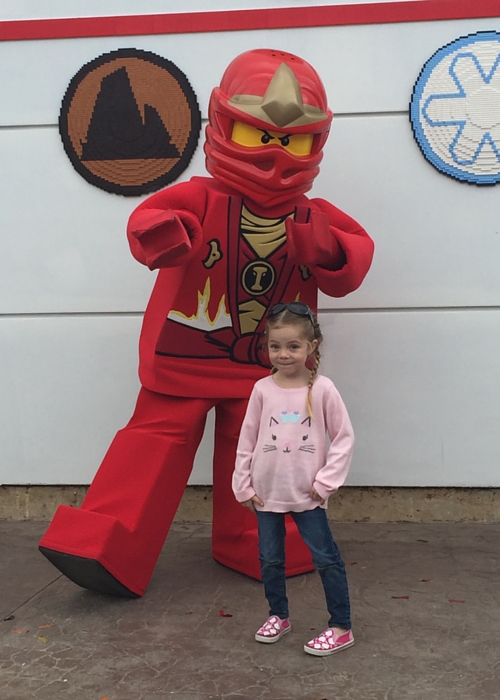 Confetti Surprise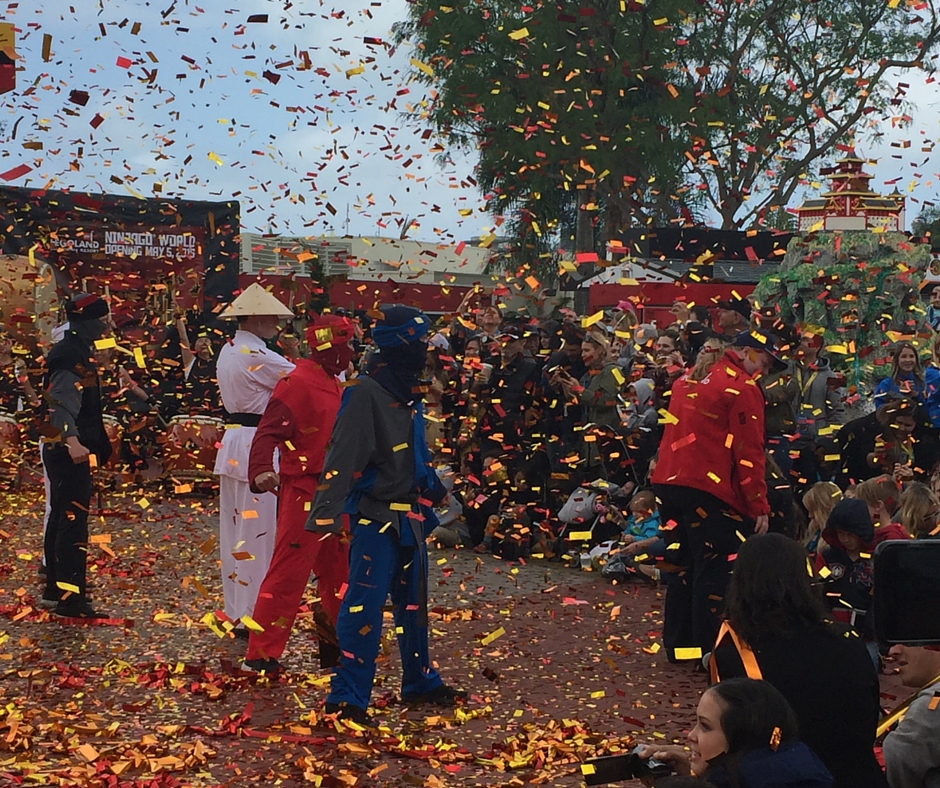 At the end of the demonstration, tons of confetti exploded from the sky! It was seriously raining confetti for about 5 minutes!
About NINJAGO® The Ride
In NINJAGO The Ride you will meet the famous heroes from the NINJAGO universe. Together you must learn to master the elements fire, earth, lightning and ice in order to fight the Great Devourer.
Your ninja moves fly through the air, while you are travelling through an awesome Ninjago 4D universe challenging all senses. A brand new technology transforms your movements into ninja forces on screen. So prepare to be deeply immersed in the NINJAGO universe.
Activities for all family members
NINJAGO World is filled with both indoor and outdoor activities for the entire family. The activities are in the form of active play, teamwork, and interaction.
Prepare to try out Lloyd's Laser Maze, where you must use your ninja skills in order to make your way through 30 laser beams as quickly as possible. A scoring system keeps track of the day's records, so you can compete against family and friends.
In Jay's Reaction Game you can test the speed of your movements by pressing the buttons that light up alternately as quickly as possible.
On Cole's 12-meter long climbing wall, you can train your strength and flexibility. Coloured climbing grips light up along the way, and help you to choose the right grip and follow certain routes.
A land filled with ninja challenges for the entire family.
New Food Options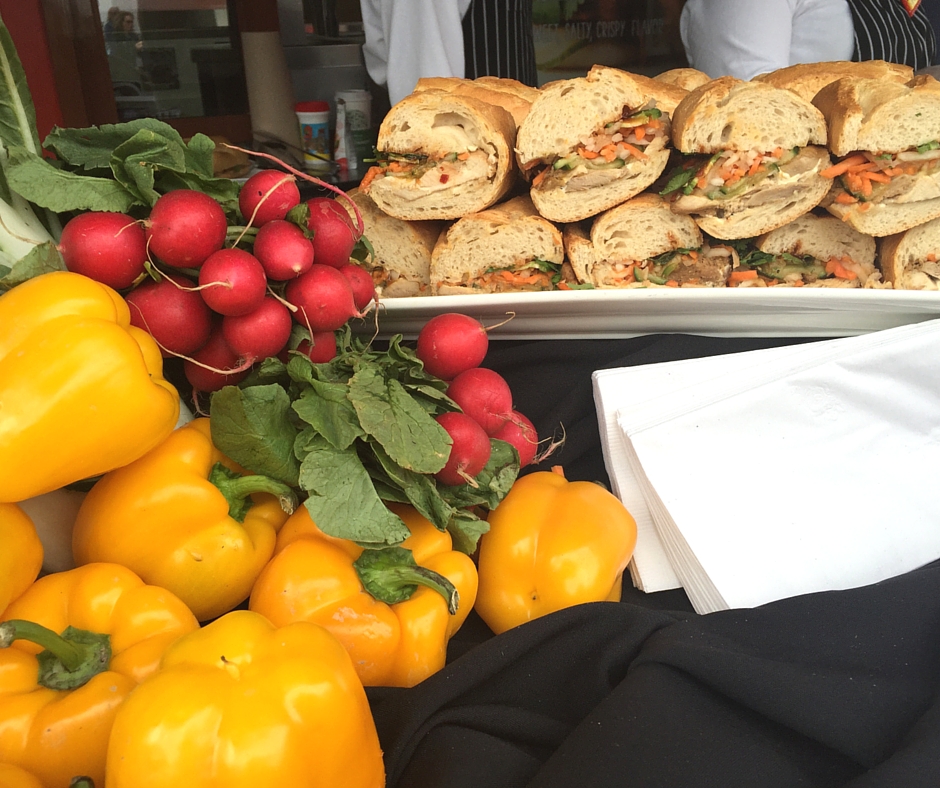 Ninja Grill will be the newest restaurant to grace their presence at Legoland, CA. Bánh Mì Vietnamese sandwiches on fresh baked baguette or steamed Bao Buns. Both filled with crispy pork belly, lemongrass chicken or baked sweet chili tofu.
So do you think you have all the Ninja Skills to be a spinjitsu master? Find out on May 5th when Ninjago world opens to the public!
Fore more information visit Legoland CA on Facebook and on Twitter.