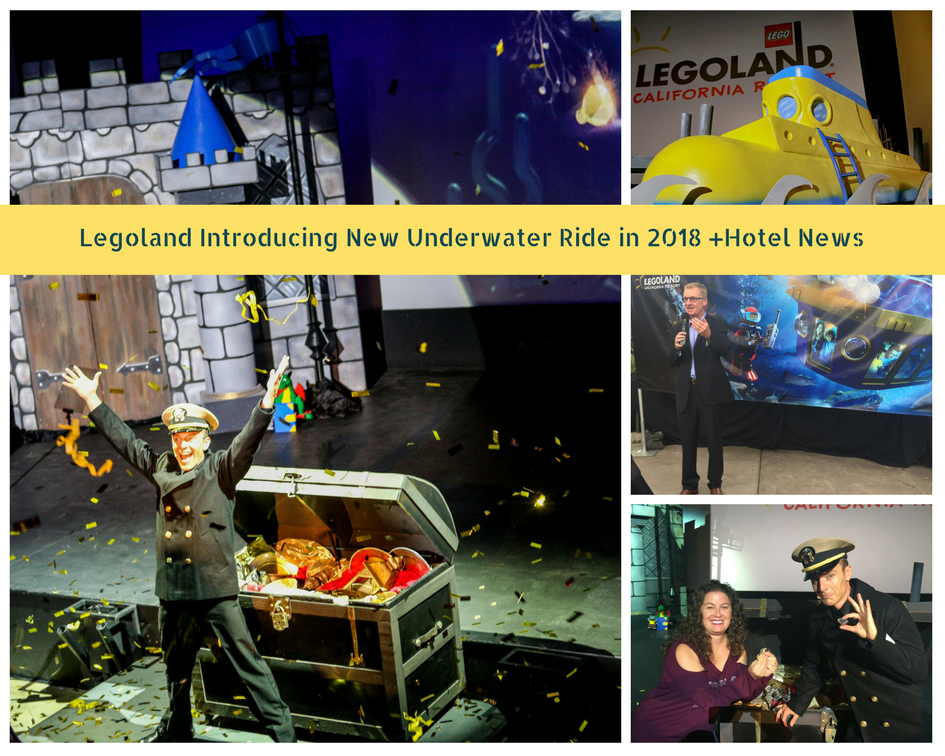 Last month I attended an exciting press conference at Legoland where we learned that coming in January of 2018 a new 4-D movie (LEGO® NINJAGO® – Master of the 4th Dimension) will launch, followed by the opening of LEGOLAND® Castle Hotel in the spring. We also were told that a brand new underwater ride called LEGO® City Deep Sea Adventure submarine ride will be opening in the summer!
LEGO® City Deep Sea Adventure is Merlin Entertainment's single largest investment in any LEGOLAND® Park and will take passengers aboard a real submarine where they will be submerged underwater and immersed in an ocean habitat.
Facts About
LEGO City Deep Sea Adventure submarine ride
The submarines are real.

Water will be filled with more than 2,000 different real sea animals, including several species of stingrays and a variety of exotic sharks.
The ride will open in summer of 2018 and takes guests on a submarine ride looking for lost treasure on a sunken LEGO shipwreck. Among the real sea animals are bright LEGO octopi, marine tropical fish and LEGO scuba divers. Touchscreens at each porthole inside the sub are used by guests to help the LEGO minifigure dive team identify gems, pearls, LEGO gold coins and more throughout the journey. Up to 12 guests will board one of eight submarines that are designed after the LEGO City Deep Sea Adventure line of toys.
Facts About
LEGOLAND Castle Hotel
LEGOLAND Castle Hotel will feature three room themes: Knights and Dragons, Magic Wizard and Royal Princess.

Bookings for LEGOLAND Castle Hotel begin in September at

www.LEGOLANDVacations.com

.
Castle Hotel will create new jobs for the community," said Ronchetti. Ronchetti announced the hiring will start today for 200 new Model Citizens (employees) to work at new premium themed 250-room hotel. Thirty leadership roles are needed including Head Chef, Front Office Manager and Food and Beverage Manager. "We'll be starting to recruit the other positions as early as December as we'd like to have everyone royally trained and ready to go by the Hotel's opening in spring!" Some of the positions needed include cooks, valet, housekeepers, entertainers and more. Interested individuals can visit

http://jobs.LEGOLAND.com/

.
Legoland Characters were out in full force after the press conference and we had a chance to mingle with Kai and Nya as well as sit on the royal throne! Then we made a quick run for some apple fries because no trip to Legoland is complete with out them. Am I right?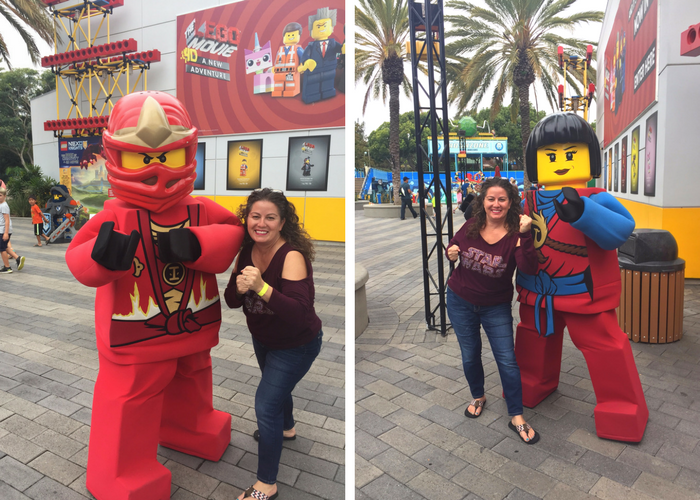 For LEGOLAND California Resort ticket prices, operating schedule and additional information, visit www.LEGOLAND.com or call 760-918-LEGO (5346).

US Residents Only. No purchase necessary to enter. All readers have an equal chance to win, however, you must enter to win. A winner will be randomly selected via RaffleCopter and notified via email. I will attempt to contact the winner for 3 days. If the winner cannot be reached by email, a new winner will be selected the same way. There are several different ways to earn entries. One prize per household. The winner will receive, free of charge, the prize mentioned above. This prize is not available for exchanges and has no cash value. Prizes are not transferable or refundable and must be accepted as awarded. The winner is responsible for any and all other costs and expenses not listed above. Not liable for unclaimed prizes or fulfillment.