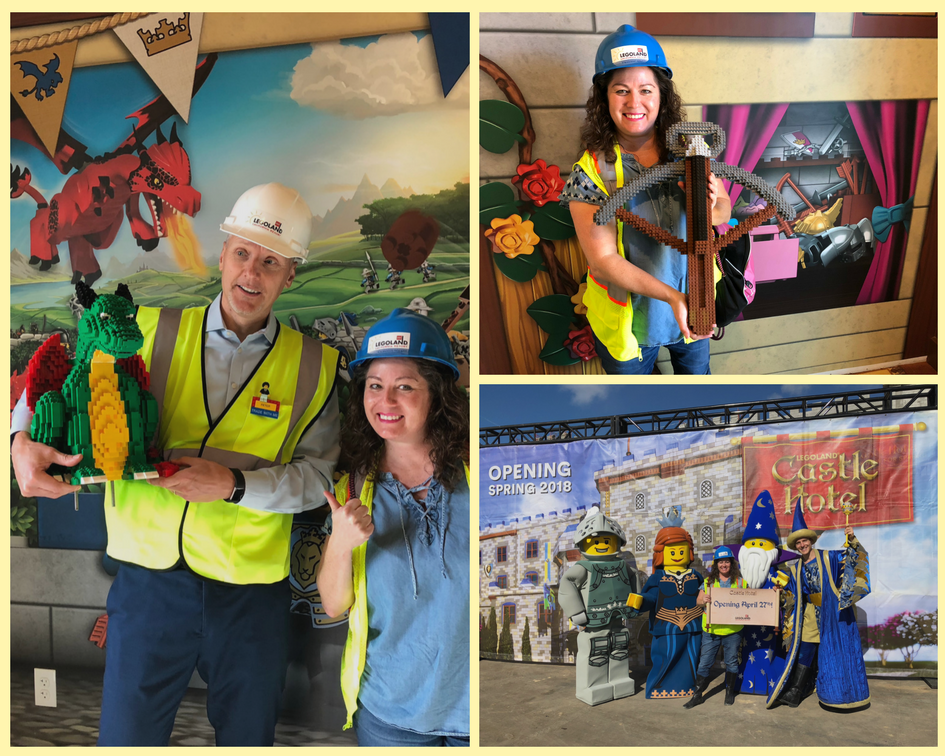 Legoland is hard at work building their newest and most exciting attraction – The New Legoland Castle hotel! It is set to open on April 27th and we couldn't be more excited!!!  Just last month they debuted their new 4-D movie (LEGO® NINJAGO® – Master of the 4th Dimension) and this summer they will unveil their new ride "LEGO® City Deep Sea Adventure submarine". So many 
LEGO® City Deep Sea Adventure is Merlin Entertainment's single largest investment in any LEGOLAND® Park and will take passengers aboard a real submarine where they will be submerged underwater and immersed in an ocean habitat.
Facts About 
LEGO City Deep Sea Adventure submarine ride
The submarines are real.

Water will be filled with more than 2,000 different real sea animals, including several species of stingrays and a variety of exotic sharks.
 The ride will open in summer of 2018 and takes guests on a submarine ride looking for lost treasure on a sunken LEGO shipwreck. Among the real sea animals are bright LEGO octopi, marine tropical fish and LEGO scuba divers. Touchscreens at each porthole inside the sub are used by guests to help the LEGO minifigure dive team identify gems, pearls, LEGO gold coins and more throughout the journey. Up to 12 guests will board one of eight submarines that are designed after the LEGO City Deep Sea Adventure line of toys.
Facts About 
LEGOLAND Castle Hotel
Hotel will be open for business on April 27th

LEGOLAND Castle Hotel will feature three room themes: Knights and Dragons, Magic Wizard and Royal Princess.

There are 250 themed rooms including 20 suites, completely immersing guests into a castle experience from the minute they enter the grand hall, to dining in an amazing sit down royal restaurant to engaging in courtyard entertainment by the pool.
Bookings for LEGOLAND Castle Hotel begin in September at 

www.LEGOLANDVacations.com

.
Castle Hotel will create new jobs for the community.
Kids can enjoy a slide in the lobby
Building stations are strategically in each children's sleeping area
Interactive play elements in the expansive courtyard
Families will love the Interactive water play features by the pool
Premium entertainment from LEGOLAND characters
LEGOLAND retail store
Separate Park entrance just for hotel guests
LEGO models themed specifically to each room type.
Learn About The Hotel
Explore The Rooms
Inquire About Dragons Den Restaurant
Dragons Den Food Sampling and Restaurant Rendering
For those who can't wait to book, reservations are now being accepted for the New Hotel and it will be open to the public on April 27th!
For LEGOLAND California Resort ticket prices, operating schedule and additional information, visit www.LEGOLAND.com or call 760-918-LEGO (5346).