Are you looking to enjoy a romantic meal in Orange County this Valentine's Day? Here are some restaurants that offer specials to impress your sweetheart. OC is a melting pot of delicious restaurants and there is something for everyone! Make your reservation now to be sure to get a nice table. Details are subject to change, please confirm with the restaurant.
Wednesday February 14, 2018, 5-10 p.m. 
AnQi's beautifully curated Valentine's Day five-course menu starts with an appetizer choice of Ossetra Caviar with Pan-Seared Day Boat Scallop or Filet Mignon Potstickers with Foie Gras. Next, enjoy Endive and Five-Spiced Walnut Salad or Hamachi Sashimi, followed by Misoyaki Butterfish or An's Famous Garlic Noodles with Colossal Tiger Prawns. The final savory course is a choice of Herb Roasted Filet Mignon or A-5 Wagyu Steak. Conclude with a dessert duo of Dark Chocolate Raspberry Tart with Cardamom Ice Cream and Passion Fruit Parfait with Lychee Sorbet. Entertainment for the evening will be live jazz.
$125 per person (exclusive of tax and gratuity)
For reservations please call 714.557.5679

---
Wednesday February 14, 2018 from 5-9 p.m. 
Be among the first to dine at the newly renovated Leatherby's Cafe Rouge this Valentine's Day. In addition to the full à la carte menu, Leatherby's will offer guests a special pairing: a dozen oysters with a bottle of Patina Cuvée Brut for $55. Other menu favorites include lobster toast, shrimp cocktail, USDA Prime tenderloin, Snake River Farms Wagyu style New York steak, Colorado rack of lamb, Alaskan halibut with uni butter, sesame crusted yellow fin tuna and Valrhona Chocolate Beggar's Purse with passion fruit sorbet.
$55 Valentine's Day oyster special; á la carte prices vary per https://www.patinagroup.com/leatherbys-cafe-rouge/menu#Valentine%27s+Day
For reservations please call 714.429.7640
---
Wednesday February 14, 2018; 5-10:30 p.m.
In addition to Vaca's full à la carte dinner menu, award-winning chef Amar Santana will offer select Valentine's specials including ceviche mixto, terrina de unagi y foie gras terrine, paella de veira with braised lamb neck, oysters on the half shell with bloody marry sorbet, house cured Mediterranean sardines and Valrhona dark chocolate ganache with churro toast and olive oil ice cream for dessert.
Specials range from $13-$45; à la carte prices vary per selection (exclusive of tax and gratuity)
http://www.vacarestaurant.com/wp-content/uploads/2018/01/valentines.pdf
For reservations please call 714.463.6060
---
Crate and Barrel Home Store Wing, level 1
Wednesday February 14, all day
Three Course Special Valentine's menu for $75 per couple. Includes a glass of complimentary bubbly. Live entertainment 6-9 p.m.  Does not include tax or gratuity.
Reservations, please call 714.540.3365
---
South Coast Plaza Village
Wednesday, February 14
Three course menu, $59.95 per person, exclusive of tax or gratuity. Live entertainment in the evening by Laura Angelini.
Reservations required, please call 714.557.6600
---
February 9 – 15
Antonello's extended Valentine's holiday festivities will be offered February 9 – 15.  A special menu has been crafted for the occasion that features an antipasto plate of thinly sliced octopus and Maine lobster drizzled with olive oil and lemon served with roasted heirloom tomatoes and arugula for $25; heart-shaped lobster ravioli in a saffron cream sauce served with lobster claws and seaweed caviar for $47; three grilled lobster tails served with saffron rice and topped with white wine and butter sauce for $60; and chocolate truffles at $12 for dessert.
Reservations, please call call (714) 751-7153.
---
The District at Tustin Legacy -2401 PARK AVE.
Sushi enthusiasts and scientists alike say the aphrodisiac properties of sushi and cocktails can lead to saucier things. That's why RA Sushi is helping Valentines keep it hot like wasabi in February.
The RA Sushi restaurants in Tustin and Los Angeles will be hosting a couple's class on Wednesday, February 7 at 8:00 PM called The Roll of Attraction: An aphrodisiac sushi rolling class for couples that brings sushi rolling basics and sex appeal together in a fun night of handmade food that is perfectly paired with sake varieties and JCB #69 Sparkling Rose. Participants will learn to create and savor a variety of sushi and cocktails, including the heart-shaped "Soy Crazy for You" Roll, which is wrapped in pink soy paper and features lobster and strawberries.
---
15 Crystal Cove,  Newport Coast, CA 92657
With crashing waves and coastal cliffs as the backdrop, Beachcomber at Crystal Cove has crafted the perfect Valentine's Day menu to make the occasion unforgettable. The 4-course prix-fixe menu will offer starter options such as Dungeness crab cake with celery puree, red ruby radish, tarragon aioli and shredded crispy phyllo, and entrees like Surf & Turf—featuring filet mignon, colossal shrimp, potato puree, English peas and hen of woods mushrooms with a port wine reduction. Delight in the perfect sweet ending with dessert choices like homemade chocolate cake with layered ganache and fresh strawberries, or a fresh fruit tart with seasonal fruit and Chantilly cream. See complete menu: http://www.thebeachcombercafe.com/_crystalcove/4-news_and_events/news_and_events.aspx
For reservations please call: (949)376-6900
---
13011 Newport Avenue, Tustin, CA 92780 
Celebrate Valentine's Day with a Greek flare by dining at Chritakis! Christakis Greek Cuisine is the closest you can get to the Isles without leaving the county. Feast on Chilean Sea Bass, Chicken Athenian, Filet Mignon, Shrimp Saganaki and delicious Lobster Tail. For even more authentic flavor try the Paidakia and Rack of Lamb.Here is the complete menu: https://christakisgreekcuisine.com/events/
For Reservations please call (714) 731-6600
---
900 Bayside Drive Newport Beach, California, 92660 
New American cuisine comes to life in this custom-designed location overlooking the harbor in Newport Beach, California. Award-winning Executive Chef Paul Gstrein brings culinary drama to his inventive dishes for lunch, dinner  and also on Valentine's Day. Dine on dishes like White Asparugus soup, Roasted Ruby Beets, Tartare of Ahi Tuna, and Ossobucco. For a complete menu description see: http://baysiderestaurant.com/wp-content/uploads/2018/01/Vday-Dinner-2018.pdf
For reservations please call: 949.721.1222
---
Irvine and Newport Beach
If you're looking for a casual yet elegant Italian restaurant in Newport Beach or Irvine, choose CUCINA enoteca. This Valentine's Day Cucina Enoteca is running Valentine's Day Specials in addition to their regular dinner menus. For complete menu description see: https://www.urbankitchengroup.com/cucina-enoteca-irvine/happenings/valentines-day-cucina-enoteca-irvine/
For reservations please call: 949.706.1416
---
All locations. Cost is $59.99 per couple and this menu is offered February 9-14.
What a catch! Celebrate Valentine's Day with your special someone at Bubba Gump Shrimp CO. Enjoy the special three-course dinner from February 9 through February 14.
The menu includes your choice from each course below:
Appetizer (choice of one):
Shrimp Shack Mac & Cheese – Southern cookin' meets the sea! Noodles mixed with sautéed shrimp and freshly grated Cheddar, Monterey Jack and Parmesan Cheese. Topped with golden brown breadcrumbs.
Calamari – Deep fried calamari, roasted red bell peppers and pepperoncini. Served with dippin' sauces
Salad (choice of two):
Fresh Garden Salad or Tossed Caesar Salad
Entrée (choice of two):
Forrest's Seafood Feast – Mama Blue's Shrimp, hand-battered fish & chips, and our made from scratch Seafood Hush Pups. Served with fries and our homemade dippin' sauces, tartar, cocktail and remoulade. Forrest's favorite meal after a day on the boat.
Maker's Mark Glazed Salmon – Flame-grilled, perfectly seasoned, basted with our own Maker's Mark Bourbon Sauce, served with fresh sautéed spinach and jasmine rice.
Jenny's Catch with Lobster Butter Sauce – Pan seared tilapia laid over mashed potatoes with sautéed spinach and a creamy lobster butter sauce made from scratch.
"…Of Course We Have Scampi!" – Tender shrimp sautéed with capers in lemon garlic butter, served over a bed of linguine.
Pear & Berry Salad – Fresh greens with charbroiled chicken, strawberries, pears and glazed pecans. We toss it all together with raspberry vinaigrette, and top it with feta cheese (can substitute shrimp).
Dixie Style Baby Back Ribs – Our award-winning ribs are brushed with our own, homemade BBQ sauce, slow roasted to perfection, and served with fries.
Dessert (choice of one):
Best of the Best Sampler: The Hook, Line and Sinker – Mama's warm bread pudding, homemade biscuit topped with fresh strawberries and melt-in-your-mouth chocolate chip cookie sundae
---
All Locations
Morton's guests can dine their hearts out with a succulent steak and cold water lobster tail with drawn butter for only $59, February 10th – 17th. Pair this with The Blushing Lady for $17, a blend of Evan Williams Black Bourbon, PAMA, cranberry juice, lime juice and simple syrup, topped with La Marca Prosecco and served with a cinnamon sugar rim.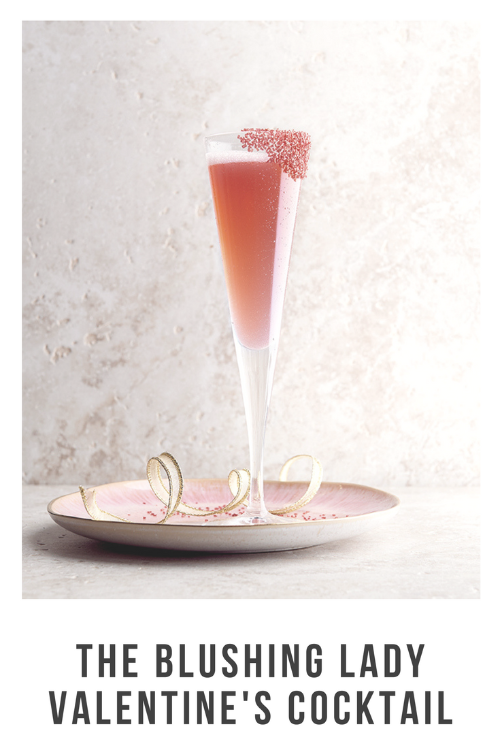 ---
For a unique Valentine's Day celebration, make reservations for dinner with a Flamenco Show and dancing at Tapas Flavors of Spain at Kaleidoscope in Mission Viejo. The new restaurant and entertainment hot spot is taking reservations for 6 to 9pm on Wednesday, Feb. 14, followed by a Naranjita Flamenco show at 7:30pm and dancing to Latin fusion music by a DJ at 9pm.
The three-course meal and entertainment is $38 per person, excluding tax and gratuity. The prix fixe menu will include a Tapas Appetizer Plate (with Tortilla Espanola, Sauteed Mushrooms and Crab Croquettes); a choice of one entrees, with selections including Chicken Mallorca (baked chicken breast topped with sautéed mushrooms and tomatoes in a cream sauce), House Paella (saffron rice prepared with Spanish chorizo, shrimp, chicken, bell peppers and fresh herbs), Pasta Sevillana (sautéed shrimp, Spanish olives, fresh herbs and garlic tossed with angel hair pasta in a cream sauce), or Steak a la Rioja (a 10oz. rib eye steak prepared with caramelized onions in a red wine sauce); and end on a sweet note with Chocolate Flan. A glass of Sangria is included.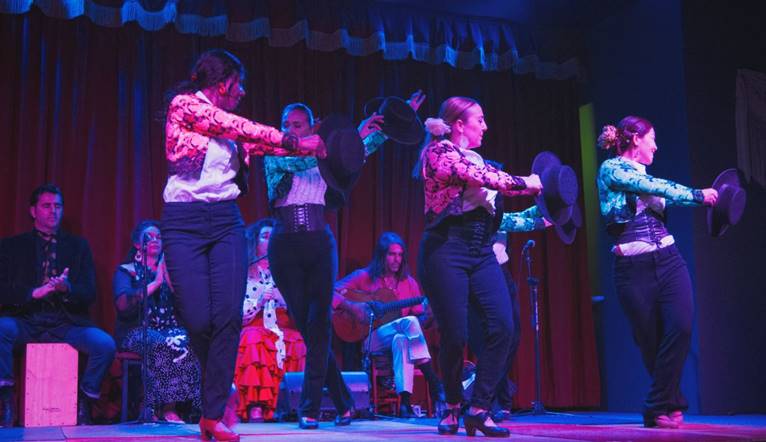 ---
17900 Jamboree Road Irvine, CA 92614
Dinner at EATS is the perfect way to say "I love you." Bring your date to our Valentine's Day event, where you'll enjoy a four-course prix fixe dinner with a complimentary glass of sparkling rosé, while a Spanish guitarist sets the mood.
$49 per person. Pricing excludes tax and gratuity. Wine pairings available at an additional cost. Call 949.225.6780 to make a reservation, or reserve online.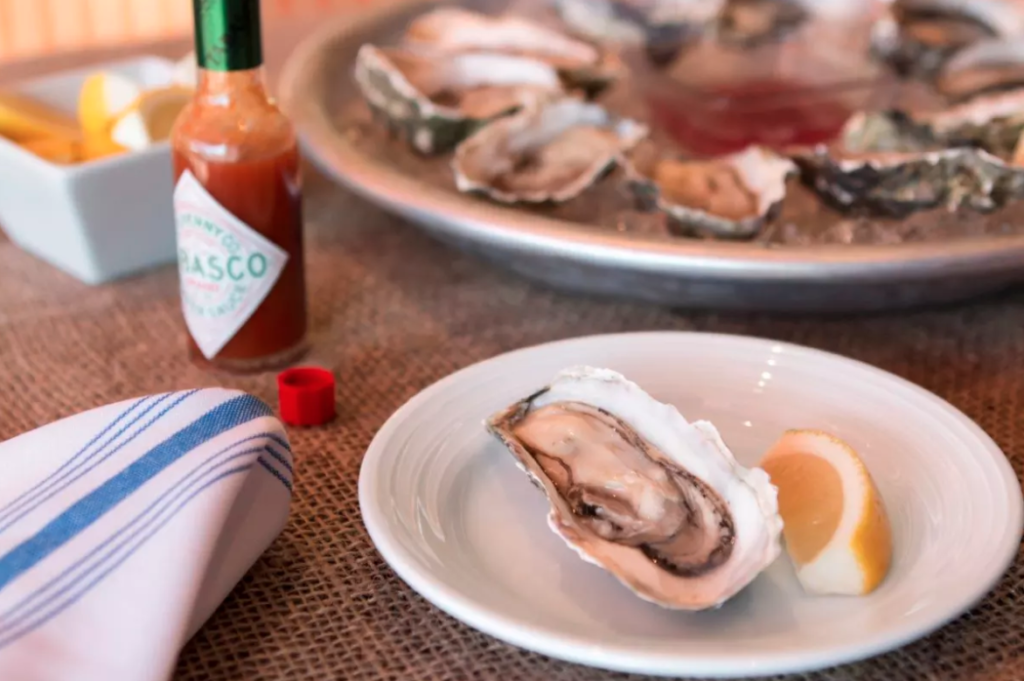 ---
Wednesday, February 14, 5-9 PM , Featuring A Special Performance by Vocalist Mandy May Blest
Back Bay Bistro invites you to treat your Valentine to a romantic evening on the waterfront featuring a gourmet feast courtesy of Executive Chef Daniel Jimenez and a special performance by vocalist Mandy May Blest. The dinner concert will highlight a five-course, prix-fixe menu and present mouthwatering first course options like the Lobster Bisque with cognac crème fraiche, succulent main courses such as the Rack of Lamb with mint jus and herb crusted goat cheese polenta and decadent desserts like the Vanilla Bean Crème Brûlée with seasonal berries. Experience outstanding service and an intimate setting with breathtaking panoramic views of the Back Bay.
For reservations, please visit http://www.newportdunes.com/back-bay-bistro/ or call 949-729-1144.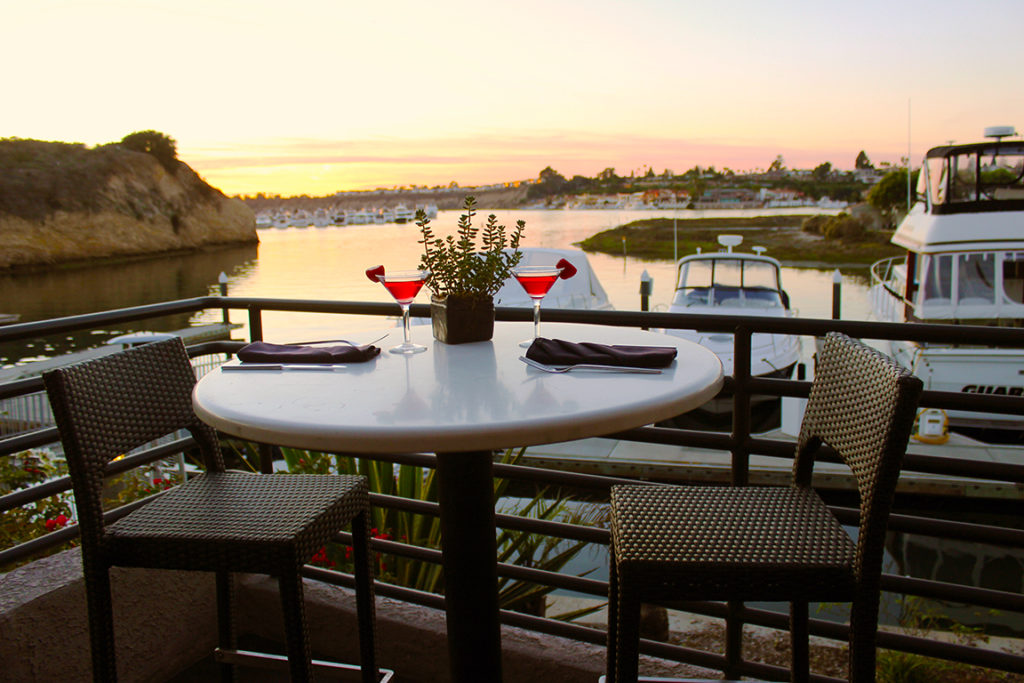 ---
Bring your loved one to celebrate Valentine's Day at CUCINA enoteca Irvine. They will offer our regular dinner menu, as well as menu of specials made with love by Chef Tony Trujillo.
antipasti
kumiai oyster | preserved lemon + basil + kumquat mignonette
pasta
cavatelli carbonara | guanciale + pea + pecorino + cured egg yolk
secondo
fennel crusted pork chop | kale + fennel + fingerling potato + spring onion pesto
pacific halibut | yellow bean + wild asparagus + dandelion green + citrus + salsa verde
dolce
chocolate espresso torta for two | | strawberry + whipped nutella + maca sorbetto
For reservations please click here.
---
True Food Kitchen Sip With Someone Special Menu
True Food Kitchen's Newport Beach location will offer a selection of Valentine-themed cocktails, featured wines and a mocktail from Friday, February 9 – Sunday, February 18.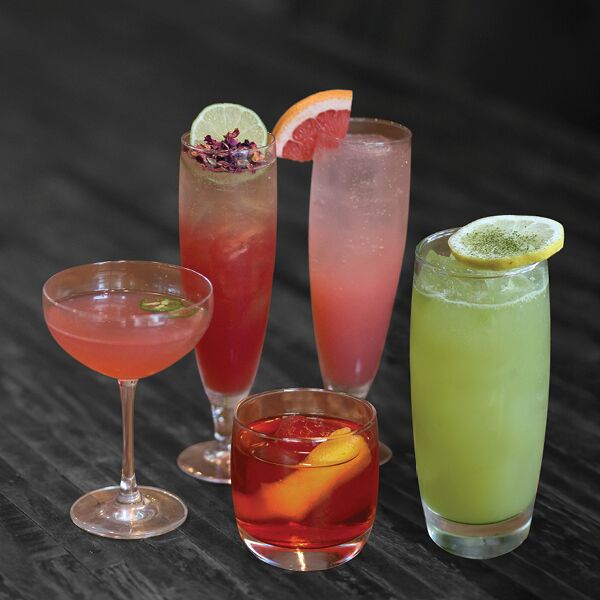 Hot in the Dark ($12)
lime, ixá organic tequila, jalapeño, pomegranate 
War of the Roses ($12)
rose petal, lime, pomegranate infused vodka, prosecco
Melts My Heart ($12)
bourbon, sweet vermouth, campari ice cubes
Matcha Made in Heaven ($12)
vodka, lemon, matcha
Red Moon ($4)
grapefruit, yuzu, honey
Featured Wine ($12 / $14 / $46)
Cannonau Sella & Mosca "Riserva" (Sardinia, Italy)
Cabernet Sauvignon Long Meadow Ranch "Farmstead" (Napa Valley, CA)
Chardonnay Frog's Leap (Napa Valley, CA)
---
"BRÜ FOR TWO" GOURMET VALENTINE'S DATE BOX TO GO
To buy your "BRÜ FOR TWO" date box CLICK HERE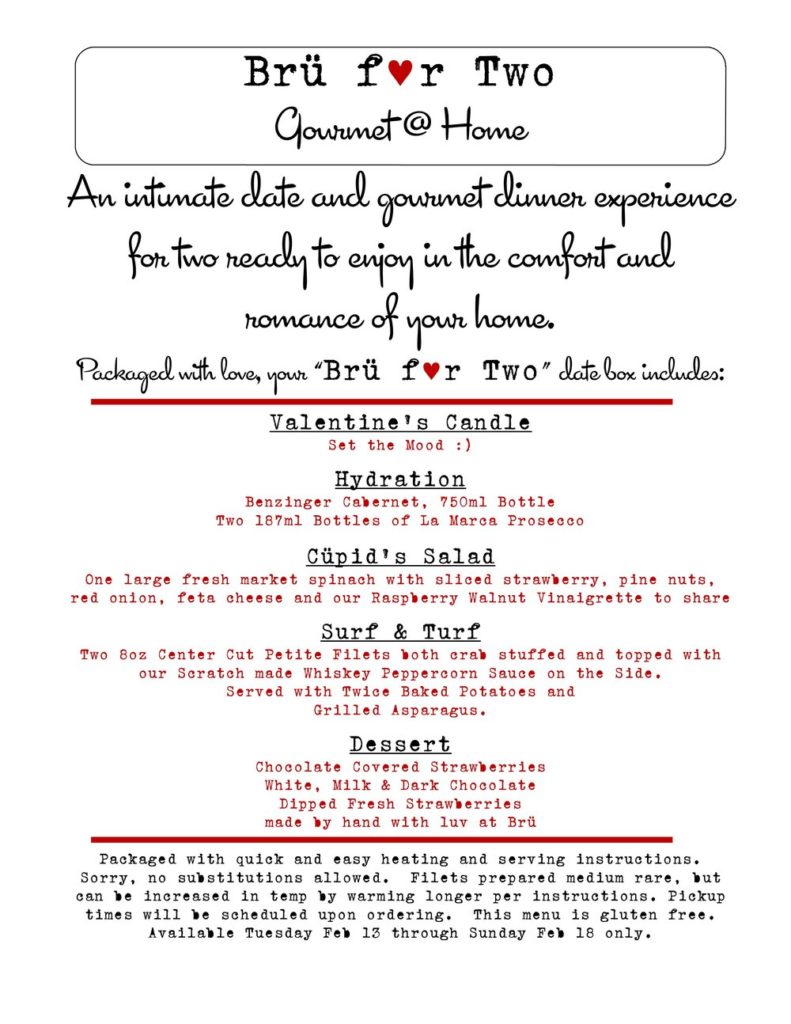 ---
It's love at first bite at BRIO Tuscan Grille! BRIO is offering a tempting Valentine's Day menu, available during lunch and dinner,
Friday, Feb. 9 – Sunday, Feb. 18.
Treat your love to BRIO's Sweetheart Martini, or a glass of Prosecco Brut or Brut Domaine Chandon, before starting your meal with Antipasti  Bruschetta or the soup of the day! Then indulge in one of the below delicious entrées:
* Lobster & Shrimp Scampi – Oven baked shrimp, lemon, white wine, tomatoes, asparagus, angel hair pasta
* Bistecca BRIO – Thinly pounded beef tenderloin, Romano tomatoes, chimichurri, creamy horseradish, arugula
Save room for dessert and try BRIO's Molten Chocolate Cake – the
perfect ending to this romantic meal.
---
Amber Waves (Inside The Knott's Berry Farm Hotel)
Enjoy a delicious romantic dinner for 2 at just $39.99 per person at Amber Waves Restaurant from 5:00pm to 10:00pm.