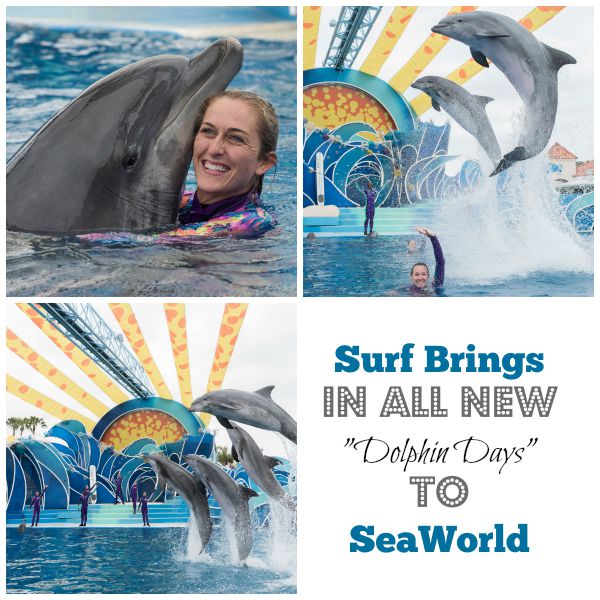 SURF BRINGS IN ALL-NEW 'DOLPHIN DAYS' TO SEAWORLD
Dolphins are undeniably awesome and so much fun to watch. They are playful and smart and kids are mesmerized by them. If you love to watch Dolphins SeaWorld has a new Dolphin show called "Dophin Days that is sure to bring a smile to your face.
Dolphin Days Features
Dolphin Days combines:
spectacular dolphin and pilot whale behaviors with a close-up look at the animals and the special relationship they have with their trainers.
The show's beach-style music gives Dolphin Days a laidback island vibe that is contrasted with the high-flying fun of these energetic dolphin stars.
Guests are awed by their agility, grace and aerial bows, while at the same time encouraged to help conserve and protect dolphins and whales in the wild.
Dolphin Days may also stir nostalgia in longtime SeaWorld fans with a throwback to the days of guest participation.
During each show, a young volunteer selected from the audience has the chance to develop an even more personal connection with these incredible animal ambassadors that may ignite a passion to work with them. After the interaction, a dolphin trainer rides a surfboard to present the lucky volunteer with a one-of-a-kind keepsake to commemorate their special experience.
Guests also discover how the show's dolphin trainers themselves were inspired to pursue their careers, which for many was sparked by visits to SeaWorld at a young age. These personal reflections provide insights into the love the trainers have not only for the animals, but in connecting them to the audience in a powerful way.
Dolphin Days, which has been presented to audiences periodically over the last few months, is included with park admission. But the best way to enjoy all the fun at SeaWorld is to purchase a 2015 SeaWorld Fun Card, which allows guests to come back again and again, all for the price of a single-day admission!
Current and upcoming seasonal events include Summer Nights at SeaWorld (select dates now through Sept. 7); SeaWorld's Halloween Spooktacular® (weekends Sept. 26-Nov. 1); and SeaWorld's Christmas Celebration® (Nov. 21, 2015-Jan. 3, 2016).
Sea World Info
SeaWorld is open year-round including holidays. Parking is $16; $11 for motorcycles; $21 for RVs and Up-Close. Admission is $89 for ages 10 and older; $83 for ages 3–9; free for under 3. Park hours vary by season.  Visit www.SeaWorldSanDiego.com or call (800) 257-4268 for hours and information.