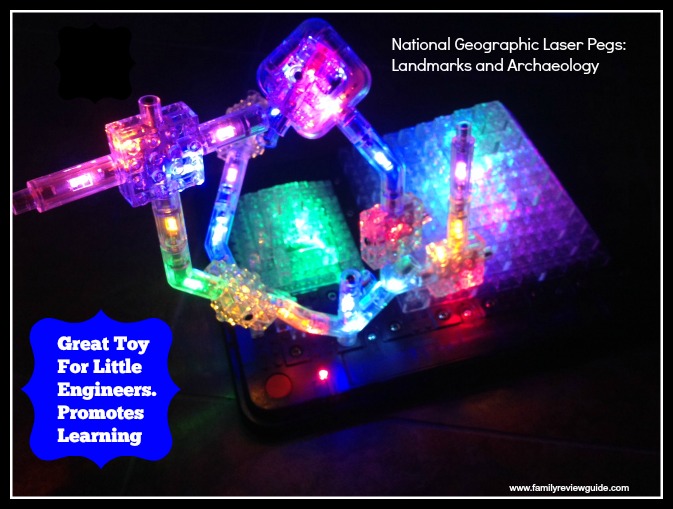 Disclosure: I received a complimentary Laser Peg Kit to facilitate this review. However, all thoughts and opinions are my own.
Part of the fun of being a kid is that you get to build really cool stuff! And this week my boys got to build a fun pyramid using Laser Pegs.  The company recently teamed up with National Geographic, who is known for inspiring people to care about the planet and came up with a set called Landmarks & Archeology. This totally awesome toy gives kids the option to build 30 different lighted construction models all from 1 box. For a full list of all the models that can be built look here.
 Laser Pegs: Coolest Toy Around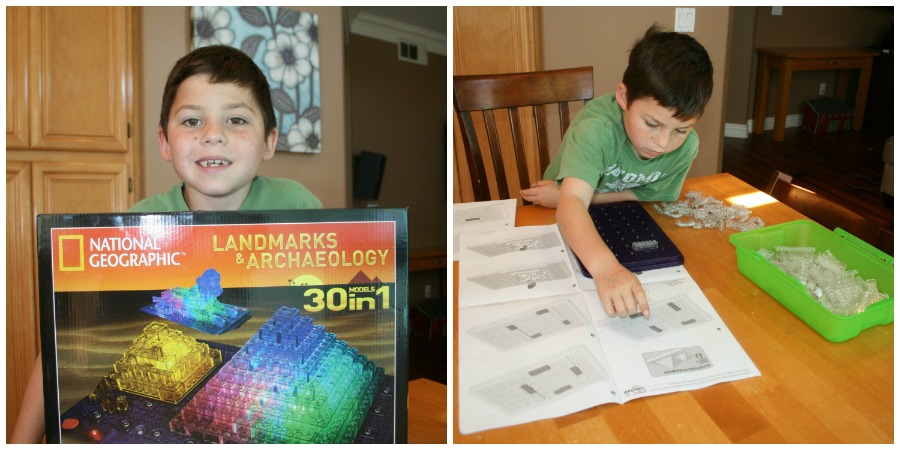 I was really impressed at the packaging when it arrived. The box it comes in is very sturdy and the pictures are awesome, leaving lots of room for imagination. There is a box with a lid that all of the pieces come in which makes it really simple to keep all of the pieces together. And it locks into place so even if you drop it the pieces won't come out.  The box contains the laser pegs, the building blocks, the light board and the instructions. Be aware that it ONLY contains the instructions for the Pyramids though. There are other models that you can build you just have to look them up online.
Both boys worked together and it only took them about 15 minutes to complete the pyramid. The LED light switch is literally on the box so all you have to do is press the button and you have an amazing light show. We built it in the morning but we just took it into a dark closet and it was really fun to watch.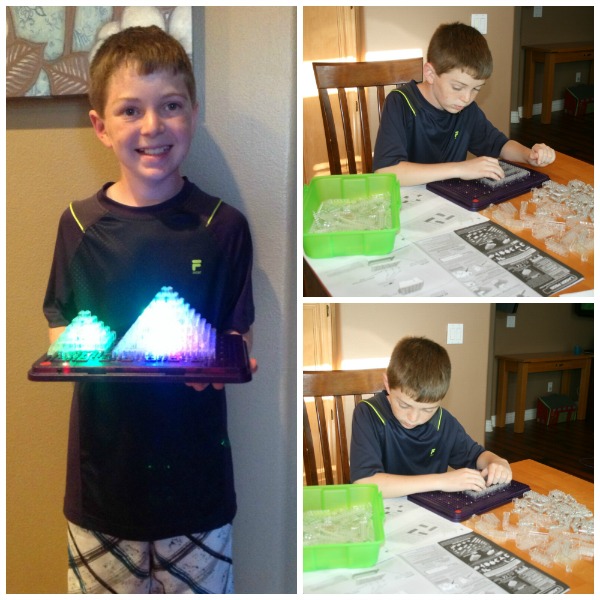 The LED lights have 3 setting. On, Fast blinking, and medium blinking.
As a mom I have to say the best thing about this toy though is the curiosity it sparked in them. After they were finished wanted to know more about the pyramids so we hopped on the computer and spent the next 30 minutes learning.
Now that they have finished the pyramid they want to do the Tower Bridge London. And after we finish all 30 models I am sure they will want to build another kit. Laser Pegs and National Geographic also have kits with the following themes:
oceans
animals
dinosaurs
space
For more information visit http://www.laserpegs.com. You can get free shipping on  all orders over $50.