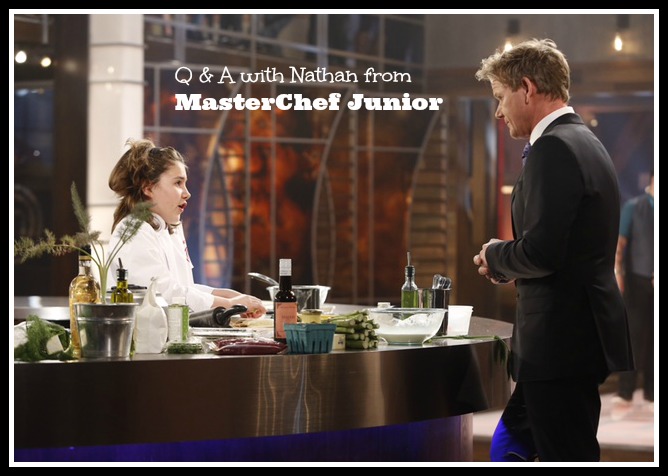 Learning to cook as a child can be both rewarding and educational. Cooking can build self-esteem, teach math, reading and chemistry skills. Additionally, it can teach kids about different cultures and encourage them to try new foods. My 12-year-old son is on a gluten-free diet and enjoys cooking recipes from scratch with his dad. One of his favorite shows to watch is MasterChef Junior because he likes to watch the kids compete and it inspires him to get in the kitchen. Recently my son had the opportunity to do a Q&A with Nathan, one of the finalists from the show. Here is their transcript:

Q&A with Nathan from MasterChef Junior
Family Review Guide: What inspired you to start cooking?
Nathan: I was inspired to start cooking when my family started having health problems because of our poor diet, as well as, when I entered a cooking program for inner city kids at my elementary school.
Family Review Guide: Did you have to cook in your audition for Master Chef Junior? What did you make?
Nathan: In my audition for MasterChef Junior, at first I had to do basic things like cut some celery and fry an egg, and then I made traditional Japanese ramen for my big audition.
Family Review Guide: If you could open a restaurant what would your signature dish be?
Nathan: My signature dish would be Green Tea Macarons with a Red Bean filling, because I really want to open up a French pastry shop in Japan.
Family Review Guide: If there was one thing you could change about the competition what would it be?
Nathan: If I could change the competition I would've been a little bit more ambitious with my dishes, but otherwise I wouldn't change a thing.
Family Review Guide: What has been your favorite or funniest moment on the show?
Nathan: My favorite moment on the show was definitely the restaurant takeover. Even though it was a little bit stressful, I learned a lot about the restaurant business and I also learned that I don't want to work on the line!
Family Review Guide: Which challenge on the show has been the hardest for you and why?
Nathan: The hardest challenge for me was definitely the creme brûlée challenge, because I had never used a blowtorch before, or even tasted a creme brûlée!
Family Review Guide: How do you think you have an advantage to win over the other contestants?
Nathan: I don't like to say that I have an advantage over anybody, but I do know a lot about pastries, so I feel like that can be a pretty major strength for me.
Family Review Guide: How do you envision your life after the show if you win this competition?
Nathan:If I win this competition, I want to travel all around the world and visit hundreds of fun new places like Japan, France, Italy, and the U.K.
Family Review Guide: What advice do you have for other junior cooks just starting out?
Nathan: If you're a junior home cook just starting out, don't be afraid to try new things, but start out by learning the basics- like how to cook an egg or how to make muffins and then progress to more difficult recipes.
For more information about MasterChef Junior visit them on FOX or on Facebook and Twitter.
Gordon Ramsey Fun Facts:
1. As well as cooking, Gordon has a real passion for martial arts and is a real life black belt.
2. Gordon opened his first-ever restaurant in 1998, which earned him a rather impressive three star rating from Michelin.
3. Gordon Ramsay has size 15 feet and as a result, all his shoes have to be custom-made.