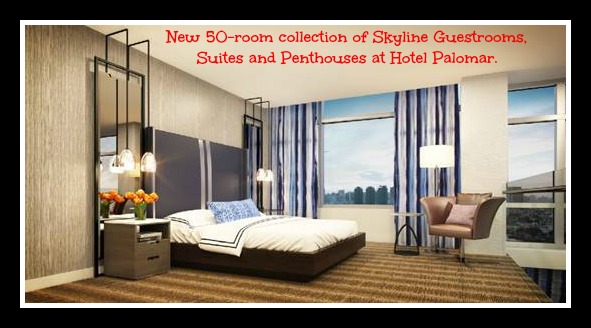 If you have never traveled to San Diego you are missing out on one of the greatest cities in California. There is so much to see and do both with and without children. The accommodations are endless and a favorite hotel of many,  Hotel Palomar San Diego , just announced that it initiated construction on floors 16 through 20 to create a new 50-room collection of Skyline Guestrooms, Suites and Penthouses. The new collection is designed to offer the quintessential San Diego experience and elevate the guest journey. The Southern California-inspired rooms will be complemented by enriched new programming and adventure packages, all set to launch in April 2015.
Hotel Palomar Interior Design
With surf-inspired modern design and stunning city views, the new Skyline Collection will include 30 guestrooms 12 junior suites, six suites and two penthouses, and is available for booking, with stay dates starting April 13, 2015. The room interiors will blend city life aesthetic with global and grounded elements, combining a palette of edgy city black and metallic metals with seaside blues, greens, sand and grey. Rooms will include contemporary high-end furnishings, reminiscent of Southern California—from the surfboard-inspired headboard and wing back chairs, to modern decorative light fixtures and a bar cart bedside table, for an upscale and unexpected twist.
Hotel Palomar San Diego is offering a limited-time promotion to experience the new collection at a discounted rate. Guests booking the 'Elevate Your Journey' promo between Feb. 19, 2015 and June 30, 2015 will received 20 percent off the new Skyline Collection and 20 percent off any spa services at Nature's Spa by Jurlique. The offer is valid for travel starting April 27, 2015 through June 30, 2015. Promotion can be booked online www.hotelpalomar-sandiego.com, rate code SP2 or by calling (888) 288-6601.
Hotel Palomar Instagram Contest
I am a huge Instagram Junkie! If you are too Hotel Palomar San Diego is launching a social media campaign via Instagram on Feb. 19 through May 31, encouraging you to share ways you elevate your journey. Whether its enhancing one's sense of adventure or well-being, participants are encouraged to share images with hashtag #elevateyourjourneycontest. The prize for the winning image, valued at $5,000, includes a two-night stay in the Skyline Penthouse, $200 credit to Nature's Spa by Jurlique, dinner for two at Saltbox, and two passes for skydiving with Skydive San Diego or stand-up paddleboarding on Mission Bay. Additional information on the contest can be found here: http://www.hotelpalomar-sandiego.com/renovation.html