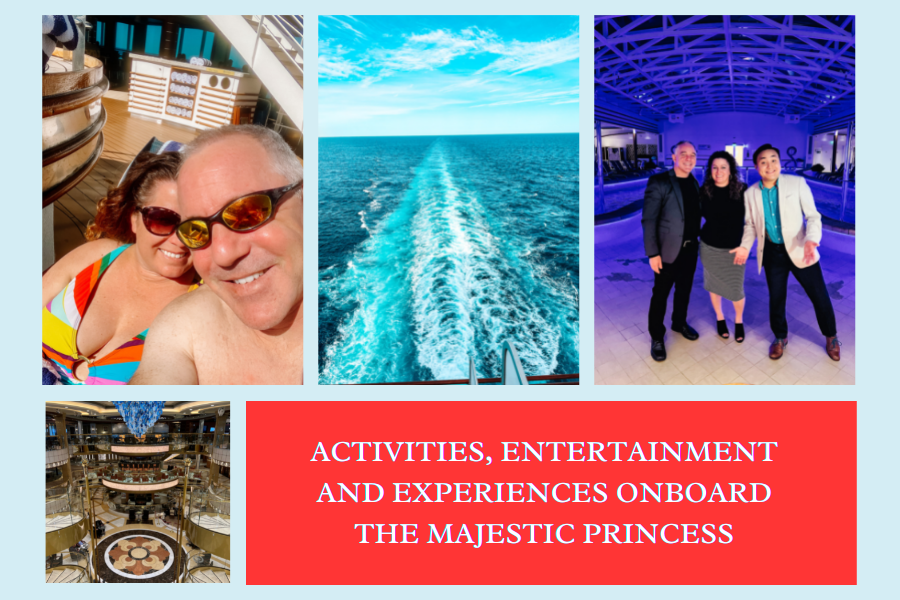 Start Using Your Medallion
Pick Your Activities on Journey View
There's so much to do on your cruise and it can sometimes be difficult to see everything available to you. That's where JourneyView™ comes in. The beautiful, interactive display shows you exactly where the ship is at any given point and the events being offered at that specific time. Here is a video showing how to add events.
Ping Pong
We are a tennis family so my husband and I had a lot of fun playing ping pong. There are about 4-5 tables and each one is in an enclosed net. This definitely helps when it is windy and it also prevents you from having to chase balls down or having balls go overboard.
The Seawalk
Not for the faint of heart. But definitely for me! This was one of the coolest experiences on the ship. A dramatic over-the-ocean glass walkway, the SeaWalk® is the first of its kind at sea. At 60 feet long, cantilevered 128 feet above the waves and extending 28 feet beyond the edge of the ship, it affords thrilling vistas of the ever-changing seascape. Just as the Captain can look through glass panels in the floor of the bridge, you can now share in that breathtaking experience. Across the ship, the SeaView Bar goes one step further with a glass paneled floor and drinks prepared during exciting shows with flair.
Sports deck
Although we never found the time to play basketball we saw plenty of people who did. We also saw that you could learn square dancing on this deck as well. I tried to get my husband to join in but it was a hard no. Center Court is great for basketball, tennis, volleyball and badminton. There's also a miniature putting green and driving cage for golf enthusiasts, ping pong tables, bean bag toss and giant foosball.
Fitness Center
Let's face it, the best part of cruising is all the food. But we need to work it off somehow, right? That is where the fitness center come in. The gym features a full range of equipment from treadmills, recumbent bicycles and ellipticals to free weights and strength equipment. In addition to the stunning ocean views, the majority of the equipment also features personal tv screens. Some also have interactive virtual experience screens such as the bikes, so you feel as though you are actually on the open road with other cyclists.
Instagram Alley
Instagram walls are so dreamy! An Instagram wall can be spotted because of its bright, vivid colors and unique photos. On deck 17 of the Majestic Princess, you will find Instagram Alley where there are walls upon walls with giant murals that feature a variety of different animals and unique cityscapes. There are so many fun photos you can take and share with friends and family. I can offer one tip of advice: Do not wear a dress while taking photos. It is extremely windy while the ship is moving and you could possibly give other guests a show if not careful. Ask me how I know this ;)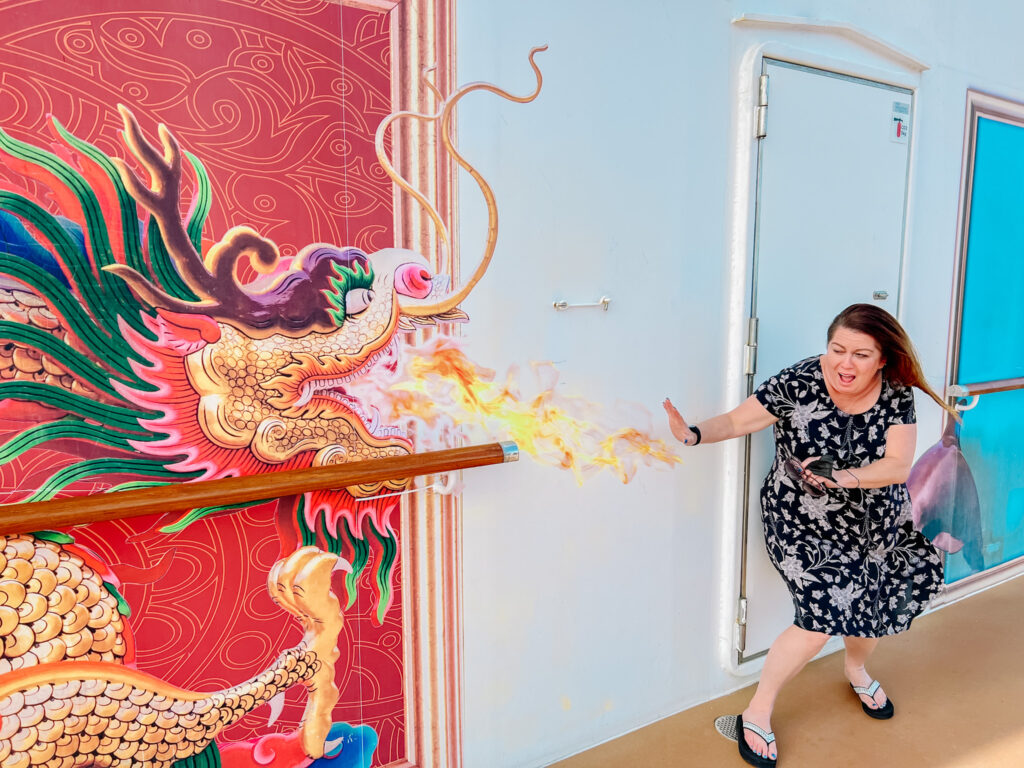 Watercolor Fantasy Show
If you've ever seen the lit-up water fountain show at the Bellagio in Las Vegas, then you can picture what Princess' Watercolor Fountain Fantasy looks like. The water fountains are set to themed music and programmed to "dance" as colored lighting adds to the effect. It's worth seeing once, with the shows later in the evening or later in the cruise less crowded than the earlier ones. I enjoyed it so much that I chose to watch it nearly every night. It was so calming and interesting to watch.
Shows and Demonstrations
There is so much to do on a seven-day cruise that you most likely will not get to fit all of it in. But with some good planning and some patience, you will be thoroughly entertained from sunrise to sunset. I know we were. I have a huge fear of missing out so I wanted to see everything and anything. One of my favorite things to see was the fruit and vegetable carvings. A few of the head chefs come out and make these adorable fruit and veggie creatures using nothing but their hands, a knife and some garnishing tools.
Another fun show was when Kevin the cruise director sat down with the assistant cruise director and talked about what life is like onboard a cruise ship. I was so fascinated and was glued to every word. They even had slide shows and video. it was really cool to learn about all the random happenings that go on behind the scenes.
Lastly, we loved the variety show. I was in tears from laughing so hard. Another one of my favorites was a gameshow they played that was similar to "Whose line is it anyway"? It was crass, crude and right up my alley. In addition they had several large-scale broadway shows as well as the magician Naathan Phan that we really enjoyed.
Lotus Spa
I know cruises are super relaxing watching the water go by and all, but imagine getting a full body massage while you sink into a soft, luxurious table and get lost in a restful nap. The Lotus spa on the Majestic Princess offers all kind of relaxation services. You can get a facial, a body scrub, a massage, hot stones, nails, hair and so much more. Everyone gets a plush robe and slippers for spa treatments, plus an electronic locker key that you wear the whole time. There are big showers with shampoo, conditioner and body wash for after your treatments as well. Click here for a list of services that you can choose from.
Enclave
Want to experience the spa but without the treatments? That is where the Enclave comes in. The enclave is Princess's largest-ever thermal suite and a dramatic hydro-therapy pool with a cascading rain shower and therapeutic air jets. Relax on heated stone beds or soothing water beds. Features include: The Hammam – a Turkish-style steam bath, and from Roman times, the Caldarium –a light steam chamber infused with herbal aromas and the Laconium – a heated, dry chamber to help with purification and detoxification of the body. You can get a half day pass for $40, a 4-day pass for $79, a 4-day couples pass for $129 or a seven day pass for $139.
Hollywood Conservatory
This is an adults-only area specifically to find Zen tranquility. We spent the first night here after sailway and saw the most amazing sunsets. Stroll through the indoor garden located 150 feet above the sparkling ocean. You're welcomed by the sound of chirping birds, a lush garden environment and plush resort furniture. Listen to intimate musical performances by live musicians, and play a game of chess using life-sized pieces. A Wishing Wall, the first of its kind at sea, allows guests to share their dreams on a mosaic tile wall. There is also a wooden xylophone that guests can play. In front of the conservatory is the Hollywood pool club where you will find a beautiful indoor pool and spa, as well as a full bar. This area turns into a dance club at night. The Hollywood Pool Club was the last bar to remain open at night, and we found ourselves there often with our new friends thanks to cool bartenders like Adnan.
The Hollywood Conservatory is also exclusive to elite cruisers where they will get a different food offering each day.
Movies under the stars
Just like its sounds, grab a padded recliner and a blanket and watch your favorite feature presentation on one of the world's largest outdoor movie screens at sea. Servers bring around refreshments and treats so you can snack while enjoying one of the most spectacular movie-watching experiences of your life!
Casino
We are not huge gamers but we did enjoy putting some money into the slot machines one night. The cool thing about the casino is you don't actually have to have any money on you. You just use your medallion. First you create a pin and then you tell it how much money you want to put in the machines. Your medallion account is linked to your credit card so you are technically pulling money from your credit card without any additional fees. From gaming lessons to the latest slot machines to prize tournaments, the Casinos offers fun and excitement. If you enjoy blackjack, or "21," and Texas Hold 'Em, the tables play by Vegas rules and if you relish the challenge of roulette, they offer the American version.
PART 3: Dining and Restaurants
Everyone knows the best part about cruising is all the food. There are about 10+ different ways to dine on the Majestic Princess and we will break them all down for you in the next segment. Click here on the photo below to learn more.