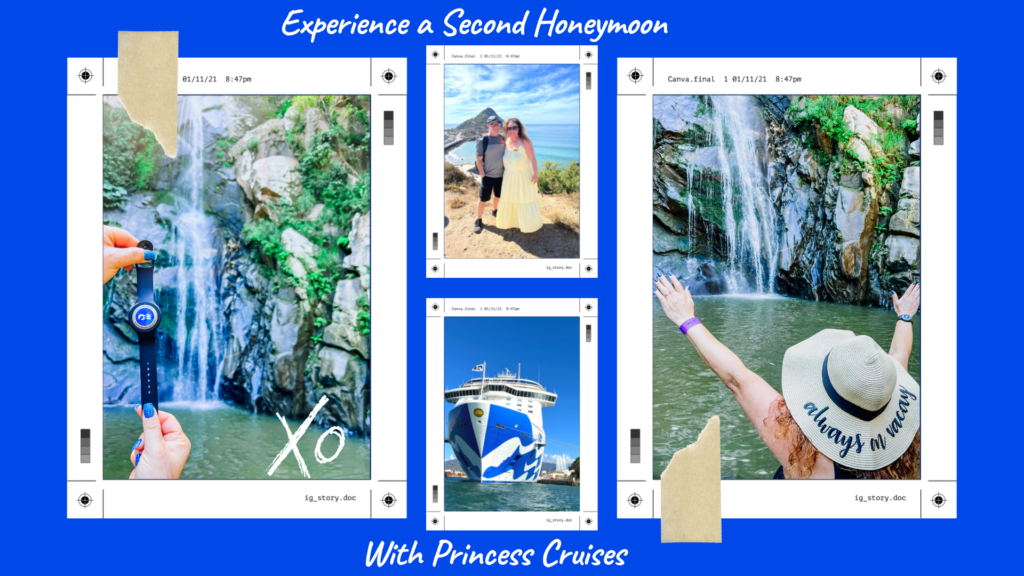 Who says honeymoons have to be a once-in-a-lifetime trip? My first honeymoon in 1999 was a seven-day cruise to the Caribbean and I still remember it like it was yesterday. The white beaches, the swaying palm trees, the endless drinks, and the excitement of knowing we had our entire future with endless opportunities ahead of us! Fast forward to 2022: I have been married for 23 wonderful years, with 3 dynamic kids and my husband has traveled anywhere from 20%-50% of our marriage. "Me" time has always been in constant demand in my house, however, we don't have much family around to help with kids. So anytime we go on vacation our kids typically come with us. This sounds fun in theory, however, there is something to be said about escaping the now, and getting some space and quiet time. Being away from our children gives us a bit of time as a couple to remember why we came together in the first place!
Recently, I had the incredible opportunity to cruise to the Mexican Riviera with Princess Cruise Line on the gorgeous Majestic Princess. It was the first time in our entire marriage we vacationed without our kids for 7 entire days. Due to Covid, the logistics of getting on a cruise are a bit trickier now than they were pre-covid so there were a few easy hoops we had to jump in order to tie everything together. Everything is fluid and guidelines are changing daily so I recommend you check the health protocols, travel advisories, and canceled cruises on the Princess website every.single.day.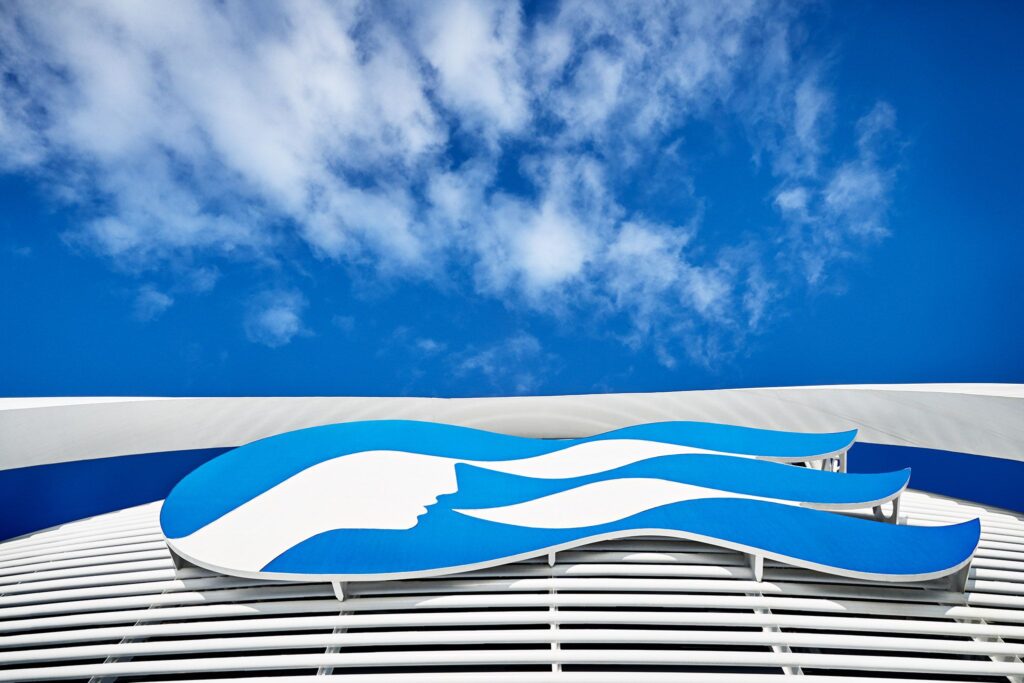 What are the steps I need to take in order to cruise?
Prior to boarding your cruise there are several steps you will need to take. I suggest you join this Facebook group to learn some great tips about your cruise.
Prepare Proof Of Vaccination – Guests must have received their final dose of an authorized COVID-19 vaccine at least 14 days before the beginning of the cruise and provide acceptable proof at terminal check-in. You can use a QR code.
Test Negative – Guests must provide proof at terminal check-in of a negative viral COVID-19 test (PCR or antigen) taken within two days of their embarkation. I recommend not taking a risk with PCR and purchasing the Proctored Antigen test that Princess has partnered with through Optum health. It's done in the privacy of your own home and it's super simple to do. Here is a video that explains it.
Masks- Guests will be required to wear a face mask indoors at all times and outdoors when physical distancing cannot be maintained.
Download the MedallionClass app – Use your booking number to get OceanReady as soon as possible.  They can either ship your actual Medallion or you can pick it up at the port. Complete the check-in process and customize your experience. The goal is to get green lane for the fastest check-in.
Print Luggage Tags – Attach them to your luggage and get ready to sail!
What is Ocean Medallion?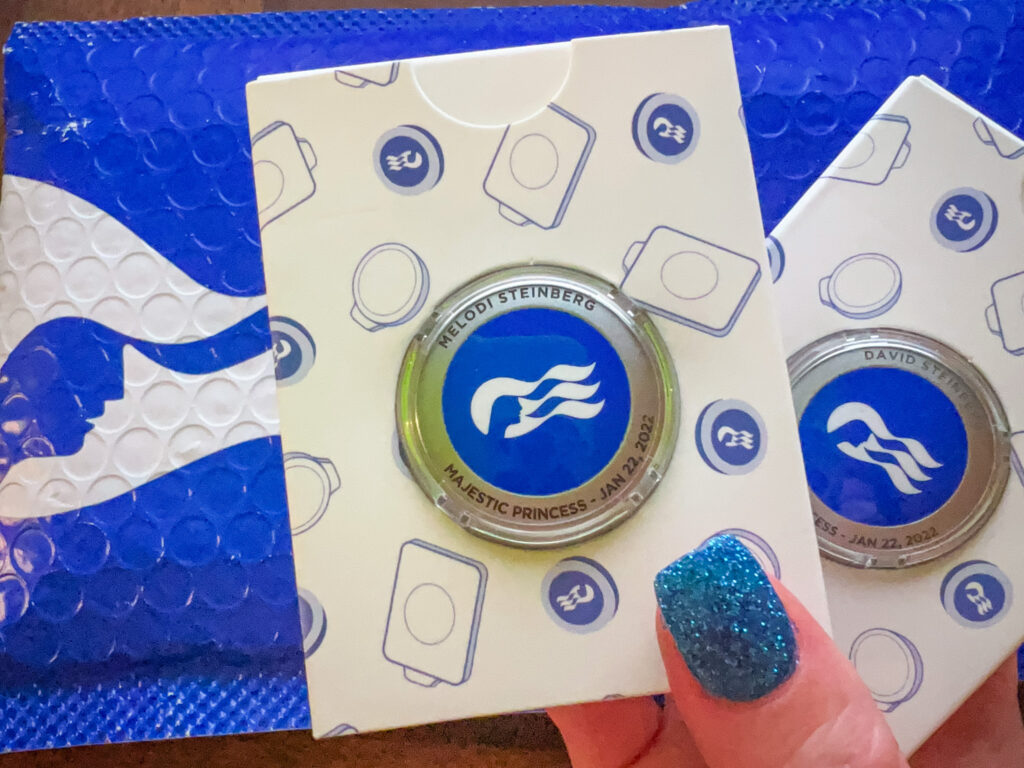 Princess has streamlined your cruise experience and it all lies in the palm of your hand with OceanMedallion! The medallion is a free, wearable device that facilitates extraordinary guest vacation experiences to make cruising more personal and simple than ever before. The Medallion holds your unique digital identity which is encrypted and communicates with thousands of sensors onboard and in port. I'll tell you right now this technology is a complete game-changer. If you are not tech-savvy it might be helpful to research this in advance because you do not want to bypass it. It really is quite incredible. The range of services enabled by the OceanMedallion starts as early as a cruiser's arrival at the terminal. It can help with the following:
Contactless Boarding/Checking in – Use your medallion at the terminal for pre-boarding. The medallion acts as your stateroom "key" so you can go straight to boarding after a very brief check of your documentation, instead of queuing to check-in. You cannot be OceanReady without the app so make sure you download it before you go.
Keyless Stateroom Entry – No key card needed. Your door will open as you approach.
Safety Training Simplification – No more crowded Muster stations. Watch safety protocols from your stateroom.
Casino Play – Play for cash anywhere onboard.
Wi-fi – Best wi-fi at sea
Ordering food and drink – Forget credit cards. That's a thing of the past. Use your Medallions for on-demand food and beverage service (plus select retail items). You must have the MedallionClass app on your phone. From there, you can order from a menu of food and beverage items and have it delivered almost anywhere on the ship.
Getting around –The Medallion can be used for onboard navigation via the OceanCompass app or with interactive wall portals that "recognize" cruisers' Medallions. It also offers real-time location services. Those with the OceanCompass app can do the same thing directly on their smartphones.
Playing games – Another popular feature of the MedallionClass experience is gaming. Using the digital wall portals, cruisers can play a variety of games (using their PlayOcean app, they can even save their place or score in some games).
Embarkation Day
If you are driving to the World Cruise Center in San Pedro the Parking Rate is as follows: Free for the first hour and $2/hour thereafter ($18 maximum/day). If you are interested in a car service, we highly recommend Motev Luxury Car Service. Princess kindly sent us a car from this company and it was nothing short of perfect. Our driver Anthony was prompt, efficient and helpful. Plus they sent us the coolest car ever: A Tesla Model X! Our driver was masked the entire time and had drinks and snacks for us in the back.
If you have your medallions on you and you have downloaded the app, followed all procedures in advance, the check-in process is a breeze. Once you get on board you can get some lunch or head to your room to relax. We suggest eating in the main dining room as it's a great way to start off the trip. On our first day at the Concerto dining room, we enjoyed some antipasto of dried cured salami and vegetables as well as bay shrimp and avocado. We also enjoyed some beef tenderloin that was delicious.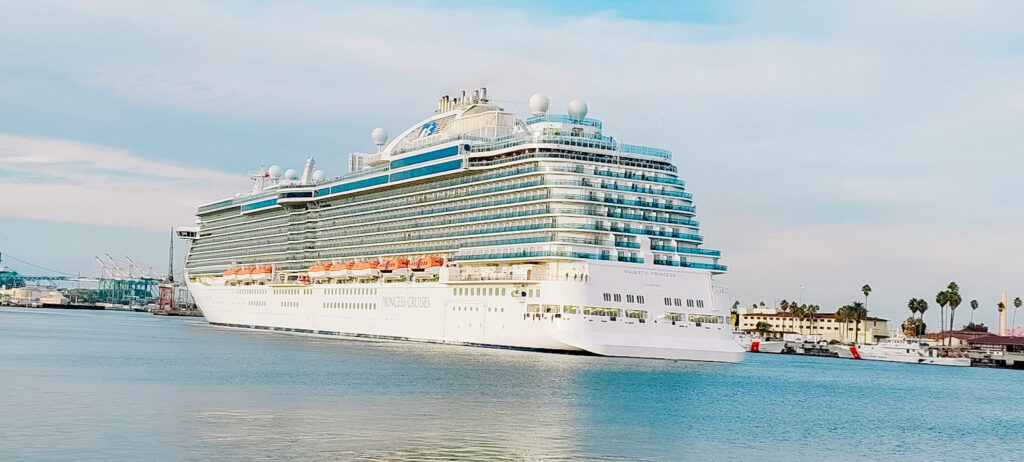 Blogger Tip: Wear your bathing suit under your clothes if you plan to go to the pool as there is always a chance your room may not be ready.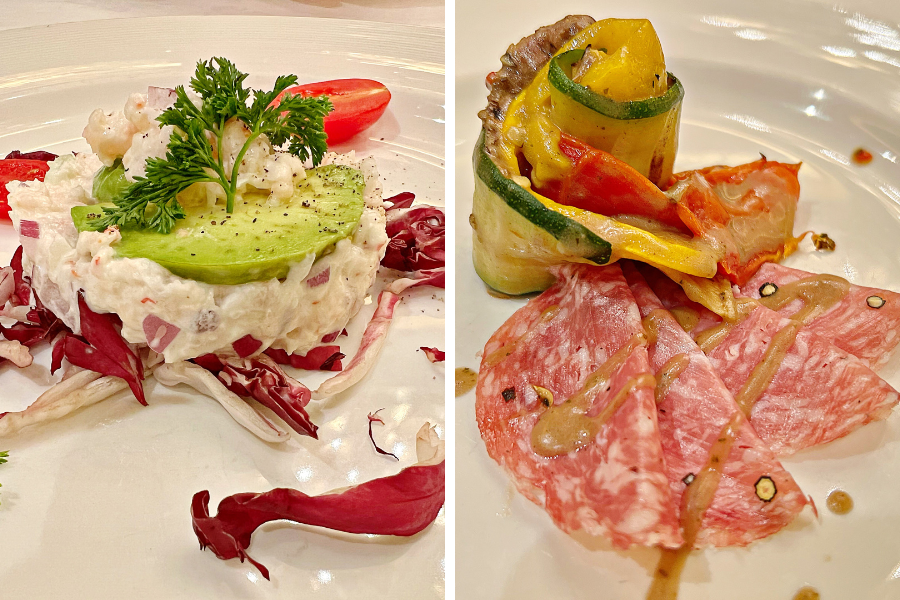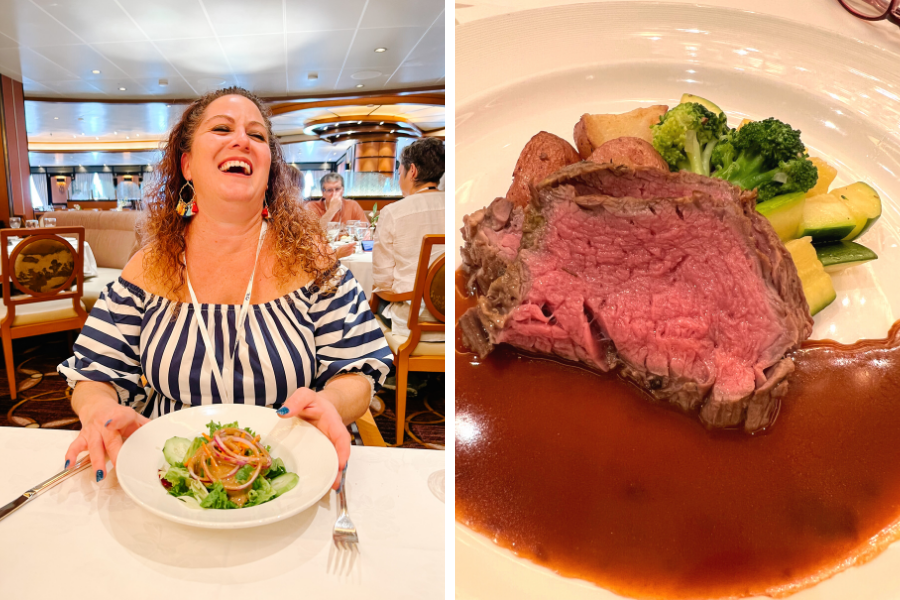 After lunch, we headed back to our stateroom to unpack and relax a bit before sail-away. We stayed in a mini-suite with a balcony so there was a lot to take in. Here is a video tour of our room that shows all of the great amenities. We found the room to be extremely spacious and having a balcony will literally change the way you cruise forever. We really enjoyed our cabin steward Geri and once she learned of our individual preferences she went above and beyond to make our experience onboard simply wonderful. I love ice and she always made sure to have a bucket of ice in our room at all times. My husband likes to have a lot of extra towels and there was always a fresh fluffy supply of plush towels waiting for us.
Tour of Mini-Suit Cabin C417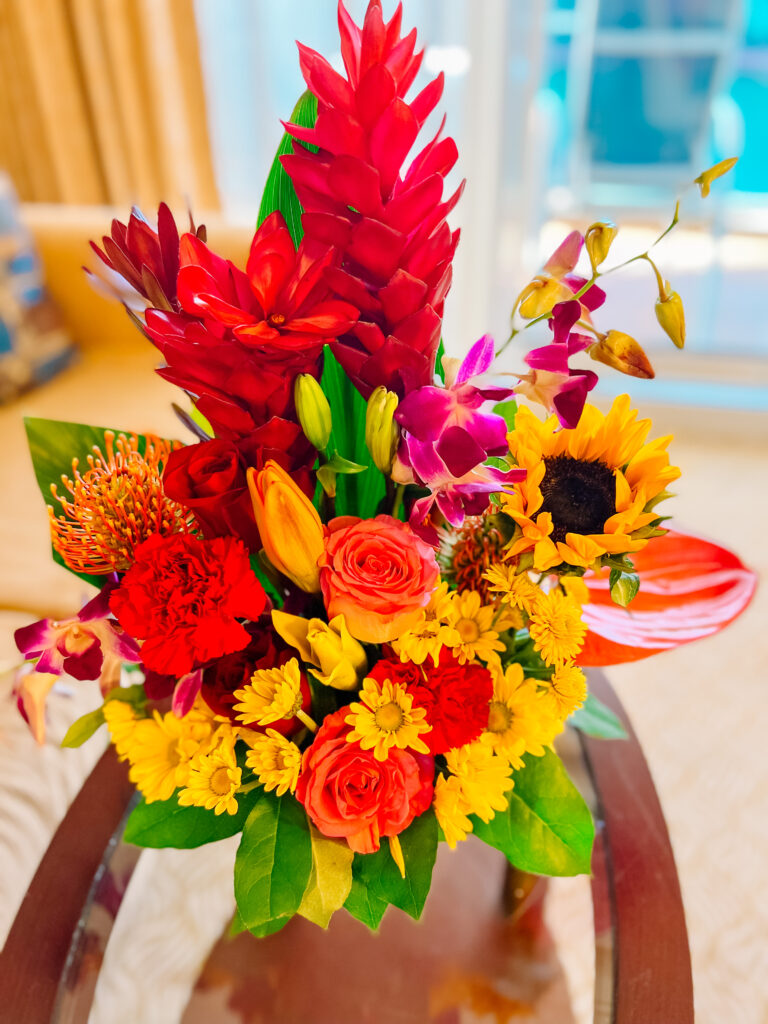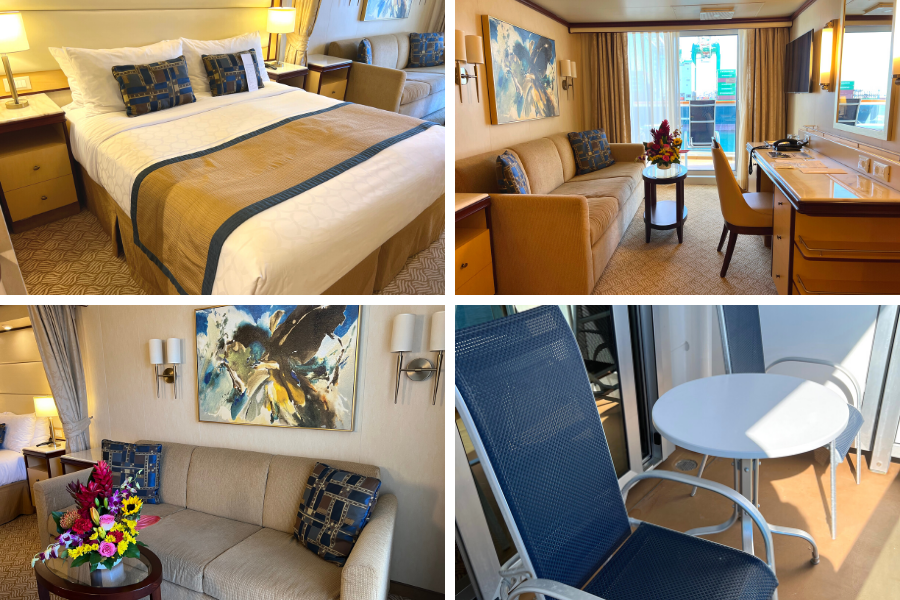 Muster Station Drill
Like other lines, Princess has moved away from traditional muster drills and has begun using eMuster, where you watch the video on your smartphone or your stateroom TV and then check-in. After watching the video, we went to our muster station and tapped our medallion on the reader, and it checked us in. That was it. You are not even required to wear your life vest but you will know where they are located.
Sail Away Party
You won't want to miss all the fun of sail-away onboard the Majestic Princess. The best place to view is on the pool deck or in the Hollywood Conservatory. When you leave port the ship will play the "Love Boat Theme Song" from it's foghorns. Then a short video will play on the big screen and the cruise director will come out and introduce himself while the Majestic singers and dancers come onstage for a fun dance set to a medley of upbeat music. It was so much fun!
The Majestic Princess Singers and Dancers
PART 2: On-board Activities/Experiences
Let's talk about all the fabulous amenities and onboard experiences The Majestic Princess has to offer. If you are new to cruising this can be very helpful as there is a variety of different cruising styles and the Majestic has something for everyone. Some guests like to relax the entire cruise, spending ample amounts of time in their cabin and on their balcony. Others are very adventurous and social and like to meet new people on-board and attend every activity. In this next section I will break it all down for you. Click here on the photo below to learn more.