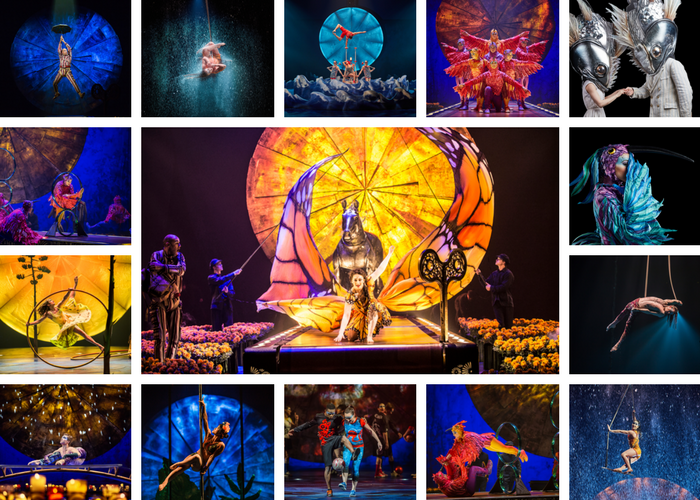 Who says you need to go to Las Vegas to see an extraordinary and stunning show? You can see one right in your backyard at the OC Fairgrounds! Luzia by Cirque Du Soleil is performing now through March 25th. This show takes you on a journey through Mexico with vivid and elaborate costumes, passionate music, brilliant set pieces, and stunning performances by truly gifted artists and athletes. Because of the way the stage is set up, there's no such thing as a "bad seat". The stage rotates and allows you to see the action from all angles. No matter your age, this show has something for you to enjoy.
First Ever Rain Curtain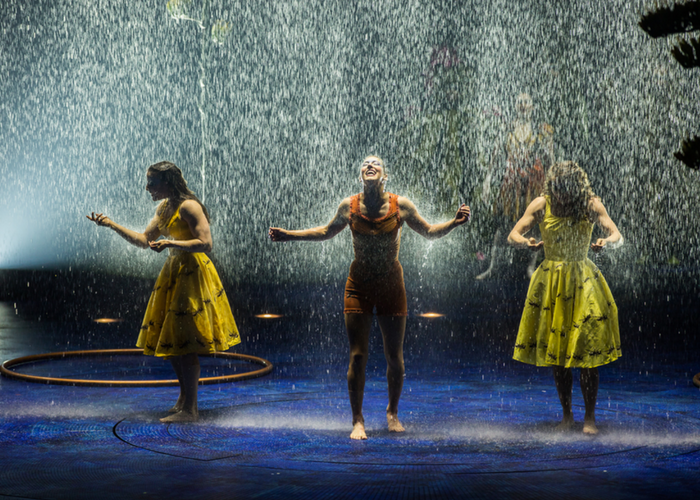 Last year, I saw Odysseo and was completely enthralled at horses running around in the water! Well this year, Cirque du Soleil kicked it up like 10 notches and brought in a rain curtain. Water is used as a source of inspiration – Integrating the element of water to a Big Top show is a first at Cirque du Soleil. The idea of placing a water basin under the stage floor and creating a rain curtain paid huge dividends on the acrobatic front.
The element of water enabled the creators to take the Cyr Wheel out of its usual context. Two artists perform on the apparatus on water and in the rain, which is, at first glance, unthinkable. In order to solve the adhesion issue, a bicycle tire was mounted on the wheel rim. Great ideas look simple… after the fact
Contortionist Alexey Goloborodko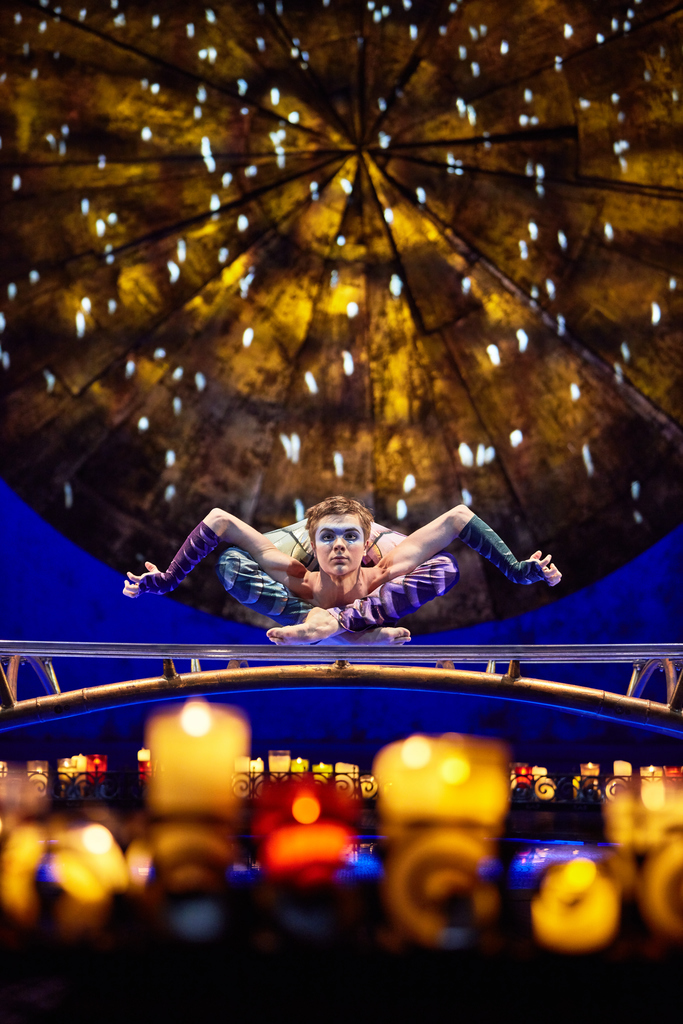 I don't even have words for how incredible this act is. I have never in my life seen a better contortionist than this guy. He will put himself in positions that will make you cringe and wonder if he is even human. But none the less Alexey is a magnificent and extraordinarily talented artist. You have to see it to believe it! (Stay tuned for an interview I did with Alexey).
How Much are Tickets?
General Admission
Tickets start at just $56 (if available) and go up considerably from there.
VIP Tickets
Select a Cirque du Soleil offers an all-inclusive VIP package where you can step up to the best seats for the show, partake in an exclusive cocktail reception, and more.
Included in a Cirque du Soleil VIP ticket:
A Premium ticket
A cocktail reception with open bar and hors d'œuvres before the show and during intermission
Access to private restrooms and terrace
Complimentary parking where available and more
Discount
Save 25% off tickets by clicking here.
Fun Facts About Luzia
A total 115 people from 25 countries are part of the touring cast and crew of LUZIA.
The 44 artists alone come from 19 different nationalities: Belarus, Canada, Colombia, Czech Republic, France, Guinea, Italy, Israel, Mexico, The Netherlands, Ukraine, United Kingdom, United States, Spain, Poland, Puerto Rico, Russia and Venezuela.
There are more than 40 different job titles on site, including Electrician, Head of Tents, IT Specialist, Sales & Customer Experience Supervisor, Publicist and Plumber.
LUZIA travels via 65 trailer trucks carrying close to 2,000 tons of equipment.
The light-coloured Luzia canvas helps counter the effects of the sun, thereby reducing energy consumption and minimizing greenhouse gas emissions.
Tips to Know Before You Go
Parking fee is $10/car, $20/bus and $15 preferred. VIP ticket purchases will be honored with a physical proof. there is no additional fees for handicapped parking.
Bring a jacket as it can get cold inside the tent
Lines are long during intermission.
There are only porta-potties but they are very clean
Be patient when trying to leave parking lot. Merging is not graceful at this location.
Do NOT use a flash during the show.