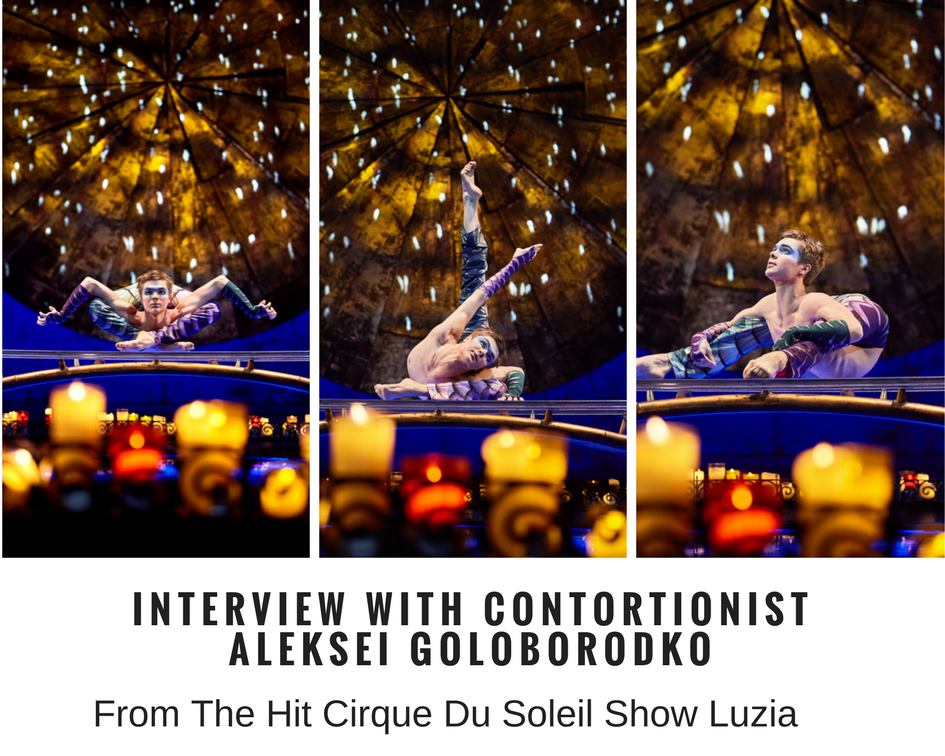 Last week I saw the show Luzia and was blown away by one of the acts. It was performed by a young man named Aleksei Goloborodko who is the resident contortionist in the show. I sat there with my jaw on the ground marveling at just how incredible his body mechanics worked. I have seen many contortionists in my life but this one really took my breath away. His body was almost fluid-like and he put himself into some of the most unusual but artistic positions I had ever seen.
So of course I reached out for an interview with Aleksei and here are his answers to my questions:
FRG=Family Review Guide | Aleksei=Contortionist
Interview With Contortionist Aleksei Goloborodko
FRG: Please tell us how old you are and at what age did you start performing contortion?
Aleksei: I'm 23 years old and started training contortion at the age 4. It took me 19 years of stretching and practice to get to the level I've reached today.
FRG: Were you the first in your family to perform in a circus or do you come from a long line of circus performers?
Aleksei: My family is not at all involved with circus. My father is a professional driver and my mother is an engineer. When I was 4 years old, my mom took me to a circus show and I was literally blown away, I told her that I wanted to be in the circus when I grow up. She took me to a circus studio where I met the coach that would become my personal teacher for the next 16 years. He made me try a few acrobatic tricks and noticed some potential, and said that he would make me become a contortionist…and here I am!
FRG: Do you have any bones? Just kidding, we can see them! Are you double jointed or do you have some kind of super human power that allows you to be so flexible?
Aleksei: I always tell people that I do have bones, but that I leave them at home before coming to work! I'm joking obviously. I'm not double jointed either. I was flexible as a child like most children are, but worked hard and trained a countless amount of hours to develop the flexibility that I have today. I was predisposed, but without work, I would have never become a contortionist.
 FRG: So many of your positions during your performance appear like your back might snap in half. It made me gasp every time I saw you do it but you looked so calm. How does it actually feel on your internal organs?
Aleksei: It actually feels wonderful! I do 45 minutes of warm-up before my act in order for my body to be ready for the positions and tricks I do. On stage, I'm enjoying the moment and focusing on both the contortion technique and the character I'm playing. I love hearing the audience reaction and play off of it.
FRG: What is your diet like? Do you refrain from eating for a certain amount of hours before a show?
Aleksei: I try to stop eating about 90 minutes before the show. I don't follow a specific diet, but I eat small meals 5 times a day instead of three big ones. I love fruits and vegetables, and love meat and fish as proteins. I love eating chocolate, but that's a secret between you and me…and your readers, ok? 
FRG: Tell us what your typical schedule is like on a performance day for Luzia?
Aleksei: I usually wake-up around 9:30am and stretch for 20 minutes right away. This is usually the hardest stretching session of the day as my body gets stiff during the night. I then have my first meal of the day and study for about 2 hours. Right now, I'm studying English writing. I then train for about two hours at home, working on my different skills before making my way to the Big Top. Once at the tent, I apply my show make-up, which takes me about 40 minutes, and train for about 2 hours. I'll work by myself on my show platform, practice my handstands and do some movement training or ballet. I then have food and relax before the show. Once the show starts at 8pm, I have few appearances on stage during the first half of the show to support other acts as a character. At the beginning of intermission, I start warming-up for 45 minutes which brings me to the beginning of my act. My act in the show is about 7-minutes long. After the show, I take 15 minutes to cool down and stretch. I take the 10:45pm shuttle from the Big Top to the apartment Cirque du Soleil provides me, and will read a book and relax until about 1am before going to bed. I have adrenaline after the show, so I can't go to bed right away. This schedule is for a one-show day, but 3 or 4 days a week we do two shows in one day which changes my routine a little bit.
FRG: Do you consider yourself an athlete, an actor, or a performer?
Aleksei: All of the above actually. As a Cirque du Soleil artist, you need to have the physical abilities of an athlete, you have to play a character like an actor and you have to be able to entertain the crowd like a true performer. They are linked together if you want the audience to really connect with your performance. 
FRG: Is injury ever an issue? Do you see a chiropractor or is daily stretching enough?
Aleksei: I don't suffer of any injury – in over 700 performances of LUZIA in the past 2 years, I've only missed 4 due to a cold. That's why I warm-up for 45 minutes before my act; it allows my body to be ready for the positions and tricks that I perform. Don't forget also that the contortion elements I perform on stage have been rehearsed and trained for hours before I integrated them into my act – they're almost second nature in a way, but still require me to stay fully concentrated and focused on what I'm doing.
FRG: How has your training in the Chinese martial art of Wushu helped you be a contortionist?
Aleksei: When building my style as a contortionist, my coach and I were looking for new styles of movement and choreography that hadn't been integrated yet into contortion acts. Martial arts inspired some movements of my act, but also helped me understand and control my body and the inner processes inside it.
FRG: Do you have other hobbies?
Aleksei: I love playing video games, read books in English and cook. Unfortunately, I don't have a lot of time for cooking, since we perform 6 days a week, but I love to take the time to cook dinner on my days off. I try to learn new recipes and get creative with it.
For more information about the show Luzia Please click on the photo below!