Alright people! Those of you that have boys, or tomboys, or just like superheros you are in for a real treat! The First-Ever Marvel Live Tour Coming to Honda Center/Anaheim
Tickets On-Sale Now for this Must-See Event
After much anticipation, Feld Entertainment, Inc., the world's leading producer of touring live family entertainment, revealed details about the most ambitious live show in its history, with new information about the epic storyline and tour dates for Marvel Universe LIVE! Featuring the most Marvel characters ever assembled in one production, this high-caliber arena spectacular will put fans right in the middle of one of the most electrifying battles between good and evil ever conceived. Produced by Feld Entertainment, this first-ever live Marvel tour makes its 85-city debut in July 2014 in Tampa, FL, followed by the world premiere at New York City's Barclays Center on Wednesday, August 13.  Marvel Universe LIVE! will be flying into Orange County Friday, March 27, 2015 to Sunday, March 29, 2015 for seven performances at Honda Center in Anaheim.  Tickets for the Anaheim shows of Marvel Universe LIVE! are on sale now – tickets start at just $49; tickets available for purchase online at Ticketmaster.com, charge by phone at 800-745-3000 or in-person at the Honda Center Box Office.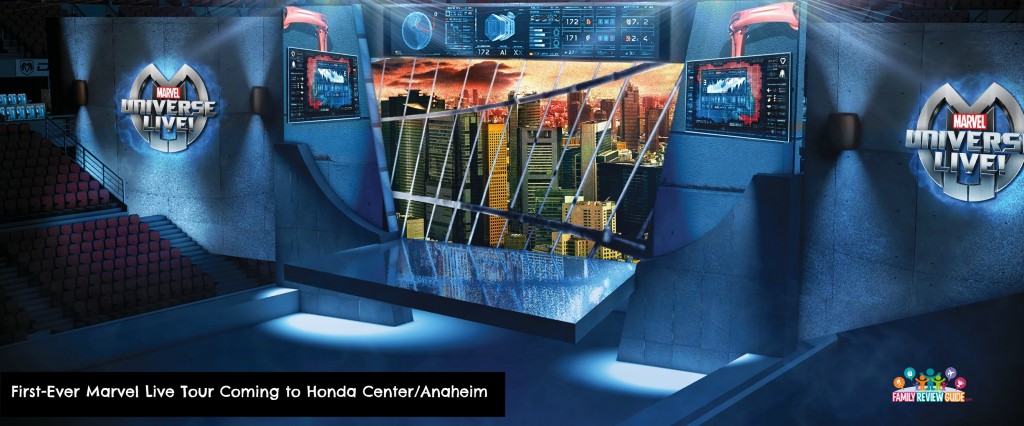 Marvel Universe LIVE! will captivate audiences with an authentic and original story that brings more than 25 Marvel characters together on one epic quest.  The story is framed around the battle over the Cosmic Cube, the source of ultimate power and one of the most feared and coveted treasures in the Marvel Universe, that has been shattered into pieces by the Mighty Thor in order to prevent it from falling into the wrong hands. With the pieces scattered across the globe, Thor's villainous brother Loki devises a scheme to clone its powers, inciting a threat that could not only decimate Earth but also obliterate the Universe.
To defeat Loki, Marvel's biggest Super Heroes including :
The Avengers
Iron Man
Captain America
Hulk
and Thor
Who along with Spider-Man and Wolverine, must band together and trek across the globe to retrieve the Cosmic Cube fragments and unite them. As the Super Heroes track the Cube, they will encounter some of their biggest adversaries, including Green Goblin, Doctor Octopus, Red Skull, Madame Hydra, Aldrich Killian, Electro and more, in the quest for the very same fragments. These foes have no problem teaming up if it gets them closer to their ultimate goal of world domination.

Marvel Universe LIVE! at Honda Center 
Friday, March 27, 2015 at 7:00 PM
Saturday, March 28, 2015 at 11:00 AM
Saturday, March 28, 2015 at 3:00 PM
Saturday, March 28, 2015 at 7:00 PM
Sunday, March 29, 2015 at 11:00 AM
Sunday, March 29, 2015 at 3:00 PM
Sunday, March 29, 2015 at 7:00 PM
Ticket Prices: $154.00, $79.00, $49.00
For a complete list of tour dates, visit the Marvel Universe LIVE!  website (http://www.marveluniverselive.com) and stay current on the latest developments through social media, including: