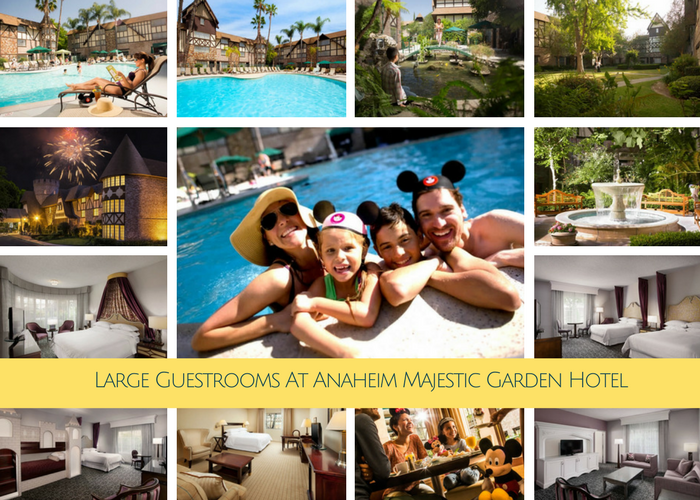 Anaheim Majestic Garden Hotel, Formerly Sheraton and known as the castle themed property on Disneyland Drive, is investing $2.6 million in 2017 on continued room renovations and a new Japanese restaurant.
What has been updated?
The hotel's garden tower rooms were upgraded with design touches reminiscent of the hotel's premier castle rooms. Guest rooms received new headboards, carpeting, and wallpaper backdrops that evoke daytime in an enchanted forest. The garden tower's corridors were also completed with new carpeting, wallpaper, and art works.
Castle Theming in Each Room
More than a third of the hotel's 489 guest rooms were renovated in 2015 and quickly became guest favorites with their subdued castle theming in colors of royal purple and silver accents, with specially designed headboards, lighting and mirrors. These modifications complement the turret and Tudor themed architecture of the buildings. The remaining rooms in the main building will start transforming to the castle theming later this year and be online for guests in early 2018.
Beautiful Garden On-site
The "majestic" Anaheim landmark off South Disneyland Drive covers 13 acres and boasts three courtyards, landscaped areas with flowers, fauna, a rose garden and arbor, lawns, and multiple spots for guests to relax in privacy. The hotel is also home to its very own fairytale, "The Legend of the Lair" woven into the walls and carpets of the hotel's hallways. The tale's heroine Princess Corinne welcomes guests at breakfast as well as offering story times and special event activities. (https://www.majesticgardenhotel.com/family/storybook)
New Japanese Restaurant
Hanagi, a new Shabu-Shabu and sushi Japanese restaurant will debut this winter. In translation Hanagi means castle flower, a fitting moniker for the "castle" hotel. Shabu-Shabu is a popular savory Japanese-style communal dining choice where diners dip thinly sliced meats and vegetables in a cooking pot and season from an array of dipping sauces. The restaurant will also offer a wide array of noodle dishes.
Watch A video Of The New Anaheim Majestic Hotel
For more information visit Anaheim Najestic Hotel at Facebook and Twitter.