There is so much to be Thankful for this holiday season. With all of the tragedies going on around us we need to take a moment and remember what we are truly thankful for. What we have right in front of us. The people we love and cherish and hold close to our hearts. Take this year to enjoy your family and friends spend time sitting and talking with them instead of spending your time in the kitchen. There are 3 options available at Knott's Berry Farm: Take Home Dinners, A champagne Brunch at Mrs Knott's Chicken Dinner and a Thanksgiving Buffet at Amber Waves inside The hotel.
Thanksgiving Take Home Dinners
Leave the cooking to Knott's this holiday season. Enjoy your choice of a delicious turkey or ham complete dinner that will serve 6–8 people.
Dinner Menu Includes:
12-14 lb. Roasted Turkey OR 8-10 lb. Glazed Ham
2 Quarts of Country Apple Stuffing
4 Quarts of Mashed Potatoes
2 Quarts of Candied Yams
8 oz. of Cranberry Sauce
8 oz. of Bread and Butter Pickles
1 Quart of Roasted Brussel Sprouts
1 Quart of Whole Kernel Corn
1 Dozen Farm Baked Rolls
2 Quarts of Knott's Country Gravy
Butter and 4 oz. Jarred Boysenberry Preserves
Choice of Boysenberry Pie or Pumpkin Pie
Complete dinner package for $144.99 plus tax. Reserve online (available soon) or call 714-220-5006.
Pick Up at Mrs. Knott's Chicken Dinner restaurant on Nov. 27, 2019 from 10AM-6PM or Nov. 28, 2019 from 8AM-5PM
Thanksgiving Champagne Brunch
Please note the menu listed below is just an example of items that might be served and is not the actual menu. Items and availability are subject to change.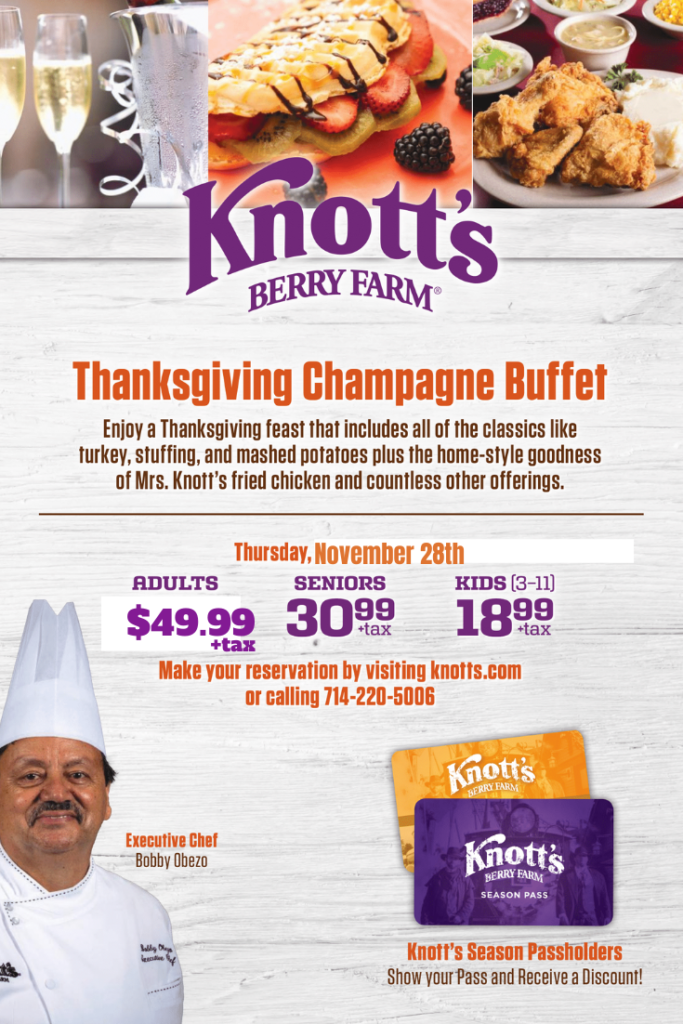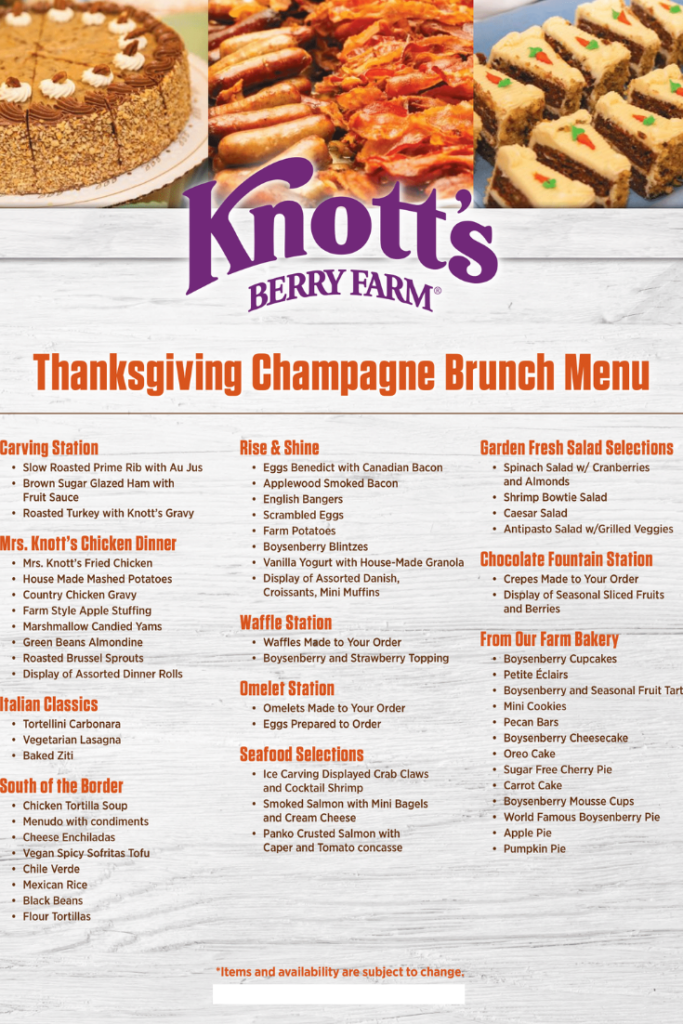 Enjoy a Thanksgiving feast that includes all of the classics like turkey, stuffing, and mashed potatoes plus the home-style goodness of Mrs. Knott's fried chicken and countless other offerings. This takes place inside Mrs. Knott's Chicken Dinner restaurant and Spurs chophouse. Reservations are necessary. Please call 714-220-5006.
Adults – $49.99
Seniors – $30.99
Kids (3-11) – $18.99
All prices plus tax.
Buffet takes place inside of Mrs. Knott's Chicken Dinner Restaurant from 9am – 2pm and then Spurs from 11am – 5pm
Knott's Season Passholders receive a discount!
Make your reservation by calling 714-220-5006 or online below.
Amber Waves Thanksgiving Buffet
This buffet includes character appearances by Snoopy and the PEANUTS gang. (characters vary throughout the day). Its that time again to gather the family for a Thanksgiving Feast. Come join Snoopy and some of the gang at Amber Waves for some of your traditional Thanksgiving supper favorites. Reservations are necessary. Please call 714-243-2010.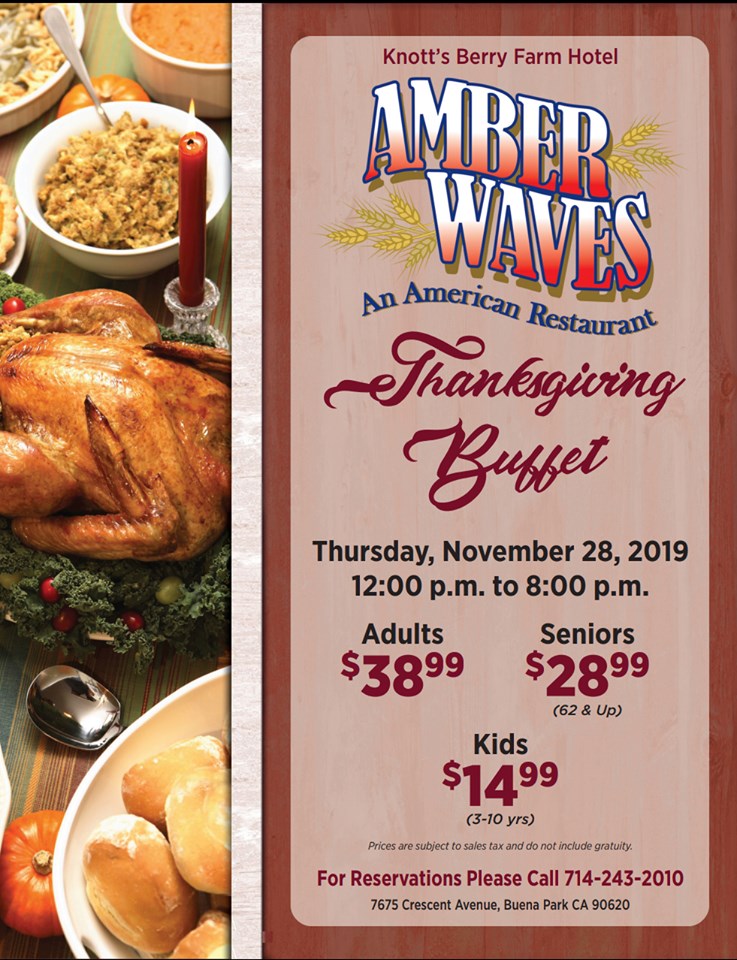 Photo Credit: Knott's Berry Farm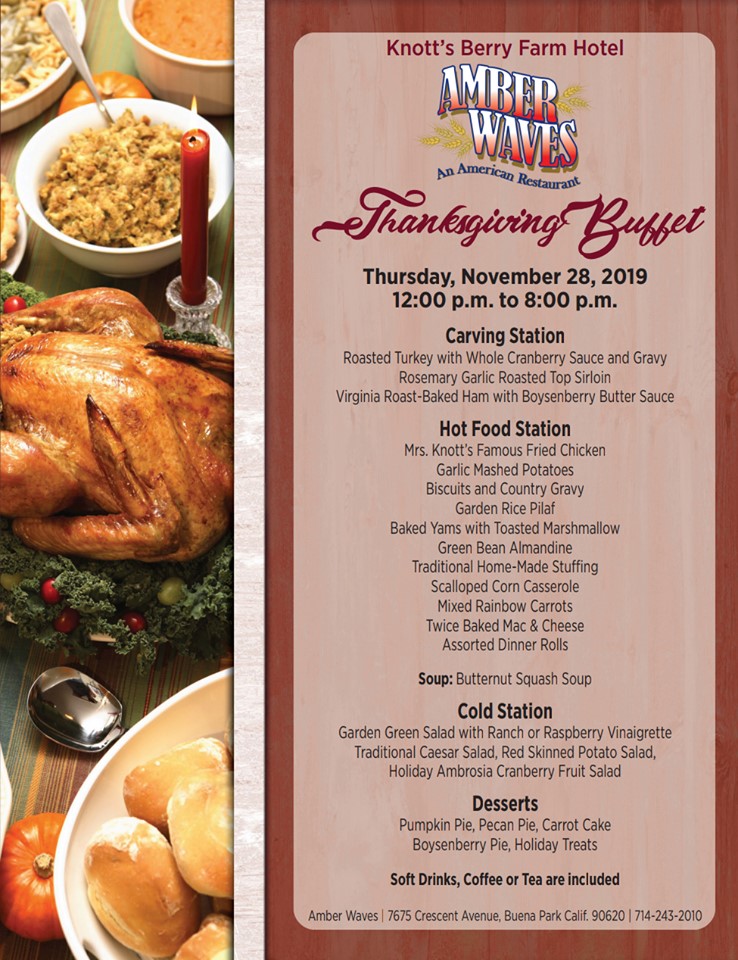 Photo Credit: Knott's Berry Farm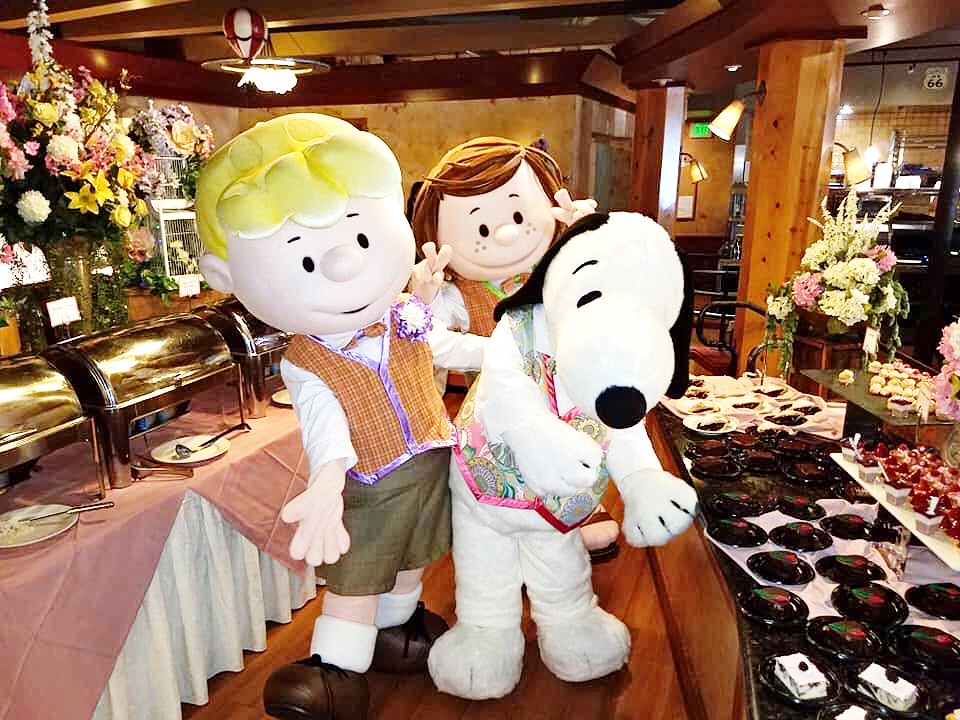 Photo Credit: Knott's Berry Farm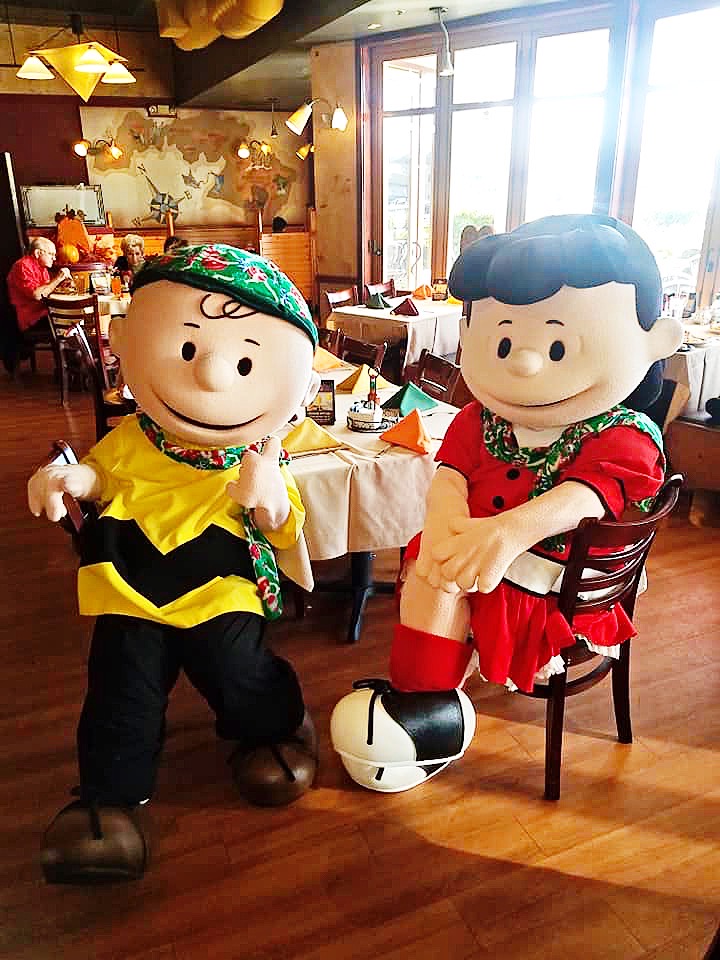 Photo Credit: Knott's Berry Farm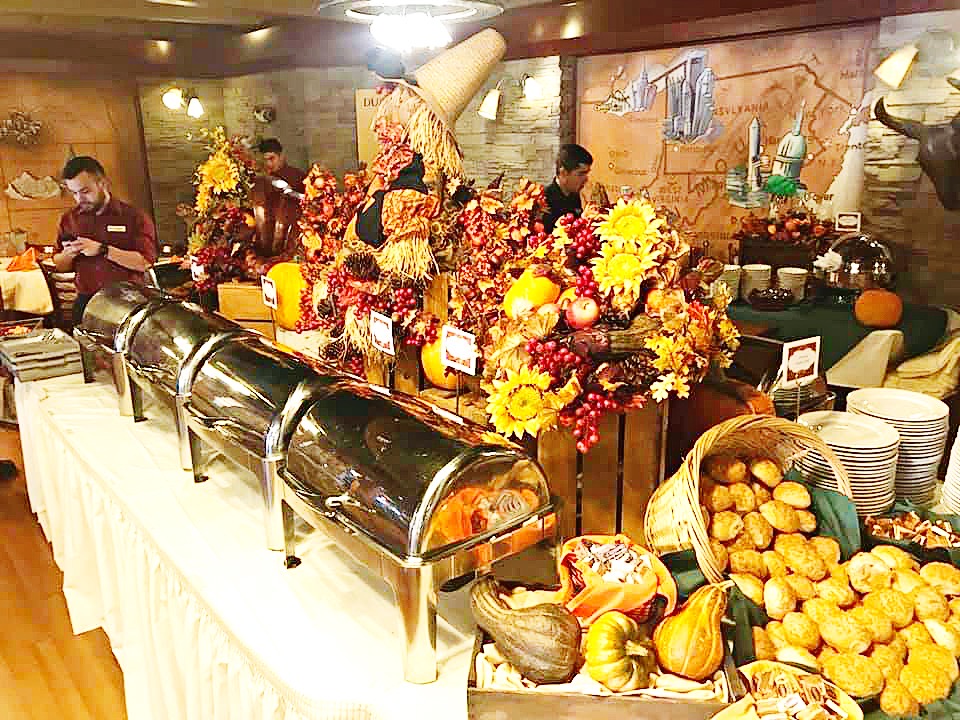 Photo Credit: Knott's Berry Farm