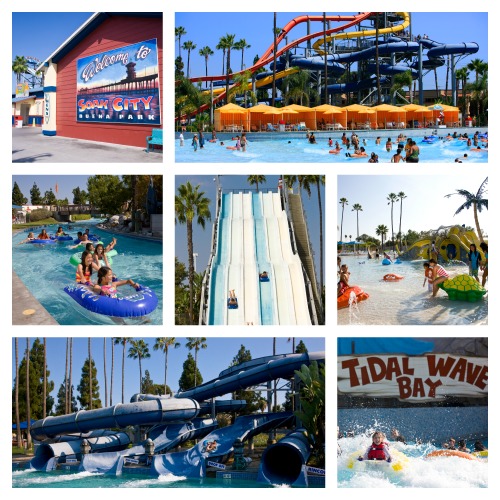 Knott's Soak City  will open daily for the 2015 season this Saturday, May 23 through Labor Day and Sept. 12 & Sept. 13. Knott's 13-acre City has a fun Southern California theme inspired by beach and surf towns of the 1950s Orange and Los Angeles County coast.
This Memorial Day Weekend:
Knott's Soak City opens daily through Labor Day and Sept. 12 & Sept. 13
 Knott's Berry Farm and Knott's Soak City water park are pleased to announce that they will be offering

FREE admission to active, veteran and retired United States Military personnel Saturday through Monday of Memorial Day weekend (May 23-25).
Don't miss the spectacular Knott's Berry Farm fireworks show that will light up the night sky on Sunday, May 24, at 10:00 pm.
Season Pass
Guests can maximize their summertime fun by upgrading to a Gold Season Pass and ride and slide at both the Knott's theme park and Soak City every day of the 2015 season. A Knott's Soak City Gold Season Pass price is $99.96 or 4 payments of $24.99 when purchased online through May 25. Regular admission for the water park is just $38 and $27 for juniors (ages 3-11) and seniors (62 and over) and includes unlimited use of all water park rides and attractions; kids under 3 years old are always free.
Military Tribute Promotion
This Memorial Day weekend (May 23 – 25) the Knott's Berry Farm Military Tribute promotion will provide all active, veteran and retired U.S. military with free admission to Knott's Berry Farm and Knott's Soak City.  A valid military ID must be presented to receive free admission. "We would like thank our men and women in the military and their families for the sacrifice they make," said Raffi Kaprelyan, general manager of Knott's Berry Farm, "this program is a small way we can show our gratitude and appreciation for all of their hard work and dedication to the safety of our country." Active and retired members of the U.S. military will also be able to purchase discounted admission tickets for members of their immediate family (maximum of six) for Knott's Berry Farm for only $41.00 for each Regular ticket and $31.00 for Regular admission to Knott's Soak City (no discount on Jr./Sr. ticket at either park).
Operating days, hours and prices vary and are subject to change. For information on the day that you plan to visit, please call (714) 220-5200 or visit www.soakcityoc.com. Join the conversation by using #SoakCityOC.