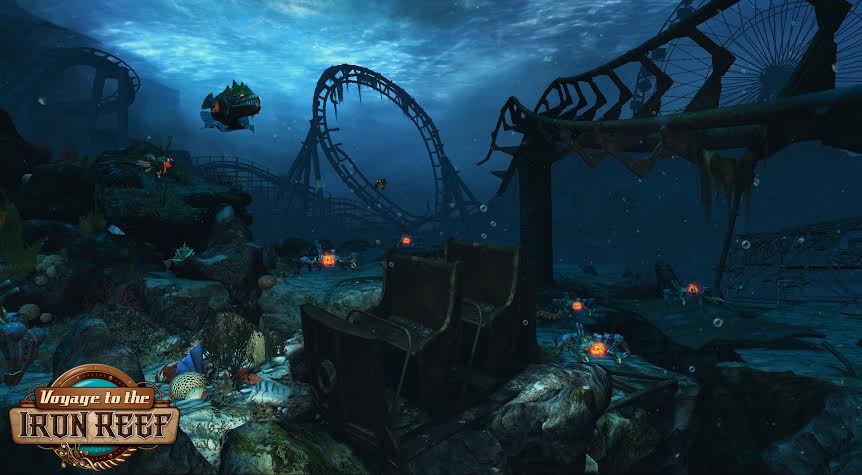 Voyage to the iron reef
By Katie Brandenburger
Dive deep into a world of mysterious creatures and enchanting underwater forests and attempt to save the Knott's Berry Farm Boardwalk from a watery doom in the new, interactive 4D attraction, Voyage to the Iron Reef – now open at Knott's Berry Farm.
In the new media-based battle, guests transform into brave deep sea navigators aboard a four-passenger submarine-inspired vehicle and embark on a four-minute voyage into the Iron Reef to defeat the Kraken Queen and her iron clad aquatic army. The voyage combines the fun of a theme park ride with the interactivity of high tech video games. The submarines navigate 10 different underwater scenes featuring hundreds of media-based creatures and other special effects.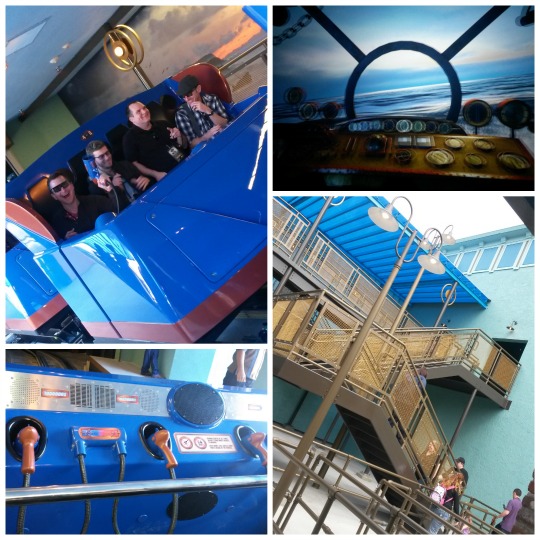 What makes the attraction "4D" are the "freeze blasters" each voyager can use to shoot the "bad guys" in an effort to rack up as many points as possible (a la Buzz Lightyear Astro Blasters in Disneyland Park or Toy Story Midway Mania! at Disney California Adventure Park.). The attraction is not quite as slow moving as Buzz, nor is it as fast as Toy Story– it's a mix between the two, with impressive 3D graphics. The new 4D ride features interactive scenes filled with menacing sea creatures and many hidden surprises that react to the accuracy of the freeze blasters controlled by the guests on board. Every rider earns a score, which makes every trip to the Iron Reef a competitive adventure.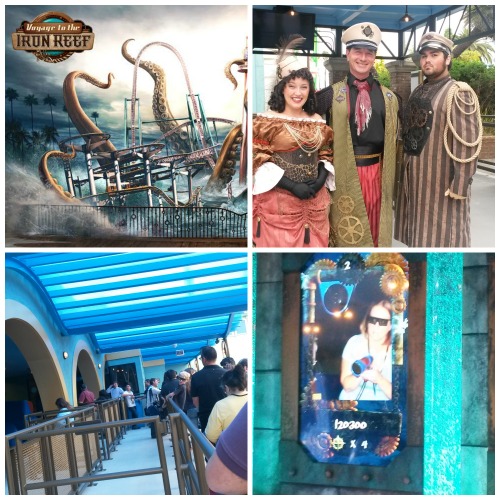 The Kraken Queen story:
"The Queen of the Kraken and her aquatic army have surfaced to feed on the steel of any attraction within their grasps. Their unquenchable appetite for coaster metal has turned these creatures into swimming mechanical monsters unlike anything ever seen on the ocean floor.
Guests who have what it takes to become brave deep sea navigators will climb aboard four-person submarine-inspired ride vehicles and embark on the four-minute gaming adventure into the Iron Reef. Equipped with an interactive freeze ray, guests will aim for ballooning puffer fish, an iron clad octopus and other exciting 3-D creatures as they attempt to blast the most sea life and save Knott's from a watery doom."
The park has also opened a new 8,186 sq.-ft.-Boardwalk Arcade and a new retail shop called Nautilus (formerly Ride Warriors). The Boardwalk Arcade is located directly beneath Voyage to the Iron Reef and has been refreshed with a new selection of popular video, redemption and merchandise games. Knott's recently introduced a reloadable game card system, replacing cash transactions at almost all of its games and arcades. Kiosks located near most games and arcades make a trip to the new Boardwalk Arcade even more convenient. Nautilus, located adjacent to new attraction, (formerly Ride Warriors), is filled with ride-inspired apparel, candy, and toys.
Later this summer, the laser tag compound inside Boardwalk Arcade will return with all-new twists, turns and new architectural features inspired by Voyage to the Iron Reef.
Can you beat my high score of 120,300? Grab a freeze ray and get crackin'!
(Directly from Knott's) Fun Facts:
The network cable that powers the screens is long enough to wrap around the Hollywood sign 85 times
Blast hidden medallions throughout the ride to score higher points
Easter eggs of various iconic treasures from Knott's past are hidden throughout the ride and interact with the blast of a freeze ray (Hint: Look for the famous Roaring '20s sign!)
Look for the hidden Snoopy in the all new ride dock mural
Iron Reef is the newest interactive 4D ride on the West Coast and the only interactive 4D ride in the dense So. Cal theme park marketplace featuring an entirely original story and characters
For more information visit Knott's Berry Farm on Facebook and on Twitter