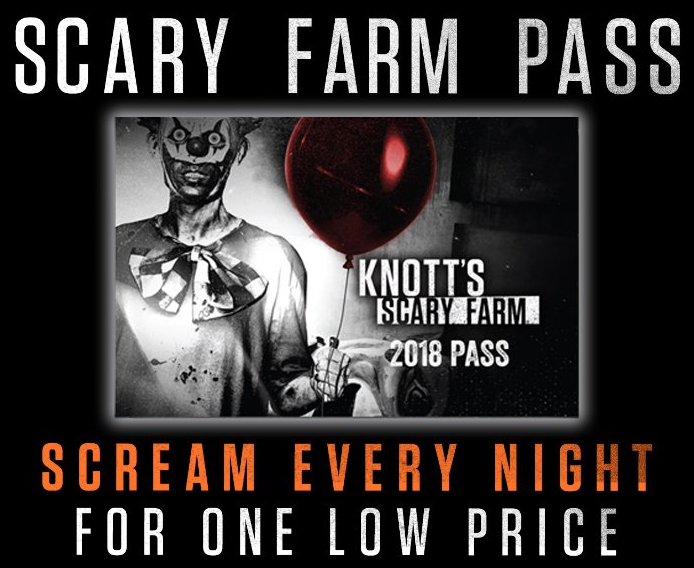 Are you a Scary Farm Junkie? Do you love to be scared endless amounts of times? If so, you are in luck! You can enjoy admission to every night of Scary Farm for one low price. Knott's Berry Farm Season Passholders save $10 for a limited time. Hurry, before the Scary Farm Pass sells out!
Admission plus fright lane pass
Get Scary Farm admission plus unlimited priority access to all mazes and Fast Lane rides. Up to a $47 savings. Knott's Passholders save up to an additional $5. Scary Farm Tickets – Save up to $40 on Scary Farm admission when you buy online. Knott's Passholders save up to an additional $5 off Scary Farm admission.
Knott's Scary Farm Boo-Fet
Just $31.99. Munch with the monsters before you face your fears. Treat yourself to a Knott's Scary Farm Boo-fet dinner followed by early entrance to select areas of Knott's Scary Farm. Save $5 when you buy online. Scary Farm admission not included.

Stay Overnight
The Knott's Berry Farm Hotel combines comfortable accommodations for both business and leisure. The full-service 320 room hotel features a SNOOPY-themed wing, fitness center, pool with children's activity area, lighted sports courts and many other amenities. Dining options including Amber Waves, specializing in All-American fare and hotel room service. A variety of affordable family vacation packages, including admission to Knott's Berry Farm, are available year-round with special early admission into Knott's Berry Farm during the summer. Here is a full review of the hotel. 
Watch
Curious about the new mazes for 2018 and other attractions that will be at Scary Farm? Watch this video from the Season Passholders event. It will show you these themes behind each maze and  well as some live action skits and more. Looks like it's going to be an amazing season!
For more information about Knott's Scary Farm visit them on Facebook, Twitter and Instagram.