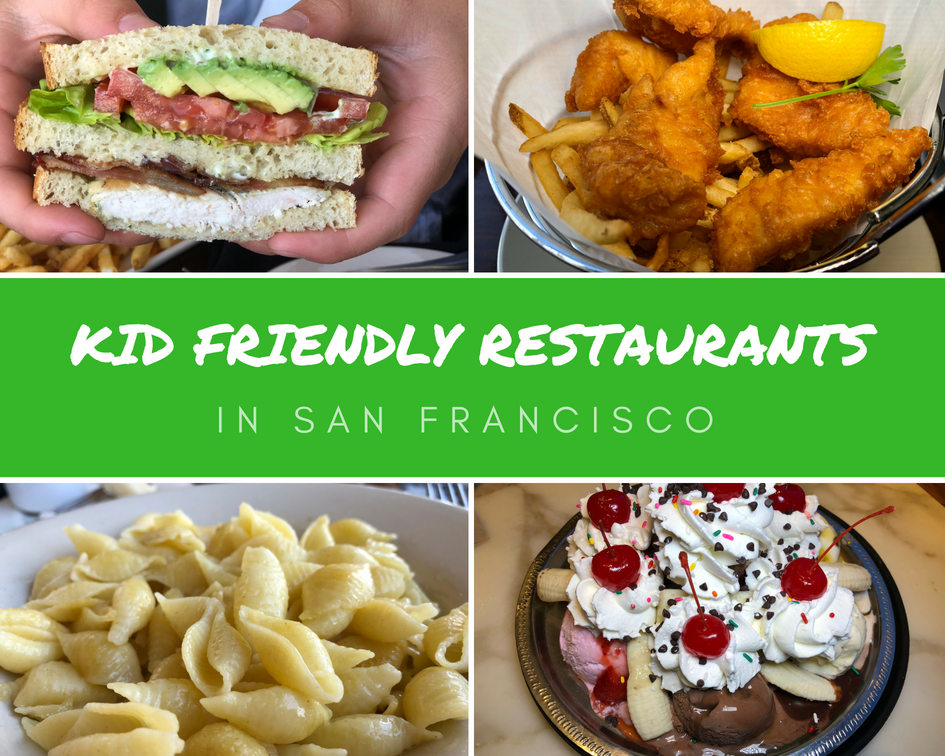 Any parent knows that taking a family out to eat on vacation is like spinning the roulette wheel. You never know where you are going to end up or how many chips it will cost you. On a recent visit to San Francisco we came across a few restaurants that made everyone feel like we were winners.
Boudin Bistro
This was probably our favorite restaurant on the trip. When we first arrived we watched a boudin baker crafting some of the amazing bread creations you can purchase. The lady we saw was making a crab.
Then we went Upstairs to The Bistro. It has a different menu and is a little more upscale than the regular restaurant downstairs. One we were seated we took a moment to take in the beautiful view out the window.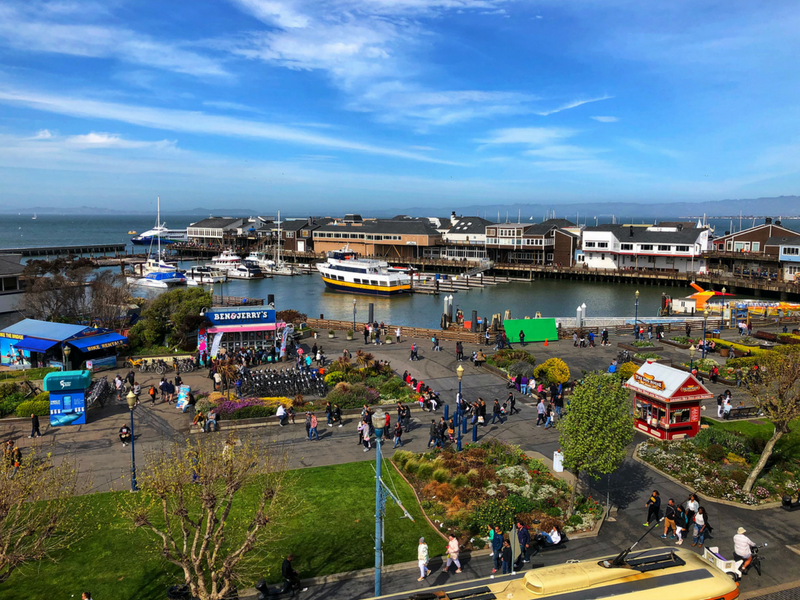 You can enjoy a nice cocktail or a glass of wine with your meal. The Bistro has a very diverse wine list and they offer a thoughtfully curated selection of wines from Lake County to Santa Ynez – from the North Pacific Coast to the Foothills of the Sierra Nevada Range.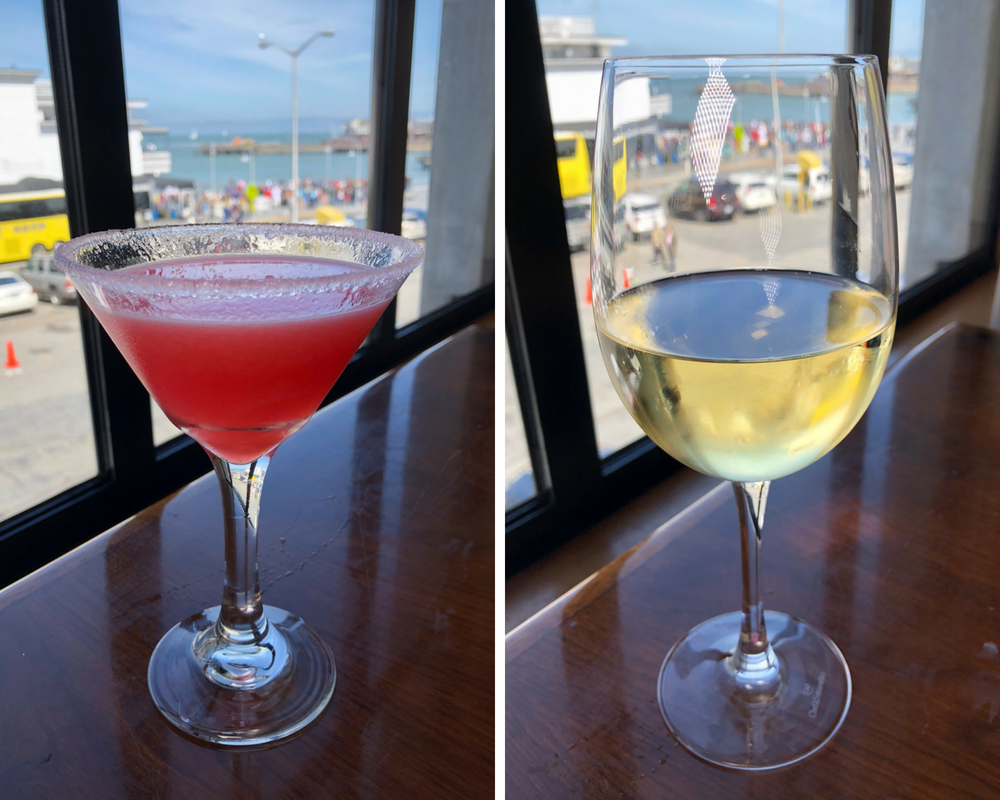 We have a 15 year old, a 12 year old and a 7 year old and each one of them found something they enjoyed. The teen/tweens enjoyed fish and chips, a burger and a club sandwich while my little one enjoyed a hamburger and mac and cheese. (homemade, not kraft). I thought the quality of the food was phenomenal and the service was equally as good.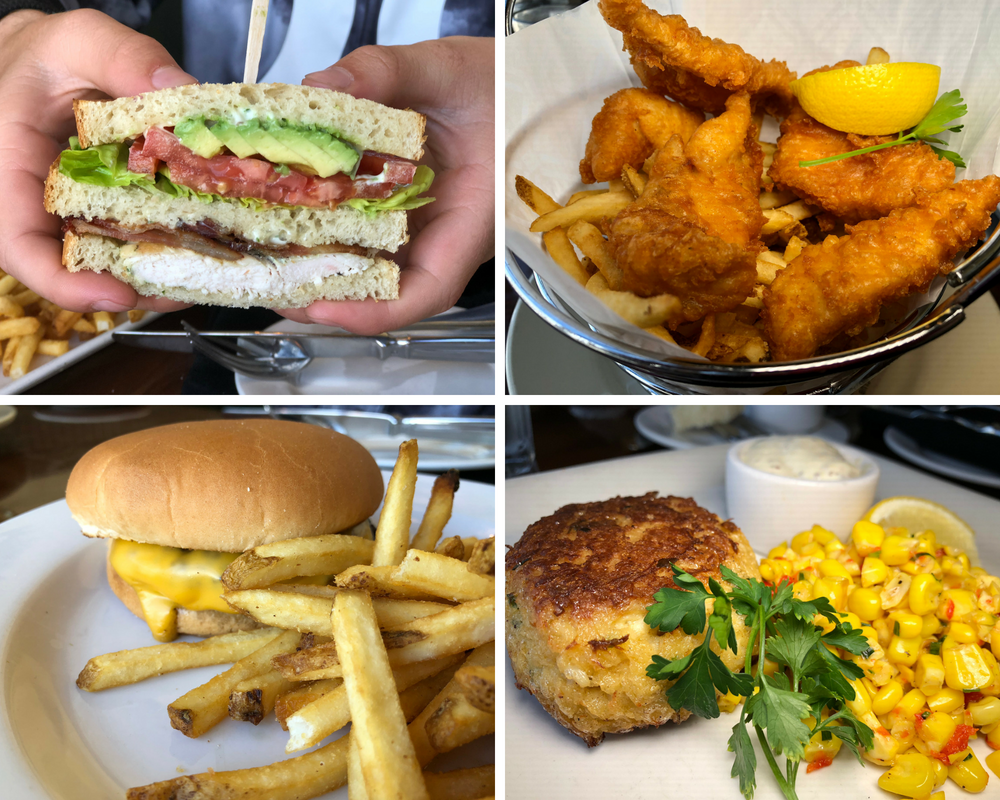 After you dine here you can walk over the the bakery museum tour. The cost is $5.00 per person and it lasts 30 minutes. We really enjoyed this and there is so many cool things to look at like a sourdough teddybear hanging mobile.
Here is a look at the kids menu:
[gview file="https://familyreviewguide.com/wp-content/uploads/2018/07/kids_04_19_16_1up.pdf"]
Pier Market Seafood Restaurant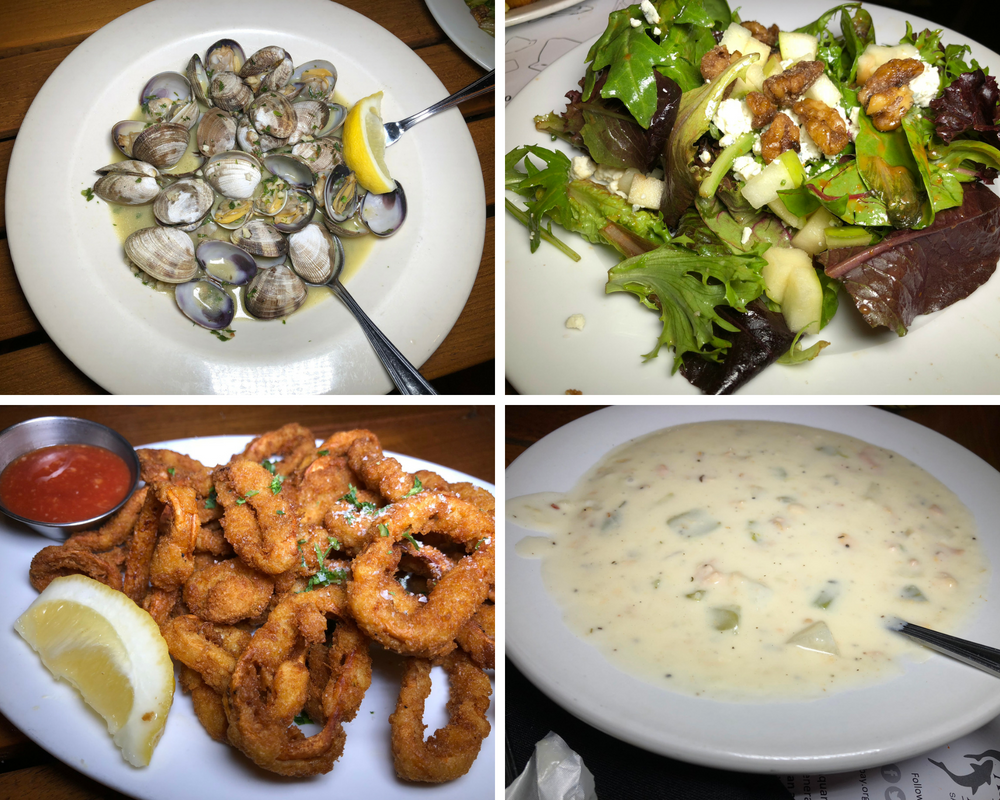 Pier market has a pretty amazing menu. Everything from crab, mussels, chicken and shrimp. You can even order quesadillas and garlic bread. As for the kids menu, there are a lot of options for non-adventurous little eaters.
KIDS MENU FOR KIDS 12 AND UNDER. ALL KIDS MEALS ARE SERVED WITH THE CHOICE OF STEAMED BROCCOLI, FRENCH FRIES, RICE OR POTATOES.
Grilled Salmon $7.95

Grilled Shrimp $7.95

Grilled Cheese Sandwich $6.95

Hamburger $6.95 (with cheese, $.25 extra)

Hot Dog $6.95

Fish & Chips $6.95

Chicken Tenders $6.95

Penne Pasta, Butter & Parmesan $6.95
As adults we really enjoyed the appetizers such a fresh clams, calamari, and clam chowder soup. For entrees, they have a really nice selction of seafood and non-seafood items. The restaurant uses a mesquite wood grill that infuses their sustainable seafood and meats with a smokey flavor you can't beat. You can even watch the chefs cooking on the wide open mesquite grill.
The seafood tasted fresh and was cooked to perfection. I liked the ratio of vegetables to meat. Even my 11 year old enjoyed his salmon and broccoli, two things he rarely eats. There is a large patio with heat lamps and some really good people watching. our waitress was friendly and served us promptly.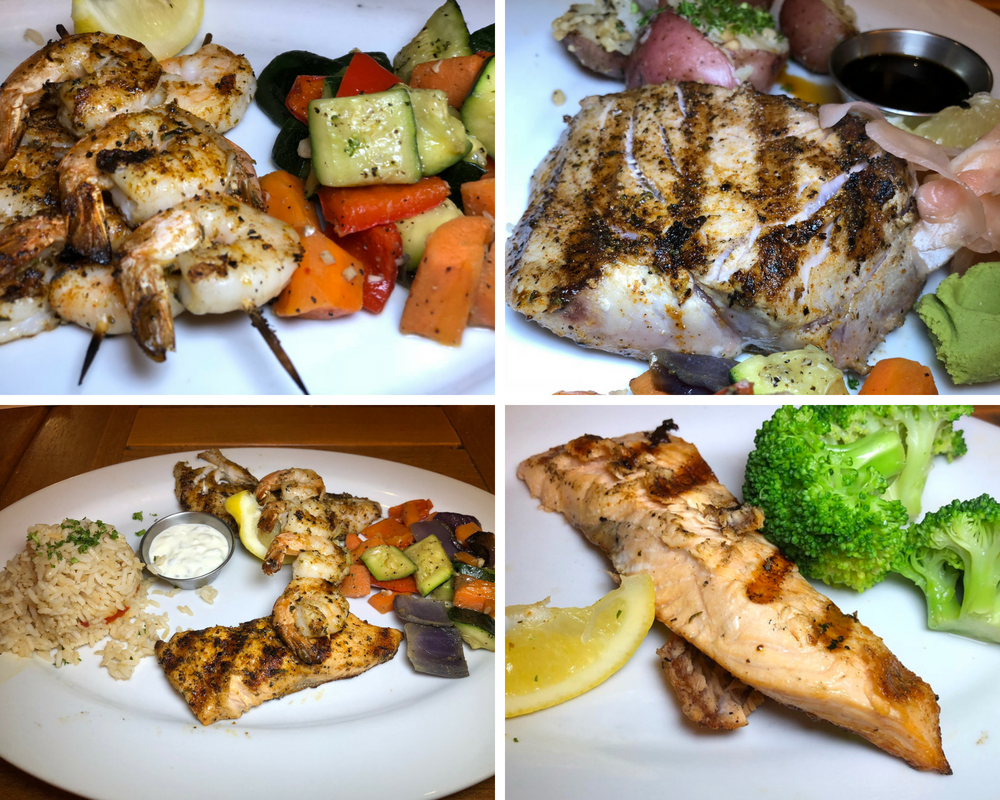 We were too full for dessert but they have warm chocolate fudge cake, apple crisp, Vanilla Bean Créme Brulée, Chocolate Banana Bread Pudding, Tirmisu and cheesecake.
Halal Guys
Just across the street from the Hilton Union Square is one of the nations hottest quick serve restaurants – The Halal Guys. They started out as a New York City hot dog cart and now they are a world-renowned international restaurant chain. The specialize in Gyro and chicken meat. My family loves gyro meat and mediterranean food so this was a great choice for our family. All food comes in a tin bowl and with as many toppings as you want.
Ghirardelli Square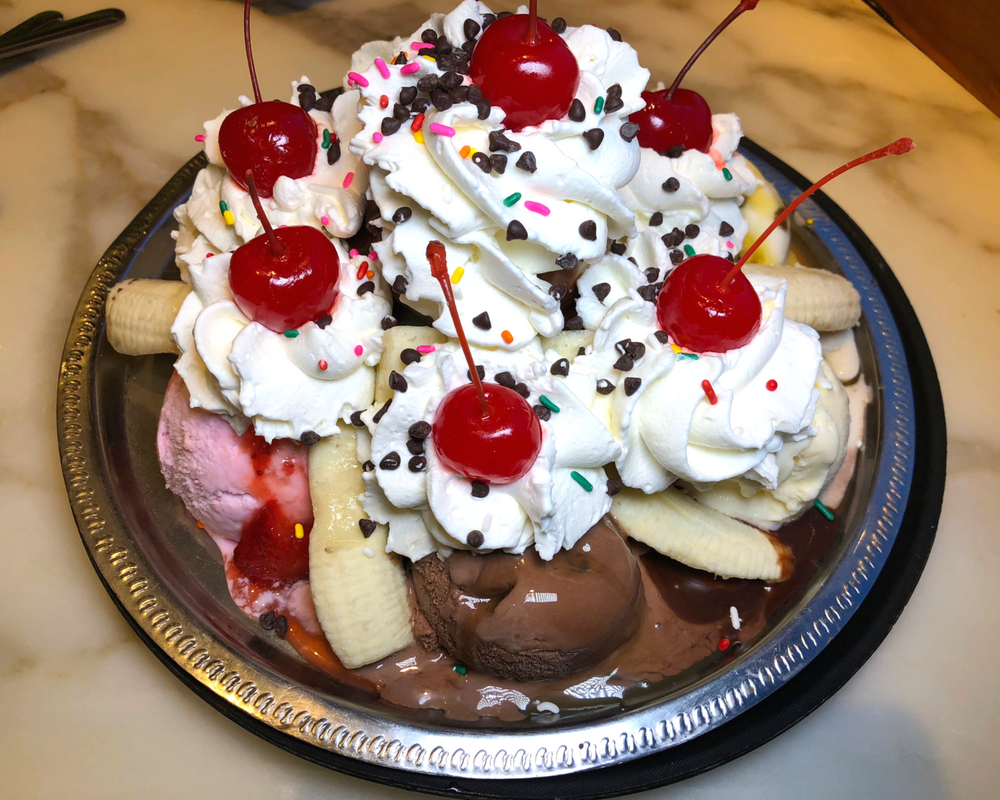 If you love chocolate, you will love Ghirardelli Square at Point Street on the corner of Beach & Larkin Streets. We brought the kids to Original Ghirardelli Ice Cream and Chocolate Shop in the Clock Tower Building to witness the historic chocolate making machinery. Then, we headed to the West Plaza to Ghirardelli Chocolate Marketplace and enjoyed a giant sundae called "The Earthquake".
While we waited for the earthquake we enjoyed watching the live chocolate master create handmade chocolate slabs, dipped strawberries and other treats.
For anyone wondering what an Earthquake is, it has eight (8) scoops of ice cream with eight toppings and banana topped with whipped cream, diced almonds, Ghirardelli® Mini Dark Chocolate Chips and cherries. It says it feeds 4 people but I think it could feed 5-6 people.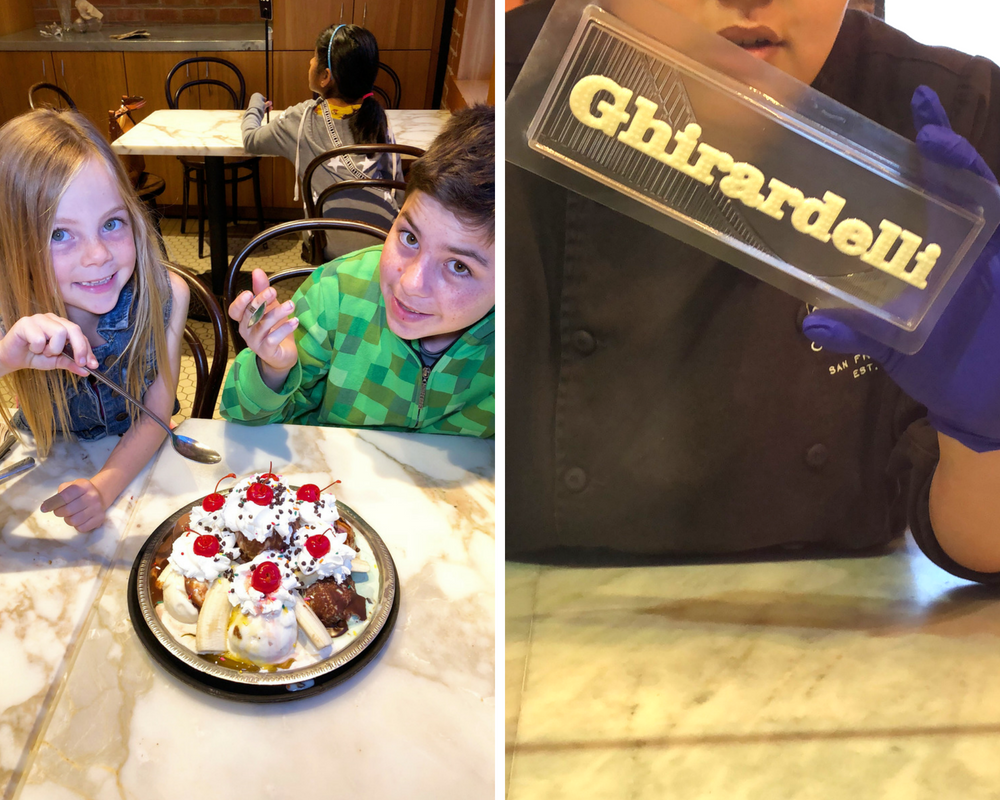 Video Of the Earthquake
Ghirardelli Ice Cream Menu
[gview file="https://familyreviewguide.com/wp-content/uploads/2018/07/Revised-April-2017-Specialty-Outdoor-Menu.pdf"]