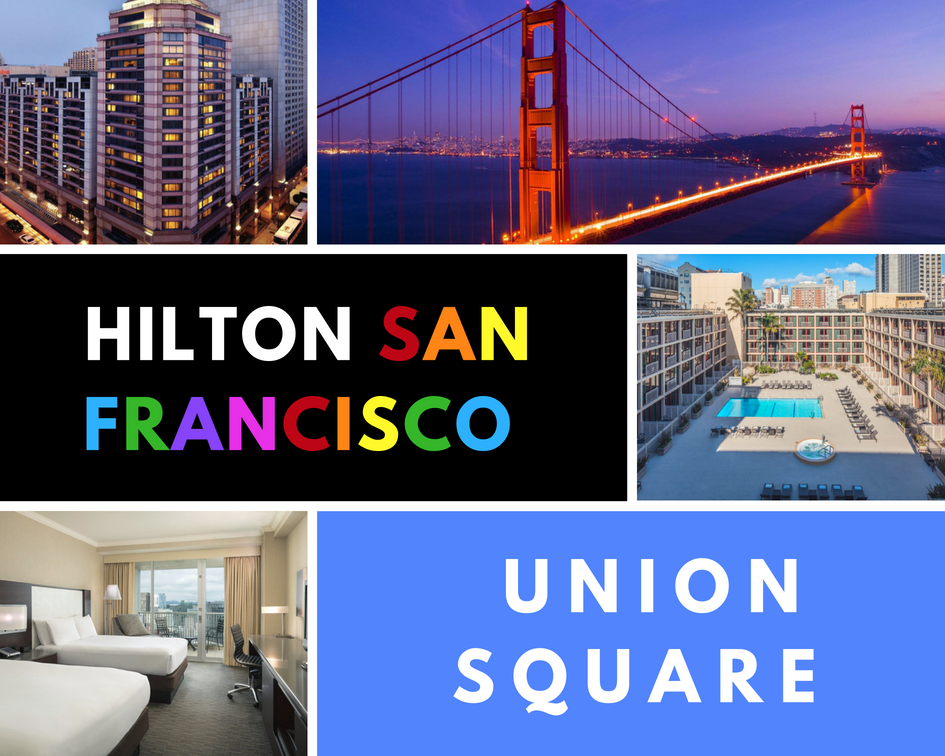 San Francisco is so full of opportunity for family travel that sometimes the hardest part is to select a home base for your trip. On a recent visit to San Francisco with our family, we decide that the Hilton Union Square would be a great home base due to the close proximity of activities, restaurants and MUNI transport. The Hilton Union square is a premier property for business travelers and families alike, and allows all the amenities a family could ask for.
Hilton Union Square Rooms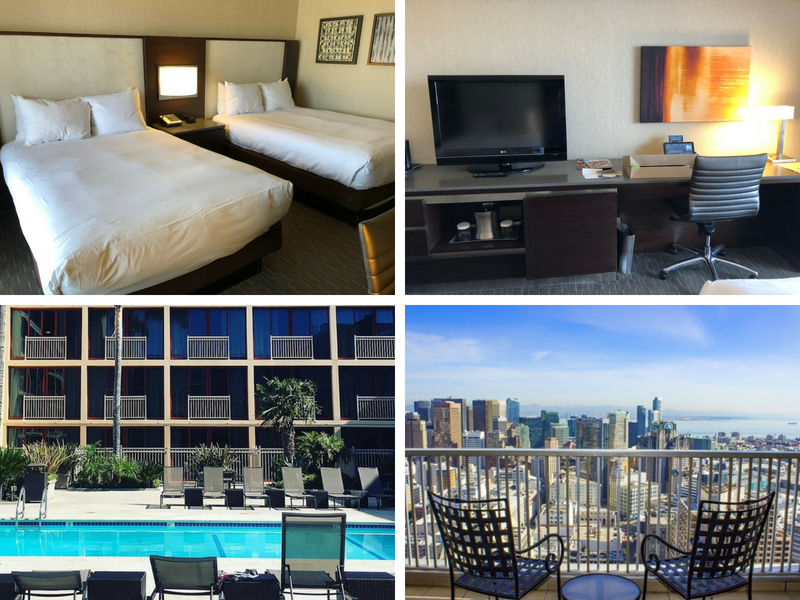 There are many options for different sized families at the Hilton. There are skyline views, pool views, and patio views. Rooms with one bed, two beds and even a room with 3 double beds that sleeps up to 6 Guests. This room is Ideal for Families or Groups Getaways but it books up fast!  Amenities in these rooms include HDTV with premium channels, mini-refrigerator, in room coffee and tea maker and a spacious work desk with an ergonomic chair. Rollaway Beds are available at ($25.00 per night) provided there is no fire code for your room. Usually rooms with a single king bed.
We thought the beds were very comfortable and the room was very clean. Wifi is only free if you are a Hilton Honors rewards member. We had a city view with a balcony and I highly recommend it. It is slightly smaller than rooms without balconies, but I found myself sitting on the balcony watching the skyline very often.
 Restaurants At Hilton Union Square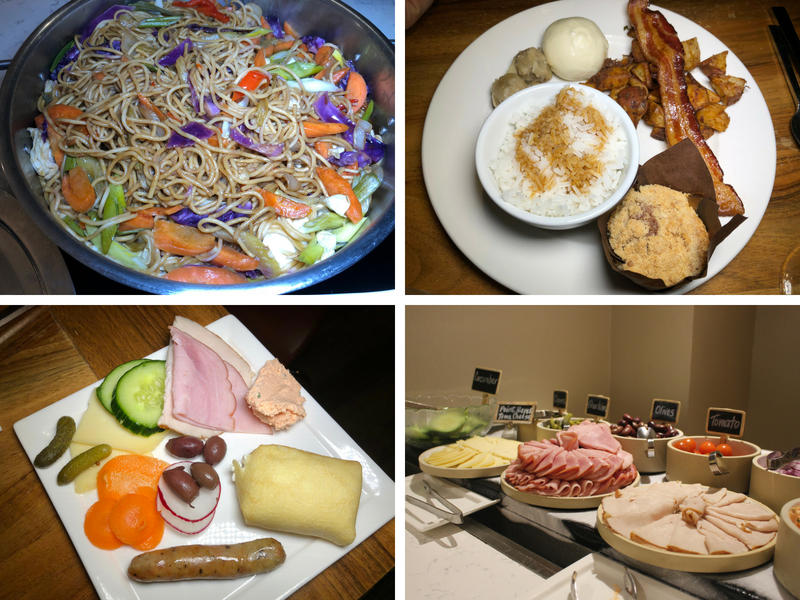 We have stayed at a plethora of hotels as a family and I have to say that "Poached" was probably the best hotel buffet we have ever enjoyed. Poached restaurant allows you to start your day with an extensive selection of cooked-to-order eggs and delicious local, regional and international breakfast options. Savor a fresh cup of coffee or enjoy a cool drink of orange juice tableside. I loved the different ethnic options like dim sum and rice as well as the every day American selections like pasties, fruit and salad. There was something for everyone to enjoy and my kids always walked away full and ready for the day ahead.
Blogger Tip: Ask for a coloring page for the kids.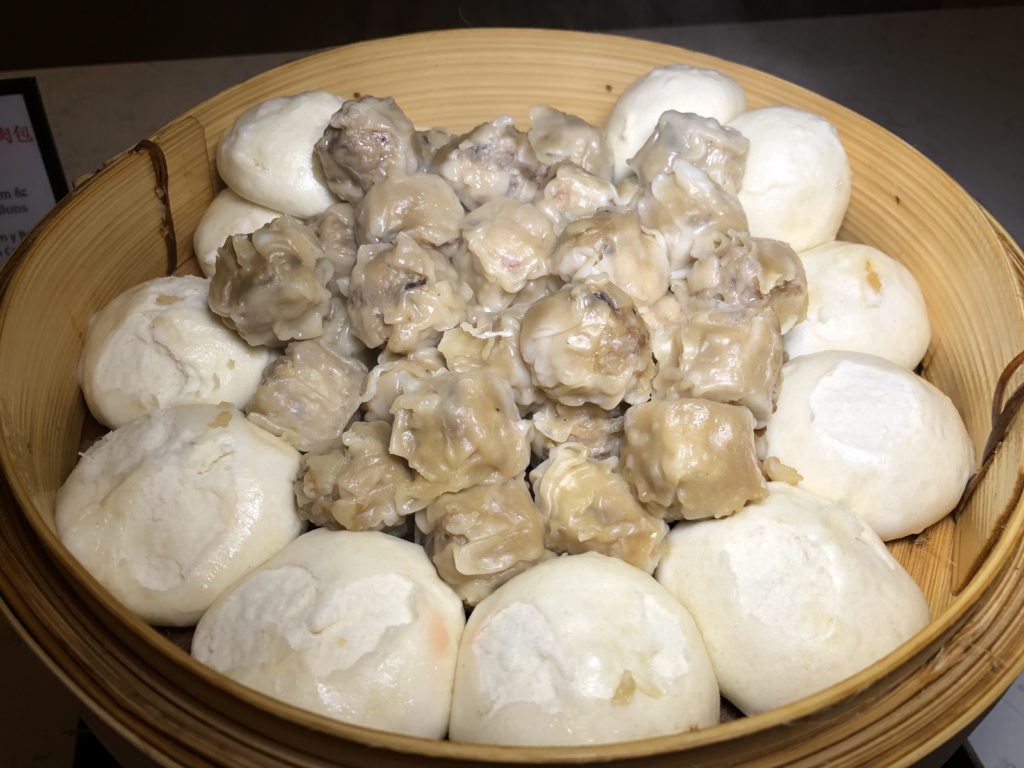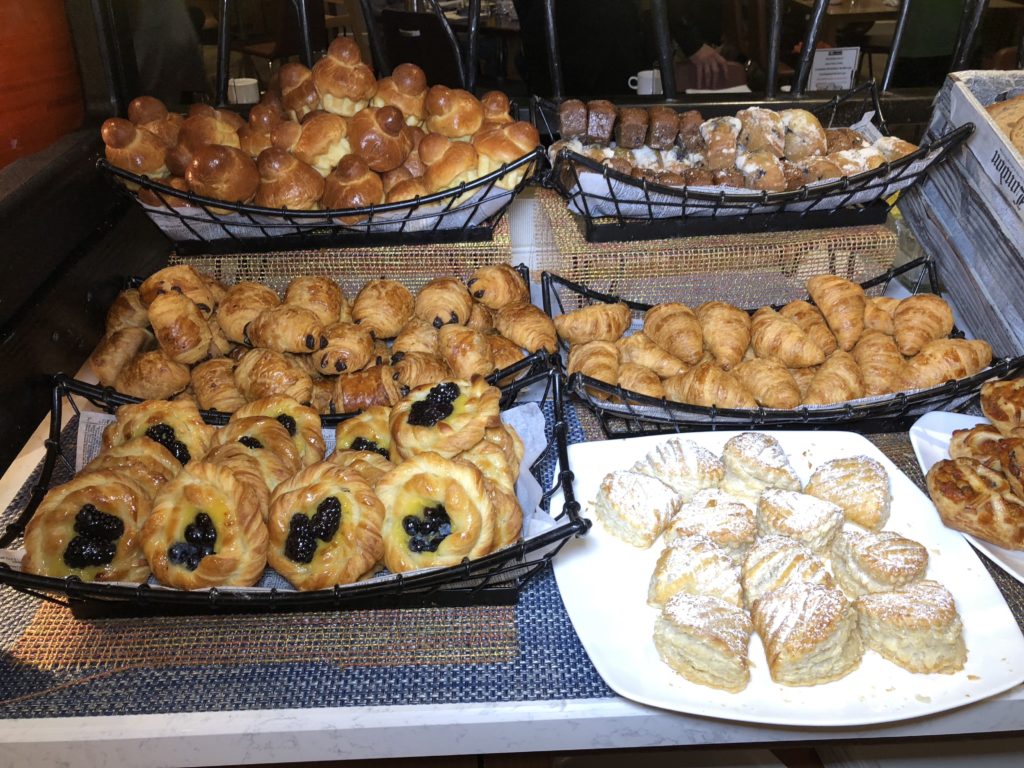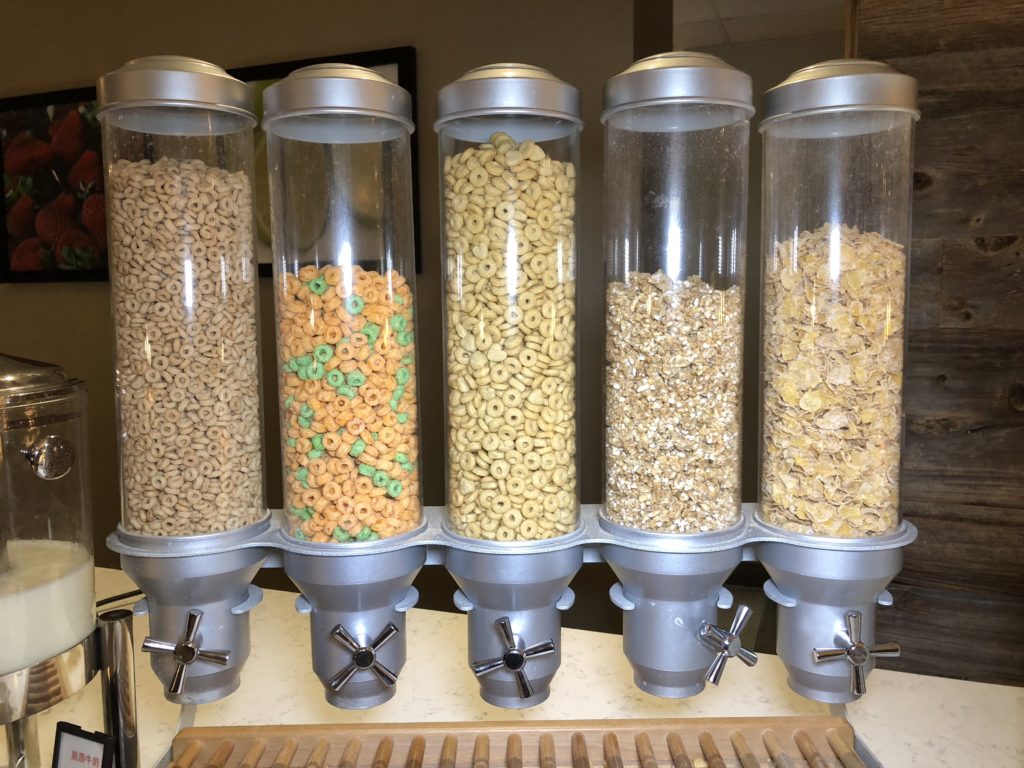 Here is the menu:
[gview file="https://familyreviewguide.com/wp-content/uploads/2018/06/en_SFOFHHH_PoachedMenu_May2017.pdf"]
HERB N' KITCHEN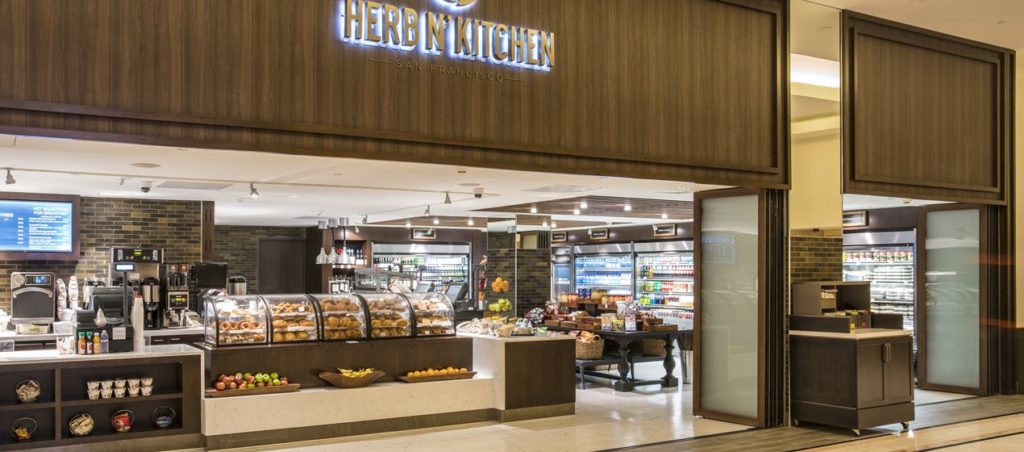 Hilton's new concept restaurant, Herb N' Kitchen is a casual, all-day restaurant that puts you in charge of what, when and where you eat. In place of three set meals, Herb N' Kitchen offers fresh, seasonal food throughout the day. With a gourmet marketplace as a centerpiece and distinct zones for seating, guests can grab morning coffee and pastry from the Barista, share a just-made flatbread pizza with a colleague at lunch, and shop the gourmet market's packaged salads, sandwiches and treats for in-room dinner.
Herb N' Kitchen Room delivery available during the following times:
6:00am – 10:00am and 6:00 pm to 10:00 pm.
There are also several bars and lounges scattered throughout the hotel, but with kids we did not visit any of them. Cityscape at the top of the hotel has a panoramic view of San Francisco,  Enjoy a signature cocktail from one of the tallest buildings in the city while overlooking the Golden Gate Bridge, Coit Tower and more. Discover elevated, bold and balanced flavors using San Francisco's freshest ingredients with their small plate menu.
Pool/Jacuzzi/Gym
The Hilton Union Square is unique in the fact that it has a pool on the 16th floor. It's nothing fancy but there is a nice jacuzzi and plenty of seating. Not too many hotels in the city have a pool so this was an added bonus. My kids enjoyed jumping in the pool and then running to the jacuzzi to warm up.
For those that enjoy keeping fit on vacation or on business there is a nice gym facility on the bottom floor. It is quite large and has a great selection of cardio and weights. All of the equipment looked new and in great shape. Be aware that there are no windows at all  in here but plenty of mirrors.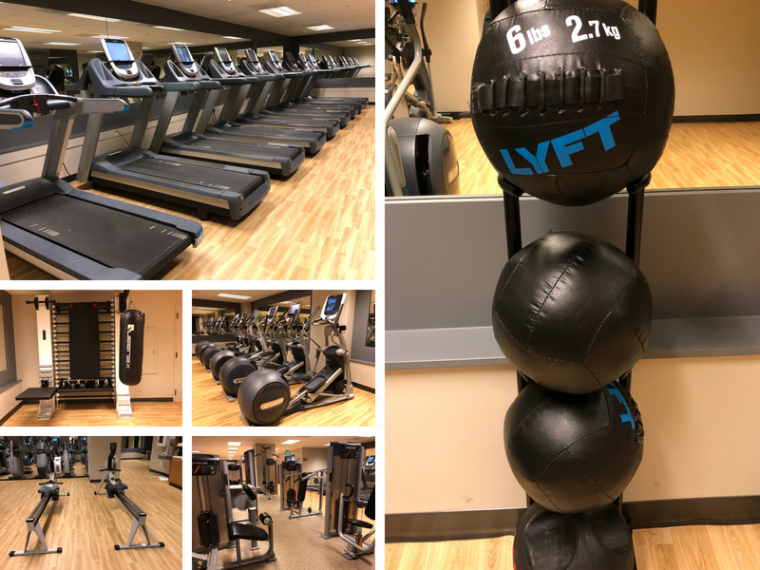 Parking At The Hotel
The parking garage at the Hilton is an unusual one. Ceilings are crazy low and there is a lot of winding to get up the the upper levels. If you would like some help with your luggage, I recommend not checking in at the main entrance (like most hotels). Look for signs to the hotel parking.  There are bell men there who will help with check-in and check-out.  Also, if you have luggage and/or kids, it'll be easier to utilize the bell men instead of doing it yourself.
Blogger Tip #1: There is a less expensive garage a couple of blocks away call (Ellis-O'Farrell Garage).
Blogger Tip #2 The hotel is located directly across from the tenderloin hood so use caution when walking at night.
Transportation Tip: If you  are flying into SFO you can take the BART from the airport to the Powell Street Station! The hotel is only two blocks away. It is a very inexpensive option.
Purchase city Passes Near Hotel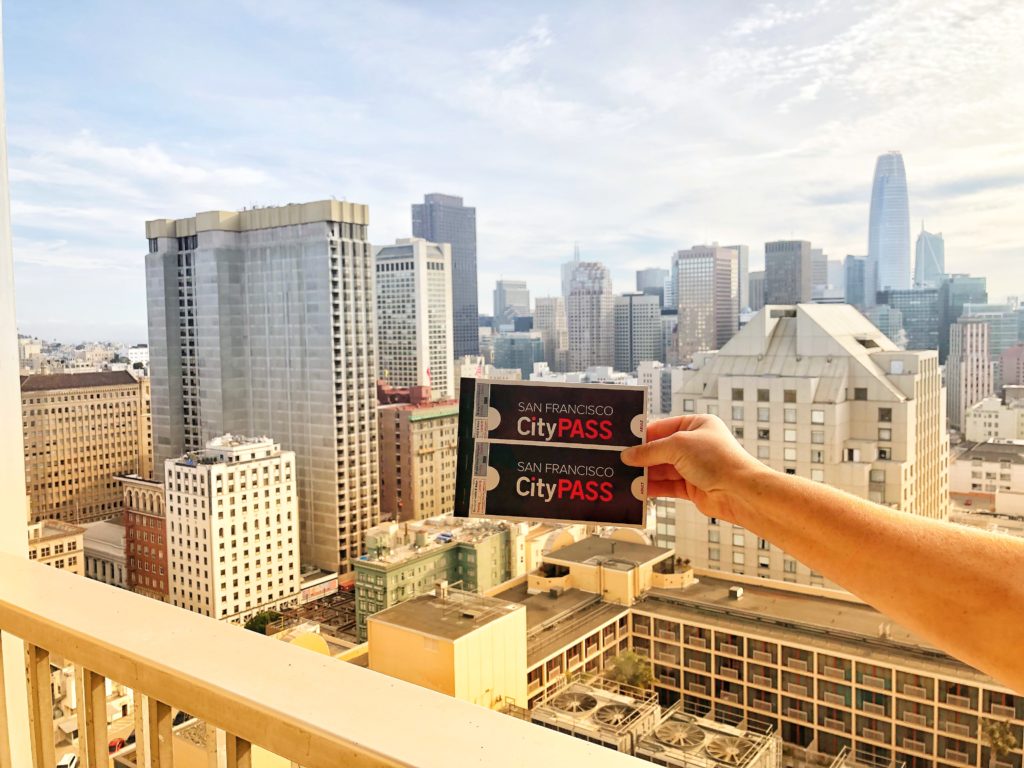 There is a concierge center desk inside the hotel that can help you with an array of tasks. If you would like to purchase a city pass or a go card they are available for purchase just 2 short blocks away. We really enjoyed the convenience of this hotel and really didn't need our car the entire time we were here. We walked to The MOMA, took a trolley to Fisherman's Wharf, walked to lots of great restaurants and felt safe and well taken care of.
For more information about the Hilton Union Square visit them on Facebook and Twitter.
For kid friendly restaurants click the photo below.