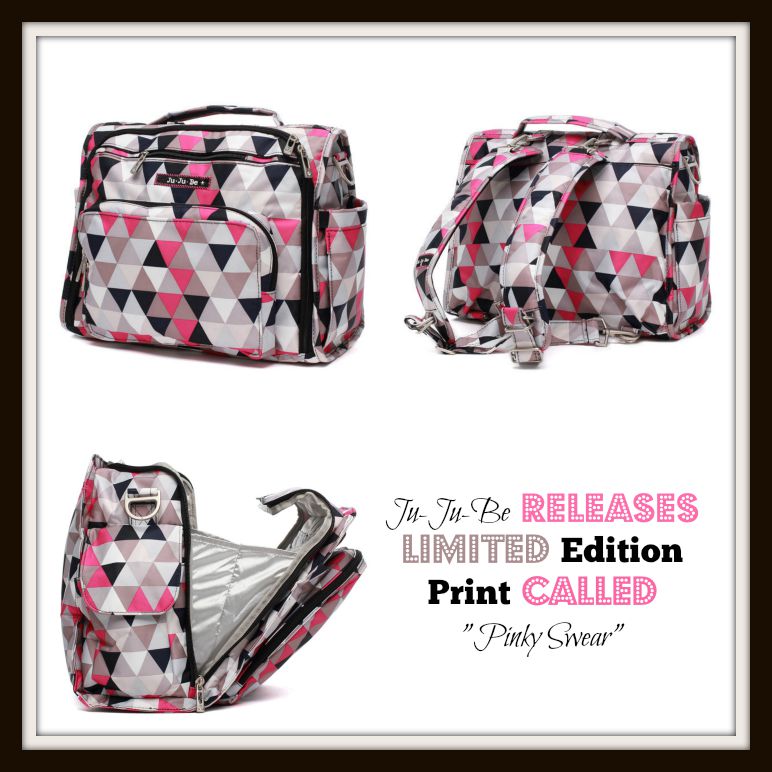 Hand bags, diaper bags, beach bags, bucket bags. A girl can never have enough bags and  Ju-Ju-Be, the leading brand of fun, functional and fashionable diaper bags has recently released two new prints, "Olive Juice" and "Pinky Swear". Both prints feature interlocking triangles for a modern and sleek design perfect for the busy mom.
Even though my daughter is not in diapers the "BFF" style is still a great bag for traveling. I took my new pinky swear bag with me to a local waterpark and stuffed it with towels, sunscreen and snacks.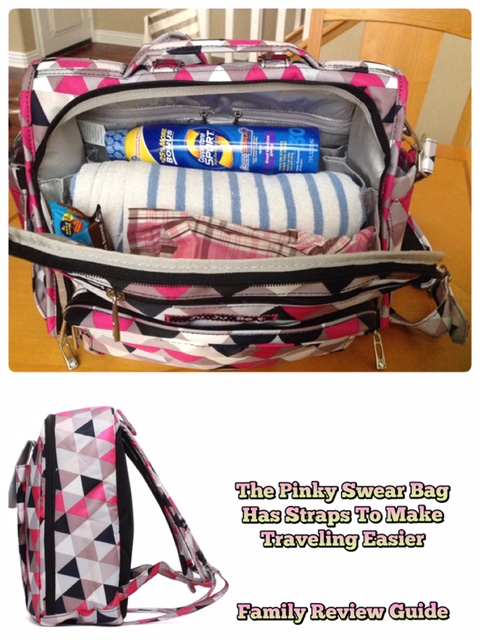 BFF Bag Features:
Front mommy pocket holds keys (stretch key fob) and sunglasses (cleans lenses too!) with plenty of room for more!
Memory foam changing pad included … nice 'n comfy, super cushy.
Quick reach pocket for cell phone.
2 exterior insulated bottle pockets … with Thinsulate by 3M. Keep it warm? Keep it cold? Sure!
Unique main zipper closure system makes for easy access.
Picture pocket to keep photos handy when bragging to friends.
Detachable and adjustable messenger strap has removable memory foam shoulder pad & can be shortened to tote strap length.
Optional shoulder straps … so versatile!
Inside organization includes 4 gusseted pockets, 3 zippered pockets & lots of wide open space!
Back pocket works great for diapers and wipes organization.
Structured bottom with luggage feet.
Teflon® fabric protector … helps repel stains.
Agion® treatment protects the liner by inhibiting the growth of odor-causing bacteria, mold and mildew.
Crumb Drains … bye-bye mess!
Gold Metal Hardware … we don't trust any of the cheap plastic stuff.
Light-Colored Linings … you can actually see what's inside; it's not just a big black hole in there.
Machine Washable … air dry.
Video
The BFF BAG is just the right size too. It's not to big  and not too small which means it easily fits into the basket at the bottom of a stroller. The lining is not dark so you can see inside easily and find what you need quickly. I also love that it comes with straps so it can be used as a backpack or a handle so that you can quickly grab it briefcase style when you need to. The shoulder straps are padded and detachable as well so you can comfortable carry it over your body. The bag also has legs to keep the bottom from getting dirty if you have to set it on the floor. This is a very versatile bag and i would recommend it to any one with kids who travels.
For more information visit Ju Ju Be on Facebook and on Twitter.