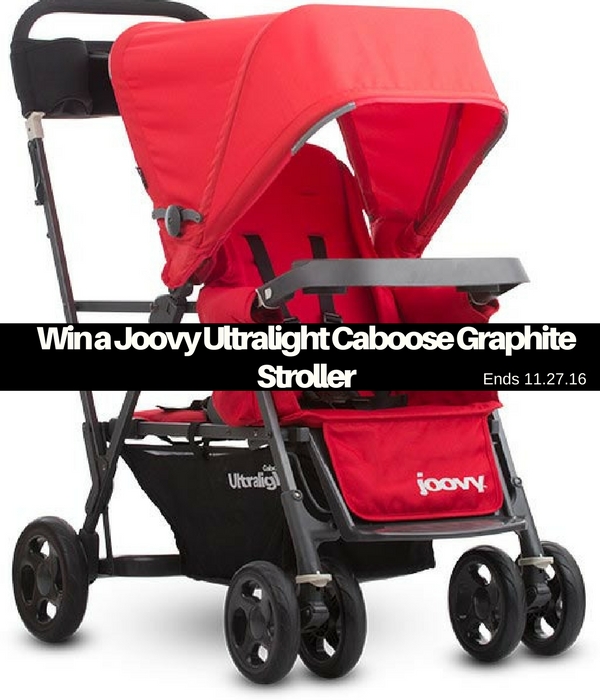 Choosing a stroller can be one of the most frustrating tasks a new mom has to do. Fortunately there are websites we can look at to compare strollers, but as a mom to 3 kids I have always found my favorite strollers though advice from other moms. 6 years ago, when I had a newborn and a toddler I found myself needing a bigger stroller than what I had, but not quite a double stroller since my son was already 4 years old.
Someone recommended the Joovy sit-n-stand and life as I knew it became so much simpler. I was able to take both kids to Disneyland without having to worry about a double wide stroller plus my son didn't feel like he was stuck in a confined space.
Fast Forward 6 years later to today and Joovy now has the Caboose Ultralight Graphite.
Features Of Joovy Caboose Ultralite Graphite
The lightest weight, most compact, and maneuverable double stroller available

Allows your older child to sit and stand on the rear platform or bench seat. 22 lbs

2 year warranty is 4 times longer than the Baby Trend Sit and Stand warranty and 2 times longer than the Graco Ready2Grow warranty – Satisfaction Guaranteed

Includes Parent Organizer and a Universal Car Seat Adapter that fits most major brands. Check the Joovy website for the most recent list

New rear seat canopy extension protects the rear seated child. Also compatible with the Caboose Rear Seat that adds a full size, forward facing rear seat (if your older child is still too young to stand)

Older children LOVE to ride on the Caboose. It makes them feel more grown up and allows them to step on and off the stroller by themselves (your back will thank you)

The Caboose Ultralight Graphite is easy to fold, put in the trunk and use on public transportation.
NOTE: The Caboose Ultralight Graphite is 21% lighter than the Caboose Graphite. Plus, the Ultralight version includes a Parent Organizer, larger canopy and sealed ball bearing wheels.
Other Color Choices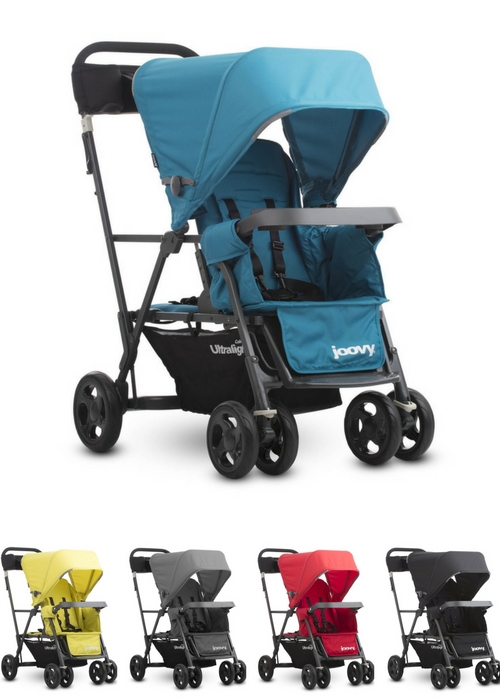 If you need some holiday gifts suggestions check out our gift guide for baby boys and girls!
Win a Joovy Caboose Ultralight Graphite