Thanks to Orange Coast Jeep we test drove a Jeep Wrangler Unlimited Rubicon for 5 days.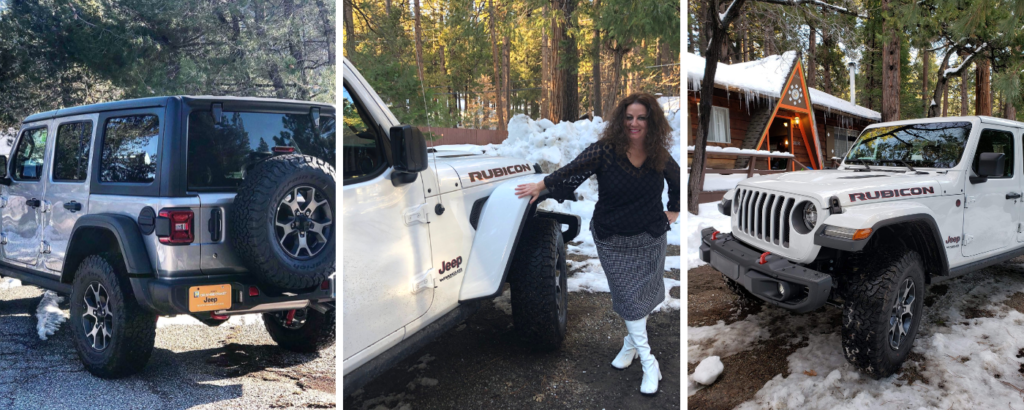 Jeep Wrangler Unlimited
Last week I took a momcation with 3 of my good friends. We left kids and husbands at home and ventured into the mountains for a 2 night stay full of fun and adventure in Idyllwild! We took two Jeep Wrangler Unlimited Rubicons up there and it was the best drive I have ever taken up a mountain. This vehicle was a beast! The minute you step into it you feel like you could conquer the world. I loved how wide my range of vision was since you are sitting so high up.  As a person of shorter stature I wasn't sure if I would have to sit super close to the steering wheel but as it turns out there is a handle on the side of the drivers seat that you can pump to raise and lower it. I was able to position my seat at just the right angle and height for the most flawless drive up the mountain.
Part of the road to Idyllwild was washed out due to the recent rains so we took the back road up and it was absolutely gorgeous. There is a lot of snow there at this time of year so we brought some chains just in case but after seeing the tires on our wrangler I was pretty certain we wouldn't need them. I mean just look at the grooves.
Jeep Wrangler Wheels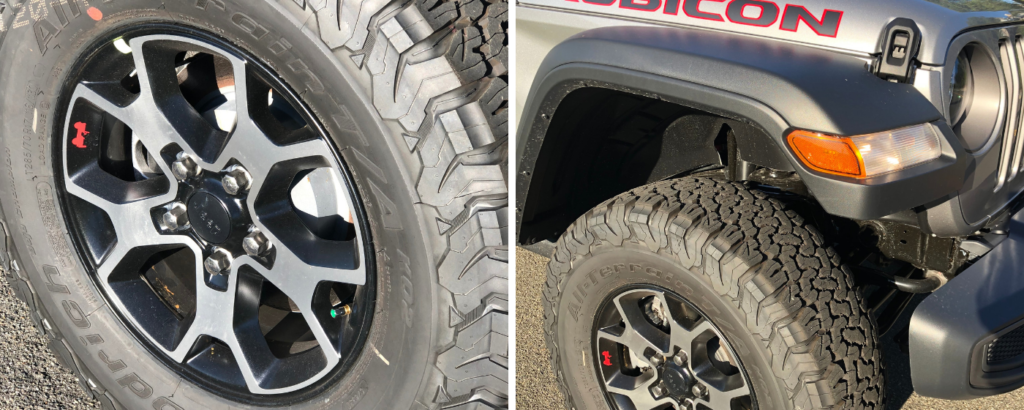 I love the look of the wrangler partly because of the large wheel base. It has 17-inch polished wheels with black pockets which makes it stand out in any environment. Especially the snow!! The solid axle suspension has good articulation and unrivaled approach, departure and underbody clearance. Even on the freeway and regular roads the jeep feels amazingly torquey, punchy and quick around town. 
Jeep Wrangler Interior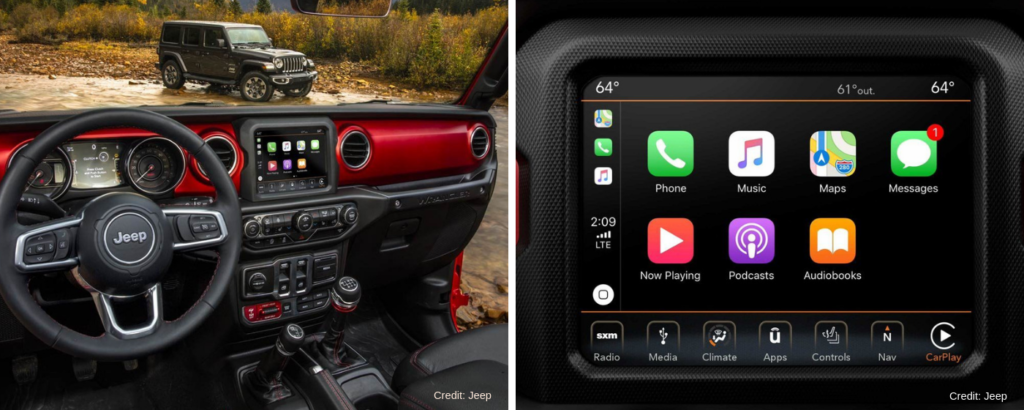 Comfort and a sleek design encompass the interior of the Jeep Wrangler unlimited Rubicon. Some of the cool features it had was: Uconnect® 4 with 7-Inch Display, black interior premium cloth, , and 8-speed automatic transmission with a 2-liter turbo boost., apple car play, sirius MX satellite radio, a media hub, steering wheel mounted audio controls, a leather wrapped steering wheel,  115v power outlet(great for charging) and so much more! I kind of felt like a stunt woman in this SUV!
Jeep Wrangler Storage/Trunk Space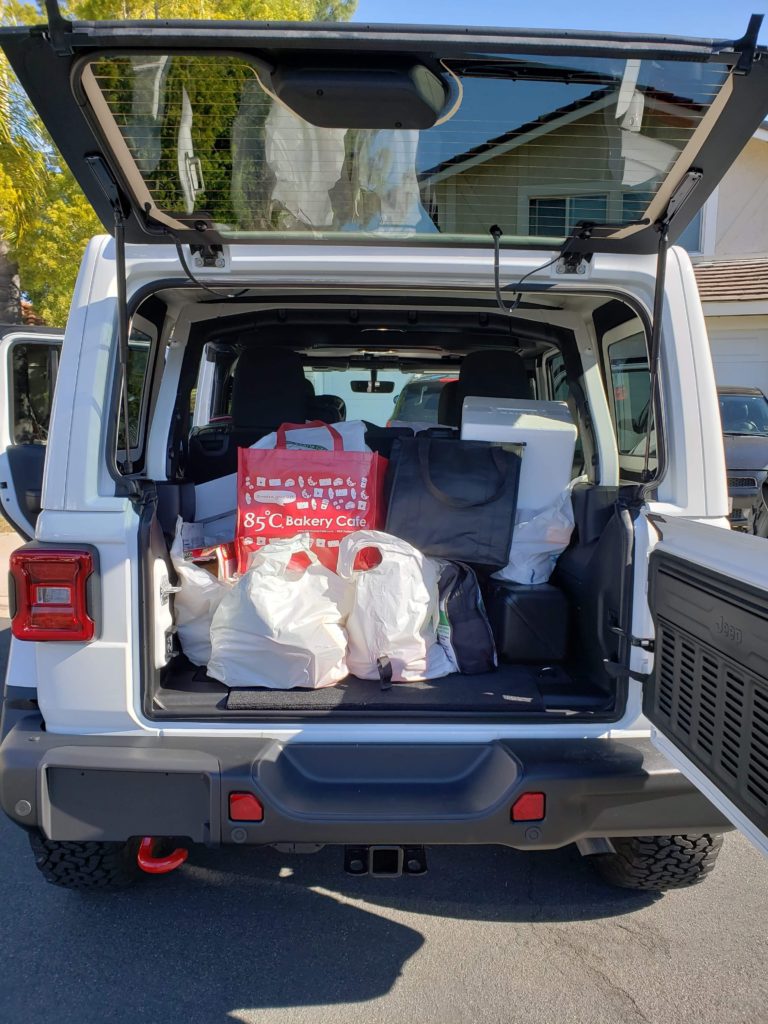 We had a ton of groceries that we brought up to our cabin and the Wrangler had plenty of space for us to store everything. The four-door Wrangler has 31.7 cubic feet of cargo space behind the rear seats and with the rear seats folded down the cargo space expands to 72.4 cubic feet. There was ample room for suitcases and other luggage in addition to our groceries. I also loved that you could open just the door, or just the window or both at the same time.
A new storage feature in the 2019 Wrangler is the removable cargo floor storage that is designed to keep your gear hidden from view. Hide valuables in the cargo floor storage while you're pitching a tent on your next adventure or lock them in the lockable storage glove box and center console.
Stylish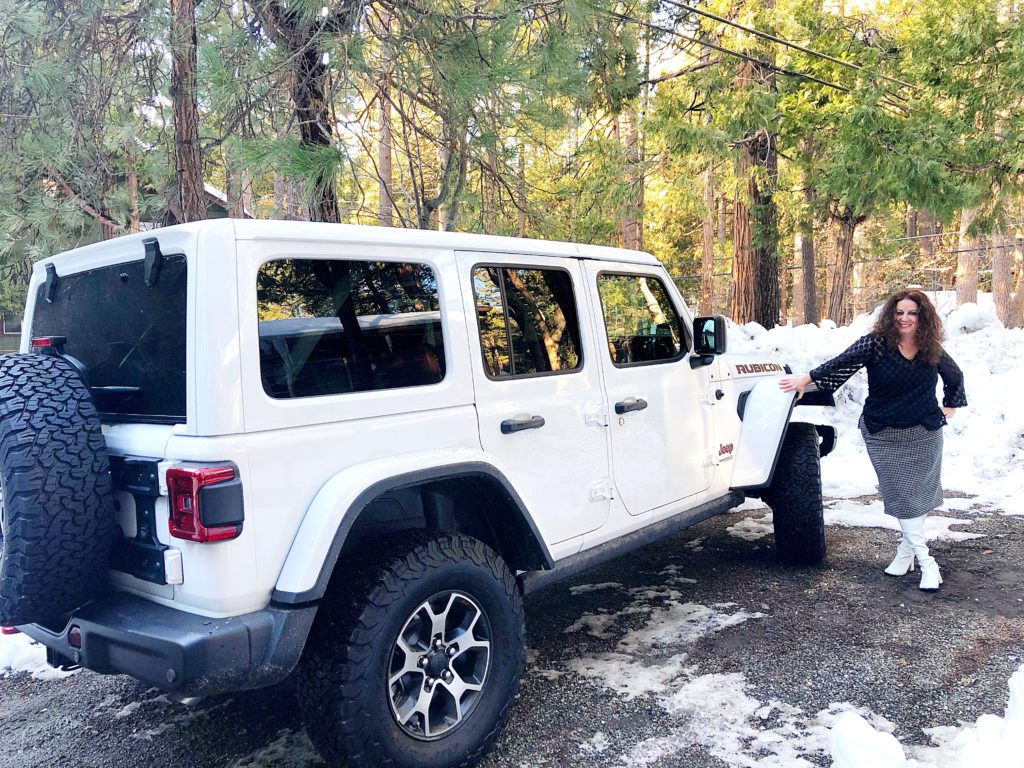 We happened to be staying in a 70's inspired cabin and did a fun photo shoot while we were there. Let's just say that the Jeep Wrangler is super stylish and looked as fashionable in the photos as we did! The Wrangler Rubicon has an unmistakable style with its iconic seven-slot grille and stylish fender flares. You can enjoy the open air in the Rubicon with its removable doors and roof. Light up the night with the LED headlights that shine brighter than ever before.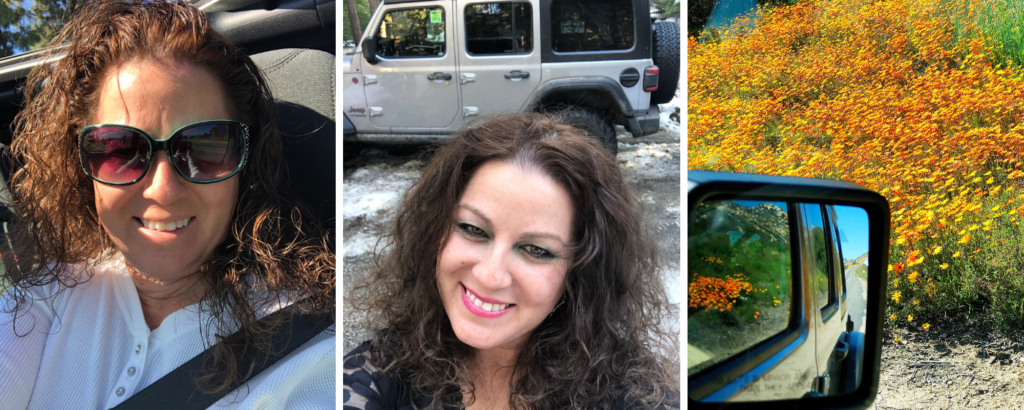 In a nutshell The Jeep Wrangler is an amazing vehicle. This is what crossover vehicles want to be when they grow up. I could absolutely see myself getting one in the near future. It is kid friendly, and can handle a ton of sports gear, it can tow, and it is so entertaining to drive. I think I giggled nearly the entire time I drove it because I was having so much fun.
I may have even acted like the paparazzi a few times with it.
If you are in the Orange county area stop by John Gray's Orange Coast Jeep dealership. It's located at: 2929 Harbor Blvd, Costa Mesa, CA 92626. They have new and used vehicles, financing, and award-winning sales staff and service at their location. You can even check out their yelp ratings.
For more information visit Orange Coast Auto on Facebook and Twitter.