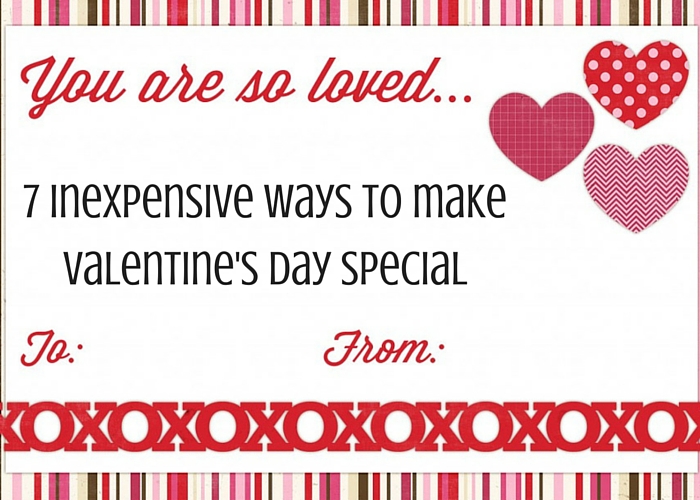 With so much hype around Valentine's Day, it's hard to believe you can make the day truly special without breaking the bank. But that's not the case. In fact, here are some unique ideas that are actually more thoughtful and less costly:
Thoughtful gifts…emphasis on thoughtful.
Take a min to say the things you love and appreciate about your partner…things that you think or feel the whole year through but may not take the time to say. Now's the time to say it! Write a poem or a short letter just saying how you feel.
Another thoughtful, inexpensive, idea is to gift a book she/he has been talking about …or maybe a movie he/she loves (think, memories from teenage years). With either choice, nothing says you care more than a gift that shows you've actually been listening.
"Love" Coupons 
Create cute, customized note-like coupons that your partner can redeem any time. Choose to do something nice and loving, like a bath together. Another idea is to do something that you know would ease some stress one day, like cook dinner or clean the house. Offering to take over any task you know your partner would appreciate is a great way to free some time up for your loved one to do more of what they enjoy.
Cook a Romantic Meal
I'm sure you've heard that food is the way to someone's heart. So, show you took the time and care, while saving some money in the process. Of course make sure it's romantic…music, candles, roses… you get the idea. Even if you can't cook, the thought and effort will go a long way. Oh, and if you buy flowers, put some thought into the type of flower you choose…is there one you know she likes? Is there one kind that brings back a sweet memory you to share? It will mean more and show your deep consideration if the flower provokes memories. Not to mention, you can save money with some other varieties.
Use Daily Deals
It may not scream romance at first, but the fact of the matter is that there are lots of coupons out there that can get you discounts on the things you are probably planning to buy anyhow. Try using Valpak. You can save money on flowers and gifts, as well as discounts on dinner or spa treatments. Whether it's your favorite brand or your favorite local brunch spot, there's sure to be something you can use.
Make a Memory
Plan a picnic or star gazing… or maybe even a long walk on the beach, yes. These are the things that memories are made of …
6. Watch Romantic Movies Together
Share a bowl of popcorn and pop a movie that you're dying to see or an old favorite. You can also relive your early dating days by watching the first movie you ever watched together.
7. Give each other massages
Instead of booking an expensive couples massage, give each other massages. It's an intimate way to connect with one another without breaking the bank on Valentine's Day. Plus, it gives you a chance to reconnect!
For more great Valentine's Day related content, be sure to check out these awesome posts written by my fellow Chosen Chix bloggers: