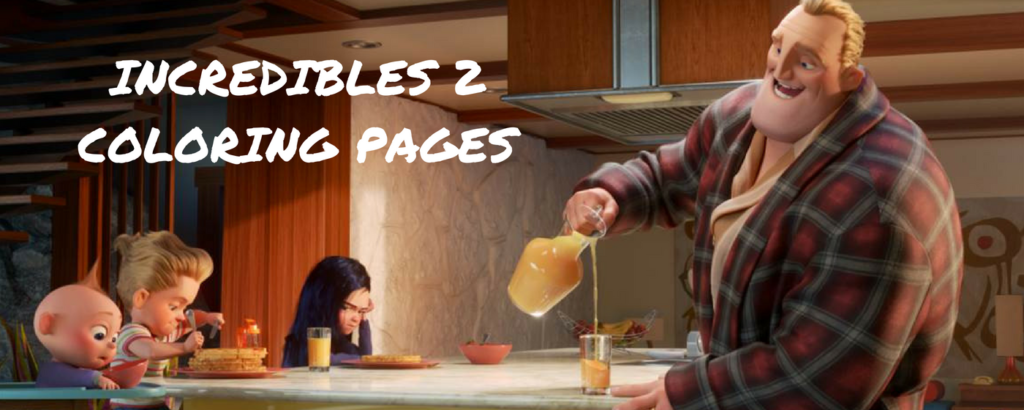 With INCREDIBLES 2 opening in theatres everywhere next month (June 15th) I thought it would be fun to share some new coloring pages with you all!

By clicking the Incredibles 2 link you can access the pdf files & print as many as you'd like.
In INCREDIBLES 2, Helen (voice of Holly Hunter) is called on to lead a campaign to bring Supers back, while Bob (voice of Craig T. Nelson) navigates the day-to-day heroics of "normal" life at home with Violet (voice of Sarah Vowell), Dash (voice of Huck Milner) and baby Jack-Jack—whose super powers are about to be discovered. Their mission is derailed, however, when a new villain emerges with a brilliant and dangerous plot that threatens everything. But the Parrs don't shy away from a challenge, especially with Frozone (voice of Samuel L. Jackson) by their side. That's what makes this family so Incredible.
Watch A Trailer of Incredibles 2
5 reasons Coloring Is Good For Kids
Most kids love to color but did you know that coloring has some key benefits to your child's psychology and development? Here are 5 reasons why coloring is beneficial as a child:
Coloring can aid in the development of the muscles of the fingers, hands and wrist.
Coloring sheets, books and pages can help prepare kids for the more structured work on paper as they get older.
Coloring can spark the imagination and inspire kids to brainstorm and learn to think of new ideas on their own naturally.
Improves Focus and Hand to Eye Coordination
The act of holding crayons, choosing colors, implementing the color in the ideal spot and even sharpening crayons can all help with fostering strong hand-eye coordination in kids.
Coloring is a great tool for self expression as children make color decisions and create scenarios. Because every child is different there is no wrong or right way to color and kids lesarn to be unique.