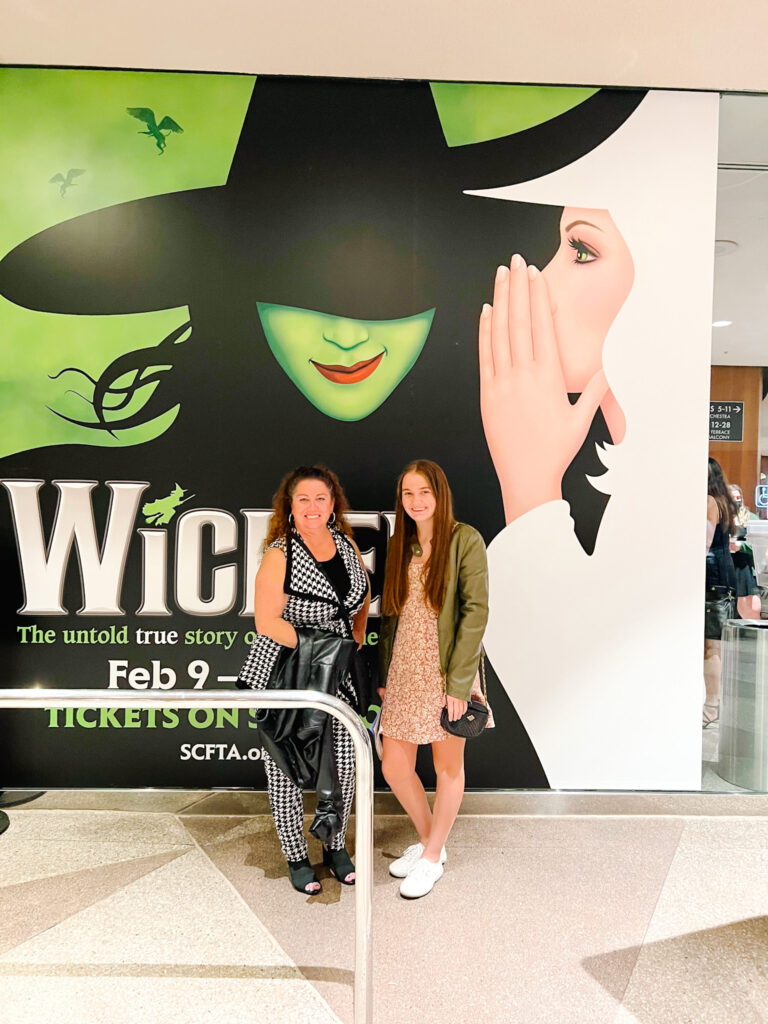 Seeing a Broadway show for the first time is an unforgettable experience, no matter your age. The magic of a live performance is mesmerizing with elaborate costumes, intricate sets, vibrant lighting, and of course, the unmatchable amazing talent of the dancers on stage. Or how about walking into a giant theater and hearing those chimes just before showtime for the very first time. And let's not forget about sharing a laugh with an audience. All of these things are pretty special when you are young.
Recently, I had the opportunity to take a friend's daughter to her very first live broadway musical – "Wicked" at the Segerstrom Center. She absolutely loved it and we had such a great evening together. It was fun explaining intermission, what the chimes meant and seeing her reaction to the audience giving the cast a standing ovation. It reminded me of when I was a child and my dad took me to see "Phantom of the Opera" for the first time.
Both of us have seen the Wizard of Oz so we were somewhat familiar with the story of Wicked, but it was really neat to be surprised throughout the show because both of us were connecting the dots on how certain characters in the Wizard of OZ came to be.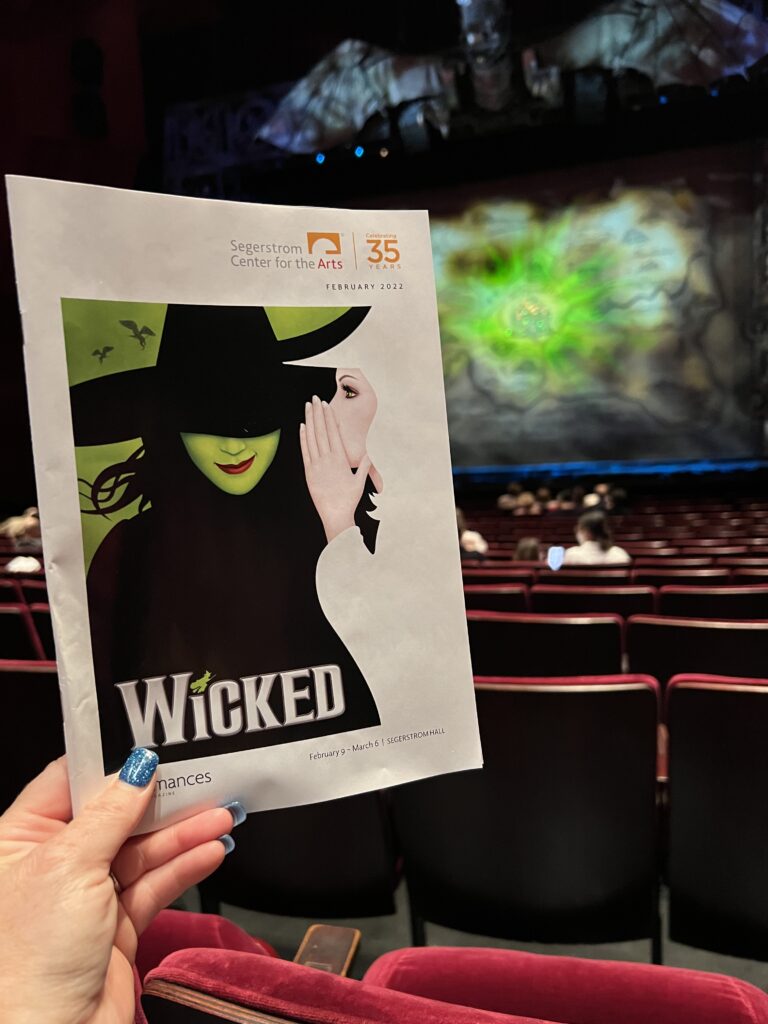 Let me start by saying that the entire cast was incredible, but one person really stood out for me and that was Glinda The Good Witch played by Allison Bailey. Wow, she just had so much enthusiasm and personality. And her body movements had me in stitches. My eyes were glued to her the entire time. As for Galinda, whew, that girl has a set of pipes on her. My jaw was on the floor. Her greenmake-up was flawless too. I read she can turm green in 15 minutes!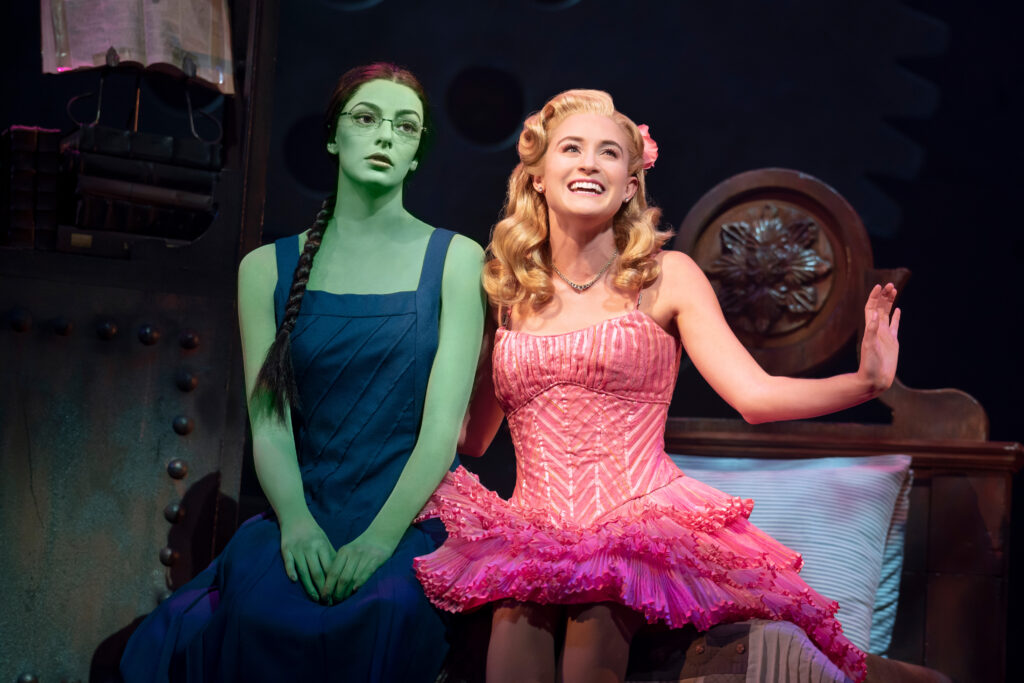 The Wicked set was also impressive. The dramatic set featured a huge dragon hovering over the stage that blows smoke out its nose. It instantly draws you into the magical world of Oz. The transition between scenes was so seamless and the backdrops felt like you were actually immersed in that location.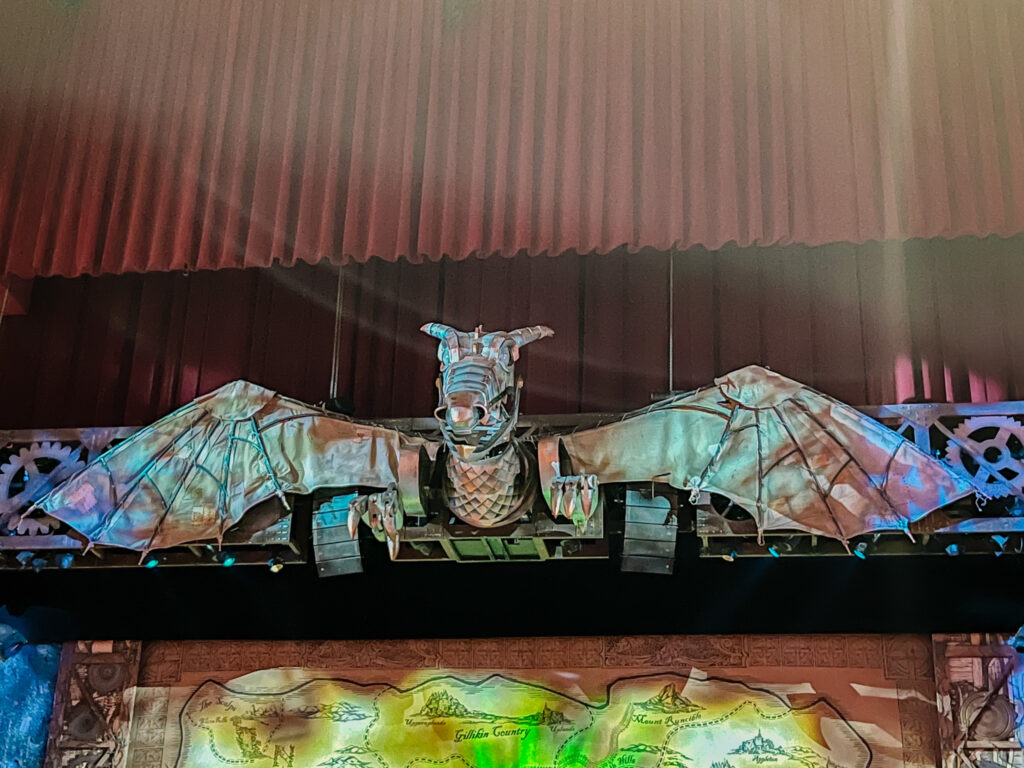 Tips For seeing Your First Broadway Show
If you are taking a young child to see a broadway show here are a few tips that can help:
Dress Up
We saw Wicked at the Segerstrom Center for The Arts and although there is no official dress code at their venues, dressing up is never frowned upon. As a matter of fact you will see more dressier outfits than not. Most patrons dress in business office or dressy-casual attire. However, you will likely see people wearing anything from jeans & t-shirts to formalwear.
Grab a Bite Ahead Of Time
Typically there are lots of restaurants around the arts district.  In Costa Mesa there are several within walking distance of Segerstrom. Take your little one on a date in their fancy attire and you will have a day you won't forget!
Plan Ahead for Parking
Many parking structures only allow cash so be sure to have some on you just in case credit cards are not valid. This will prevent you from having to park, walk to an ATM, back to the toll booth and then to the theater all while wearing high heels.
Arrive 20-30 minutes before showtime
With Covid, everything is different now. In most theaters they will check your vaccination status, plus you will have to go through a security check so allow yourself ample time for this. There will always be people who are unprepared. Not to mention Broadway shows ALWAYS start on time. Most Broadway theatres are extremely strict about late entry and if you're late, you'll be seated at the theatre staff's discretion.
Visit the restroom ahead of Intermission
The lines for the bathroom are endless during intermission and you don't want to risk missing part of the second act because you are waiting in line.
Order drinks and concession on the app BEFORE intermission.
Broadway theaters do not allow food and drink inside (only water) so be sure to order drinks and snack AHEAD of the show. There will be a section on the website or an app that will allow for this. Trust us, it makes life so much more bearable.
Research the direct Phone Number For The Theater
If you want to leave an emergency number for your babysitter call ahead and see if the theater has one.
Silence Your Phone
They will definitely remind you, but you know there is always one! Don't be that one person.
See Wicked on Broadway At The Segerstrom Center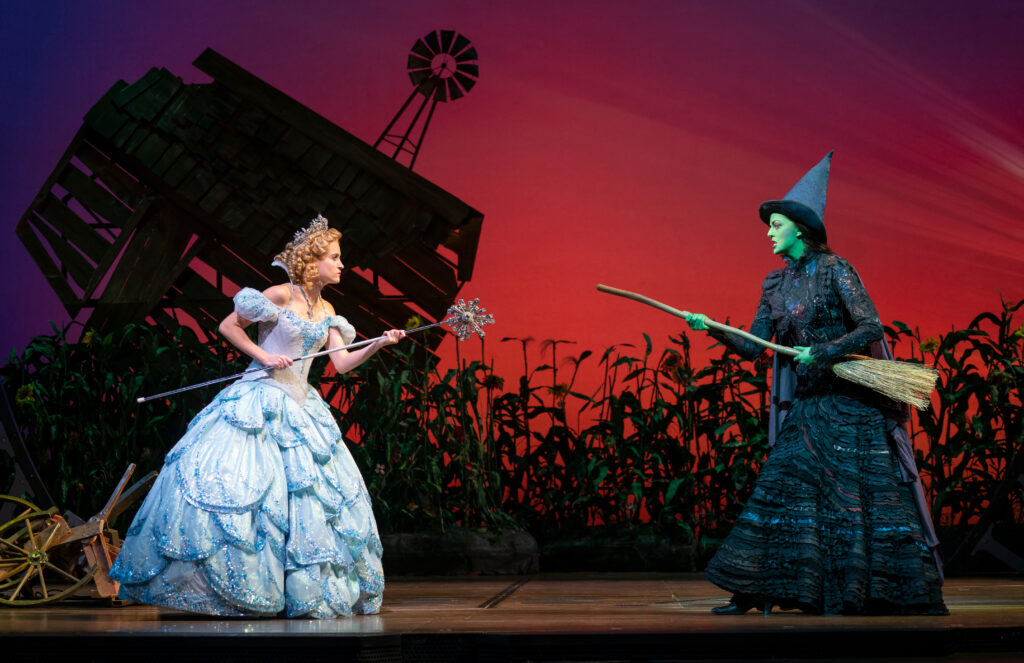 Wicked, the Broadway sensation, looks at what happened in the Land of Oz…but from a different angle. Long before Dorothy arrives, there is another girl, born with emerald-green skin—smart, fiery, misunderstood, and possessing an
extraordinary talent. When she meets a bubbly blonde who is exceptionally popular, their initial rivalry turns into the unlikeliest of friendships…until the world decides to call one "good," and the other one "wicked."
The show is visually stunning, as Wicked boasts a soaring score from Stephen Schwartz (Godspell, Pippin) that includes the hits "Defying Gravity," "Popular" and "For Good," Tony Award-winning sets and costumes and some of the most gravity-defying moments on the Great White Way. Wicked has been hailed by NBC Nightly News as "the most successful Broadway show ever." The show is approximately 2 hours and 45 minutes, including one intermission. For more information, visit www.wickedthemusical.com.
Wicked is the definition of family-friendly. However, younger children may find it too long or be frightened by some scenes. Most children over 8, however, will be delighted by the world of Wicked.