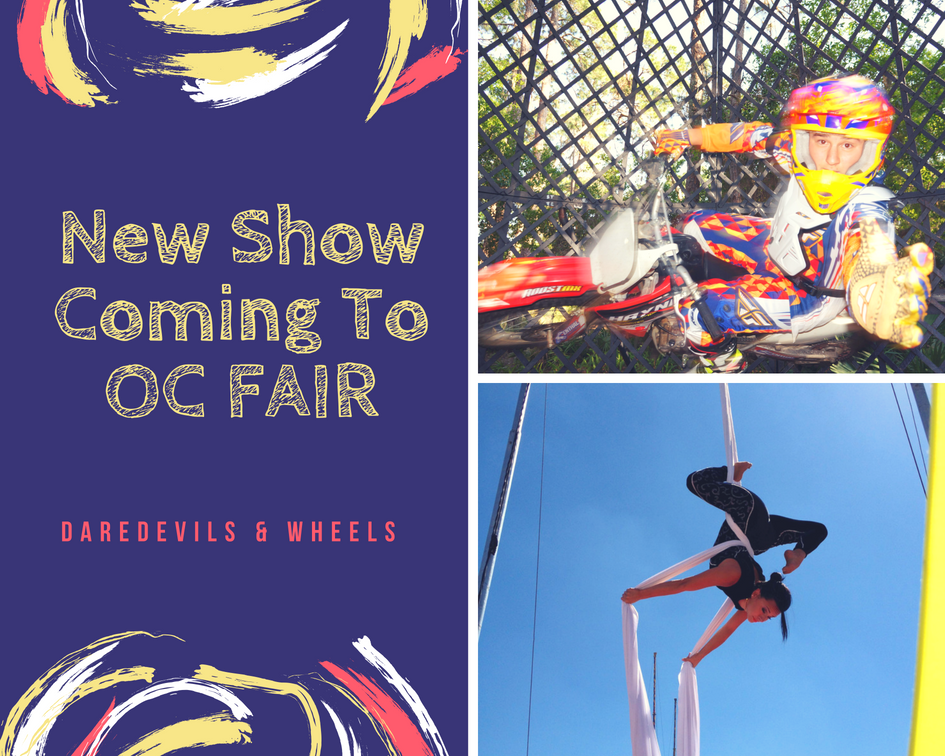 New Show At The 2018 OC Fair
In exactly 2 more weeks, the OC Fair will return once again to the OC Fairgrounds. This year the themes is called "Free Your Inner Farmer". It salutes all the people involved in raising and enjoying the fruits of agriculture. The 2019 Fair theme will focus on land and the environment.
New this year will be a brand-new, jaw-dropping show at Action Sports Arena that is sure to give guests an adrenaline rush during the 2018 OC Fair.
Daredevils & Wheels, running July 18-22, will combine amazing motorcycle stunts with extreme aerial death-defying performances in one heart-stopping show. Riders will tantalize the audience from dangerous heights and make breathtaking maneuvers inside a giant metal ball.
The Nerveless Nocks make up the Daredevils & Wheels team and will be featured in a five-night extravaganza. Fitting for the OC Fair, the Nerveless Nocks started off as a circus in 1840 and was Switzerland's first.
Michelangelo Nock, president and CEO, continues his family legacy and travels all over the world to excite audiences with his wife and children by his side. They are part of the eighth generation of the family business that has created thrill-seeking entertainment for the masses.
In addition to the newest stunt show, the OC Fair will be full of heart-pumping fun and destruction all summer long.
Here's Action Sports Arena's full lineup:
X-treme Freestyle Moto X (July 13) – Daredevil motorcycle riders defy the laws of gravity while grabbing big air and performing jaw-dropping flips and stunts.
Speedway Fair Derby (July 14) – Speedway racing features motorcycles modified to make tight turns all without the assistance of brakes on a dirt track.
SummerFist 11 (July 15) – The OC Fair's octagon will welcome the return of mixed martial arts action for a night of skill, finesse and power.
Daredevils & Wheels (July 18-22) – Combining amazing motorcycle stunts with extreme aerial death-defying performances in one heart-stopping show.
Monster Truck Destruction Tour (July 25-29) – Experience the raw power and car-crushing fury of some of the world's most awe-inspiring monster trucks.
Rodeos
Extreme Rodeo (Aug. 1 & 3) – The traditional rodeo gets turned up a notch, featuring wild antics like Ring of Fire, Toro Totter and Bull Poker.
Broncs & Bulls Rodeo (Aug. 2 & 4) – It's been called the most exciting eight seconds in all of sports – when a rodeo rider sets himself atop a high-kicking bronc or bucking bull and tries to hang on for dear life without getting thrown, stomped and/or gored.
Fiesta del Charro (Aug. 5) – See the beautiful talent and skill of the charros, Mexican cowboys and lady riders dressed in an elaborately decorated outfits.
Demolition Derbies
Motorhome Madness (Aug. 8 & 11) – On Aug. 11, there will be a face-off between police and fire chiefs, plus feature an Emergency Pursuit Figure 8.
Orange Crush (Aug. 9 & 12) – On Aug. 9, the demolition derby will pit OC police departments against fired departments
Damsels of Destruction (Aug. 10) – Pick your favorite female and watch as they ram, sideswipe and demolish.
Terrible Trucks (Aug. 11) – Fans asked for bigger and noisier, so the OC Fair will deliver a chaotic, crushing race to the end.
Tickets for reserved seating start at $12.50 and include Fair admission;
buy online at Ticketmaster
. General admission seating is available on a first-come, first-served basis and do not require an additional ticket. Parking at the OC Fair is $10.