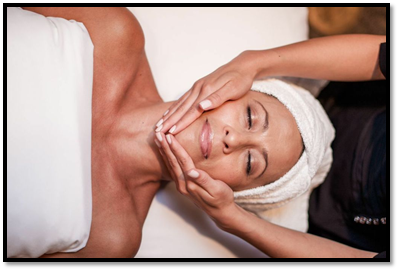 Being pampered is every girls dream come true. So this Valentines Day consider giving the gift of relaxation. Glen Ivy Hot Springs is an outdoor oasis in Corona, CA that stretches across 12 acres and include 19 pools and whirlpools to enjoy, including the historic mineral baths. The Hot Springs also include botanical gardens, a labyrinth for self-reflection, and a variety of daily classes and programs, as well as quiet places and gathering areas where guests can relax, renew and re-engage.
To launch the holiday, Glen Ivy is offering $100 gift cards for $85. As well, indulge in any of the following romantic options:
From February 6th – 16th, Glen Ivy will offer poolside & cabana "Champagne Service" featuring two flutes of Champagne & two heart shaped sugar cookies for $15
Valentine's Day weekend, celebrate romance with special activities including a healthful & fun dance lesson by the famed "Dancing Dunn Family," Johnny & Laura Dunn. You can enjoy either as a sassy single, or as a couple!
All weekend long, enjoy the Sudsy Mud 12:00pm – 3:00pm
Forgot that little token to say "I Love You?" Our retail shop will feature Valentine's Day Gift Packages highlighting our beautifully curated products. With cult favorite beauty lines including Kai, Moroccan Oil, and Lollia, you can't go wrong.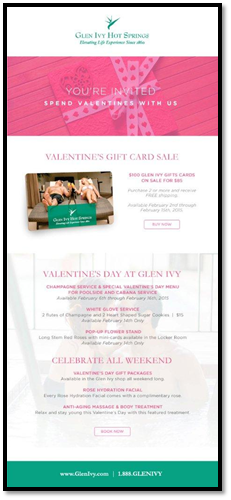 Glen Ivy's Valentine's Day only specials include:
A pop-up flower stand selling long stemmed red roses
Our signature Rose Hydration Facial will come with a complimentary rose