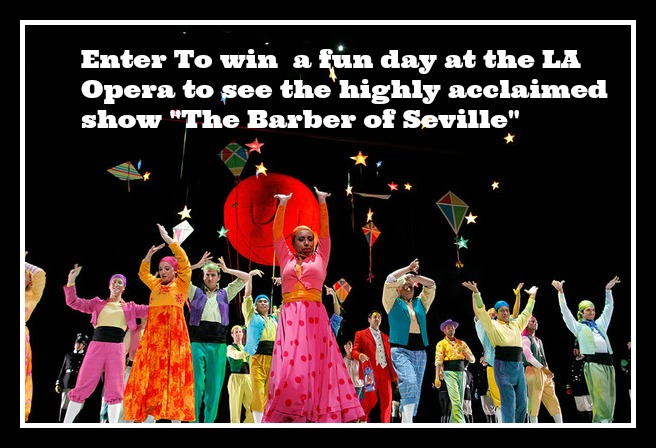 Click here to read all about our fun day at the LA opera and see what you can experience.
Taking your family to the Opera can be a very rewarding experience. It introduces kids to the concept of opera as a singing story and can help broaden their scope of interests. I am giving away 4 free tickets to Family Day at the LA Opera to see The Barber of Seville. Enter at the end of this post.
On Sunday, March 8, the matinee performance of  The Barber of Seville will feature themed activities for the whole family to enjoy while learning more about the opera and its fascinating set. Domingo Family Program activities are free with ticket purchases, with half-price tickets available for children from 9 to 17 when purchased with an adult ticket.
About the Domingo Family Program Day
Pre-show activities begin at 12:30 pm in the Fifth Floor Salons of the Dorothy Chandler Pavilion (located at 135 N. Grand Ave., Los Angeles, CA 90012). Teaching artist Peter Kors will lead enjoyable and inspiring acting workshops that explore themes from the opera and help youngsters understand the elements of theater. 

After the performance, participants will have the opportunity to meet the cast at a special Domingo Family Program reception in the Fifth Floor Salons.

Booster seats are available to help small children get a better view of the performance. Booster seats can be picked up from the coat check stand located on the Grand Avenue side of the main lobby. You can also reserve booster seats in advance to have them waiting in your seating locations when you arrive. 

Tickets for the March 8 Domingo Family Program performancestart at $17 for adults, and are now available for sale in person at the Dorothy Chandler Pavilion box office or by phone at 213.972.8001. (No online orders.)