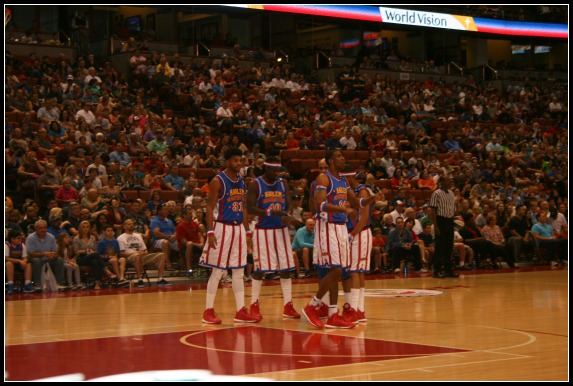 This Valentines Day was a memorable one for me. We had an awesome family day at The Honda Center in Anaheim watching The Harlem Globetrotters take on the Washington Generals. Our seats were incredible and we watched the whole show from the front row while we laughed and cheered. There is so much comedy going on during the whole show that you won't want to miss anything.
One of the highlights of the show is a giant inflatable globe who does all kinds of cool tricks. He can dance and run and my kids were cracking up with laughter as was the audience.
Some of the best parts of the show was the banter between the ref and the players. One player even climbed on the top of the hoop just to give the ref a hard time.
But by far the best part of the show is the game. The Harlem Globetrotters are wicked talented and put on a perfect performance every time. They really engage with the kids and the show is very interactive.
If you would like to purchase tickets to an upcoming game you can check their schedule and  purchase tickets through their website here. Kids can also participate in the Magic Pass. Once you purchase a ticket you will be emailed with more information about the Magic Pass Experience and how to purchase.
Magic Pass is the pre-game event where your family will hang out with the stars of the team, right on the court, and will have the chance to:
Shoot Hoops

 with Globetrotter Stars

Learn Tricks with Globetrotter Stars
Get Autographs and Selfies with Globetrotter Stars