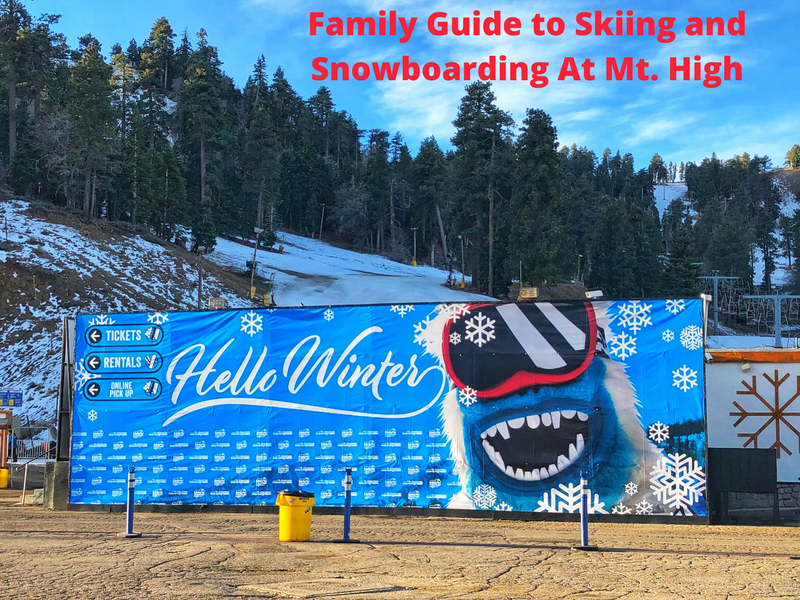 Spending time together as a family reaps major benefits in addition to creating happy memories.  If there is one thing I have learned as a mom these past 14 years, it's that spending individual time with each child doing something active and trying new things can really strengthen the maternal bond.
So what does a mom do to make some epic memories? Go skiing for the very first time with my teen! Yup, I am a 40 year old mom who has never been skiing in her entire life and neither have my kids. The thing is, I really have no excuse. We live in Southern California and snow is a rare occurrence, however, we only live a couple hours from the mountains so snow is easily accessible.
Mountain High resort in Wrightwood, CA is located just 90 minutes from Los Angeles and Orange County so we chose to go there for our first time. The Resort consists of three separate mountains: West Resort, East Resort and North Resort. Mountain High offers a wide variety of lifts and trails, a world-class terrain park, an outstanding winter sports school and the region's largest tubing area. Night skiing and snowboarding are available seven nights-a-week during peak season and snowmaking covers more than 80 percent of the slopes. Mountain High traditionally operates from mid-November to mid-April.
Tips on Driving To Mountain High
Winter 2018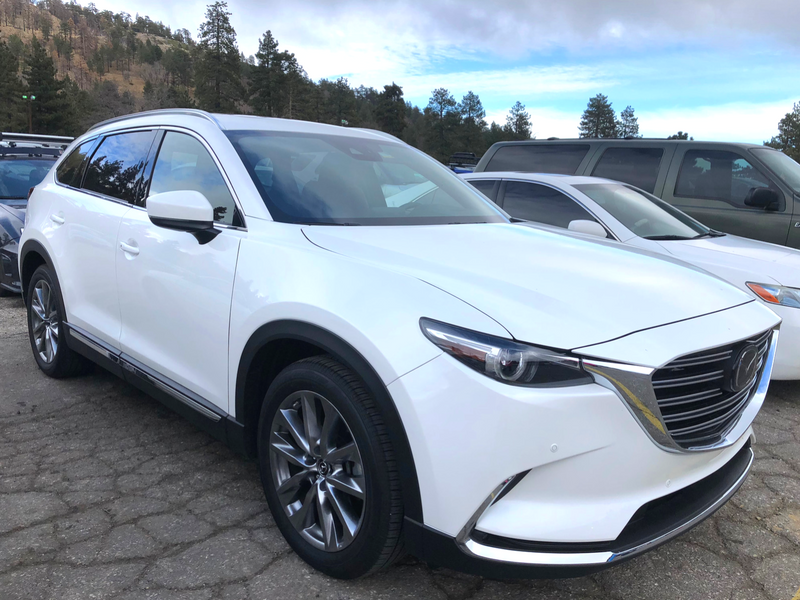 This year it did not snow when we visited Mt. High. Temps were in the 40's and it was windy but the conditions were perfect for skiing. Compare that to last year where everything was covered in snow. I did hear though that as soon as we left it snowed so I guess we just missed it by hours.
Winter 2017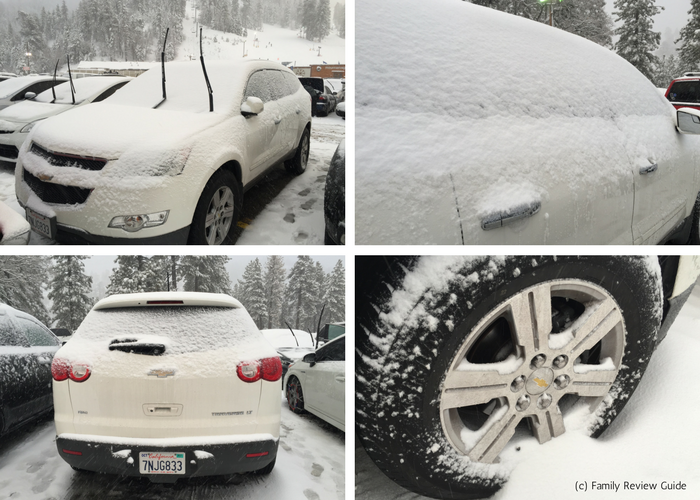 Chains are rarely needed on the way to Mountain High, especially if you have a car with AWD, however, last year Mountain High saw the season's largest storm which dropped up to 17 inches of snow turning Mountain High into a winter wonderland almost overnight. Always bring chains just in case. We brought them and did not need them.
Arrive Early! Plan to arrive early (between 7:30 a.m. and 9:00 a.m. is best), as the parking lot at the West Resort fills up quickly on snowy weekends. If you arrive later and the parking lot is full, overflow parking is available on State Highway 2.
Carry an ice scraper or commercial de-icer, a broom for brushing snow off your car, a shovel to free your car if it's "snowed in", sand or burlap for traction if your wheels should become mired in snow and an old towel to clean your hands.
Check your antifreeze and be ready for colder temperatures. Also, let your car warm up for 10-15 minutes before leaving. You may want to add special solvent to your windshield washer reservoir to prevent icing. Also, stand your wipers up for the day. Lifting wipers away from the windshield means they won't freeze to the glass.
Rental Equipment VS. Own Equipment
Rent or own is the question of many visitors. Mountain High has a full selection of top-of-the-line equipment tuned to the highest standards.  They also have one of the largest rental fleets in the region meaning they have the skis and snowboards that are just right for you! A $400 credit card deposit is required on all ski and snowboard rentals. 
As a new skiier I obviously don't own any equipment so we used Mountain High's equipment. The rental process is smooth and seamless but you should familiarize yourself ahead of time with how to put on skiis/snowboards. It will save you a lot of frustration as I struggled a bit throughout the day.
As for snow clothing, I high recommend you invest in some super warm and waterproof gloves. Your fingers will thank you. Goggles and a helmet are also extremely important. Just because there is powdered snow does not mean you can't injure yourself or your skull. Trees, poles and other skiiers are obstacles and you should always protect yourself.
To see rental prices click here.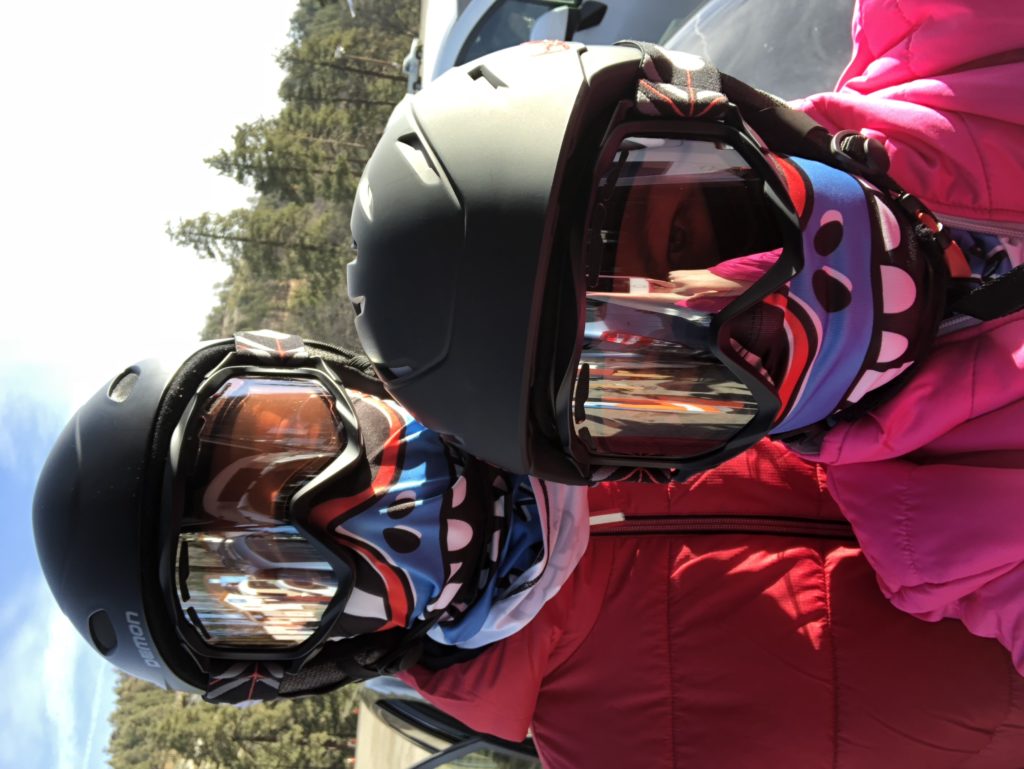 Lessons At Mountain High
Lessons are available seven days-a-week at the West Resort and on weekends & holidays at the East Resort. If you plan to take a lesson, it is best to park at the same area.  At the West Resort, students meet beneath the Bullwheel Bar & Grill and, at the East Resort, directly across from the ticket windows.  They really appreciate it if you arrive at the Meeting Area 15 minutes prior to your lesson. Here are the prices for adult and child lesson prices.
My son and I took a beginning lesson together and laughed more than I think we ever have in our entire lives. I must have fallen what felt like a dozen times while my son blew everyone away with his natural ability to catch on. This was by far one of the best bonding experiences we have had together. Just him and I and the snow. I can say that after 90 minutes of instruction I felt like I was confident enough to ski down a hill. And I did. But not very gracefully. Oh well, I got up and tried again and even though I looked like a fool I had a great time. My son talked about how much fun he had all night when we got home and when he woke up the next morning he had already planned another trip back with his friends.
Snow boarding looked like a total blast too!  We even saw little 3 and 4 year old shredding on snowboards. It was the cutest thing ever!
Another fun way to bond with your teenager is to have a snowball fight! Of course we could have built your average snow man but why would we do that when we throw snow at each other like a bunch of hooligans?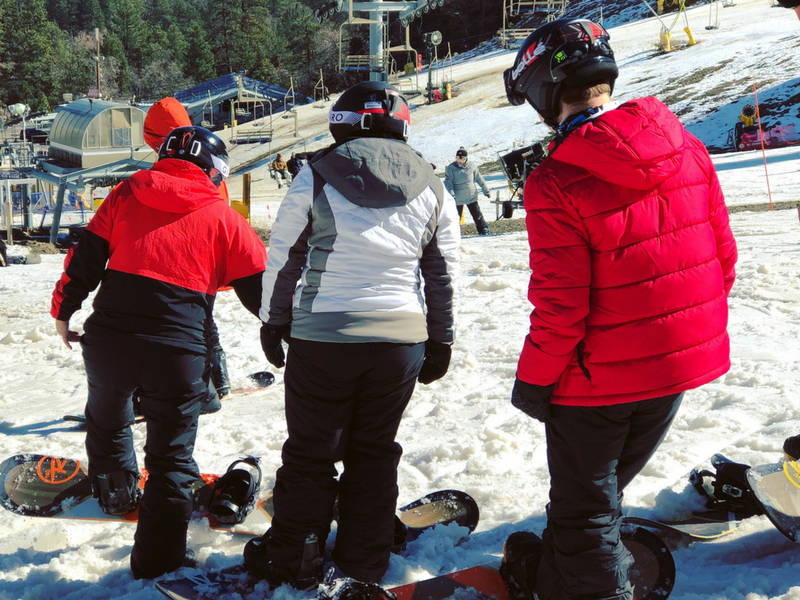 Places To Eat At Mountain High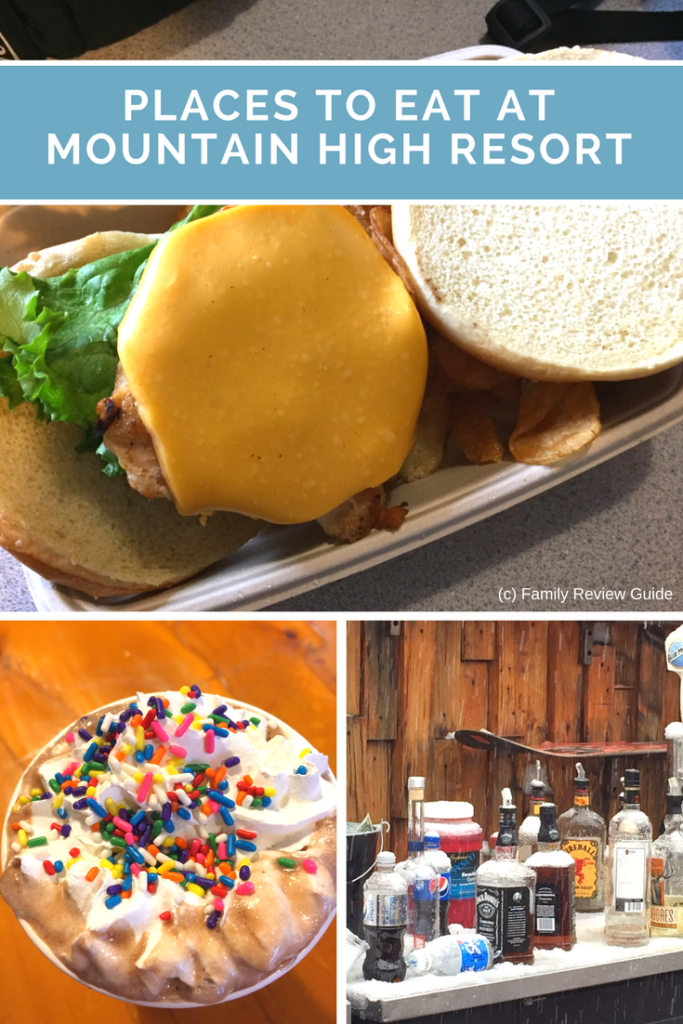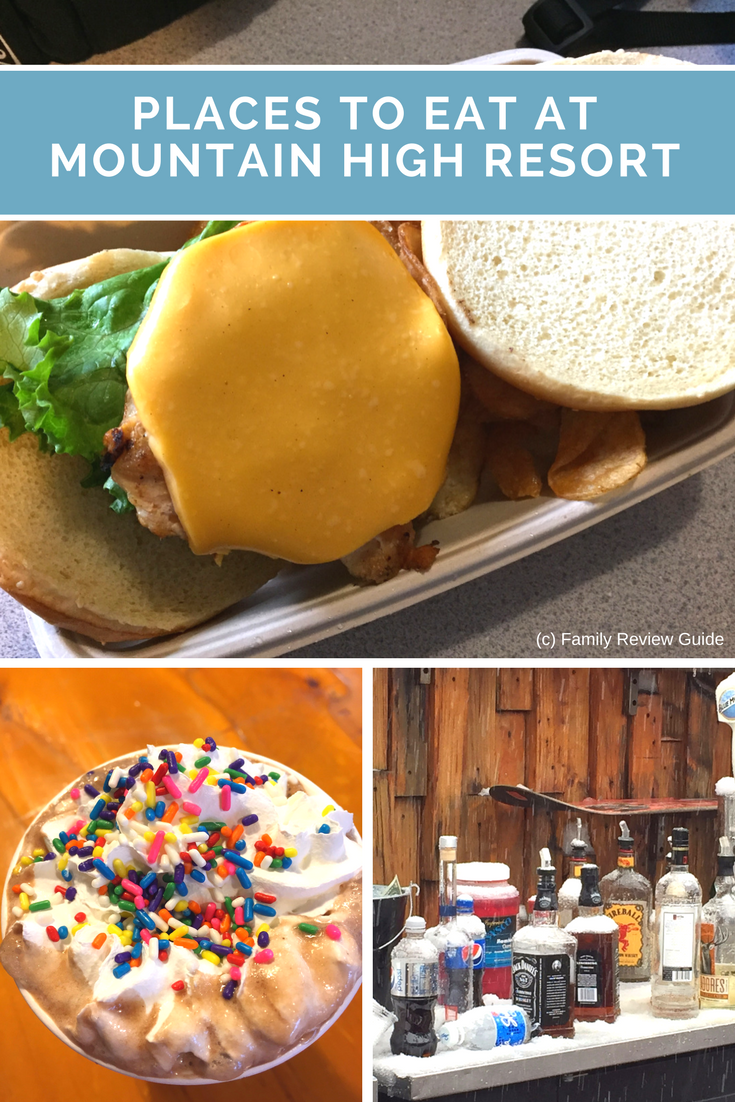 For On-Mountain Dining, The east resort has the Grand View Bistro at its summit plus the Angeles Crest Cafe and Gold Rush Grill at the base. The Bullwheel Grill, located just above the west base area, has the best food at the resort. Plus you'll find delicious burgers and mouthwatering chicken sandwiches at the Big Pines Barbeque at West and The North Pole Grill at North.
Kids will enjoy delicious hamburgers, french fries, chili bowls, sandwiches and more!
After a cold day of skiing and snowboarding you can also warm up with some hot chocolate or grab a cocktail or a beer! I was super excited to see my favorite Jack Daniels covered in snow.
What does a typical Day At Mountain High Look Like?
Just watch our video!
Ski Free On Your Birthday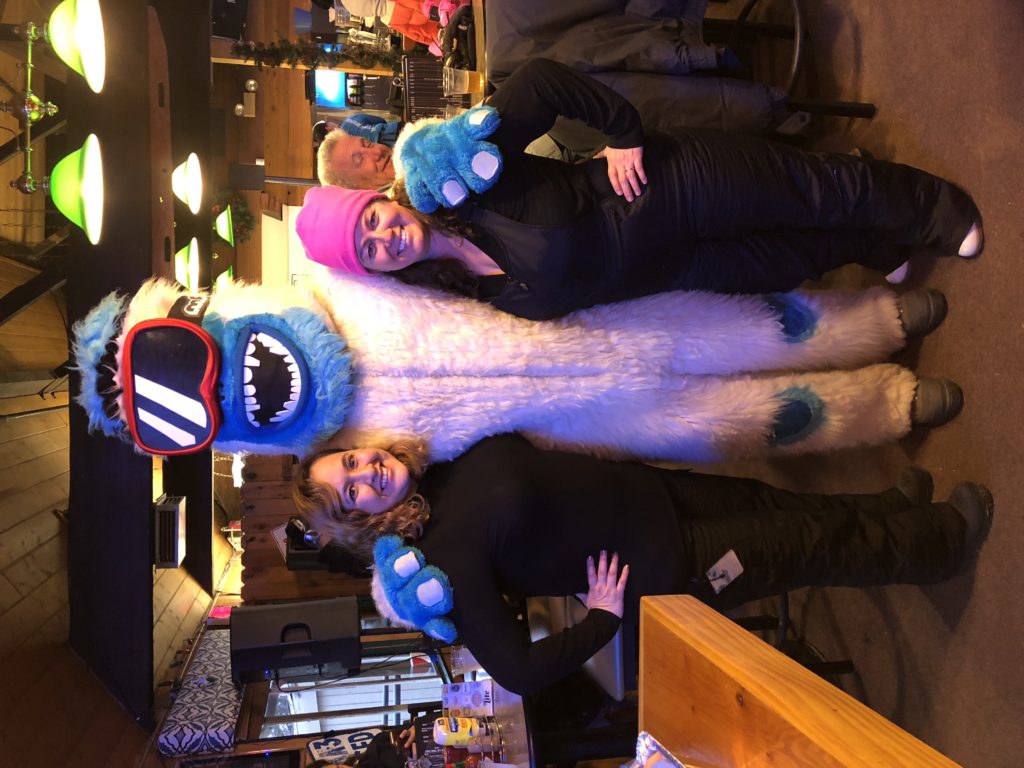 Celebrate your birthday at Mountain High! Receive either a FREE lift ticket or a FREE tubing ticket on your actual birthday just by showing a valid photo I.D. Ticket is nontransferable and cake is not included.
Complete this Complimentary Ticket Release  and present it at the ticket windows to redeem your complimentary ticket.
Discounts and Deals
Winter sports can be expensive, especially if you are a bigger family like us (5) so Mountain High has a an awesome deal happening until the end of January since January is learn to ski month.
Now through January 31st get two (2) MIDWEEK, non-holiday, Half Day First Timer Packages for the price of one.  Just $105.  Online special only. Ages 13+.
2018 Learn To Ski & Snowboard Month Special
Purchase a MIDWEEK Half Day First Timer Package complete with lesson, rentals, and a lower-mountain lift ticket for just $105 and receive a second First Timer Package FREE for a friend that day.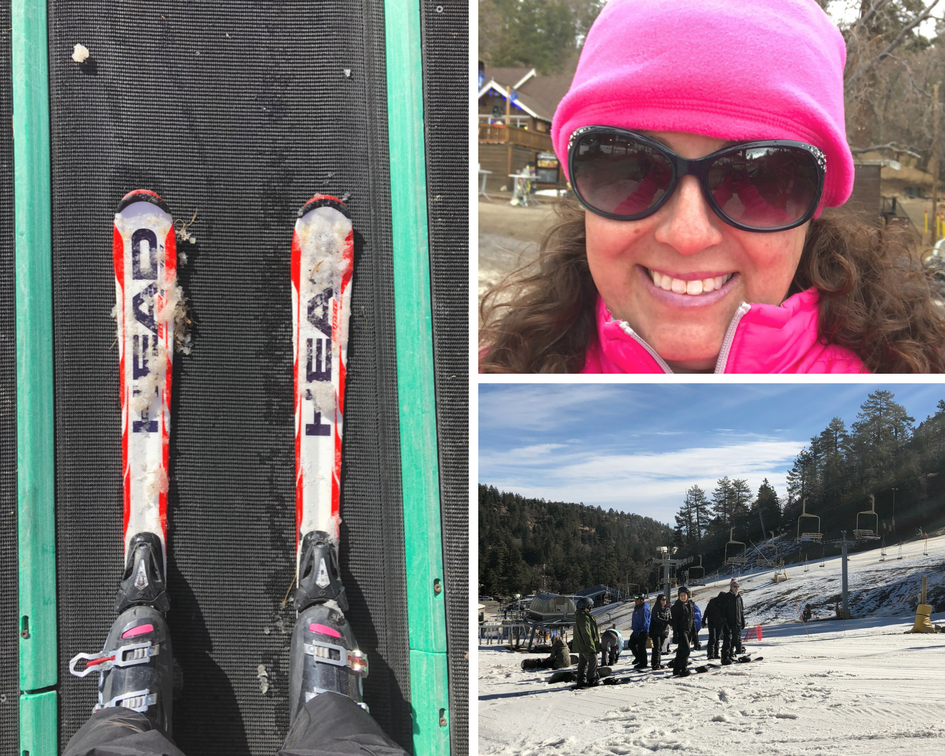 Stay connected with all the action at Mountain High by visiting www.mthigh.com, calling 888-754-7878 or following on Twitter @mthigh.
Learn about the North Pole Tubing Park in Wrightwood by clicking here.