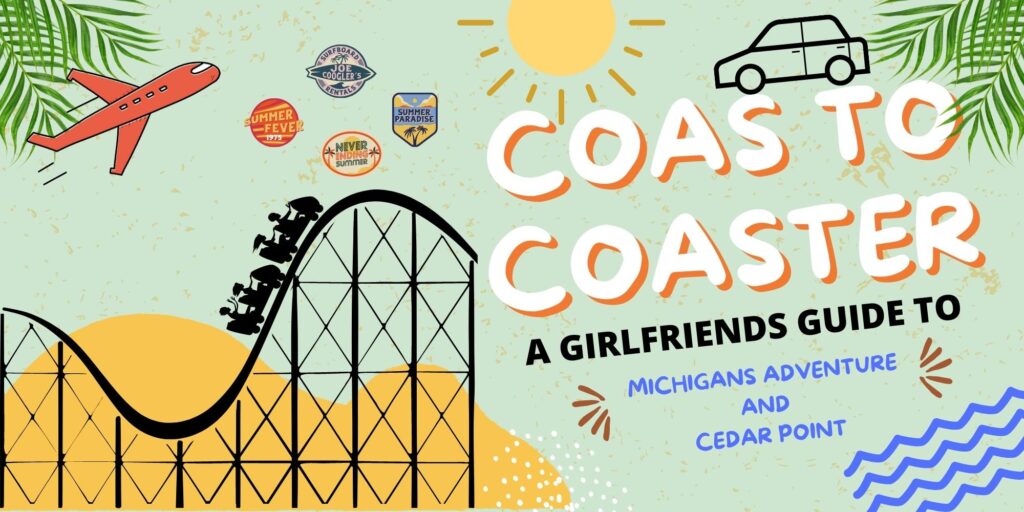 How do you say thank you to someone who saved the trajectory of your life? Twenty years ago after the birth of my first child, I hired a beautiful, young and energetic hawaiian angel named Danielle as my nanny. I was fighting some heavy postpartum depression and this young lady helped me through it all. She showed me kindness, patience, laughter and she loved me when I needed it the most. But most of all she gave me confidence in my journey through motherhood. She quickly became family and then four years later she was the nanny for our 2nd child as well. Then another four years passed and oddly enough we both became pregnant around the same time. I was so excited we would be able to share this roller coaster ride together this time! Little did I know that I meant that in a literal sense.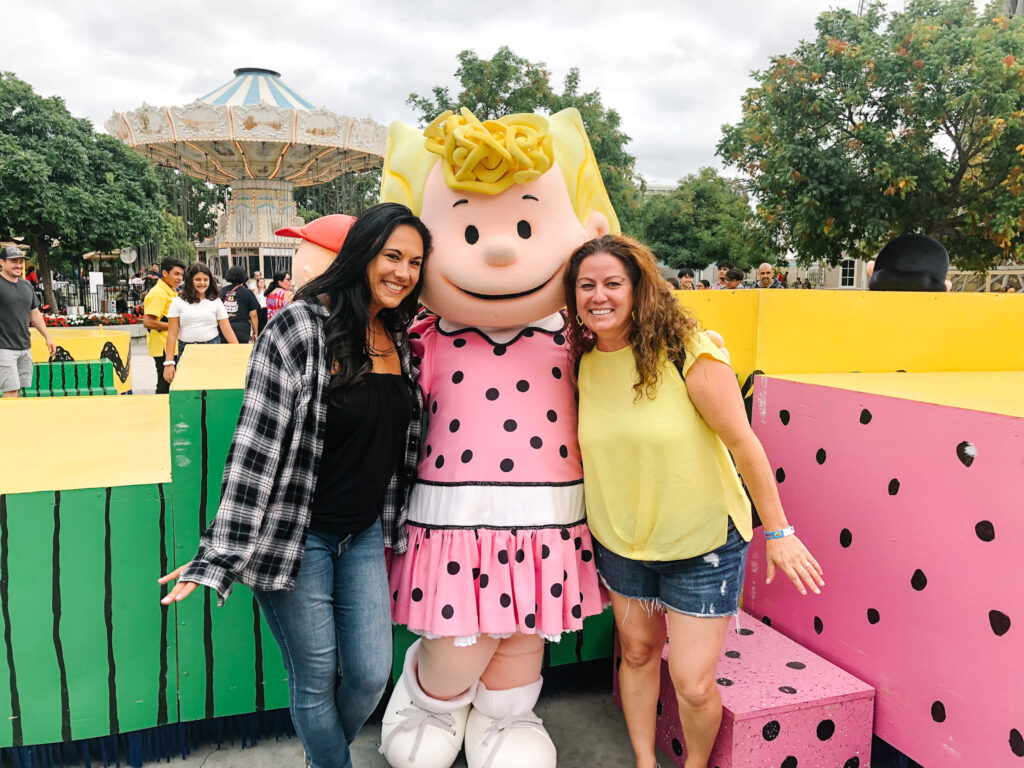 She's also my ride-or-die, and my adrenaline junkie bestie. We ride roller coasters together as if it were a sport. Now we both have 11-year-olds and they too are roller coaster lovers. I guess the apple doesn't fall far from the tree. Both of us are season pass holders at Knott's Berry Farm so you can usually find us laughing hysterically on Ghost Rider. But a few years back we took a trip to California's Great America and had an amazing time. It was then we decided we were going to try and hit as many Cedar Fair parks that we could. Cedar Point was #1 on my list but it seemed like a pipe dream at the time.

Fast forward to July 2022. My oldest son moved to Michigan for an internship at an Aerospace company and I really wanted to visit him. I booked a trip to Muskegon, MI only to find out that Michigan's Adventure was like 10 minutes from him. Then after researching some more I discovered Cedar Point was only 4 hours from Michigans' Adventure. I immediately went into planning mode and called Danielle up with this crazy idea! "Let's fly to the midwest to see our boy" I said. "It might require an epic road trip that involves a lot of roller coasters though. You down for that"? Of course, she said yes and the next thing I know we had plane and hotel reservations. It was so much fun to plan this trip that I wanted to give you all a guide on how to road trip with your friends to Michigan's Adventure and Cedar Point. Here is some helpful information to help you get started planning your trip:
Know Before You Go
Research the parks before you go. Join message boards, read articles and download the apps. Below is my list of message boards to join. Ask questions and read people's responses. I learned a plethora of information here.
Michigan's Adventure Season Passholders
Cedar Point Season Passholders
Cedar Point Tips, Updates & More
Research the best time to go – Both parks are seasonal which means they typically only operate from around May-September. Its always best to go during the week for lower crowds.
Strategize Your Attire – Wear a swimsuit under your clothes if you are going to go to the waterpark on the same day at the amusement parks. Also bring a change of clothes in case you get wet on a waterride. Flip-flops are amazing for those kinds of rides.
Take Weather Into Account –  When planning a trip to either park be sure to build in some extra days for weather. You can try to predict what it will be like for your trip but it's not easy. Cedar Point is on a Penninsula and the weather there is very unpredictable.  It could rain or snow at any given time. Michigan's Adventure in Muskegon, Michigan also has weather that varies. However, this park can be covered in 1 day if you do not do the waterpark. If it rains both parks may close rides until it is safe enough. That may eat up an entire day or it might just be an hour. No one really knows.
Download all apps before you go. And most importantly LOAD YOUR SEASON PASS INTO YOUR APP! With the myriad of apps available to make your road trip easier, you can pack lighter and leave the travel books at home. The Michigan's Adventure and Cedar Point apps will help you locate places to eat, see ride wait times, find show times, give you a map to look at, let you purchase things straight from the app, find deals and discover hotels and campgrounds.
Learn about Early Entry at Cedar Point. Resort Guests, platinum pass holders and Cedar point gold pass holders can start their day with early entry – getting special access to the park before it opens. It's a great opportunity to get a Headstart on some of the parks busiest attractions, including several for kids and families. Do some research in advance about what rides are included on the early entry list and plan out your morning.
PRE-Order fast lane pass wristbands. Allotments do sell out, and the PLUS ones will sell out first.

A good place to get your wristband is right past the Main Midway at the end of the Sky Ride. It's right across the front of the Matterhorn. There's another one just across from the Magnum XL-200 entrance. Even better go to the gift shop at Cedar Shores and they will redeem them for you.
Check Hours before you go – Michigans Adventure opens around 11/12 on most days while Cedar point opens around 9am. Plan accordingly
Lastly, bring a credit card.

All Cedar Fair parks are now cashless

. For those without a payment card or digital wallet like Apple Pay, you can convert cash to a prepaid debit card at kiosks located within the park.
Where to Stay Near Michigan's Adventure
My friend and I stretched our dollar on this trip. It was less expensive for us to fly into Chicago Midway and then drive from the airport to Michigan than it was to fly direct.. It took 3 hours and the time went by fast! So where did we stay? In Grand Rapids! It's only 45 mins from Michigan's Great Adventure and Baker College in Whitehall, where my son was staying! I highly recommend the Embassy Suites downtown. While it's true there are other hotels even closer to MIchigan's Adventure in Mukegon, it's is a very small town with not a lot nearby. We wanted to stay a little more central in a bigger city.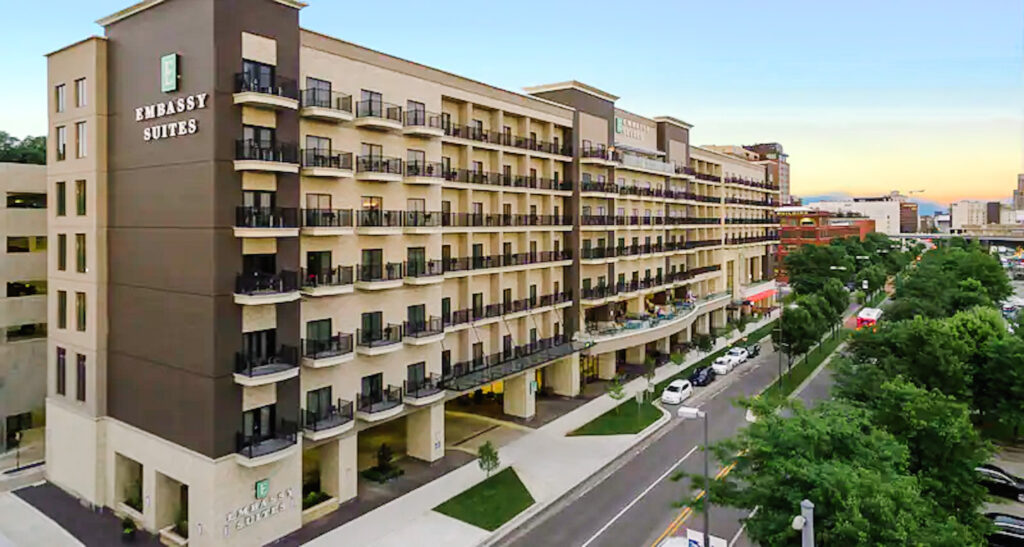 The hotel is located across a small park from the Grand River. There are numerous dining options within a five-minute walk as well. It's half a mile to DeVos Place while Van Andel Arena and the Grand Rapids Public Museum are a mile away. Personally, I loved their unique Michigan-shaped indoor pool. Here is a tour of the inside of our hotel room. I can't believe how spacious it was!
Parking
There is a large parking garage connected to the hotel that comes with in and out privileges as well as valet parking. There here is also street parking that is free after 5pm on weekends. The city also offers complimentary bus shuttle service to the downtown area that picks and drops off right in front of the hotel.
TIP: Use your room key to get out of the ramp, and then you will only be charged $24 per night. If you don't use your room key (if you have a digital room key) – you will be charged the hourly rate. They can reverse this at the front desk.

View this post on Instagram
Our check-in was as easy as it gets. The front desk staff was friendly and we were in our room in no time. The lobby is simply beautiful. There's a two-story waterfall art display that extends to the bar on the second floor.  There is also plenty of couches to lounge in this spacious lobby with vaulted ceilings. Hungry? There's a mini-store adjacent to the front desk to pick up drinks and snacks through your stay as well.

After a hot and sweaty day at the park, we came back to our room to shower off and then took a dip in the MI-shaped pool. I love that it is indoors because nothing here in CA is indoors. Even cooler is their hot tub is half inside/half outside.
Free Made-To-Order Breakfast
One of the best perks of staying at an Embassy Suites hotel is all guests get free made-to-order breakfast each morning. You will find typical breakfast offerings  like bacon, eggs, cereal, fruit, muffins etc. and everything was fresh and the coffee was on point. Besat of all they have a fresh omelet bar where you can order any custom omelette you want. Ther staff was super friendly and accommodating .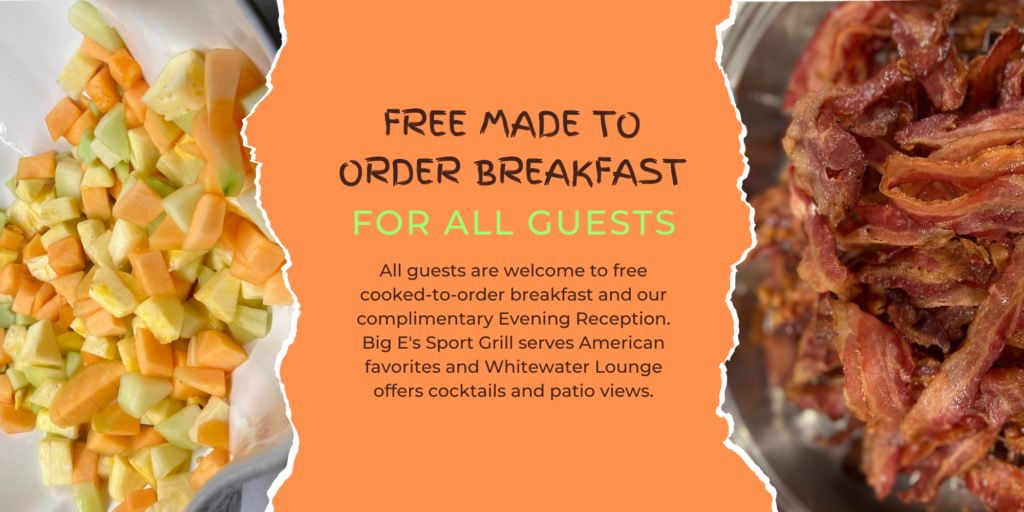 Nightly Happy Hour
Happy Hour at the Embassy Suites takes place daily from 5:30pm-7:00pm and includes light snacks as well as two wine, beer and well drinks per person at no cost. You will find veggie, cheese and fruit platters as well as chips and salsa and other light snacks.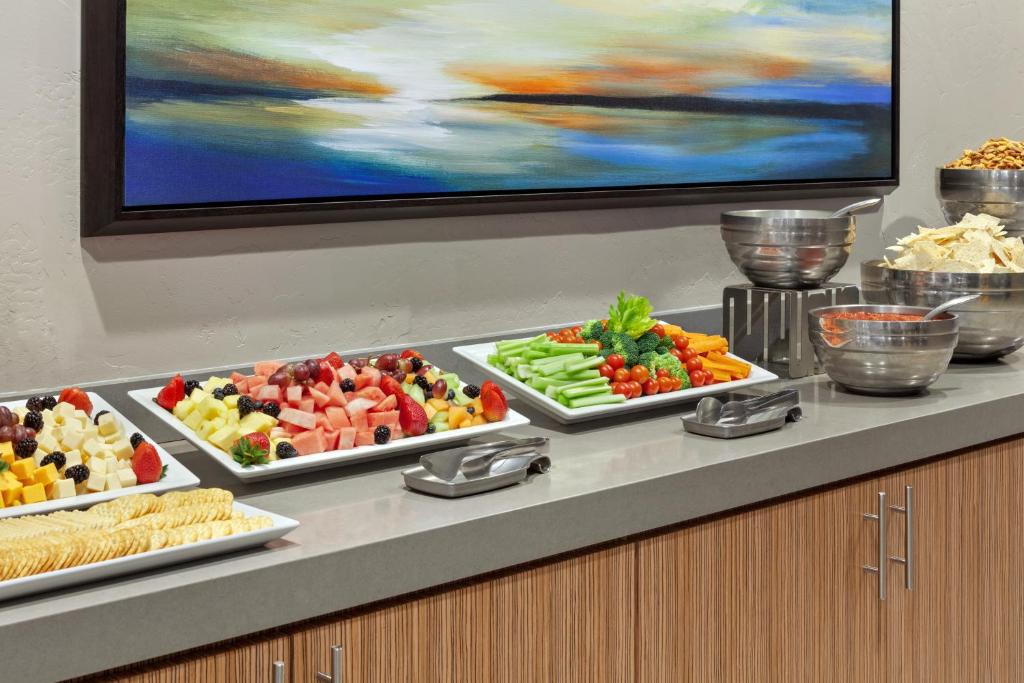 For more information visit Embassy Suites on Facebook and on Instagram.
Get the Scoop on Michigan's Adventure
Learn how to conquer Michigan's Adventure in 1 day. Just click on the photo below!