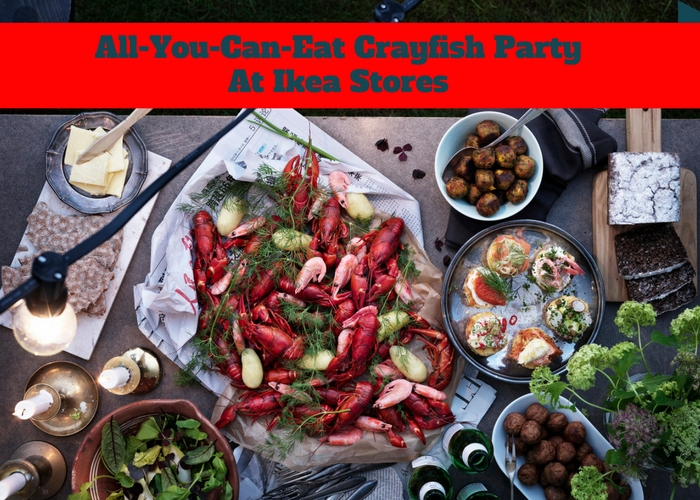 Move over swedish meatballs becuase IKEA  is making room for its annual Swedish Crayfish Party – an all-you-can-eat crayfish buffet.
When is it?
Friday, September 16 at participating stores nationwide.
What is a crayfish?
If you are wondering what a crayfish is, it's basically a teeny tiny lobster.
The Crayfish Party is a Swedish tradition that dates back to the 1800's, when crayfish fishing was limited to August and September. To celebrate the beginning of crayfish fishing season, families and friends would host late summer parties – gathering in paper hats and colorful crayfish-themed bibs – to enjoy good food and good company amongst the sound of music and clinking classes. This season, IKEA is inviting everyone to join in the fun!
How much are tickets?
Tickets are available for $18.99 per person / $4.99 for kids 12 and under, or at a discounted rate for IKEA FAMILY* members ($14.99 per person / $2.99 for kids 12 and under), for an all-you-can-eat buffet featuring crayfish, cucumber salad and more.
What is included on the menu?
The IKEA Crayfish Party menu includes:
Crayfish
 Tossed green salad
Cucumber salad
Hardboiled eggs with mayo and shrimp
Rhode Island salad with crayfish
 Najad salmon with horseradish sauce
Gravad lax with mustard sauce
Crispbread, crisprolls, soft bread, thin bread
 Assorted Swedish cheeses
 Meatballs with lingonberries
 Mashed potatoes or boiled dill new potatoes
 Strawberry crumble tart
 Cookies and assorted desserts
Coffee, tea, fountain beverages
Seating is limited, so those who are interested are encouraged to purchase tickets early at their local IKEA store. To locate and contact the nearest IKEA store for more details, including local seating times, visit the "Store Locator page on www.IKEA-USA.com  and enter your city/state or zip code.