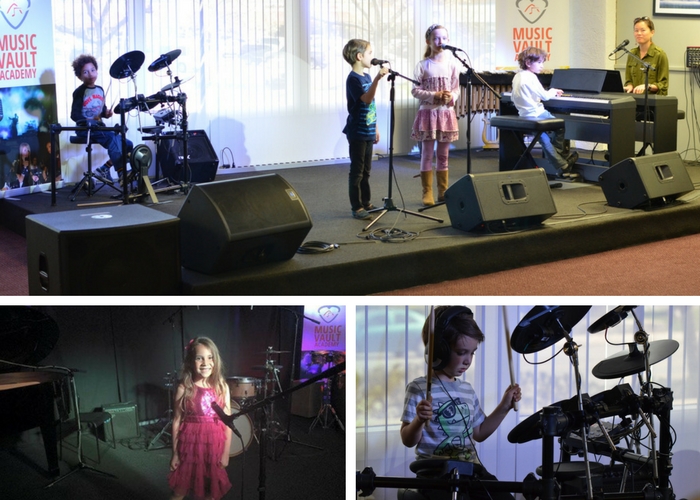 Now that school is back in session, kids in 4th and 5th grade will be learning to play the violin or viola. The Music Vault Academy in Laguna Hills offers music lesson to children ages 5 years and above and mommy and me classes for children ages 4 years and below. My son takes drum lessons there and has really enjoyed it for the past year and a half.
Music Vault Teachers
The music teachers at The Music Vault Academy are extremely passionate about music and strive to provide the best music lessons possible.
All instructors have many years of teaching, playing and performing experience; with most being graduates of, and having master degrees from, some of the best music conservatories and universities in the country: Harvard University, Cleveland Institute of Music, Rice University, Texas Christian University, Southern Methodist University, Boston Conservatory, and University of Southern California.
6 ways Music Lessons Can Benefit Your Child
Music has so many benefits for children. Learning to play an instrument can help your child fine-tune her ear and enhance skills needed for education and social interaction. here are 6 ways music lessons can help:
More Supports Learning
Making music involves more than the voice or fingers playing an instrument; a child learning about music has to tap into multiple skill sets, often simultaneously.
Language Development
Music develops the brain and can help with language processing
Increased IQ
Music can increase your IQ
The Brain Works Harder
Music makes the brain the work harder my stimulating networks associated with fine motor tasks.
Spatial-Temporal Skills
Listening to music helps  children visualize various elements that should go together, like they would do when solving a math problem.
Improved Test Scores
Music training can help with basic memory recall.