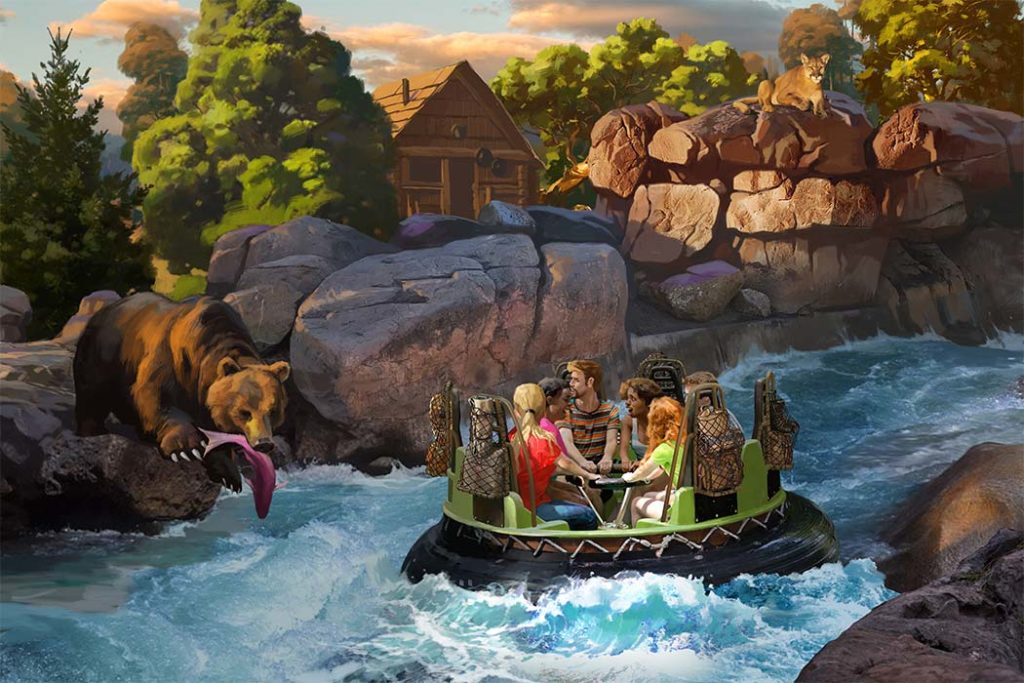 If you have been missing Bigfoot Rapids at Knott's Berry Farm, then you will be excited to know that an all new re-designed ride called Bigfoot Rapids is taking it's place! There will be a whole new story about 2 explorers who have opened up a rafting  and supply company. You will see new electronics, new structures, and new rafts where riders can cruise down the calico river in search of new land to settle.
Riders will see indigenous wildlife, treacherous roaring rapids, dynamic water effects plus a variety of wild surprises will be encountered along the way. The attraction comes to life with new animatronics and special effects designed and manufactured by Garner Holt Productions, Inc.
 Opening Day: Friday, May 17, 2019
Take a look at some behind the scene footage to see how the new Calico River Rapids is coming to life!
POV Of the All New Calico River Rapids
The scenery around Calico River Rapids is stunning. Lots of rocks, waterfalls, tall lush trees, and so many nature sounds you can practically hear birds anywhere you walk.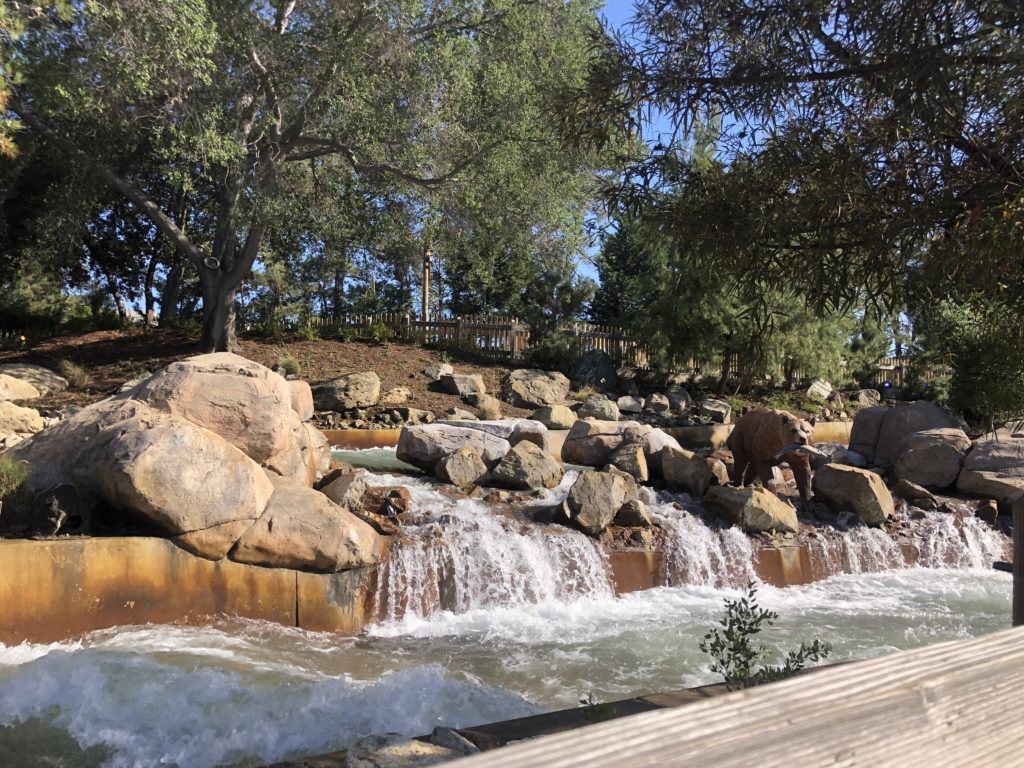 There are also lots of places you can stand for optimal photo ops.  If you are at the park near sun set, the water turns a beautiful shade of orange with the reflection from the sun.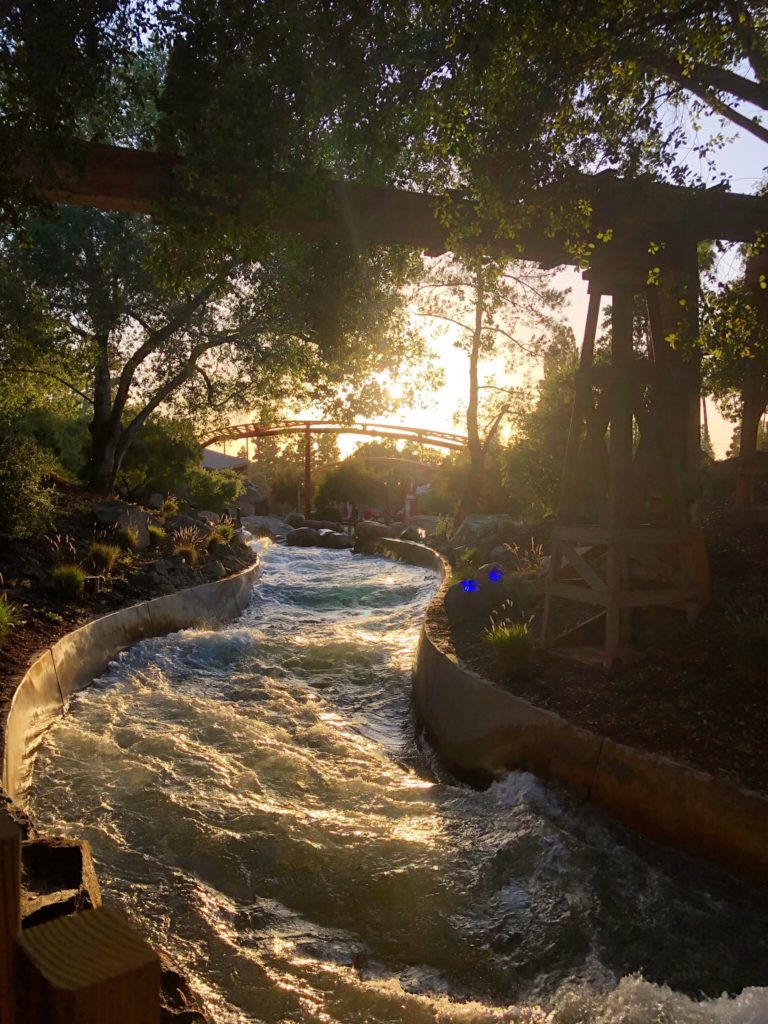 You may even catch a character from the town of Calico walking around. Especially during Ghost Town Alive. Seriously, how cute is this guy?
Keep an eye out for all the new animatronic characters like the bear, the angry cougar on top of the rocks.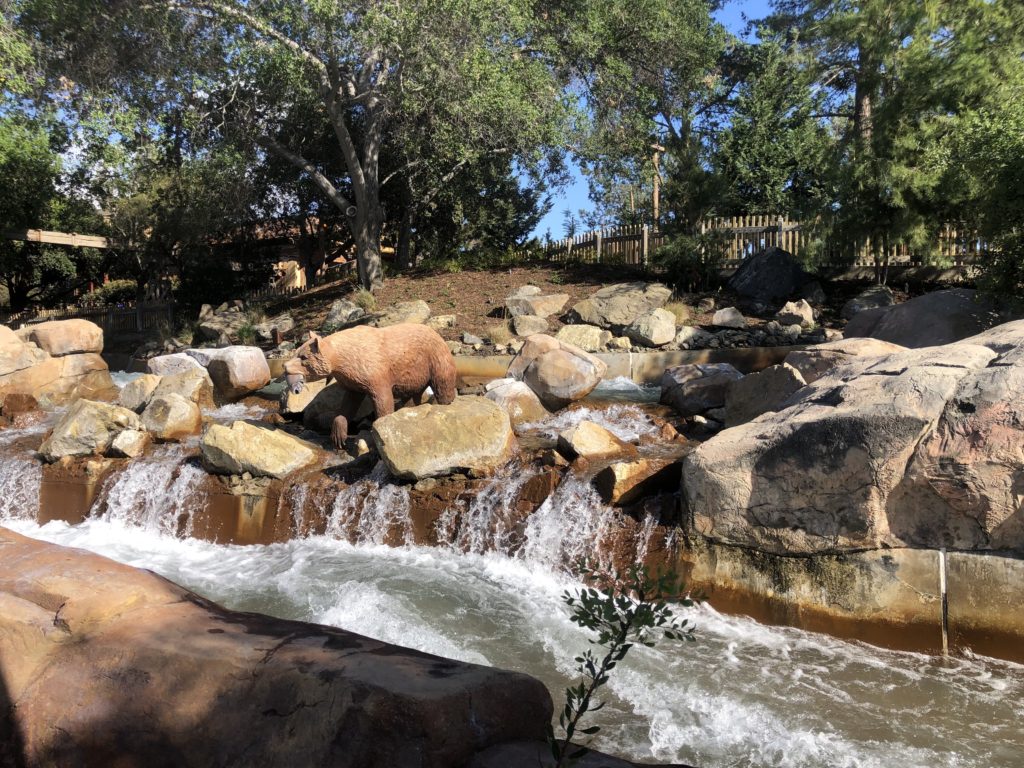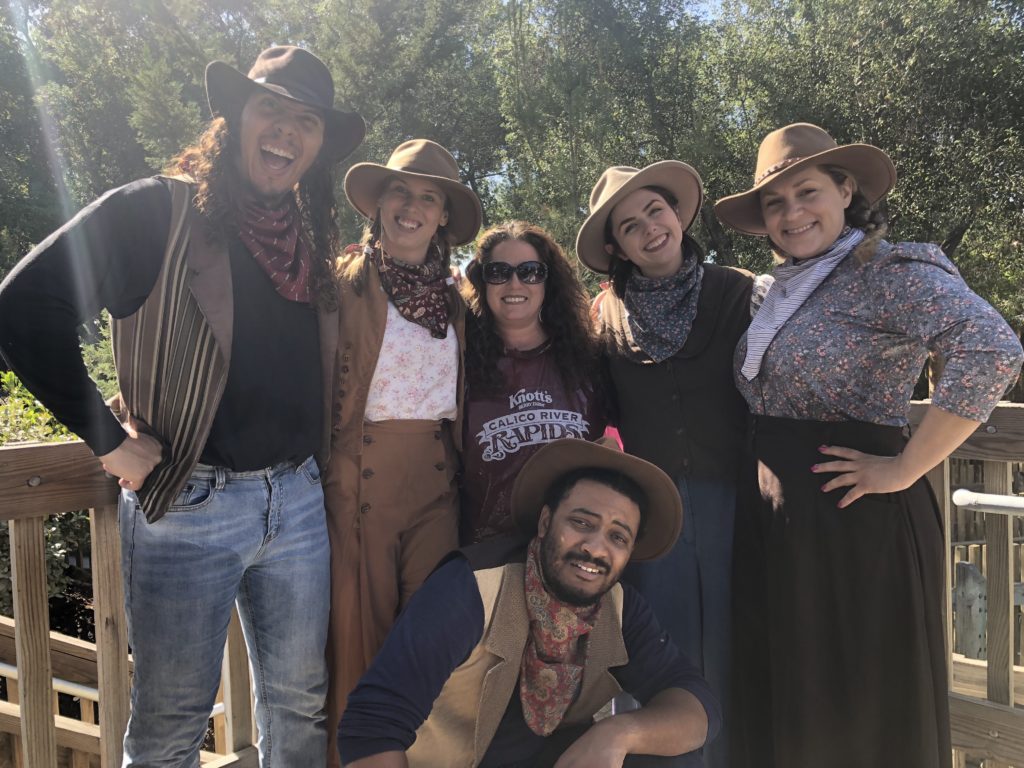 Check out the Queue
There is so much to see when walking the queue of Calico River Rapids. It has a very rustic feel to it and there are a lot of things on the wall on on the shelves so pay close attention when walking through.
Tips For Calico River Rapids
There is a pocket in the middle you can put your personal belongings in. It isn't huge and other people may want to use it too so a full size bag will not fit.
There is a height minimum of 46 inches. Know in advance to prevent sad kiddos.
You can buy a poncho for around $3 if you want.
You can blast other riders with water using TNT detonators. They are along the fence near pony express.
Look for another Skunk Ape on a mural when exiting the ride near camp snoopy.
Knott's Summer Nights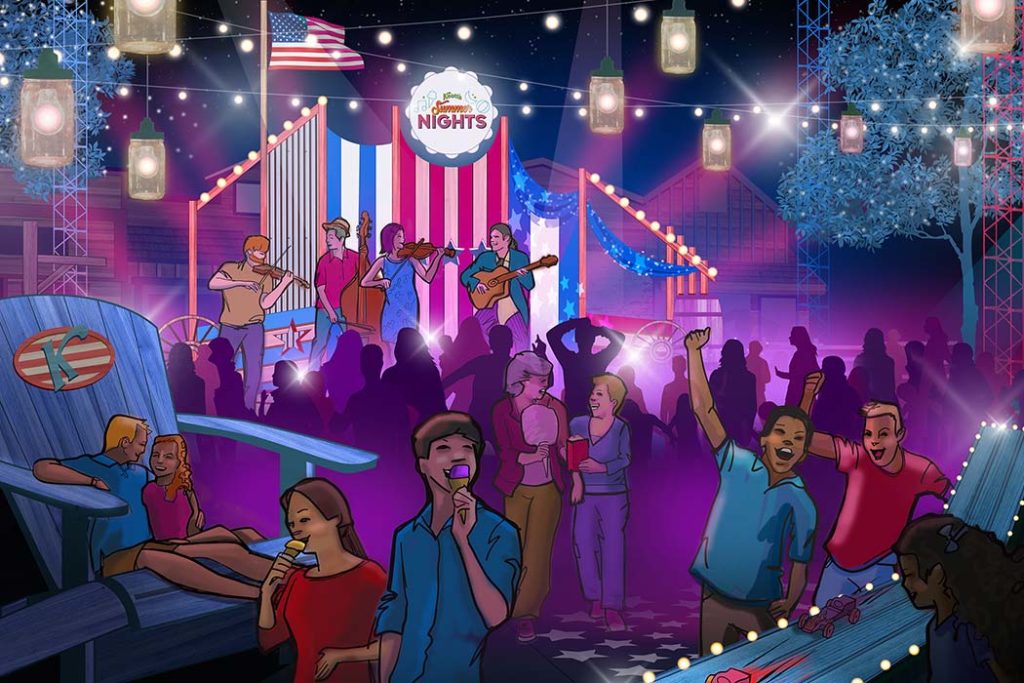 The summer adventure continues long after the sun goes down, with an all-new nighttime summer party that will liven up the night. Beginning June 7 – August 11th, Knott's Summer Nights offers numerous ways to enjoy the nighttime festivities as live music, food and games take over the Knott's midway.
Guests can enjoy a variety of bands that rotate at the Calico Park stage nightly, rock out to a top 40's band at the Calico Mine Stage or bop to beats of the Boardwalk DJ around Charleston Circle Fountain.
Summer Food
A summer night party is not complete without an abundance of food and drinks, and no theme park does food quite like Knott's. Seasonal flavors collide as the Knott's culinary team creates tasty twists to classic summer favorites. From build your-own S'mores stations, nacho boats, grilled peach cobbler, to handcrafted ice cream flavors, guests can experience food in a whole new way at Knott's this summer.
Tasting Card
This year there is a brand new tasting card complete with  build-your-own S'mores stations, nacho boats, grilled peach cobbler,  handcrafted ice cream flavors, kettle corn, skewers, lemonade and so much more guests can satisfy their sweet tooth and their hunger with protein and other healthy choices.
kbf-2019---summer-nights-tasting-card-menu

Summer Games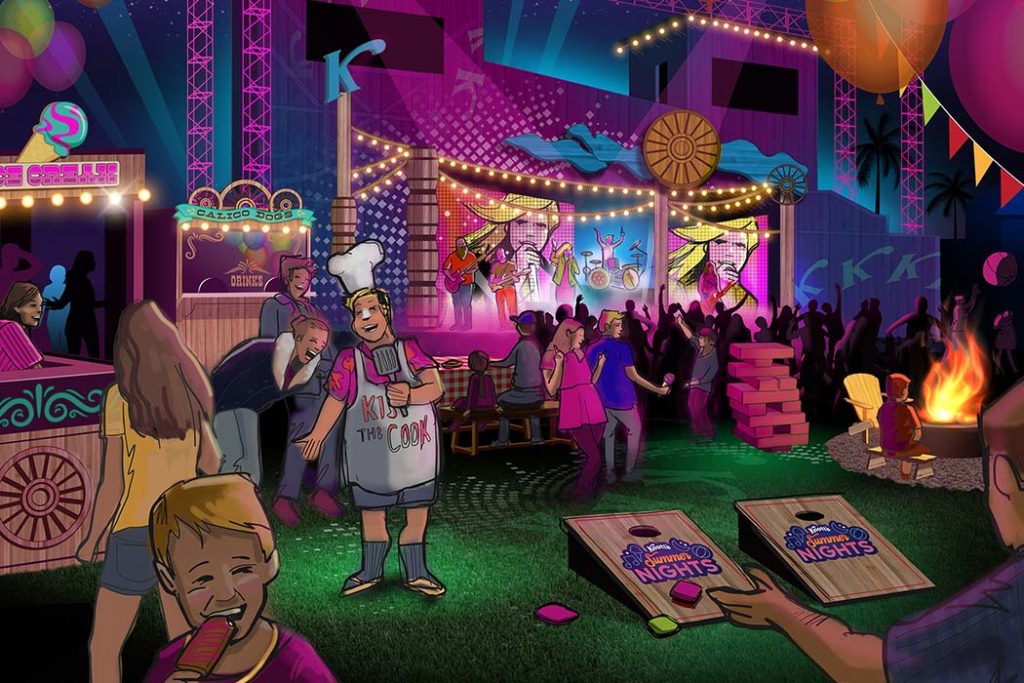 Oversized classic games and festoon lighting will set the stage for guests to enjoy their summer nights at Knott's, while the Knott's Party Crew encourages good ol' fashion fun with games and competitions that will bring out the competitor in everyone. With a hub of live music, unique summer food offerings, Instagram-able photo opportunities, interactive experiences, and family-friendly games, Knott's Summer Nights will be an event to remember.
Soak City Opens May 17th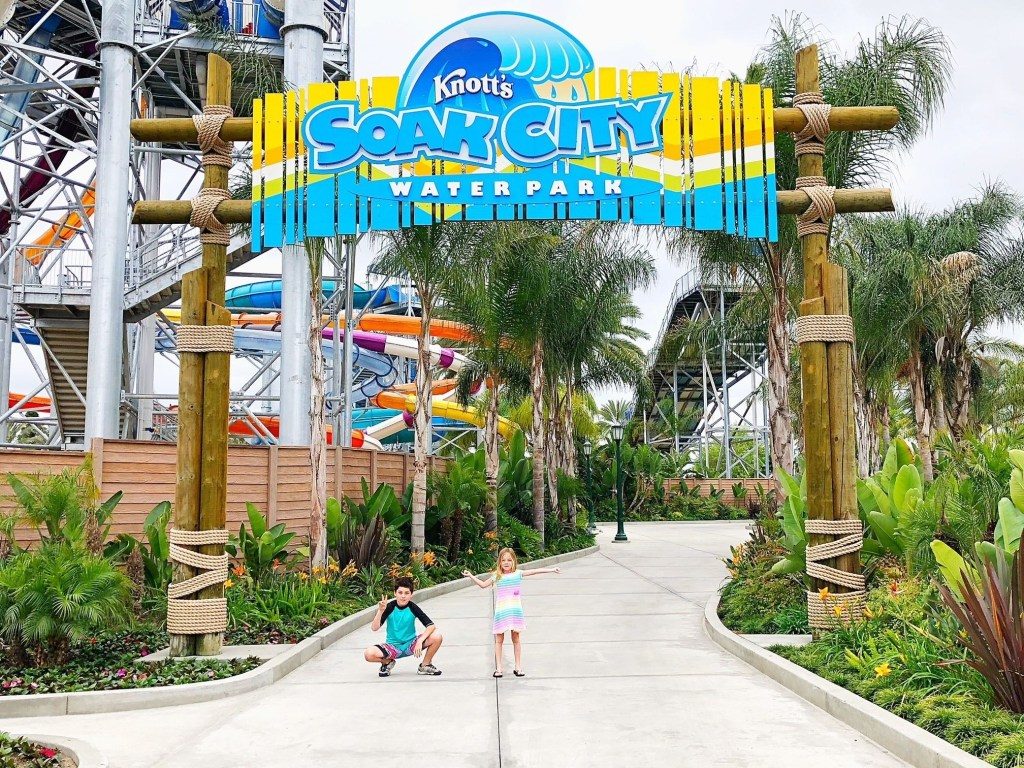 Summer is so close I can almost feel it! What kind of exciting adventures do you have planned for your family? Knott's Soak City opens for the season on May 17th and there is so much fun to be had! There are 22 speed, tube and body slides plus a giant wave pool, lazy river and interactive kids area. For a full review of the park click HERE. You definitely want to think about getting an annual pass and hitting both parks in the same day. It totally possible!
For more information visit Knott's Berry Farm on Facebook and Twitter.