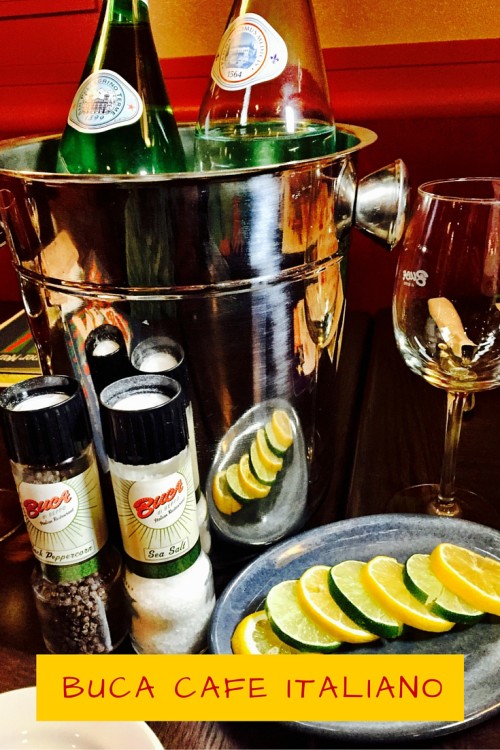 Buca Cafe Italiano
A trip to Las Vegas isn't complete without at least one trip to a buffet. There's just something so satisfying about filling your plate over and over again, trying new items and not having to wait for anyone to bring your order to you. But with a family of 5, the price can add up quickly.
Enter "Buca Cafe Italiano". This new concept from its trendy sister restaurant Buca Di Beppo offers families the opportunity to explore tasty Italian Food with an all-you-can-eat breakfast, lunch, and dinner buffet OR you can order off of a regular menu. Offered at a price that won't break the bank, Buca Cafe Italiano is the perfect solution for any large family or group. The 6,500-square-foot space features quirky decor and rooms like the Pope room. The restaurant also has an 850-square-foot semi-private room that seats 60.
What is included in the Buffet?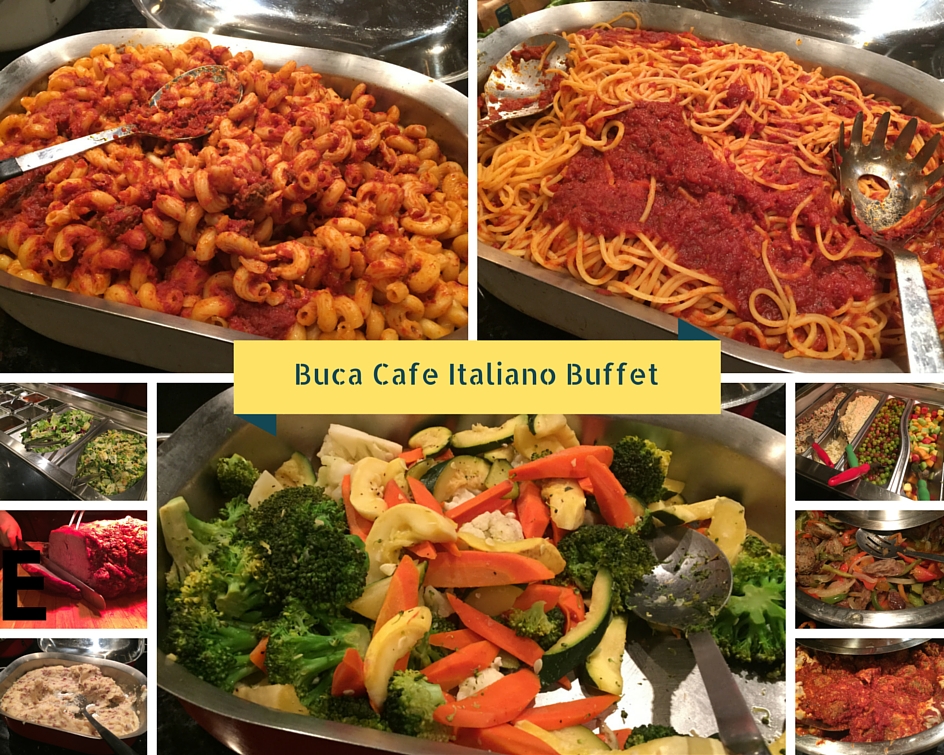 There are three buffets rotated throughout the day: A breakfast, lunch, and dinner buffet.
Breakfast Buffet ($14.95) – All You Can Eat Breakfast Buffet includes scrambled eggs, smokehouse bacon, sausage, breakfast potatoes, biscuits and gravy, breakfast pastries, fresh fruit and hot and cold cereals with unlimited juice, coffee, and tea
Lunch Buffet ($14.95) – All You Can Eat Lunch Buffet includes build-your-own salad, soups, pasta favorites and Italian bread with and unlimited soft drinks, coffee and tea
Dinner Buffet ($21.95) – All You Can Eat Dinner Buffet and Carving Station includes build-your-own salad, soups, assorted dinner rolls, hand-carved beef, pork or turkey alongside seasonal vegetables and roasted potatoes with your choice of assorted desserts and unlimited soft drinks, coffee and tea
Please keep mind that prices can change and these prices are only reflective of the day we dined.
What items are offered from the menu?
If you have ever dined at Buca Di Beppo you already know that all of their meals are served family style. The menu at Buca Cafe Italiano offers a few of the same items but also a few unique items as well.
On the night my family and I dined there, we started off with some delicious cocktails and an order of cheesy garlic bread.  Our cocktails were made with Makers Mark® bourbon, agave nectar and chocolate bitters served with a bright cherry on top. The bread was thick and crusty covered in garlic and mozzarella cheese. Both were so good!!!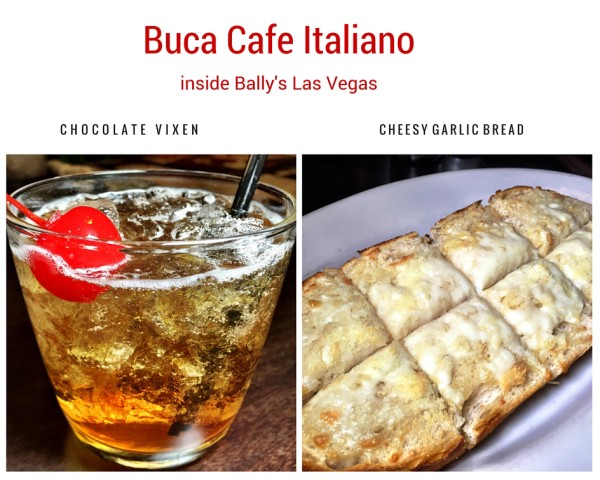 Next up we had a crisp green Prosciutto and gorgonzola salad with mixed lettuce tossed in a signature Italian vinaigrette with red onions, pepperoncini peppers and Kalamata and green olives.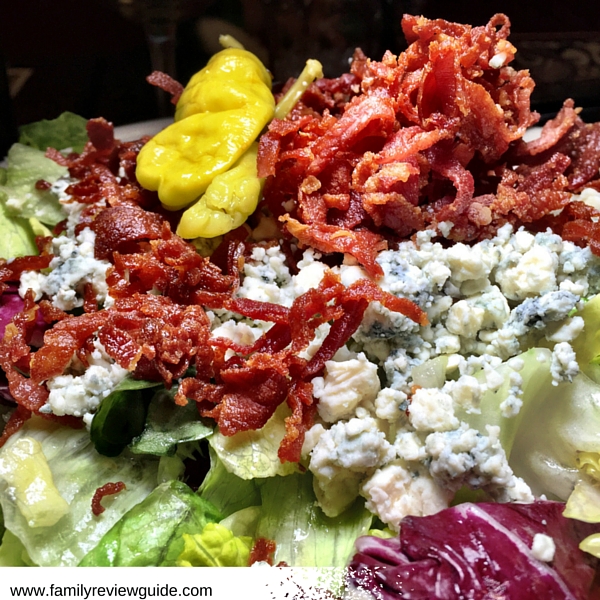 My husband and son eat gluten-free so the Mozzarella Caprese appetizer was an easy choice. The vine-ripened tomatoes, fresh mozzarella, fresh basil and basil-infused olive oil were a huge hit with everyone.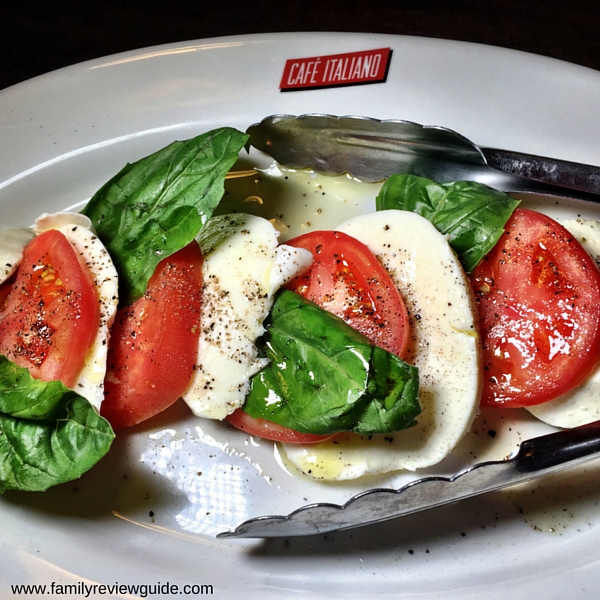 For our main entree, we chose the popular Chicken Limone. This entree has  giant pieces of flattened chicken in lemon butter sauce and capers and it comes in a small and large size. We ordered the large and there was enough for us to take back to our hotel for lunch the next day.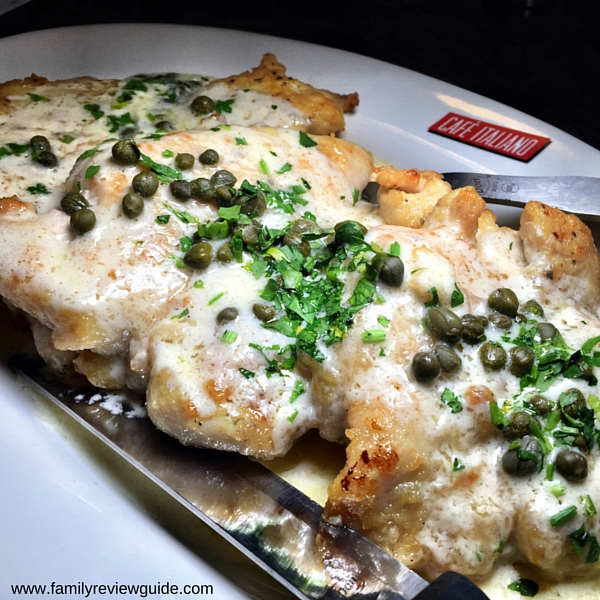 The kids love pasta so we ordered a kids Mac & Cheese, which was awesome because it wasn't the boxed Kraft kind as well as a Chicken Carbonara which had chicken breast, prosciutto, peas and garlic in Alfredo sauce.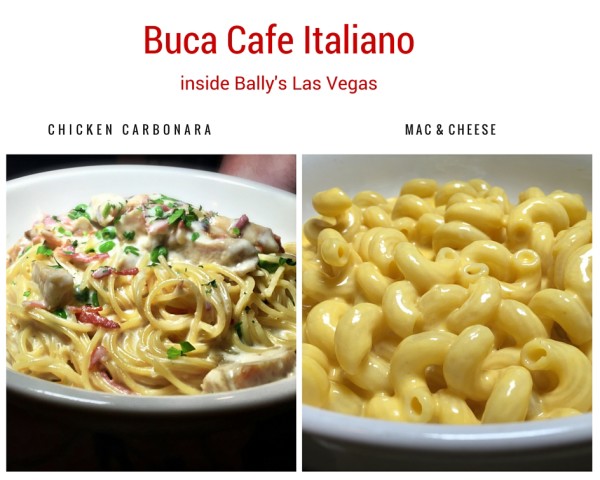 Chef Shaylee came to our table and introduced herself to us and we totally hit it off. She told us that all of the sauces are made fresh daily and you could tell how much care she puts into her food. It was refreshing to hear about the restaurant from such a compassionate chef. Then she said she would be right back and then next thing we know we have this decadent dessert platter sitting in front of us. A slice (and I use that term loosely) of Chocolate cake, lemon cake, and strawberry Cheesecake satisfied all of our sugar cravings for the night. Thanks for a fabulous dinner!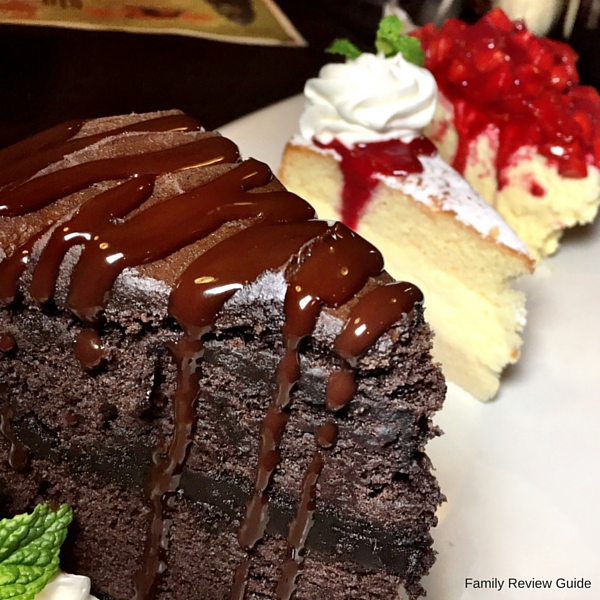 Get Social
For more information visit Buca Cafe on Facebook.