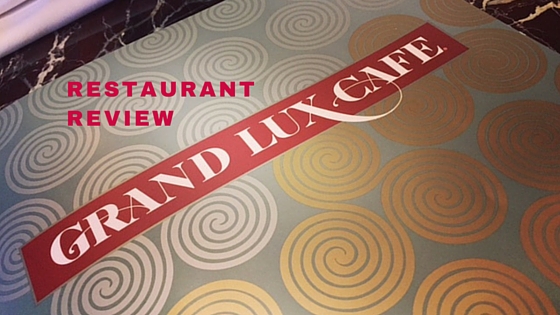 Grand Lux Las Vegas
Las Vegas has hundreds of restaurant selections but not all of  them are family friendly. So how do you decide where to take your family for a quality meal that will make everyone happy? You could check yelp, or  you could ask the concierge at your hotel, but typically word of mouth is always the safest best bet.
My family of 5 recently took a road trip to Las Vegas and dined at the Grand Lux Cafe in the Palazzo. If the name sounds familiar it's because it is the sister site to The wildly popular Cheesecake Factory.
A Culinary World Tour
Whether it's Pierogies from Poland or Beignets from New Orleans, Grand Lux Cafe's menu spans the globe, with lavish dishes that feature seductive flavor profiles and world-class cooking techniques. Asian Short Rib Tacos, Ahi Ceviche and housemade Hummus served with Warm Flat Bread are a few of the selections from the Mini's, Bites and Tapas section. Other popular dishes that showcase Grand Lux Cafe's unique culinary approach include Crispy Caramel Chicken, and Indochine Shrimp and Chicken, blending Chinese and Indian flavors. Fresh seafood, wood-fired Certified Angus Steaks, Braised Pot Roast and slow-roasted Ribs, in addition to crisp salads, and comforting soups can be found in the pages of the menu. For a grand finale to the meal, Grand Lux Cafe has an in-house bakery, where desserts like Molten Chocolate Cake and a Box of Warm Homemade Chocolate Chip Pecan Cookies are served warm, right from the oven.
Grand Lux Appetizers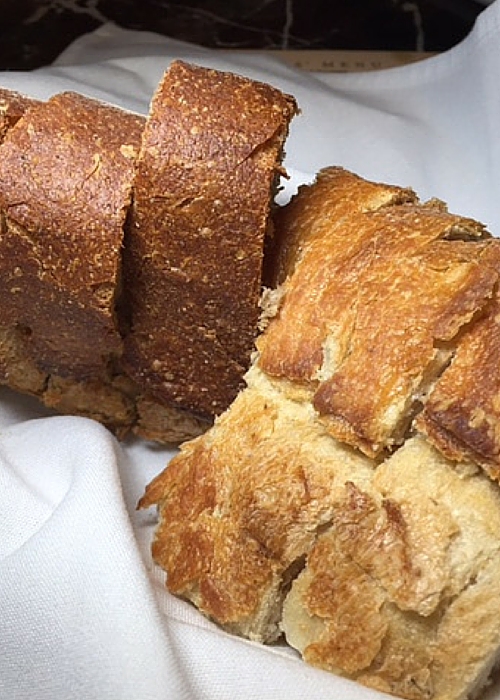 Ask your server for a basket of warm fresh bread while you are waiting for your meal. Our kids were very hungry and this kept them occupied until our appetizers arrived.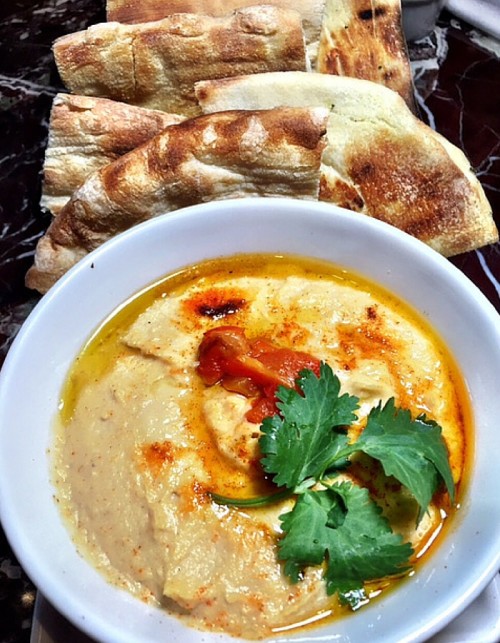 If you like hummus you will love their House-Made hummus Served with Warm Flat Bread. They bake their flat bread in the restaurant and it does not disappoint. It has just the right amount of olive oil and is topped with marinated red peppers.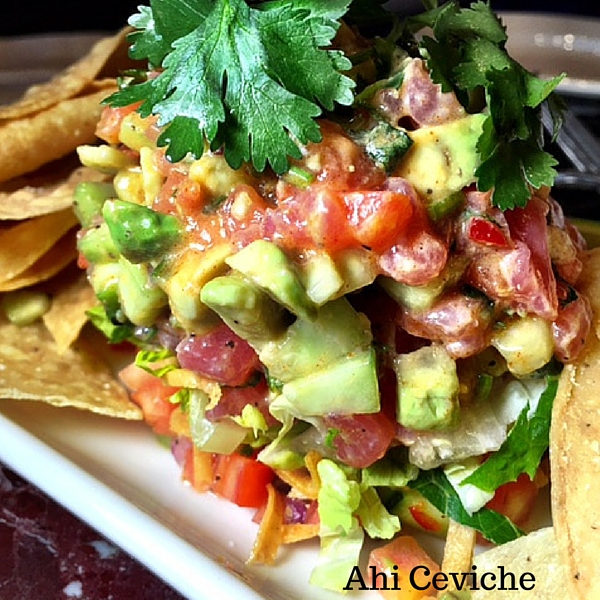 If you are Gluten-Free like some of my crew then the Ahi Ceviche is your best bet. Wow, this appetizer blew me away. It is a little different than your typical ceviche as it is more on the creamier side but the flavor points were perfect with the fresh poke and the ripe creamy avocado. Plus the chips were so good.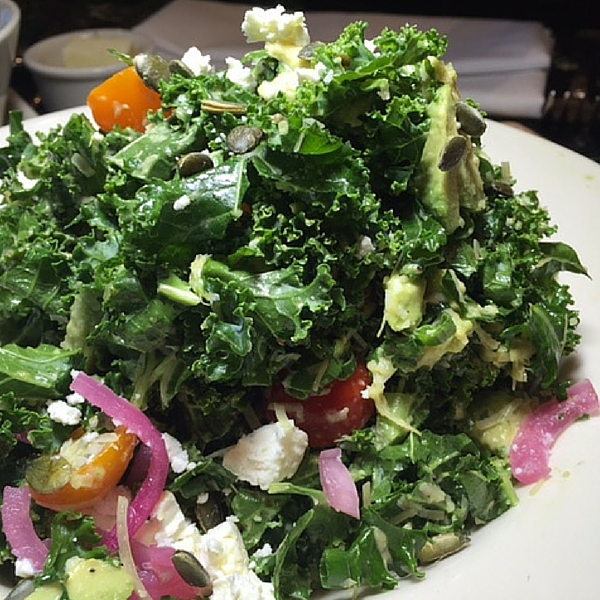 Salads are also a good choice at Grand Lux. Kale is still going strong and Grand Lux has a tasty tapas size Kale and Avocado Salad. It's tossed with fresh Kale, Avocado, Spicy Roasted Poblano Chiles, Black Beans, Feta Cheese, Onions, Toasted Pumpkin Seeds and a Citrus Vinaigrette.
Grand Lux Entrees
A nice chicken dish would be their Chicken Parmesan. It's a HUGE Chicken Breast Coated with Parmesan Bread Crumbs and Covered with Tomato Sauce and Mozzarella Cheese. They serve it atop a big bed of delicious Spaghetti. Even the lunch special is so big you will end up taking half of it home!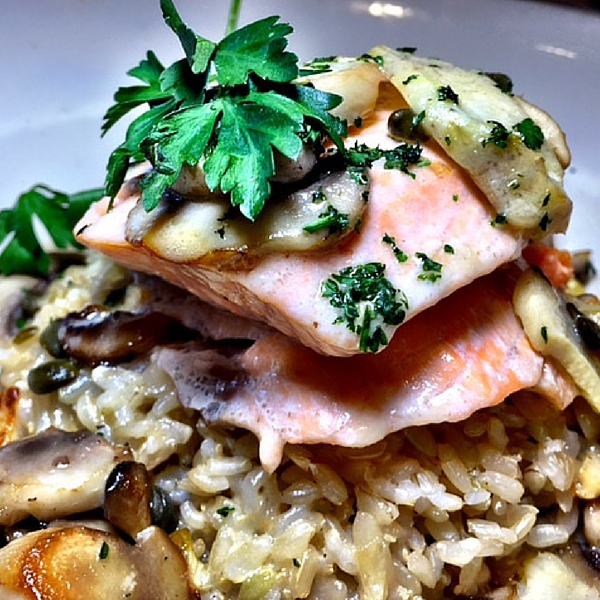 Fish lovers will enjoy the Salmon Picatta served with sautéed mushrooms and artichokes. The salmon is light, flaky, and tender and the capers add a tangy zest.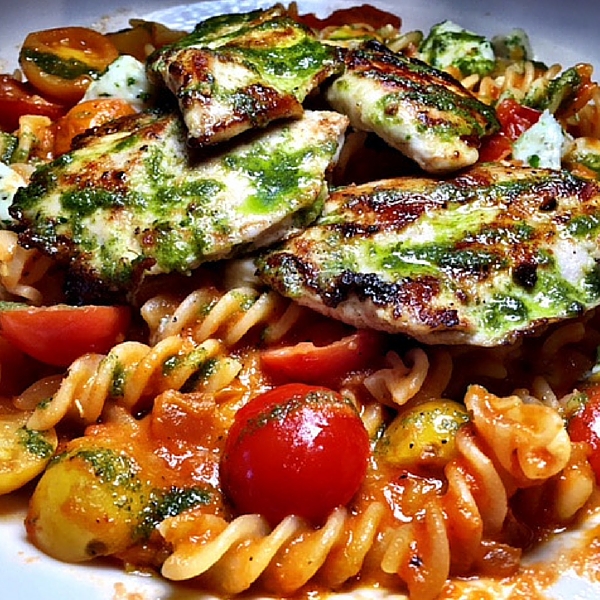 Craving something warm? Try the Pasta with Grilled Chicken, Tomato, Basil & Mozzarella. They even have Gluten-Free pasta if you need it. This dish is topped with Roasted Tomatoes and a Touch of Garlic.The grilled chicken adds a perfect protein to balance out this meal.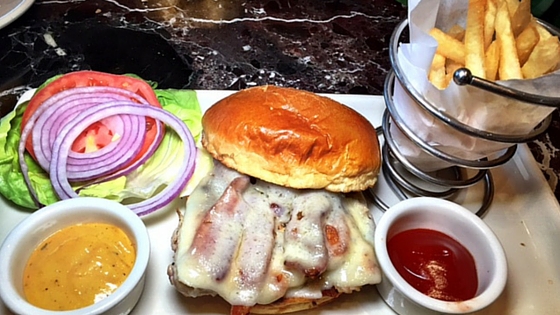 My 9-year-old ordered off the adult menu for the first time this visit and he chose the Santa Barbara Chicken Sandwich. This Grilled Breast of Chicken with Bacon, Avocado and Melted Cheese on a Grilled Bun is served with a Mixed Green Salad or French Fries.
Grand Lux Desserts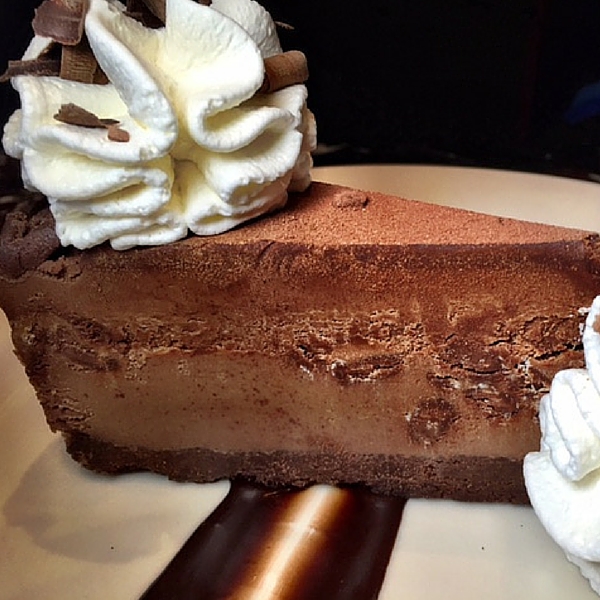 If you still have room for dessert, you must try the Godiva Chocolate cheesecake! Layers of Flourless Godiva Chocolate Cake, Godiva Chocolate Cheesecake and Chocolate Mousse will make your taste buds celebrate.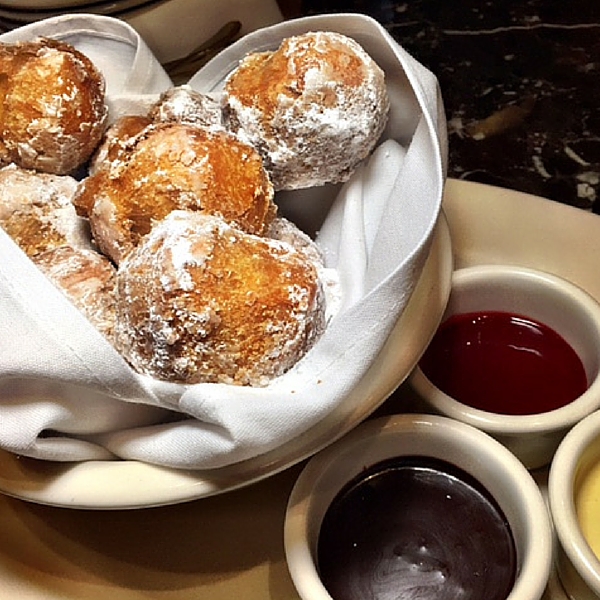 Or take a stroll through New Orleans with a platter of powdered sugar covered warm Beignets, There are 8 of these tasty donuts and they come with 3 different dipping sauces. Berry Chocolate and a Whiskey vanilla glaze.

2 Locations in Las Vegas
Due to its popularity, The Grand Lux has two locations: One in The Palazzo and One in The Venetian.
Get Social
Connect with Grand Lux on Facebook.