This is a sponsored post written by me on behalf of Tatu Media. All thoughts and opinions are my own.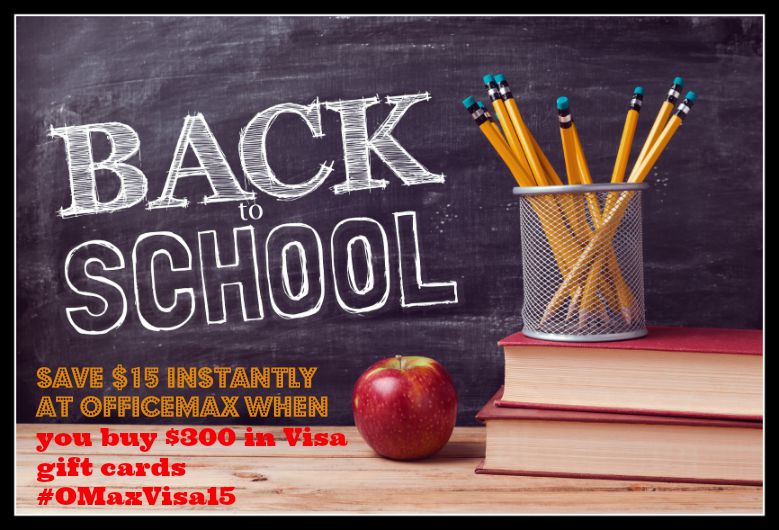 School is almost back in session and it's the perfect time to get all your shopping done at OfficeMax. Now through  8/21/15 you can save $15 instantly when you buy $300 in Visa Giftcards.
Think about all the useful things you can buy for your school and your child's teachers with $300.  There is teacher appreciation week, where you can use one of the gift cards to give to your teacher. They can use that for their own pleasure or they can use it towards items to support their classroom. Visa gift cards are so versatile you can even use them to buy flowers for your mother in law. And lets not forget holidays, like Christmas and Chanukkah.  There have been many times in the past where our teachers have reached out to us parents and asked for playground equipment such as handballs, jump ropes and cones.
Visa Gift Cards can also be used online as secure as a credit card but as instant as cash. Having a visa gift available for unknown events saves time and reduces stress. It can be used for birthday gifts, shower gifts, cheer up gifts or even to treat yourself on a rainy day.
One could consider using the visa gift cards as well as the $15
Program Restrictions:
Activation fees apply
Limit 2 per household
See store for details
Double Savings
Customers can double dip on savings if they have a Chase Ink Business credit card! These cards offer
increase rewards on purchases made at office supply stores, so customers can earn an additional 4x points or
5% cash back on their Visa gift card purchase.
Visa gift card
Use everywhere in the US Visa Debit is accepted
Giveaway