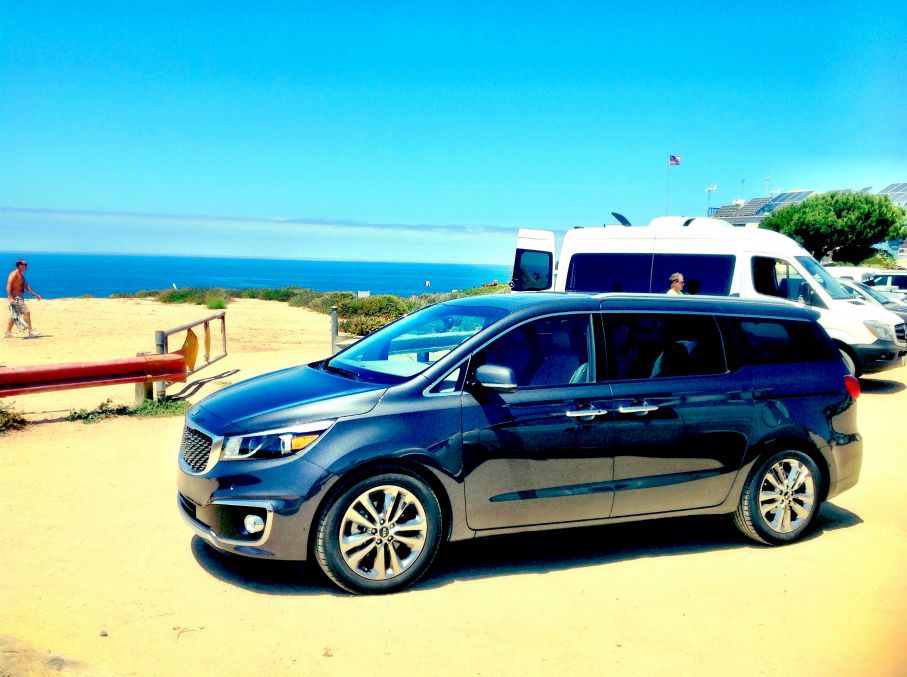 I never thought I would hear myself say "Honey, let's buy a minivan". But after a week test driving a Kia Sedona, I have completely changed my view about these awesome kid-toting, sports carrying, spacious family rooms on wheels.
I am madly in love with this vehicle so I have put together 5 reasons why I think the Kia Sedona is the ultimate mini-van.
Looks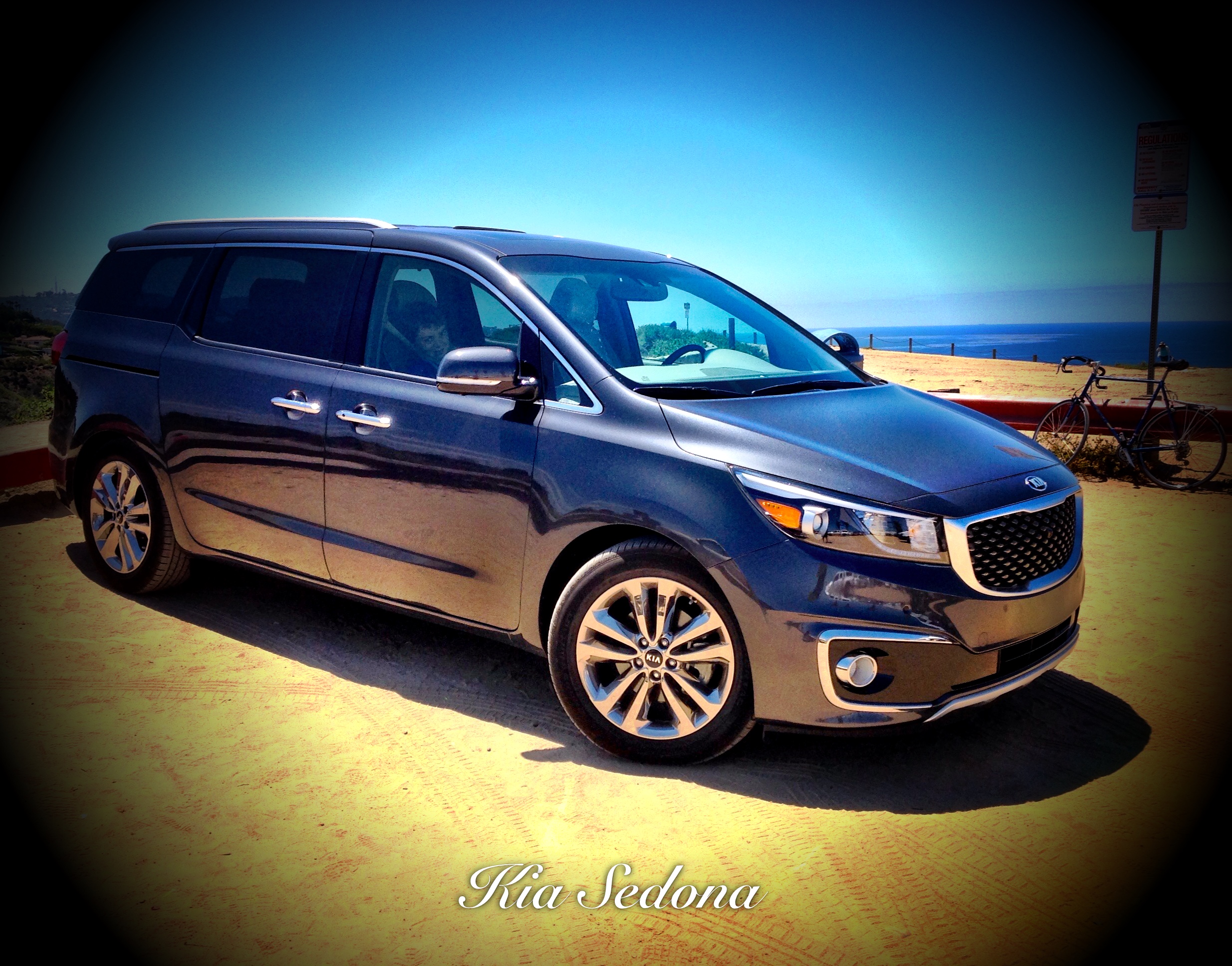 The Kia Sedona is a very sharp and sleek looking minivan. It has bold characteristics like alloy rims, a chrome-trimmed grille,  a strong crease that runs down the sides of the van and flared front fenders. It is definitely an eye catcher and it will make you do a double-take while saying to yourself: "Is that really a minivan?
Space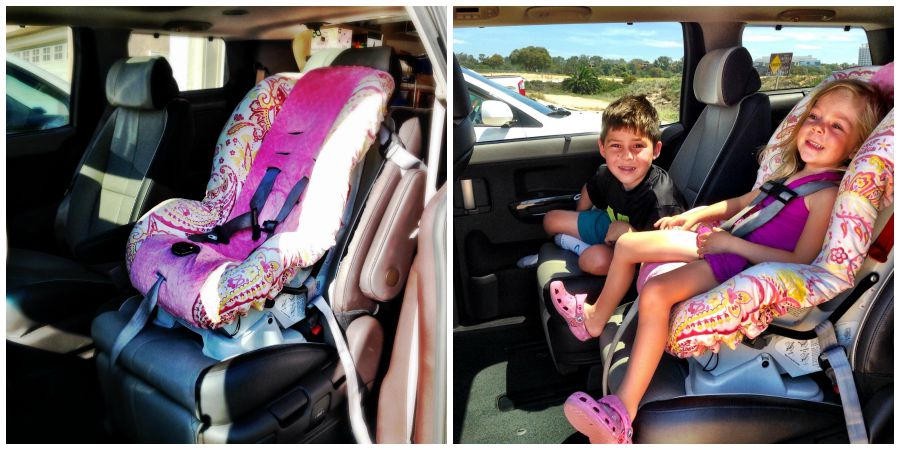 With three kids, the Kia Sedona offers plenty of space. The captains chairs in the middle row make it easy to install a car seat and still get to the back row without having to climb over anything. We took our Kia Sedona on a road trip to San Diego and not one time did I have to deal with fighting due to the kids being too close to each other.
Leg Rests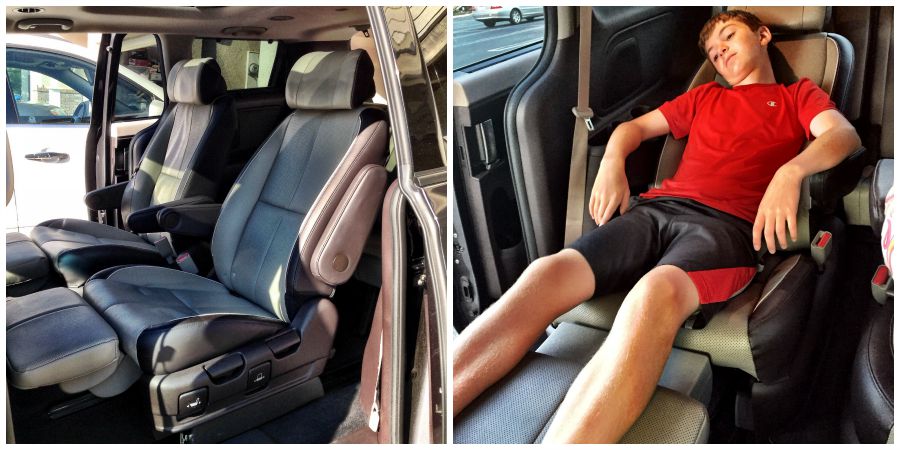 Yes, you read that correctly. There are leg rests in the middle row seats. How awesome is that? My oldest son didn't even want to ride in the front seat because he wanted to use the leg rests on the ride to San Diego. The ottoman-style leg rests also extend for those that are taller and easily fold back in when you are done. If you want to feel like you are sitting in first-class on an airplane, with enormous amounts of legroom and plush cushioning, the Kia Sedona is the perfect car for you.
360 degree camera and back-up sensors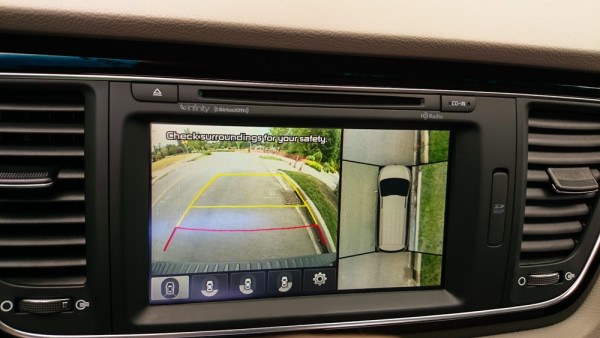 Having back up sensors in my car is invaluable. Here is California parking spaces are often a tight squeeze and I often find myself in tricky situations where I would be lost without the sensors guiding me. That
"beep beep beep" is music to my ears and  I will never buy another car without them.  The Kia Sedona not only has them but also has a 360-degree camera that provides a virtual bird's-eye view to guide you into spaces. The system utilizes four cameras, located at the front, rear, and sides, to provide visibility all around the vehicle.
Features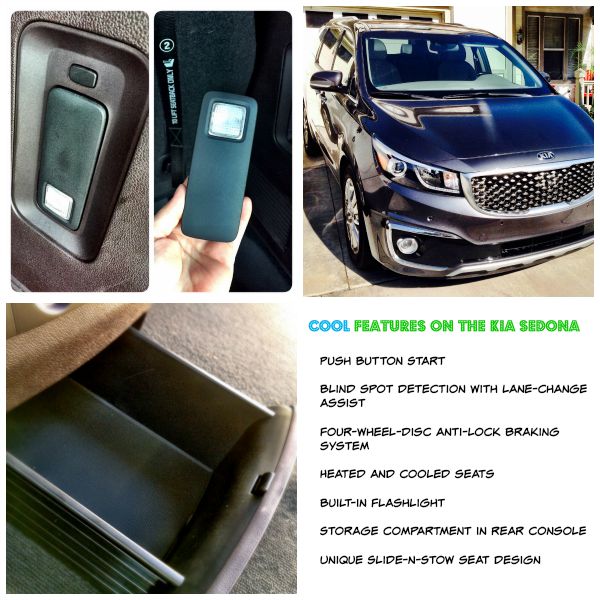 If you like gadgets the Kia Sedona does not disappoint. There are some really cool features on this minivan. For instance, there is no key to start the ignition. The car is turned on by the push of a button. It also has blind spot detection where the vehicle will beep at you if your signal is on and there is a car coming up on your side. Too hot outside? No problem. The Sedona has a cooled (and heated) seat option. One of the neatest features we came across  though was the built-in flashlight in the back of the fan. It pops out and you can use it in an emergency. Here are a few more options:
Rear view conversation mirror
Cooling glove box is available for keeping your snacks and drinks cool and refreshing.
Eight outlets: three 12v, one AUX/USB, two AC power, and two USB rapid charging ports.
Second and third rows have pull-down sunshades.
Forward Collision Warning System alerts you to changing traffic patterns up ahead (and slows down your car when cruise control is on).
Infotainment system: includes a geofence to warn when the car is taken out of the designated area (great for teens!)
For more information visit Kia on Facebook and Twitter.