Disclosure
Adventure City is "The Little Theme Park that's BIG on Family Fun"
Tucked away in a little plaza off of Beach Boulevard, about 5-10 minutes past Knott's lies an amazing little amusement park called Adventure City. This little hidden gem is a great alternative to some of the bigger parks like Disney where admission is outrageous and lines are upwards of an hour-long. Adventure City is like a carnival that never leaves! Due to its compact size big kids and little kids can traverse the entire area in about 2 hours. You can get on every ride twice, eat at all the stands, buy all the gift store memorabilia and be back on the road with the other half of your day wide open for more adventures!
Recently my kids (12), (8) and (4)  were off of school for Winter break and we decided to head over to Adventure City for some fun. I had only been to the Cabbage Patch Doll Hospital as a kid, which is no longer there but I have never experienced the actual park so I was excited to finally check it out. The best part about this place is the parking is FREE and ample. We were delighted when we arrived to find out that the park was still decked out in Holiday decor so we got to experience some of the cute winter touches like scarves and top hats on the light poles.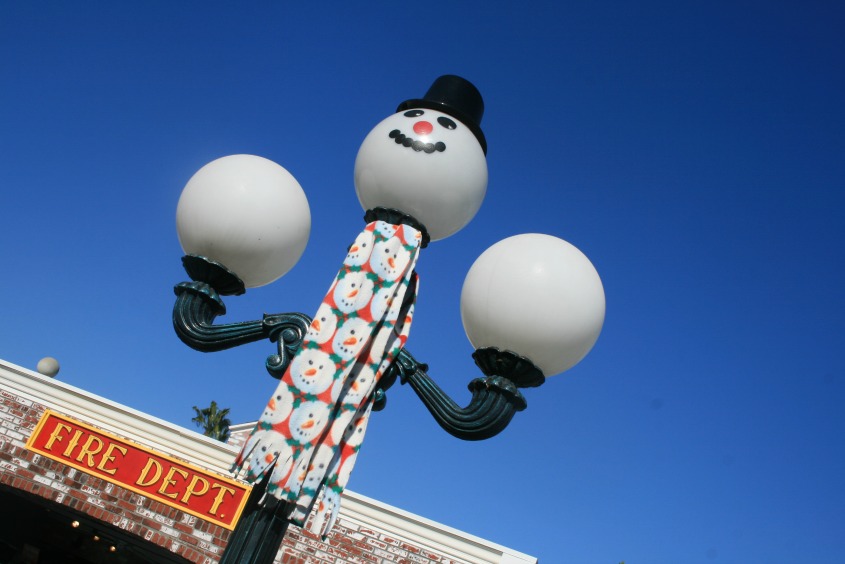 We started of by taking the Adventure City express train as it takes you on a full circular tour around the park so you can scope out which rides you want to do first. This special train was built in 1938 and was a main attraction at Hobby City for almost 25 years before Adventure City was built in 1994.
Once we had an idea of  the park's layout we exited the train and headed over to  "crank n' roll" which was absolutely perfect for my 4 year old. On this unique mini-train, every child gets to be the engineer. The fun part is that "Kid power" makes it go!  She was not as fast as some of the other kids behind her so the friendly engineer kindly gave her a helping hand and she got the hang of it.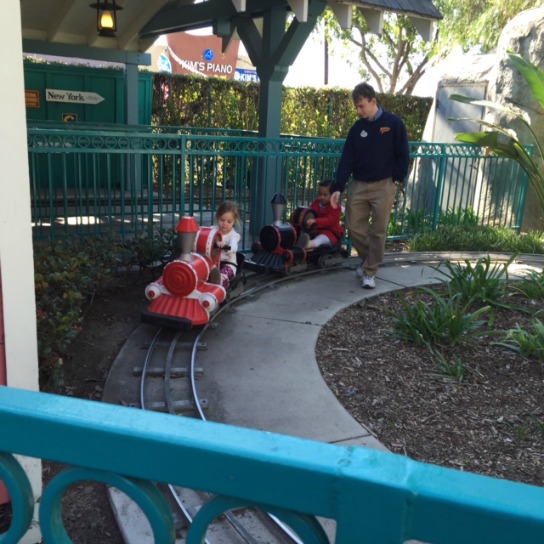 Next up were the Barnstormer Planes. Kids can Fly high or Fly low by flying their own bi-plane from the Adventure City Airport. Even my 12 year old had fun taking his little sister on it.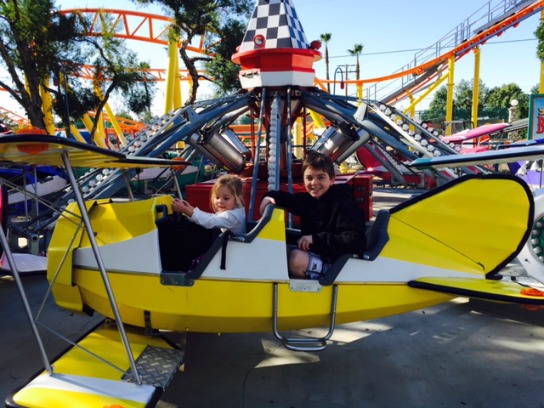 Next door was the wild Balloon ride and my middle son ride this twice. This particular ride is in a miniature airport terminal so kids can learn a little about aviation, and listen to the airport control tower operator try to keep sanity in the Adventure City skies.  These baskets rise and spin over 25 feet in the air!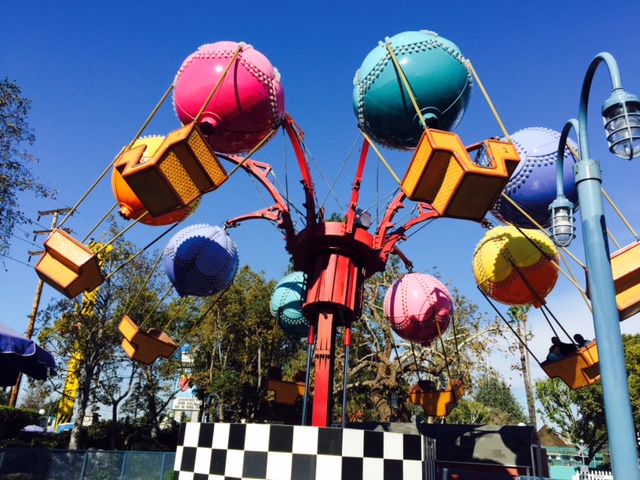 Because flying through the air wasn't enough the kids decided to jump on the crazy bus. It goes around in a circle and then it goes back around the other way. There were lots of giggles happening on this one.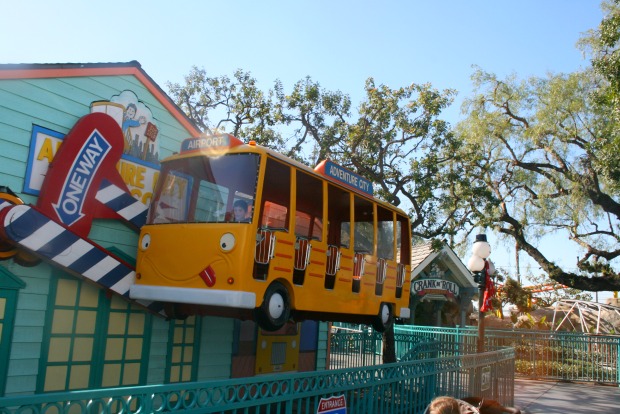 Finally it was mommy's turn to ride something and the Freeway coaster was just my size. Not only is this ride a blast but you get to go around the track two times! On this particular day there was no line so the engineer let us ride it 3 times in a row without ever getting off. That is 6 times around the track. How fun!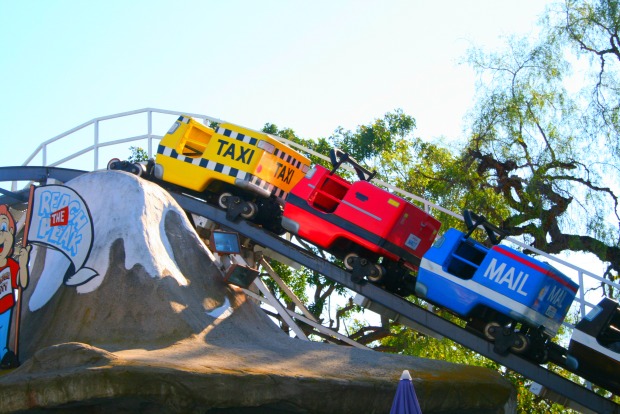 After all of that craziness we took a small break for some drinks and something to eat. Adventure City has a variety of food and drinks are available inside the park including favorites like pizza, salads, sandwiches, hot dogs, curly fries, nachos and more! For the sweet tooth in us all, we have churros, ice cream, cookies, apples with caramel, frozen lemonade…too many to list!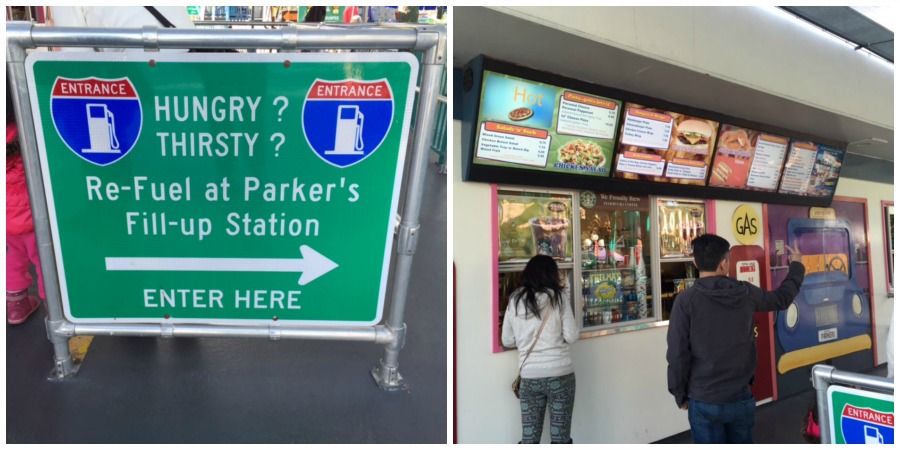 After a quick recharge it was over to the petting zoo for some animal exploring. The goats here are hilarious. Not only are they calm and friendly but they are totally comfortable there. This one goat was hanging out on a tree stump soaking up the sun rays. Kids can use one of the many brushes on the goats or just pet them with their hands. We saw a turtle, a bunch of chickens and goats that we all too happy to see us!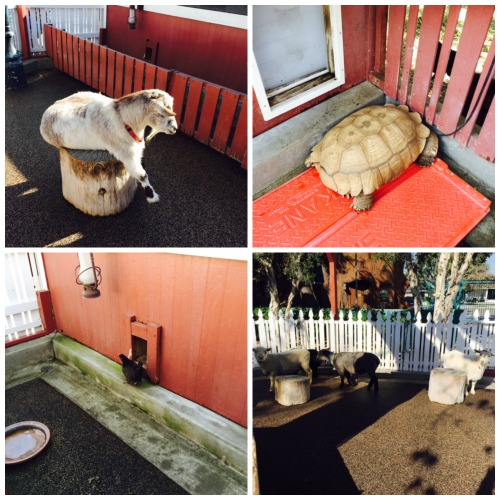 Not far from the petting zoo is Rescue 911.  Kids can experience what it is like to be a policeman or a firefighter  first hand at Adventure City. When they enter into our police and fire stations buildings, kids get to try on real fire fighting jackets and helmets. (Parents, have your cameras out for this one.) Throughout this attraction, participants are informed of fictitious and humorous emergency calls across the intercom by a real life 911 dispatcher. By the way, watch out for chickens on the loose in the grocery warehouse.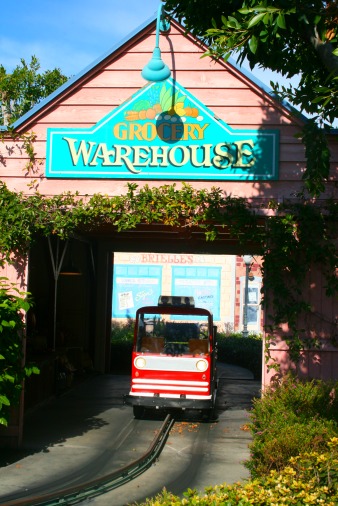 Of course we couldn't forget about the carousel. My daughter squealed when she saw it. This vintage 1946, 20-horse carousel has the distinctive honor of being the centerpiece of Adventure City. Guaranteed to bring back childhood memories, adults can share in the tradition and excitement of carousel riding with their kids from picking that perfect horse to enjoying its turn-of-the-century carousel music.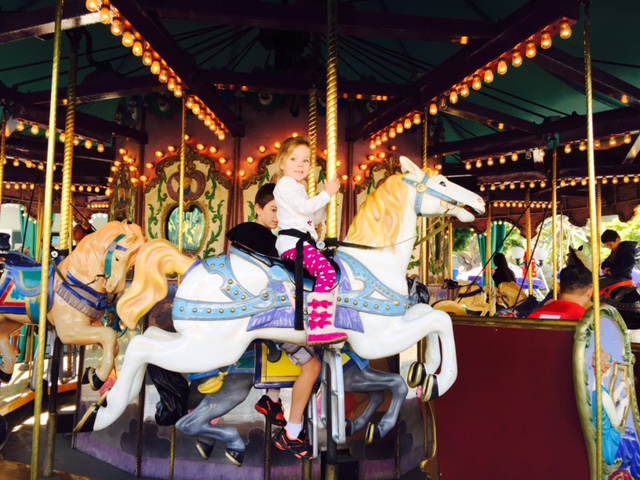 The last ride of the day we hit was called the giggle wheel. This cute and whimsical smiley face ride is similar to a mini ferris wheel. It's big on smiles and sure to bring giggles to all who ride.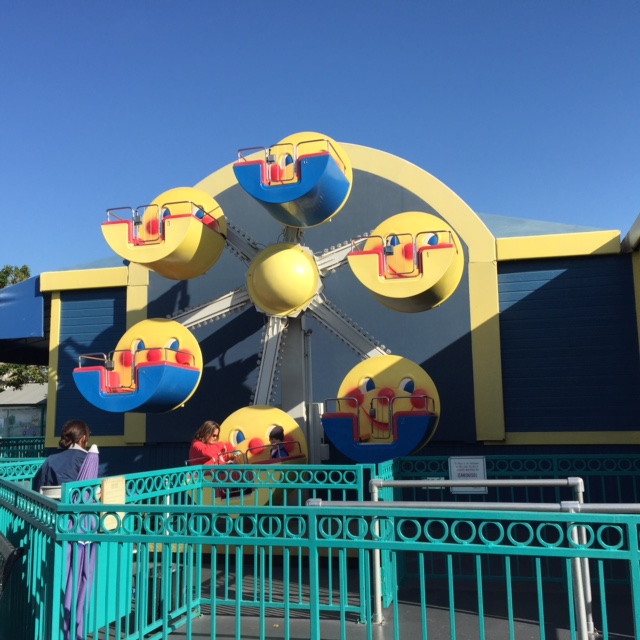 Finally after an hour of so of rides we decided to head to the arcade for a little game fun! The arcade at Adventure City is large and we had the whole place to ourselves. There is an assortment of challenging, skill-based games for every family member. When you are done playing don't forget to collect your tickets and redeem them for lots of fun prizes. My daughter got some cute bracelets and some bubbles.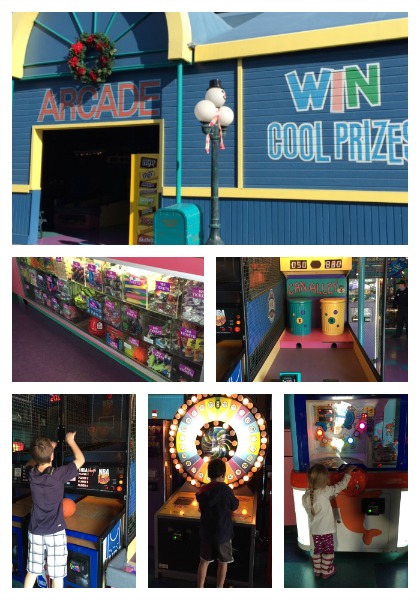 Other Attractions
Some of the other attractions at Adventure city are:
A Thomas The Tank engine section where kids help one another build creative train layouts with a variety of wooden tracks, bridges, and trains.
A rock climbing wall designed for kids ages four and up. This twenty-four foot rock climbing tower has three challenging sides, each one with its own difficulty level. When climbers make it to the top, sirens and music announce their triumph and they get their picture taken which can be made into a memorable framed souvenir.
A children's Theater with magic shows
A party Treehouse -There's nothing left out of this fully themed room.  A playful bear swings above the tables.  Hundreds of decorative presents line the ceilings and  beautiful butterflies float overhead. It's sure to leave your guests with wonderful memories of your child's special day.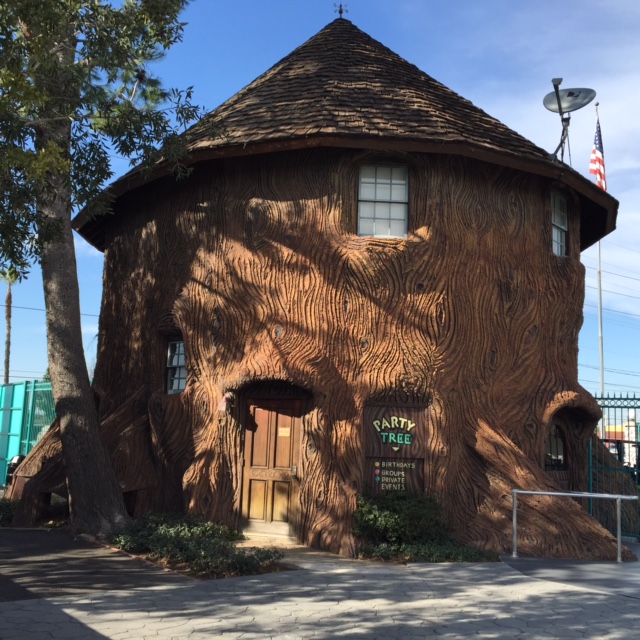 For more information about pretend city visit them on Facebook.